10tons have had an impressive run on the App Store as of late, with their mobile adaption of the excellent dual stick shooter and roguelike amalgamation Neon Chrome ($6.99) receiving a hat-trick of accolades, with a glowing five star review, a Game of the Week award, and featuring in our 100 Best Mobile Games list. Xenoraid (Free) is looking to continue this trend – having launched previously on consoles back in October to critical acclaim, 10tons' interesting approach of merging old and new elements of the typical vertical shoot-em-up title resulted in a truly unique take on a relatively tired genre. Having just avoided the typical Wednesday evening rush of releases, Xenoraid has finally launched on the App Store today for free (with a discounted $4.99 in-app purchase to unlock the full game), so be sure to give 10tons newest release a try if you want some thrilling shooter action to liven up your Thursday.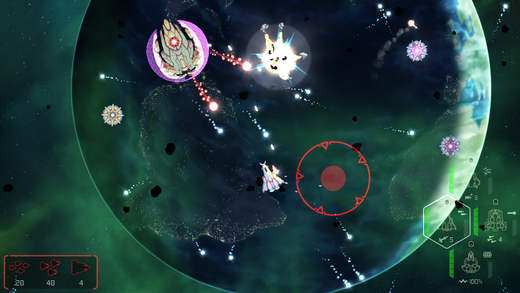 Many features of Xenoraid will be familiar to anyone who has played a shoot-em-up game in the past – a variety of weapon upgrades and customisation options, over forty missions with epic boss fights, and a whole host of difficulty modes and endless survival levels that should satiate any high-score chasers looking to top the leaderboards. However, 10tons have been wary of simply going through the motions of the generic shoot-em-up, and so have added some modern and classical twists to the formula in Xenoraid. Firstly, the hyper-intense twitch gameplay of bullet hell games has been cast to the side, with a preference for enemies that act dynamically based on AI. For people like myself who are somewhat intimidated by the flood of colors and chaos in bullet hell titles, Xenoraid's emphasis on slower but more thoughtful and reactive gameplay is incredibly enticing, and should help bring other doubters back into the shoot-em-up fold.
Other cool new additions emphasise Xenoraid's accentuation on precision play, rather than merely endlessly shooting until something crosses your bullet's path. These include a realistic emphasis on aiming as your ship moves (when moving sideways, your fighter will tilt slightly), and your weapons overheating if they're overused. Furthermore, 'lives' are replaced with juggling four different fighters that can be swapped at will during play, each with their own traits that suit themselves to certain scenarios in battle. Xenoraid has managed to do enough to distinguish itself from similar shoot-em-ups, while retaining the satisfying catharsis of landing that perfect shot, and so I can't recommend it enough, especially considering it's free to download and try out. For more discussion and impressions on Xenoraid, be sure to head down to our forum thread.