Telltale's The Walking Dead: A New Frontier (Free) now has the first episode for free on iOS. This is a bit early for a Telltale game to go with the first episode free model like this, but Telltale's kind of pulled a switcheroo. For a limited time, episode 2 was available for free in the app. It still went through Apple's in-app purchase system, but the price was set to free: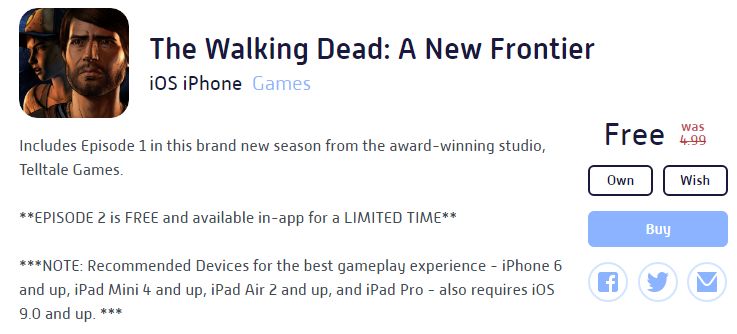 Now, you can get the first episode for free, but have to pay for episode 2. Standard Telltale mobile pricing applies: $4.99 per episode, $14.99 for the multi-pack.
This third full season of Telltale's popular The Walking Dead games features series favorite Clementine, as well as new character Javier, s they try to find his family. You can import saves from the first two full seasons, and the multi-pack for episodes 3-5 is also available. The first two episodes released simultaneously, so it'll be interesting to see when episode 3 hits, particularly with the odd timing of the first two episodes' release and the first episode's free promotion coming so soon after release.