Probably not. I'm just asking the pertinent questions. Gameloft's The Amazing Spider-Man ($6.99) games and Disney's DuckTales: Remastered ($4.99) only have a few things in common. Both star classic American cartoon and/or comic characters. Both look pretty darned spiffy in action. And both only seem to go on sale this low once a year. That's enough for me to say that there's something up here. But why would a good, upstanding local fowl philanthropist like Scrooge McDuck be buddying up to that masked menace? Why, I bet that web-headed weasel is disguising himself as a duck just to besmirch Scrooge's good name! That no-good fraud!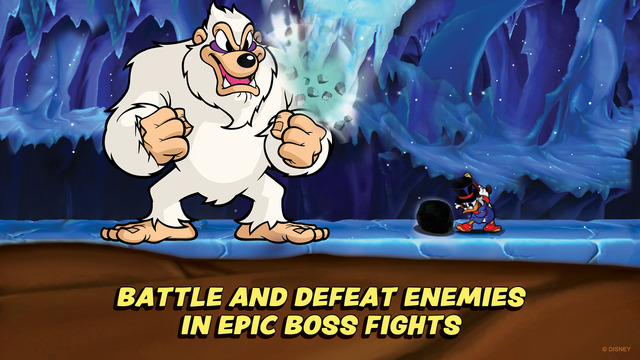 While I wait for the mayor and the national guard to get back to me, I'll fill you in on these games. DuckTales: Remastered ($4.99) is the WayForward-developed remake of Capcom's classic NES title. You play as Uncle Scrooge on a treasure hunt around the world, with the help of your friends, family, and trusty pogo cane. I rather enjoyed it, as you can see in my review.The only major quibble is that the touch controls can be a little tricky in places, so if you're not so good with virtual buttons and don't have an MFi controller, tread carefully.
The Amazing Spider-Man ($6.99) ambitiously attempts to capture the open-world joys of console Spidey games like the classic Spider-Man 2. Does it succeed? Eh, kinda. The fella who reviewed it for us wasn't too high on it, and I can't say I disagree with him greatly. On the other hand, we're not exactly drowning in paid open-world superhero games these days on iOS, so you might still want it just for web-slinging kicks. That being said, if all you're looking for is a Spidey open-world game to fool around in, you're probably better off with The Amazing Spider-Man 2 ($6.99). I didn't give it a great score when I reviewed it due to severe technical issues with the online requirement, but Gameloft later patched that requirement out, leaving it as a decent enough, if somewhat uninspired, game.
The last time these games went on sale just before the holidays, they stayed that way at least through Christmas, so you likely have some time to decide if you're willing to throw some coins at them. If you miss them, though, they probably won't be back at these prices again for quite a while. Threats or menaces? You decide, fair reader.