Remember those glorious days back in the summer when you and your friends were dying to go grab some pokemon on Pokemon GO (Free) but couldn't log in or the game kept crashing on you? Remember when it was so bad that Niantic had to pause the game's worldwide rollout to try and get a handle on the server situation? Well, now we know exactly how badly the servers were overloaded and we can, perhaps, shed a silent tear for Niantic's plight. Luke Stone, director of customer reliability engineering at Google, wrote a blog post talking about the Pokemon GO launch experience and how it was like nothing he had ever experienced in his career before, and he had a hand in numerous, big product launches.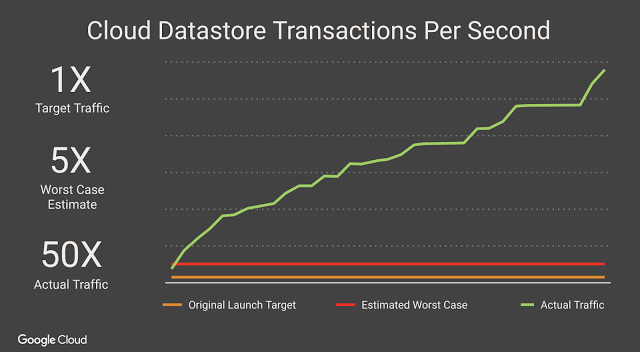 I could just point to the image above and not say anything, and you'd understand what Niantic went through. According to Stone, within 15 minutes of launching in Australia and New Zealand traffic spiked way beyond any expectations, which was good news and bad news since it showed how popular the game was but at the same time, blasted the servers apart.
The teams had targeted 1X player traffic and had a 5X traffic as the worse (best) case scenario. Well, traffic went up to 50X really fast, and at that point there wasn't much that could be done to help the servers cope outside gradually upgrading server capacity, which is what happened over the next two weeks. So, you should all pat yourselves on the back because you managed to briefly bring Google to its knees. You can read the whole analysis here.