The idea behind the TouchArcade Game of the Week is that every Friday afternoon we post the one game that came out this week that we think is worth giving a special nod to. Now, before anyone goes over-thinking this, it doesn't necessarily mean our Game of the Week pick is the highest scoring game in a review, the game with the best graphics, or really any other quantifiable "best" thing. Instead, it's more just us picking out the single game out of the week's releases that we think is the most noteworthy, surprising, interesting, or really any other hard to describe quality that makes it worth having if you were just going to pick up one.
These picks might be controversial, and that's OK. If you disagree with what we've chosen, let's try to use the comments of these articles to have conversations about what game is your game of the week and why.
Without further ado…
Space Marshals 2
Historically, dual-stick shooters are frantic shoot-fests where you can barely blink as you concentrate on not getting hit while blasting away everything in sight. They're great! And they're a great fit for mobile. However, when the original Space Marshals launched early last year, it showed that a dual-stick shooter could also be incredibly tactical. It used some typical stealth game tropes to slow down the action and force you to really think about how best to approach each situation. It was an absolute breath of fresh air, and one of my favorite games of 2015.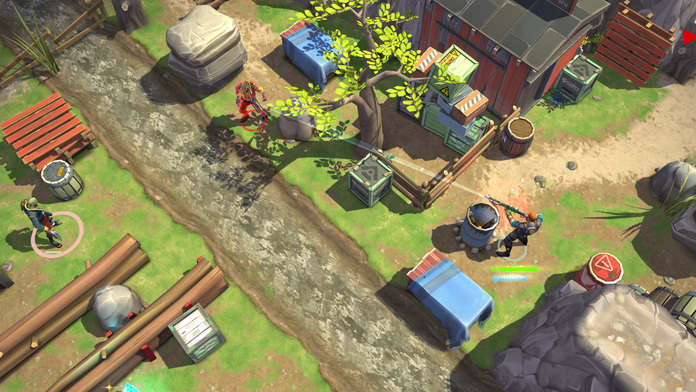 That said, Space Marshals never fully felt like a true stealth game. It sure looked like a stealth game, with patrolling guards and their classic "cones of vision" and mechanics like disguises or making noise to cause a distraction, but at the end of the day you were typically sneaking around in order to get the jump on some poor schmuck with your weapon. With Space Marshals 2 ($4.99), developer Pixelbite had the luxury of starting off with all the lessons they learned through the initial release and subsequent updates to the first Space Marshals, and I think this sequel represents their true original vision for making a tactical, stealth-based dual-stick shooter.
The changes in Space Marshals 2 aren't drastic, but they make all the difference. First and foremost you can now do proper stealth kills, meaning you can sneak up behind someone and physically take them out without drawing your weapon. Also, based on the cartoon "ZZzzs" coming from the enemies that you stealthily take out, you're not actually killing them, so there's also the pacifist aspect that's usually a part of stealth games. Perhaps "stealth kills" was the wrong choice of words. But hey, if you want to try and make your way through the game with killing as few people as possible, now you can.
Like I said, it's not a massive change, but it makes the stealth element of Space Marshals 2 feel more than just superficial. Coupled with larger levels, new weapons and gear, multiple playable characters, and an overall polish above and beyond what was seen in the first game, and Space Marshals 2 is the definitive Space Marshals experience. Sure, it's largely more of the same, as Carter said in our review, but it's bigger and better than it was before and finally feels like the true realization of what Pixelbite had in mind for this series.