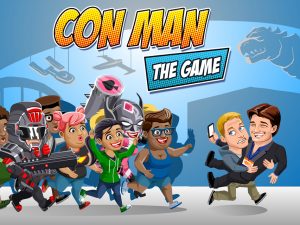 Alan Tudyk and Nathan Fillion, both stars of the fantastic Firefly TV Show, are two of the most widely-liked people on TV and nerd culture in general. Recently, they've decided to work together again in a web series called Con Man, and that web series has been turned into a mobile game that releases tomorrow (or later today, who knows with Apple releases anymore). First a couple of words about the show. Con Man is created, written, and directed by Tudyk and describes the life of a cult – but struggling – science fiction actor as he tours the convention circuit. Fillion's character, on the other hand, has become an A list actor and a source of frustration for Tudyk's character.
GUYS! @FeliciaDay, @AlanTudyk, @nolan_north play the NEW @ConManSeries game w/@Hydra_Lord TOMORROW 4pmPST on @Twitch pic.twitter.com/65TQnrR1XM

— Geek & Sundry (@GeekandSundry) August 24, 2016
Con Man The Game has you building your own comic book convention, picking your own theme for it – SciFi, Fantasy, Horror, and Hero – and making sure toilets aren't clogged, as you try to reach for the greatest con ever, Shock-A-Con. However, things aren't as simple as just building a Con; you'll also have to fight against the aliens of the cult show Tudyk's and Fillion's characters starred in.

While you can find plenty of games that have you building stuff on the App Store, Con Man: The Game does have its unique theme going for it as well as leveraging the power of many recognizable faces that will be popping up in the game. And by the way, tomorrow at 4PM PST, Felicia Day, Alan Tudyk, and Nolan North will be playing the game live on Twitch, so you can check it out if you feel like it.