There aren't enough games like Pokemon Snap in the world — there just aren't, even though it was released nearly 20 years ago. I'd like to think that Nintendo and The Pokemon Company are sitting on the concept, ready with a tiny hammer to smash a glass container somewhere with the code for a mobile edition, but we aren't there yet. Instead, we'll have to deal with the various "tourist" and survival sandbox games we have now, which get us ever closer to that fully realized open world Snap many of us long for. Thankfully, Jurassic Go – Dinosaur Snap Adventures ($3.99) is helping us get one step closer.
Don't get too excited, Jurassic Go is still on rails, but it's delightful, and manages to forge its own personality that doesn't lead it into knockoff territory. The gist is that you're called upon as an ace photographer to take photos of a "Dino Museum," spanning multiple islands and locales. There's no over-arching story, no "oh my goodness, evil forces are taking over" shtick — it's just a cute setup and an excuse to take lots of cool pictures of weird creatures.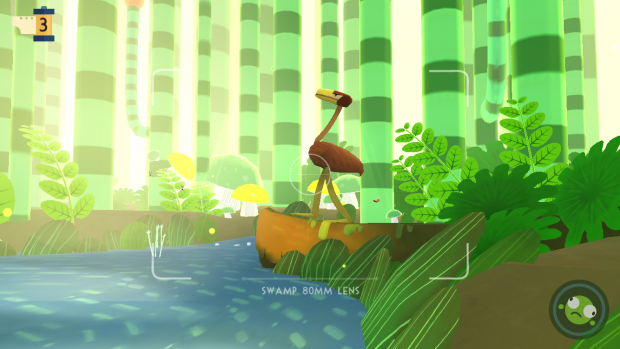 If that sounds underwhelming, don't fret, because it really grows on you. I mean, your museum can literally grow as you make use of the meaningful progression system that adds more tourists to your island and unlock new zones, but the entire premise is endearing as well. I loved getting the chance to meet new animals, especially when one would escape me at the last second, ducking behind a tree or something.
It's a chill experience, facilitated by the touchscreen controls and first-person view. All you have to do is move around and manipulate the camera by way of swiping, and tap to take a picture. It's deliciously simple and there's very little in the way of mistakes or accidental clicking because the inputs feel so spot-on. There is a little interactivity as some creatures need to be coaxed out of hiding with things like music (all done with a simple on-screen button), but for the most part this is about watching, listening, and reacting.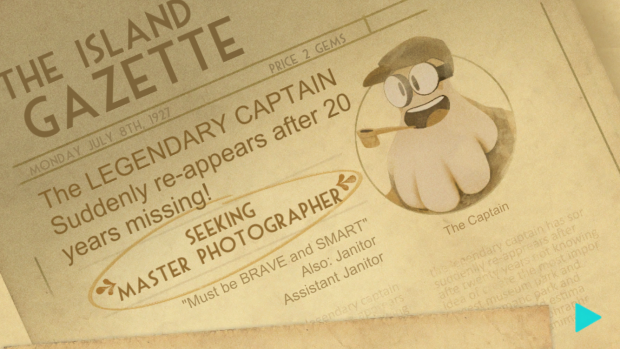 There's a ton of replay value too, as you can earn points based on the size, location, and angle of your shot, and earn bonuses for things like catching them in an excited mood. Snapping the perfect frame isn't something that's necessarily needed to coast through the game, but it's a way to return to old areas in an attempt to truly master them.  Plus there's an achievement system for additional shots of animals doing actions like jumping and frolicking. Well, there's that, and you have a specific amount of pictures you can take in a run, so it's important to make sure that they count. It's a small skill-based concession, but I don't mind going back in to try again.
Really, those "perfect" shots aren't easy to get — most of the time I'm looking around at the bright, lush environments. For such a simple game a lot of time was spent on the locales themselves, and I'm frequently missing shots looking up at some of the giant trees. The jazzy music also does a great job of getting me in the mood.
If I had one issue, it's probably with the "building" element of the game. It's very carefully streamlined at the start, and doesn't really let up in terms of the hand-holding later on. Things like bridges and buildings can only be placed in specific locations, and there isn't much wriggle-room in any way. It would have been amazing to create an island entirely if your own design, but alas, you'll have to settle for a robust touring system instead. Consider it part of my wishlist for a follow-up.
As a premium game you're getting everything, and as a result it feels like a fully-fledged adventure. Unlike their previous effort Snapimals, it feels great to be able to just take pictures at will and not have to worry about whether a certain shot is "worth it" because you are micromanaging gems and currencies behind the scenes. As a result, it feels less predatory, and I hope it's a trend that developer Bebopbee continues with. If you pine for the days of taking pictures of lone Pikachus out in the wild on the Nintendo 64, this is a great way to relive your glory days.
Jurassic Go might not be as memorable in say, 15 years, but it's a unique game that has a lot of heart. Instead of creating new IPs  they may as well just go with this one again for their next creation.