As such App Store classics as Fruit Ninja ($1.99) and 1-Bit Ninja ($2.99) have proven, having any sort of reference to ninjas in a game is almost always awesome. GameResort, the makers of App Store Best of 2014 nominee Adventure Beaks (Free) – which we loved in our review – are well aware of this trope in NinjAwesome, their upcoming side scrolling platforming release that is dropping on the App Store for free on the June 22nd.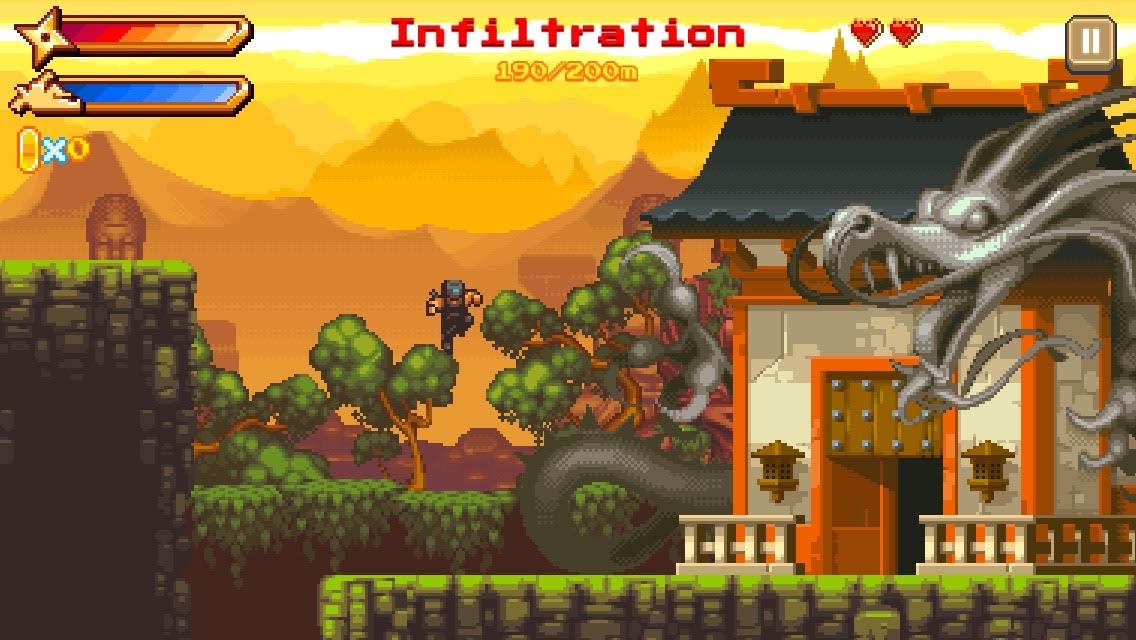 While the gameplay appears rather simple, the initial feeling of NinjAwesome is that it is reminiscent of cult classic and perpetual mainstay on my iPhone Hook Worlds (Free), which is certainly a good first impression to have. You star as a ninja who must endlessly run through randomly generated environments while jumping, sliding, throwing shurikens and destroying bridges with a downwards spike attack to traverse the terrain. NinjAwesome provides a spin on the typical auto runner platformer with the ability to do quests that task you with certain objectives such as reaching a certain distance, breaking a number of bridges or collecting hidden scrolls throughout the level, and once these have been achieved your ninja gets experience which is used to level up. An endless mode that is unlockable relatively near the start is a nice bonus for anyone with the itch to break their high scores.
While this may all appear to be great, there is the looming question of how the game is monetized considering it's releasing for free. There are timers in the app, which have to refresh for new missions to become available (and thus capping your experience somewhat) and also for opening treasure chests that award you coins, the in game currency of 'ninjems' and cosmetic alternatives to the shuriken your ninja can throw. Thankfully, the endless mode appears to be always accessible, and while the timers for chests are relatively short, they can be skipped by using the 'ninjems' which are also obtained every time your ninja levels up. With, as the developer accurately describes, 'awesome pixel art, awesome controls and an awesome name', NinjAwesome certainly seems to be one to keep your eye on when it launches on June 22nd, and make sure to join the pre-release hype on our forums.