Hello everyone, and welcome to the week! It's time once again for our look back at the noteworthy updates of the last seven days. Lots of favorites big and small alike in this week's list, so there should be something here for you no matter what your fancy. Of course, you can keep an eye out for updates yourself using AppShopper Social (Free), the watchlist in the TouchArcade App (Free), or by participating in the TouchArcade forums, but this weekly summary is here to fill in the things you might have missed. Let's dig in!
INKS., $1.99 If you haven't picked up this odd little paint splattering pinball game yet, you're in luck. The extra level packs that cost money to buy in the initial release are now free. Furthermore, you can now earn credits by performing well in the game, whereas before, you could only get them by buying them. The Vespa level pack has had its difficulty adjusted since it was a bit too hard for most, too. If you already had this game and bought the level packs, well, at least it's only a couple of bucks, right?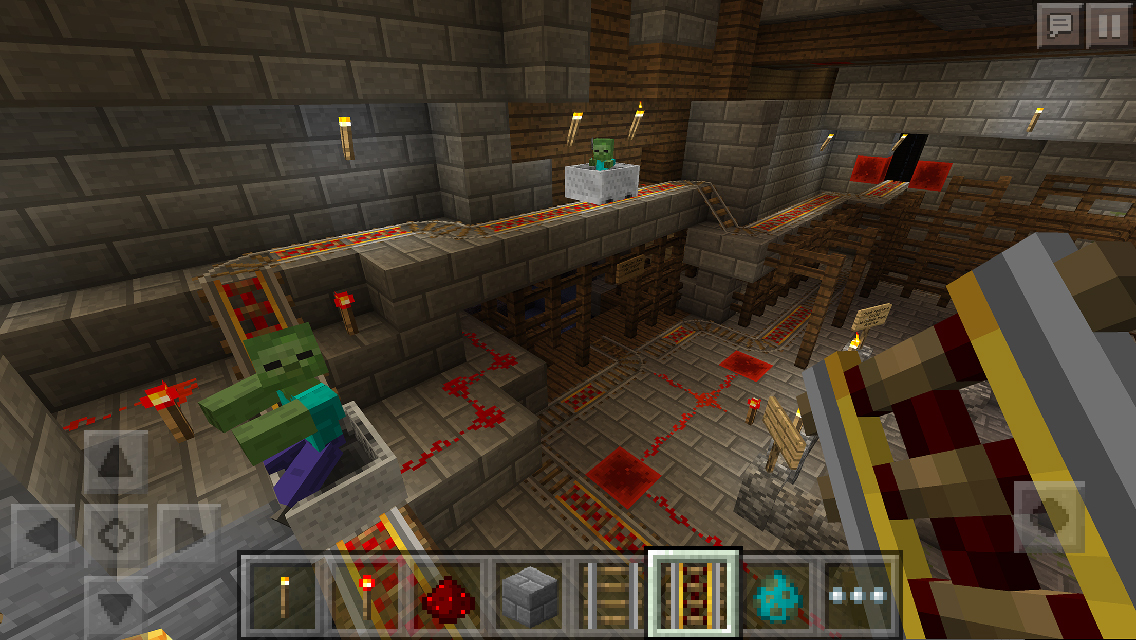 Minecraft, $6.99 Steve! Steve, it's Marvin! Your cousin, Marvin Minecrafter? You know those new Biome Settler skins you were looking for? Well, listen to this update! (holds out iPhone)
Oceanhorn â"¢, $7.99 I'm fairly sure the gameplan is to keep updating the graphics on Oceanhorn until it is the prettiest game ever made. To that end, if you've got the latest iOS hardware, you're going to enjoy some really spiffy new visuals thanks to this update. More decorations, more details, and a higher polygon count on many objects mean that Oceanhorn remains one of best ways to show off the power of your new mobile device.
Callys Caves 2, Free I already wrote a separate article about this major update, but basically what happened here is that the developer took the improved movement engine from the third game and transplanted it back into the second game. They also adjusted enemy behaviors, collision detection, and more. It's like getting a free remaster! Certainly worthy of this week's mega-coveted Update Mondays Most Spider-Mans Of The Week award. Congratulations!
Goblin Sword, $1.99 Here's another big update to a great 2D action game. Goblin Sword got a new chapter called Sacred Ruins with 9 new levels, 3 new bosses, a bunch of new enemies, and a rock. Well, maybe there isn't a rock. Sorry about that. There are also some new weapons and costumes, and thank all that is good and right, there is now iCloud support.
Heroes of Steel RPG Elite, $3.99 Compared to the usual Heroes Of Steel update, this one is a little light, but certainly appreciated nonetheless. The biggest addition is a new option called Auto-Glom that bunches your group together when you're traveling or loading a game. The rest of the update is focused on various fixes, including some display issues and a wild exploit involving the Phalanx Shield.
Pizza Vs. Skeletons, $2.99 The eternal battle of Pizza Vs. Skeletons rages on, and developer Riverman Media isn't about to let their serious documentary of the ancient war fall into a state of disrepair. This update improves the game's graphics for the iPhone 6 and up families of devices, reduces the size of the app, and makes a few adjustments to the game's randomization. Roll on, you cheesy pizza thing, you!
The Executive, $2.99 But maybe you can't relate to sentient pizza? Well then, let me point you at The Executive, also from Riverman Media, and also sporting some slick new visual polish on the iPhone 6 and up families. It's also got a newly-reduced app size, and the developers have even thrown in iCloud support for good measure.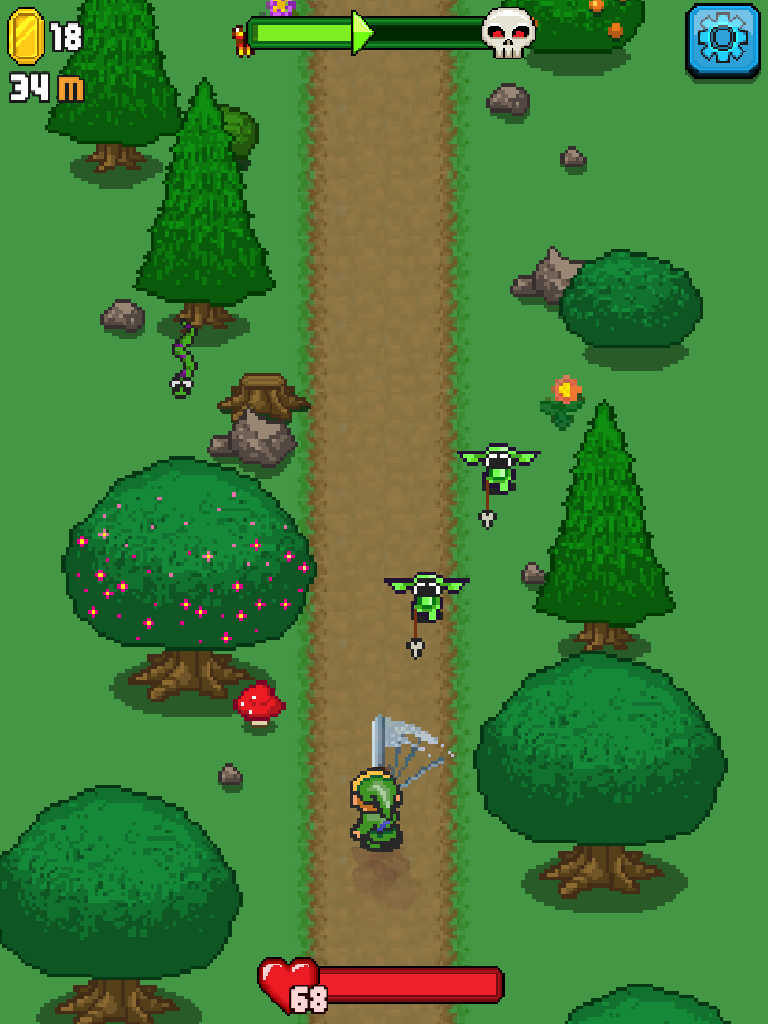 Dash Quest, Free Dash Quest is keeping the ball rolling with its regular updates, and the latest one adds yet another Daily Dungeon to the mix. The Ice Cavern Daily Dungeon takes you through a frosty climate where the risk of freezing is almost as deadly as anything the bad guys can muster. This update also includes some bug fixes and optimizations. Stamp those Officially Authorized Update Mondays Bingo Cards, everyone!
Land Sliders, Free When I first came to Japan, the English school I worked for wanted to license Disney characters to help their struggling numbers. Finding the House Of Mouse too expensive, they instead ended up licensing Shrek. Not the worst plan except for the fact that Shrek was long since over by then and never all that popular in Japan to begin with. Well, that school went out of business, but I'm sure Prettygreat will be fine. Yes, they've added an assortment of characters to the game who provoke mixed reactions, but you know, someone must still like Shrek. Not me, though. I'm using all of the power vested in me as a part-time freelancer to symbolically transfer their Game Of The Year award to Downwell because of this.
Injustice: Gods Among Us, Free Speaking of mixed reactions, it's safe to say that Batman V. Superman probably didn't go over quite as well as Warner Brothers hoped. With the movie basically finished at this point, Injustice has wasted no time sweeping out the trimmings they had set up to celebrate it. This update brings the old icon back and adds in a few new characters and booster packs to pick up. It also allows you to refill your stamina meter by watching video ads. That's kind of nice for anyone who doesn't have a few hundred energy refills stocked up already.
Heavenstrike Rivals – A Monster Tactical TCG!, Free Heavenstrike Rivals is gearing up for their big collaboration with Full Metal Alchemist, which kicks off on May 25th. This update adds the ability to give certain units second promotions, granting them improved stats and a new appearance. PvP tickets have been removed from the game, so you can now play PvP battles as much as you want. That's the biggest part of an overall overhaul of the game's PvP mode, with more changes set to roll out soon.
Flick Tennis Online - Play like Nadal, Federer, Djokovic in top multiplayer tournaments!, Free Developer Rolocule promised more realistic events in their tennis game, and their May schedule certainly has gone a long way towards backing that up. They've been running events all month, and the latest update's event lets you play a French Open-style tournament in Paris. It's time-limited, so make sure to play this week if you want to check it out.
Bridge Constructor, $1.99 Hey, sport, do you like trains? If you do, have I got an IAP for you. It's the new expansion to Bridge Constructor and it's called Trains, because descriptive titles are all the rage these days. A mere $1.99 gets you the works. Unsure if you like trains or not? Well, this update also includes two teaser levels that you can play for free to see if trains are to your liking. Warning: I am pro-trains, and so is Tony Stark. Cap and Bucky are (understandably) opposed to trains. Choose wisely.
Assassin's Creed Identity, $1.99 It seems like $1.99 is the magic price point this week for awesome new content in games. Here, those two bucks will get you the new Forli campaign, which adds a new location, some new story missions, and more. Even if you don't buy the IAP, this update adds some hidden treasure chests to find on the existing maps, some new Legendary items, better daily challenges, and a few other things. Be sure to take a look at it.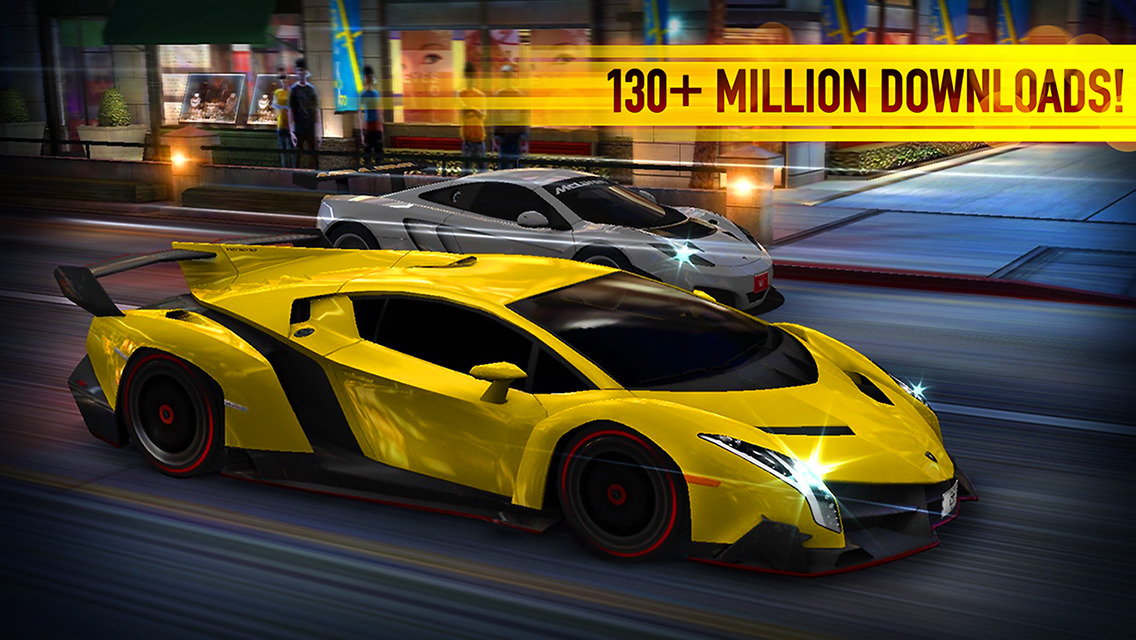 CSR Racing, Free As usual for a CSR Racing update, this one is all about the new cars that have been added to the game. This update's additions include the Mercedes-AMG C 63 Racing Coupe, the Nissan Juke R 2.0, and the Maserati MC12. Those cars will all be offered as season prizes, but if you just want to buy a cool new car, the showroom now offers the BMW M4 GTS and a special version of the aforementioned Mercedes.
Puzzle Craft 2, Free Puzzle Craft 2's latest version redesigns the castle, giving it a whole new look and enabling you to build 14 new parts. There are 15 new puzzles to discover, and a new system for boosting XP. Other additions include 100 new pieces for your coat of arms, and six new collections to find, along with some bug fixes. Sounds like a little puzzle, and a little craft. All according to plan.
That about wraps it up for last week's significant updates. I'm sure I've missed some, though, so please feel free to comment below and let everyone know if you think something should be mentioned. As usual, major updates will likely get their own news stories throughout this week, and I'll be back next Monday to summarize and fill in the blanks. Have a great week!