We first talked about Heroes of Loot 2, the sequel to Orangepixel's frenetic 2013 dungeon crawler Heroes of Loot ($3.99), late last year when it was still very early in development. Orangepixel has been great about being open with the game's development, and we checked in on it again in early March, but there have been plenty of additional videos posted to Orangepixel's YouTube channel since then that are worth checking out for those curious at a look behind the scenes. Anyway, this past Friday was a major step for Heroes of Loot 2 as the game entered Early Access on Steam. Orangepixel will take all feedback from the Early Access period to polish and tweak the game, and already there has been a major design decision made that fundamentally changes the original vision for the game.
One of Heroes of Loot 2's big differentiators over the original was that you were actually controlling a party of 4 while playing, with the ability to directly control one at a time and swap in the other characters as needed. But there was a problem with how this mechanic was feeling, as explained by Orangepixel in our forums:
"Most of the time you would just use two characters, and the other two would be used just because you don't want them to fall behind with their experience level.
The change was to now have 2 characters under your control, one range and one melee.. and this works soooo much better. Both characters bring something to the gameplay, and it's much easier to juggle between these two instead of four."
Here's a peek at the new character select screen: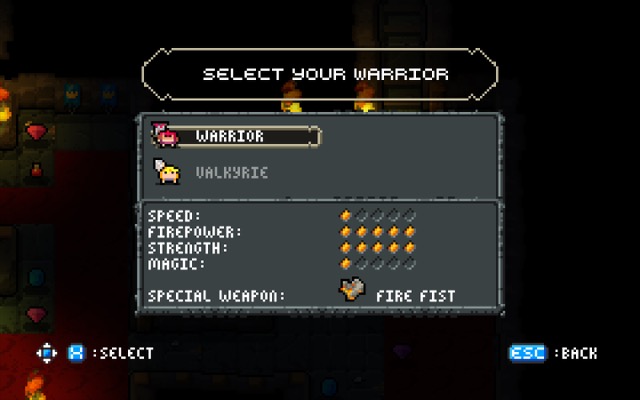 While the idea of having a party of 4 that you could swap between at any time sounded really cool, it doesn't mean anything if the game isn't more fun because of it, or if you're feeling pressured to use characters you don't want to simply to keep them as leveled up as the characters you do like using. Also this opens the door for there to be far more than 4 characters in the game, and I'd love to see a variety of cool heroes to choose from. Basically, any changes that make a game more fun to play I'm all for.
You can see additional screens of further tweaks to the game in the forum thread, and as mentioned you can grab the game on Steam Early Access right now if you want to get in early and provide some feedback. The full release of Heroes of Loot 2 on iOS, Android, and PC is planned for some point in June.