Something pretty scary happened to me right around Halloween last year. Game Center on my iPad broke. It doesn't seem like it should be a big deal, but unfortunately a lot of games rely on it and many straight up won't open without Game Center.
I noticed it first in Need For Speed: No Limits (Free), when the game would just hang at the loading screen forever (and it still does to this day). I have several other apps that do that, and many more that do work but just freeze up when you try to look at leaderboards or achievements. The Game Center app itself is just a blank white screen now, and even in the settings app the Game Center section doesn't load. It's utterly bizarre, but what makes even more strange is that Apple has yet to fix the problem, and it's been months.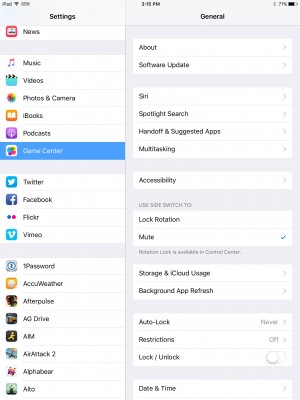 It turns out there are lots of people who have been having the exact same problem, and there has been a pretty active thread on our forums about it started by user Cccee. Over the past month it's turned into a great resource for discussing potential solutions (some people have managed to fix it, somehow) as well as just commiserating with the afflicted.
It seems crazy that such an insanely popular device used for gaming could have its own gaming service broken for so long, but all hope is not lost. There have been tons of posts in forums, blogs, and Apple's own support website with people complaining about the issue, and it's a pretty safe bet that Apple is fully aware of the problem. (Whether or not they know how to fix it, though, is another matter.) Plus, for many users Game Center has only stopped working on some devices. For instance, it still works great on my iPhone. And finally, there have been a few developers who have decided to relax the Game Center requirements in their apps (like AirAttack 2 ($0.99)) so that people like me can still play.
So yeah. It's a super lame problem, but you aren't alone. We hear you up in Touch Arcade Towers, and hopefully Apple does as well. Until they finally squash this bug for good, check out the forum thread to see what other people are saying and potentially try to fix it yourself. Good luck!
Comments are closed, instead, if you want to discuss this with other members of our community, head into the forum thread where it's all taking place.