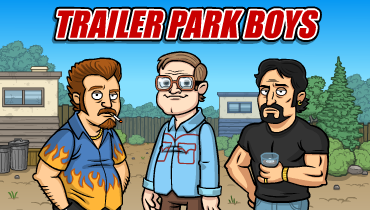 There's really two types of people in this world: Those who love Trailer Park Boys, and those who haven't seen the series yet. If you're in the latter group, the show (and movies) are a Canadian mockumentary about living life in a trailer park. It's among the many totally classic TV series that was picked up by Netflix, and while the debate will rage eternally regarding whether the original series of the Netflix continuation is better, it's really something you've got to watch- Particularly if you enjoy really silly drug-centric humor.
A mobile game was just announced, and there's absolutely no details yet beyond it being released next year. There's loads of great directions the game could go though, between building and managing the actual trailer park, playing mini-games involving Bubbles' Kittyland Love Daycare, Samsquanch hunting, and more. I feel like it's going to be hard to mess this one up, and there's so much great potential in the Trailer Park Boys universe to create a totally hilarious game.
Hopefully Conky doesn't make an appearance, but, if he does, that's just the way she goes. If it's a builder game, I really hope your builders are Corey and Trevor. Anyway, stay tuned for more news on the Trailer Park Boys mobile title. I'm going to be watching this like a hawk- But not just any hawk, I'll be watching it like a sh*t hawk, Julian.