I feel like every week I'm writing about another game adopting Crossy Road's free-to-play scheme. There's a good reason for that, as the ability to play for an unlimited amount of time, unfettered from energy mechanics, is a great feeling, and developers seem to be picking up on that. As it stands The Balloons – Endless Floater (Free) isn't quite as entertaining, but it's still a charming pixelated romp through the sky.
With an art style reminiscent of a classic NES game, Balloons is one of the easiest mobile games to pick up. To rise up in the air, you'll simply tap the left or right side of the screen, which causes your character (by default, a balloon man) to move to either side. This is facilitated through an in-game animation where your balloon blows into the air, causing them to move to the opposite side. It's cute, and it's devilishly easy to get around. It's easy to pinpoint precision vertical maneuvers by tapping left and right in an alternating fashion, and moving to either side is accomplished by light mashing. If you wish, you can swap the controls.
Along the way you'll pick up coins, go for a high score as you rise to the top, and avoid hazards as well as the encroaching scrolling screen. It's hectic but not overwhelmingly so, and the whimsical theme will assist in calming you down as you navigate the eternal abyss of the sky.  There's a fair bit of puzzle-solving as well in the sense that some platforms have false walls, so you'll have to do some quick thinking to discover them, lest you get left behind and end your run. Note that your balloon is relatively helpless outside of your ability to dodge, dip, dive, and duck, so there's no power-ups or laser beams to save the day.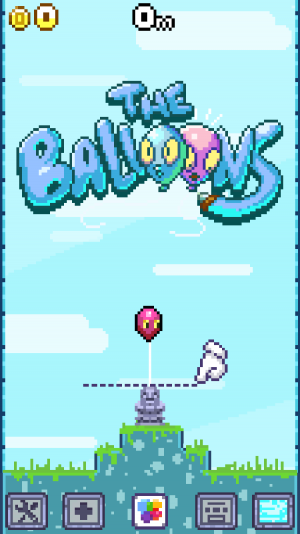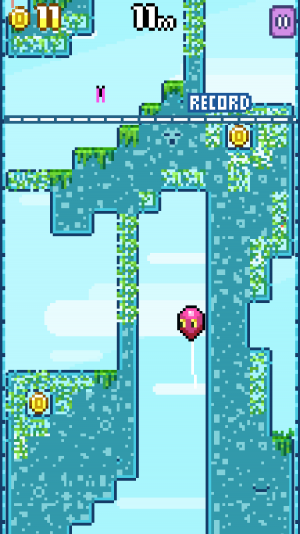 It helps that Balloons runs incredibly smooth, and both the colorful art style and endearing soundtrack seek to draw you in for just one more game. It sounds kind of stupid, getting attached to a balloon, but I really dig the character designs here, as both the game's own icon and worlds have stuck in my mind for days. After acquiring enough coins you'll try your luck at the slots, which can in turn earn you more coins or a new character. Alternatively, you can also spend $0.99 on individual balloons. As you can clearly see, it takes after Crossy Road.
I do wish there was a bit more variety though. Hazards range from spikes to wackier things like dart guns, but it never really goes that far out there. Characters also aren't extreme enough in that they all feel rather similar, and I wish there was a goal system that was in place beyond the obvious objective of earning the highest score possible. Because of these reasons, it's tough to justify lengthy play sessions as you know you're not really getting anything out of it — especially if you keep winning coins over and over in the game of chance.
Even if it could stand to have more unique features, The Balloons – Endless Floater is worth trying, especially if you've grown tired of the increasingly annoying energy reliant titles. Noodlecake is committed to updating the game too, so it's entirely possible that with some more love it'll get much better.