Sometimes, a game is exactly what it seems like it would be on the tin. Minecraft Story Mode sounded a lot like it would be a mixture of the familiar Telltale narrative and gameplay tropes with the world of Minecraft ($6.99). How exactly that combination would come together would be a good question, but after playing a demo of the game at PAX Prime 2015, I have to say – this seems rather promising. It's already rather thrilling, and Telltale is at least using the world to tell an original story centered around the experience.
You play as a new character named Jesse here – there's 6 different character choices including both male and female options, though the PAX demo had just one Jesse, voiced by Patton Oswalt. There's a convention named EnderCon that serves as the epicenter for the first episode's event, and some things go horrifically wrong, and it's up to Jesse to help save the day…and his pet pig, because he's a cute little fella.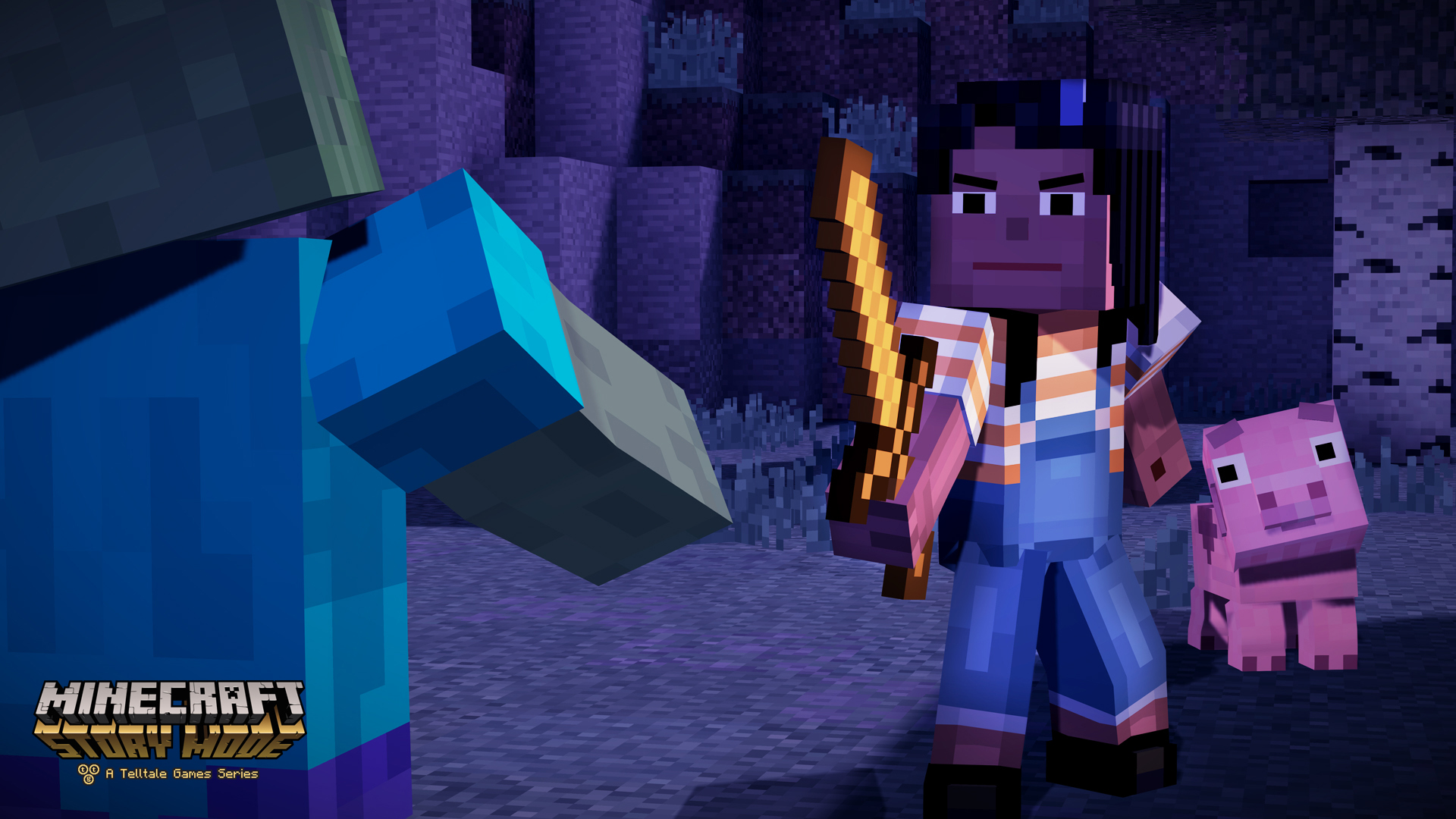 The Telltale influence on the experience is huge, and I mean that in the best way possible. The 15-minute demo did a great job at managing to make me care about these characters I had limited time with in two short scenes from the game, and did a great job at setting up the story that we'll be experiencing here. Not to spoil anything, but do expect to make some tough decisions with your pet pig and with your human compatriots.
The Minecraft look is fantastic, though, and seems very true to the game itself with all the characters and environments. Telltale has taken great care to make sure that the game looks like Minecraft, not like an imitation of Minecraft's voxel style. There is one confusing part where quick-time events are done with blocky arrows, and it seemed like directions were a bit confusing to realize which way was which at first. That's something that can be tweaked and changed before the game's launch this fall.
I'm curious as to how Minecraft fans take to the game, and just how much they enjoy it. A Telltale experience does offer plenty of options and choice, but it's still heavily scripted. But just because someone enjoys the sandbox freedom of Minecraft doesn't mean they won't dig a narrative Telltale experience. That the game seems to be aimed toward making them happy could go a long way. While I'm more of a novice to the Minecraft franchise myself, and more of a fan of the driven Telltale style of game, I personally am excited for this, especially after the demo.