After such an epic week of new games last week, it's nice to see that things are continuing to roll strong this week. The original Ski Safari is one of my all-time favorite games, so I was excited to hear the announcement of a sequel and even more excited that the release was so soon after that announcement. Ski Safari 2 is out tonight, and it looks killer. Also, Lara Croft GO looks to do to the Tomb Raider franchise what Hitman GO did with Hitman, which I'm very stoked about. PikPok's fancy-looking futuristic racer Breakneck is out of soft-launch, Zach Gage's thoughtful Sage Solitaire is out, along with the dungeon-crawling puzzler Swipey Rogue, the stylish adventure Calvino Noir… just so many great releases. We are truly blessed as mobile gamers, so check out the list below and let us know what you're picking up!
Update: Late arrival The Walking Dead: Road to Survival is out of soft-launch and has been added to the list below!
---
Angel Sword
iTunes Description
Prepare to adventure in the most epic full scale multiplayer 3D RPG for mobile! Experience amazing detailed graphics in full HD. The battle of immortals has begun. Choose your side.
Forum Thread: Angel Sword (by DVide Arts Inc.)
---
Beat da Beat
iTunes Description
Rescue the woman you love from the claws of a green-faced villain, fighting your way through various dangers; give some beans to his henchmen – all this accompanied by breathtaking hits of the coolest music performers!
Beat Da Beat is a unique alloy of classical bullet-hell genre with the dynamics of rhythm games. All that goes on on the screen, such as moving, acting and shooting, is based on music compositions. Can you imagine anything cooler than dodging the hurricane of enemy bullets – and doing so to the powerful rhythms of dubstep? Smashing extraterrestrial miscreants into atoms while dancing funnily? What? Smacking 'em good in a close-in slugfest? No problem, dude!
Forum Thread: Beat da Beat (by Nekki Indie)
---
Brave Knight Rush
iTunes Description
Ready for an high intensity action / combat game?

Demons have infested the once peaceful human kingdoms and now is up to you, as the Brave Knight, to put an end to this evil by traveling through dark forests and infested towns in order to defeat them! Watch out for the evil infested castles, terrible boss awaits you!
Forum Thread: Brave Knight Rush (by Alessandro Avigni)
---
Breakneck
iTunes Description
Master your speeder and defeat your pursuers in high speed action across a world ravaged by an alien occupation.

Fly at BREAKNECK speed as you pursue your mission and get as far as you can. The world is now occupied by invaders—and they are hunting you. Scramble through unfamiliar terrain, dodging obstacles and evading capture and destruction. Retrace and optimize your route to improve your distance. Test your limits and your control, and earn rewards for the risks you take.
Forum Thread: Breakneck (by PikPok)
---
Bullet Boy
iTunes Description
The coolest game you'll play this year! An incredibly fun adventure across a floating world, where you fire yourself out of powerful cannons! Meet Bullet Boy, the courageous kid who rushes to escape a deadly tornado, while he tries to collect the missing pieces of some very mysterious, and fascinating statues.

Packed with highly dynamic mechanics. Avoid birds, buildings and weird machines, tap rapidly to dodge fast-moving obstacles, aim precisely to get to the next cannon, or shoot to the sky to elude multiple obstacles altogether, and quickly get to your goal!
Forum Thread: Bullet Boy (by Kongregate)
---
Calvino Noir
iTunes Description
The film noir stealth game. Calvino Noir is the exploratory, sneaking adventure through the 1930s European criminal underworld. Architecture meets Noir as you become unwillingly entangled in a revolutionist plot. We use Apple's Metal graphics technology to recreate the style of film noir, with it's beautiful high contrast aesthetic to build a world that feels real enough to host the game's dangerous setting.

Acts 2 and 3 are available as in-app purchases.

Inspired by the futuristic dystopian visions of Deus Ex and Blade Runner. Play as a disparate group of last-chancers as they fight for the future of a city sliding slowly into the gutter. Some are broken souls, some are merely damaged – all are fighting to forge a future in an ugly world ruled by those whose hearts are cruel and dark.
Forum Thread: Calvino Noir (by Calvino Noir Ltd)
---
Chaos Chambers
iTunes Description
Ready to rock? Enter the Chaos Chambers and double tap, double jump, flap and spring your way through utter mayhem!
Forum Thread: Chaos Chambers (by Appsolute Games LLC)
---
Cloud Critters
iTunes Description
• An endless arcade game with simple one touch controls
• Compare your hopping skills against others and share your highscore with friends
• Game centre game leaderboards. Can you beat your friends' highscore?
• Game centre achievements and objectives. Unlock characters using your skillful bouncing
• Collect over 60 delightful beasts, critters and wonderful characters
• Free to play
• Easy to get into, hard to master
• Get free vouchers for real life stores with giftgaming support
Forum Thread: Cloud Critters (by Shedworks Interactive)
---
Dashy Square Lite
iTunes Description
Simple one touch rhythm-based game play with lots of levels and awesome music that will keep you entertained for hours! Play now! Only available for iPhone and iPad!
Forum Thread: Dashy Square (by Kastriot Sulejmani)
---
Disco Ducks
iTunes Description
From dancing ducklings to glittery grooves, lead Duck Travolta, Ducky Parton and Quackson Five through a world where ducks rule the dance floors and the 70's never ended! Use colorful combos, gather groovy powerups and build your Mojo to defeat the sleazy Fabio Fox as you connect, dance and explore!
Forum Thread: Disco Ducks (by Tactile Entertainment)
---
Ember's Journey
iTunes Description
Navigate puzzles in darkness, with only the help of a light.

Ember's Journey takes places far underground with the only light being the light from Ember. Using only this light, you navigate levels while solving puzzles.

No in app purchases. Pay once and play.
Forum Thread: Ember's Journey (by RAZVAN HOMENTCOVSCHI)
---
Fallen
iTunes Description
Tap to spin, match to win!

Fallen is a beautifully minimal and shockingly fun reaction game.

As you hit higher scores you'll transition through evolving worlds, with challenging pin formations, gravity strengths and adrenaline pumping music.
Forum Thread: Fallen (by Teaboy Games)
---
Forest Spirit
iTunes Description
A tower defense game with enemies like no other. No more snaking on predetermined path but an unpredictable tidal wave of bugs destroying everything in its path. In Forest Spirit they won't stop at anything, they will eat their way through defenses and trees even flow around objects to find the quickest way to a delicious tree of life.

Outsmart your enemies, build up the strongest defense with upgradable plants and trees, command the forces of nature and hit them where it hurts the most. Help the druid to guard the tree of life and challenge the world in survival maps. Are you ready to stop the unpredictable bugs before they will eat everything?
Forum Thread: Forest Spirit (by ForceField s.r.o)
---
Gasoliq
iTunes Description
GASOLIQ is a space traveler who represents a rare species capable of shifting their state of matter, transitioning to solid, liquid, or gaseous form as needed. Unfortunately, the home planet of this astonishing group is in danger, compelling GASOLIQ to go on a journey in search of components for a device that could prevent the catastrophe. It's an action-packed and fast-paced adventure you won't want to miss!
Forum Thread: Gasoliq – Space Adventure (By Bros Universe)
---
Hit Invaders
iTunes Description
Waves of pixel invaders are attacking your city.
To destroy them, tap the first attacking enemy.

Best feature:
8-bit music will tell you how fast you are

Beware: This game may muscle up your thumbs
Forum Thread: Hit Invaders (by Bulkypix)
---
Kung Fu Monk – Director's Cut
iTunes Description
Kung Fu Monk – Director's Cut is a brutally challenging arcade-style side-scrolling beat-em-up, with battles against soldiers, ninjas, monsters, and ferocious bosses. Take out enemies with flying kicks, body slams, and punches. Fry foes with fireballs. Leap over bottomless pits. Slay bloodthirsty zombies in an ancient Chinese graveyard, and more!
Forum Thread: Kung Fu Monk – Director's Cut (by Easy 8 Software)
---
Lara Croft GO
iTunes Description
Lara Croft GO is a turn based puzzle-adventure set in a long-forgotten world. Explore the ruins of an ancient civilization, discover well-kept secrets and face deadly challenges as you uncover the myth of the Queen of Venom.

Following the award-winning Hitman GO, Square Enix Montréal brings yet another beloved franchise to mobile with this unique take on the iconic heroine's adventures.
Forum Thread: Lara Croft GO (by SQUARE ENIX INC)
---
Looking for Laika
iTunes Description
The aliens abducted your puppy Laika in this epic side-scrolling puzzle adventure.
As Astronaut it is your duty to go and save your best friend!
Bounce and Jump from planet to planet through different worlds and dimensions!
The one tap mechanism makes this platformer fun to play on any device!

Both an arcade mode and story mode make this game complete!
Beat the worldwide Hi-scores, or dive into the compelling story!
Forum Thread: Looking for Laika (By Oskar Maan)
---
Magic River
iTunes Description
Move through the river without hitting any obstacles! Explore different locations while drifting down the river! Collect gems to unlock awesome new characters and boats!
Forum Thread: Magic River (by Ketchapp)
---
Pixel OverDrive
iTunes Description
Prepare to speed down the street to your inevitable explosive doom
Forum Thread: Pixel OverDrive (by Michael Smith)
Plazmo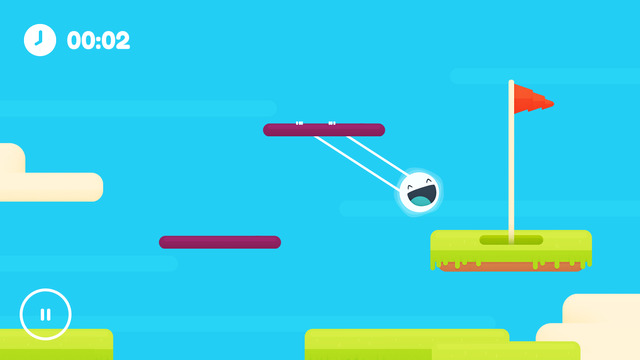 iTunes Description
This game is a sort of swinging-platformer-puzzler. You play as Plazmo. He's a plasma ball, and it's up to you to get him into the holes as quickly as possibly. He loves getting into holes. And you better help him, otherwise, he'll get grumpy.
Forum Thread: Plazmo (By Three Quarter Cat)
---
Pocket Platoons
iTunes Description
Recruit a fighting force and relive the battles of WWII with your friends! Harvest resources to customize your base and train an army. Lead your troops in turn-based combat, or order your lieutenants to take command.
Forum Thread: Pocket Platoons (by En Masse Entertainment)
---
Sage Solitaire
iTunes Description
Sage Solitaire is a brand new Solitaire variant that combines the luck and joy of Klondike with the depth of Poker, made specifically for your phone.

The full version is chock full of enough modes, leaderbords, wallpapers, and themes to pair nicely with any situation you might be in. So take it with you, Sage is a Solitaire game fit for your life.
Forum Thread: Sage Solitaire (By Zach Gage)
---
Sketch Breaker
iTunes Description
CHAOS IN THE STUDIO – THE COLOR IMPS ARE ON THE LOOSE!

Carefree color imps have invaded your paintings.
And now they want to play! Are you in?

Sketch Breaker combines classic arcade fun with modern touch controls
and cool color splash effects. You have to see it in action!
Forum Thread: Sketch Breaker (by FDG Mobile Games GbR)
---
Ski Safari 2
iTunes Description
The world's most fantastical, fun, family-friendly skiing game is back and better than ever!

Play as Sven's sister Evana, share the action in multiplayer mode, perform awesome new tricks on snowboards and skis, and ride on crazy new animals! Oh, and watch out for the avalanche!
Forum Thread: Ski Safari 2 (by Sleepy Z Studios Pty Ltd)
---
Super Gopa Dash
iTunes Description
Super Gopa Dash is a crazy action puzzle platformer, which throws you into space with the fun loving Gopas, cute little characters from the outer galaxy. Your goal is to rescue them from the exploding sun, avoiding all sorts of obstacles, from forcefields and aliens to frozen planets, meteor attacks, exploding planets and more!
Forum Thread: Super Gopa Dash (by Play This! Studios)
---
Swipey Rogue
iTunes Description
Swipe your Auto-Running Hero through endless Dungeon-Crawling Room-Puzzling. Test your skills in Challenge Saga, or push your luck in Free Running Mode and see how far you can go!
Forum Thread: Swipey Rogue (by First-Order Games LLC)
---
Tiny Empire
iTunes Description
Launch cannonballs and blow tiny orcs into thousands of pieces in this intuitive fantasy-themed puzzle shooter! Embark on an epic medieval journey that will take you from the grasslands of the empire to the forgotten desert ruins, facing ever stronger enemies under the leadership of your beloved kin
Forum Thread: Tiny Empire (by Mother Gaia Studio)
---
Universe Pandemic: Earth Plague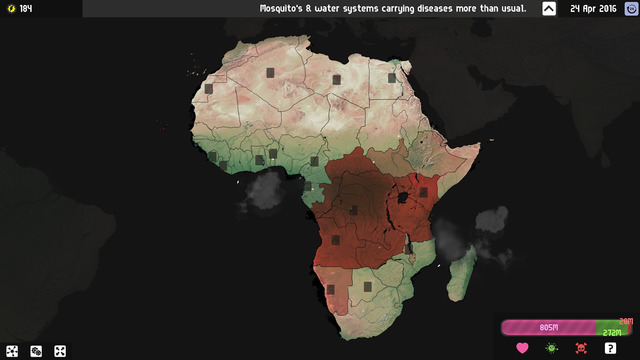 iTunes Description
Can you conquer earth with an alien made pathogen?

New game!
Universe Pandmeic : Earth Plague is the sequal to Universe Pandemic, create a pathogen and take over Earth using your smarts as the commander of the Gaarg fleet.
Forum Thread: Universe Pandemic : Earth Plague (By Oliver Dixon)
---
Very Bad Company
iTunes Description
Are you tired of being a good person?
It's time to avenge!

I was a young CEO at a IT company on a fast track.
But the company went bankrupt because a bank that promised me their support refused to help my company at an important moment.
I have decided to avenge on them for ruining my life.
There is no more a GOOD CEO!
Forum Thread: Very Bad Company (By Magic Cube)
---
The Walking Dead: Road to Survival
iTunes Description
Brought to you by Robert Kirkman, creator of The Walking Dead. Are you ready to take over Woodbury and put an end to The Governor's tyranny?

Before you stands the perceived safe haven of Woodbury. Little do you know a madman will rise to governing power, pitting people against each other in ways that make you question humanity. A small group of rebels will fight for their lives to break free from the tyranny – will you be brave enough to fight with them?

A thrilling, mature adventure constantly toeing the line between life and the undead, Walking Dead: Road to Survival is the definitive Walking Dead role-playing game experience. Based on an all-new story from award winning Walking Dead writer Jay Bonansinga, the dark aesthetic of this game reflects the uncompromising decisions you will need to make as you fight for survival.
Forum Thread: The Walking Dead: Road to Survival (by Phase One Games)
---
Whispering Willows
iTunes Description
Young Elena Elkhorn embarks on a harrowing journey to find her missing father and discover the secrets of the Willows Mansion. Aiding her journey is a unique amulet, she received from her father, which allows her to astral project her spirit into a ghostly-realm and communicate with the dead. Play as Elena to find her missing father, use your astral projection to solves the mansion's tricks and puzzles, help the lingering souls and discover so much more in Whispering Willows.
Forum Thread: Whispering Willows (by Night Light Interactive, LLC)
---
Zirkel
iTunes Description
· Experience a new kind of puzzle challenge

· Solve 70 unique puzzles

· Enter a world of stylish visuals and meditative music

· No In App Purchases!
Forum Thread: Zirkel – a new kind of puzzle game (by Marc-Andre Weibezahn)