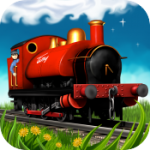 We had another week with a ton of email, so again the first half of the podcast was dedicated to discussing it. A reader asked us questions about Clash of Clans (Free), then we had a query about the app and t-shirts, along with some other stuff. From there, we shifted gears to discussing a bit of Monsters Ate My Metropolis (Free), a tiny bit of Hearthstone (Free), with the bulk of the time going to the upcoming Pac-Man 256, which is working out to be an amazing game. Oh, and we discuss a couple books along with the crazy parallels between self publishing a book and self publishing a iOS game. The two books discussed as The Martian and Wool.
If you want to be heard on an episode of The TouchArcade Show, don't forget to shoot us emails with any questions, feedback, or anything else relevant or irrelevant to [email protected]. We read 'em all, and love decoding messages written entirely in emoji. As always, you can listen to us with the links below… And if you like what you hear, please subscribe and/or drop us a review in iTunes. Much appreciated!
iTunes Link: The TouchArcade Show
Stitcher: The TouchArcade Show via Stitcher Radio for Podcasts
RSS Feed: The TouchArcade Show
Direct Link: TouchArcadeShow-218.mp3, 73.8MB
---
This week's episode of The TouchArcade Show is sponsored by…

Tiny TrackZ, $2.99 - Do you like trains? Then you'll love Tiny TrackZ!
Solve shunting puzzles to collect locomotives and wagons in beautiful 3D, then run them on your own personal train sets. Complete the puzzles quickly and unlock extra scenery and layouts.
Written by the Apple Design Award-winning developer, Strange Flavour, Tiny TrackZ is universal and on the App Store now for just $2.99. Find out more at StrangeFlavour.com!