A couple of months ago we posted the trailer for Z-Exemplar, an upcoming shoot 'em up from Suminell Studios that looked to harness the spirit of the old ZX Spectrum home computer. The trailer looked awesome and the game really had an authentic ZX Spectrum feel. I've been really looking forward to its release. While the game isn't quite finished up yet, Suminell has been good about dropping into the game's forum thread and offering updates on its progress. The latest discusses some of the aspects of the Asteroid Field levels and introduces a really cool new weapon.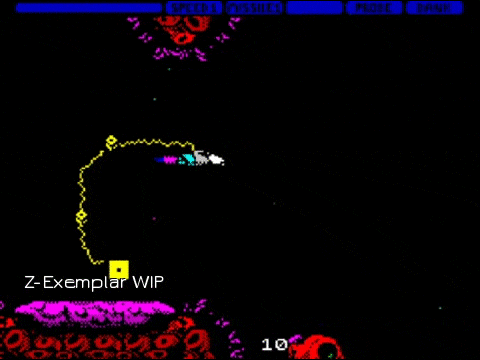 As you can see, the new weapon is really interesting. It acts sort of like a snake that follows your ship, and not only does its "head" fire off shots but its "body" can be positioned like a shield to protect your own ship from enemy bullets. It looks really fun! I highly suggest spending some time in the forum thread for Z-Exemplar, as this is just a small taste of the type of in-development stuff they've been posting. Particularly interesting is this post which deals with how the game's levels are randomly generated and how it affects the game's progression and difficulty.
It's good stuff, and if you're interested in more there's both a development blog and a Facebook page for Z-Exemplar. We'll be keeping our eyes on all of it and hopefully we'll all be getting our hands on the finished product in the not too distant future.