My absolute favorite thing about my job is discovering new (or, in this case, new to me) games that totally seem to come out of left field and combine existing iOS gameplay tropes in new or otherwise exciting ways. I love when a developer tweets me a random link on the App Store, and it turns out to be amazing. Discoveries like Splash Canyons are exactly why I welcome developers tweeting their games, and despite some really puzzling Twitter drama this weekend surrounding twitter pitches, I hope developers always feel comfortable telling me about their games.
Backing up a bit, puzzle games that use fluid dynamics aren't anything new on the App Store. What once would have been fodder for supercomputers now is just a puzzle element you take for granted, running on your friggin' cell phone of all things. Where's My Water ($1.99) is probably the most popular (along with the rest of the "Where's My" series) but this sort of thing has been done in one way or another for years. The first game I remember doing this on the App Store was Enigmo ($1.99), but it's totally possible there's been others.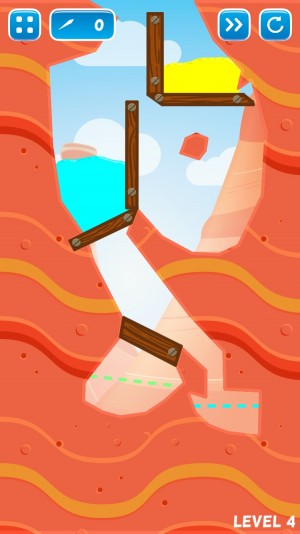 Splash Canyons follows this familiar formula of "get liquids from the top of the screen to the bottom," with a few interesting twists. The game is controlled by slicing away at pieces of wood which hold back the colored liquids, it's scored by how many slices it takes for you to beat a level, giving it a vaguely Slice It ($0.99) feel. Of course only the first few levels are as easy as "Slice wood, let gravity do its thing," as subsequent puzzles depend on color mixing.
The screenshot here is from the fourth level in the game, and as you can see there's a blue and a green goal area. To beat it (Spoiler alert, I suppose?) you need to make a tiny incision in the wood holding back the blue liquid so just a little bit drips out to fill the blue reservoir to the line. Following that, you go HAM slicing out the rest of the wood, resulting in the remaining blue liquid and the yellow liquid mixing together properly in the green reservoir at the bottom. Things quickly get way trickier, as wind, movable blocks, and other crazy obstacles get thrown into the mix.
Splash Canyons is being sold in a somewhat unconventional way, in that the initial download will set you back a buck and includes 20 levels to play through. From there, flopping out another dollar in IAP gets you another 20 levels along with "lifetime updates," with additional update content presumably hidden behind that 99¢ pay wall. Problem is, the game came out in late 2014, and as far as I can tell, still has all the original content… So, I'd just consider it a two dollar game and if it ever gets an update, well, bonus.
Definitely give the game a look if you're in the market for another puzzler without any ads, currencies, or other free to play shenanigans. Fingers crossed for more content, but it doesn't seem like the game has generated much interest on our forums (or anywhere else, for that matter), so it's not much of a surprise that the developers haven't been throwing content at the game.