Hello everyone, and welcome to the week! It's time once again for our look back at the noteworthy updates of the last seven days. This week it's nearly all about free-to-play and little indies, but I suppose that makes sense, doesn't it? Of course, you can keep an eye out for updates yourself using AppShopper Social (Free), the watchlist in the TouchArcade App (Free), or by participating in the TouchArcade forums, but this weekly summary is here to fill in the things you might have missed. Let's dig in!
Alphabear: Word Puzzle Game, Free Alphabear is a great word game with a few interesting hooks that are helping it get a lot of traction on social media. The new version of the game allows you to go back to earlier chapters, in case you want to collect missed bears or just want a lighter challenge. The developers have also expanded the game's dictionary and fixed a bug or two.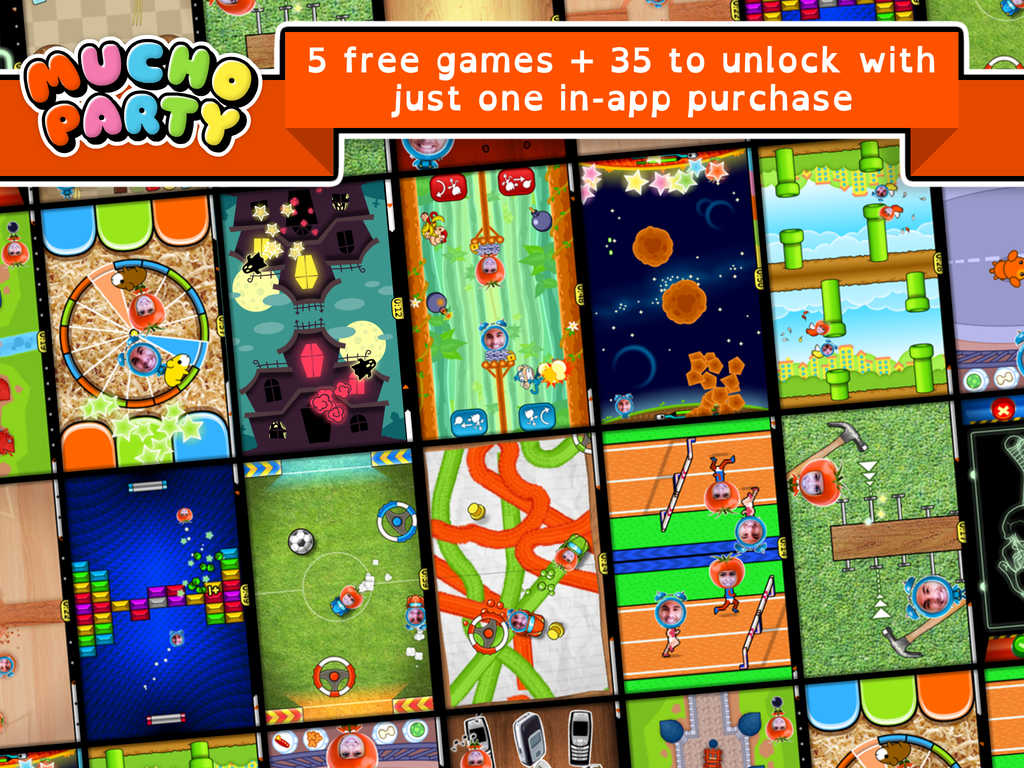 Mucho Party, Free Mucho Party makes the hop to free-to-try with this update, and adds three new party games to the mix for good measure. Don't worry if you bought the game before the switch to free. You won't have to pay again to unlock the full game.
Farm Heroes Saga, Free Representing King this week is Farm Heroes Saga, which has 15 new levels in its latest version. You can discover three new animals in this update, and they're actually all somewhat farm-appropriate for once. Keep your eyes peeled for the Foal, the Shetland Pony, and the Shire Horse.
Plunder Pirates, Free Plunder Pirates gets a new pirate hall level, a shark trap, some new pirates, and the ability to quickly recruit more forces from the results screen of a fight so that you can head right into another. Man, it seems like being a pirate was a pretty violent vocation. Not nearly as much whimsy as Jack Sparrow led me to believe.
Duck Dynasty®: Battle of the Beards, Free Okay, bear with me here, because I don't know a single thing about Duck Dynasty. Not the show, not the people, not the game. They're just not that big in Japan. Anyway, from the looks of the App Store description, this game has gone free-to-play, and with that price change comes a major update. There are some new mini-games, a bunch of new beards, mustaches, and gear that you can buy in the game's shop, and a new iced tea power-up that lets you free the action. There is some other stuff in there too, but I honestly can't say what is actually new and what is just description fluff this time around. Sorry!
Forest Home, Free Cute little free-to-play puzzler Forest Home got another update last week, mostly to address player feedback. Perhaps the best thing is the removal of the Road Block timer, which forced you to wait a set amount of time before you could move forward. It's now easier to earn Totem spins, and the luck on said spins has been adjusted a little in the player's favor. Just about everything else in this update is a refinement of some sort, but it's still good stuff.
Subway Surfers, Free The Subway Surfers head back to Sydney again, this time with a new diving outfit to unlock for Kim, and a new Wave Rider board to earn. Hey, while you guys are in Australia, you might want to check out the other kind of surfing for once. I hear it's pretty good there.
Pinball HD (iPhone) Classic Arcade,Zen,Space Games, $1.99 There's a lot of competition when it comes to pinball on iOS. Pinball HD has been around for quite a while, and while it may not have the licenses to compete with some of the other apps, it's still a pretty decent game. This update adds two new tables that can be purchased for $1.99 each. You can pick up the new Fantasy table, or the new Zombie Attack table. You know, one of the things I loved about pinball machines back in the day is how they would make one based around just about anything. I can see why there would be tables based on these popular themes, but I would love to see some stranger ideas come into play again.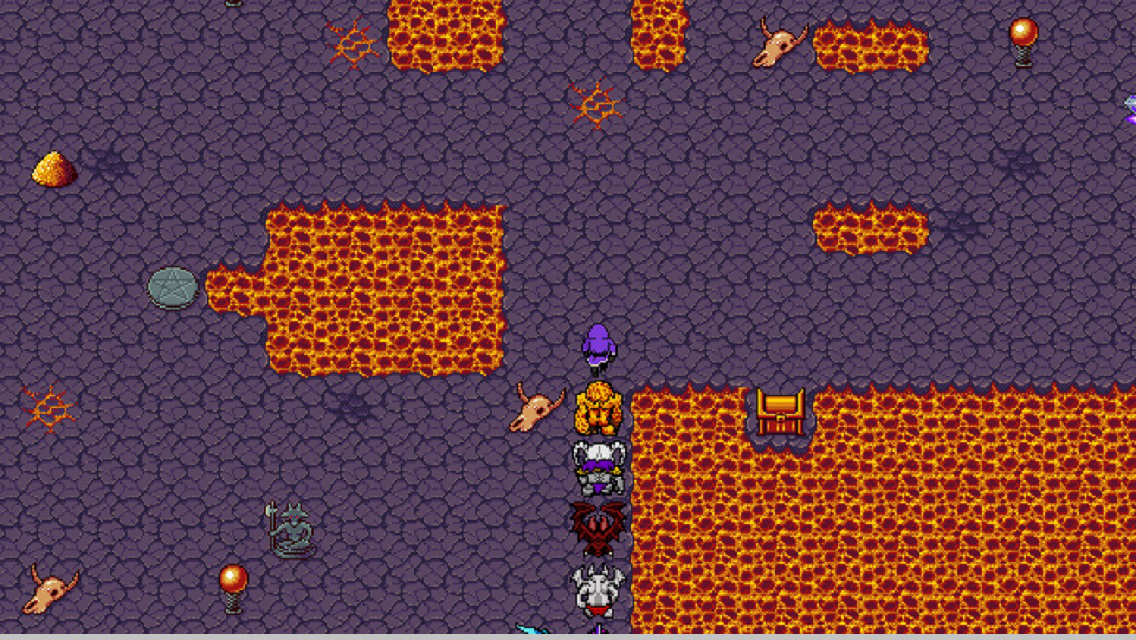 Siralim (RPG / Roguelike), Free Did you think the Siralim train had stopped? Nothing stops the Siralim train! This update adds new graphics for more than a dozen of the monsters, along with a new NPC in the library who higher-level players will want to talk to. Some healthy optimization makes the realms generate quicker, and of course, several bugs have been turned into a fine pink mist.
Ambition of the Slimes, Free Ambition Of The Slimes is one of the stranger tactics RPGs I've played, but it's certainly a charmer. With its latest update, the game is essentially in its final state, story-wise. The Forest Of Witches, the final area of the game, has been added. There's also an easy difficulty mode available on all stages now. It's come a pretty long way in the last few updates, so if you like strategy games you might want to give it another look.
SubaraCity, Free It seems like it's Japanese Indies Week here in Update Mondays this time around. City-building puzzle game SubaraCity adds a crowd-pleasing IAP to remove ads in this update, with a price tag of $2.99. There have also been a few tweaks to the user interface.
Puzzle & Dragons (English), Free Puzzle & Dragons gets a few changes in this update to keep it going in the future. The game now has 64-bit support, and the maximum monster box size has been increased to a possible 2,500 slots. Wow. There's also a new monster type, and you can sort your box by Awoken skills. Sadly, all of this comes at the cost of support for iOS 5 and under, so if you're still rocking an iPhone 3GS and want to keep on Puzzle & Dragoning, it might be time to look at an upgrade.
The Ensign, $1.99 The Ensign and its predecessor A Dark Room are both on sale for $0.99 right now, and accompanying that is this update to the former that makes it… harder? Oh, Amir Rajan, you are my favorite sadistic designer. I'll leave it to you guys to discover the fun details, but punch levels have been changed, "refuse food" is harder, and the narration now gives you a bit more of a kicking. Well, enjoy yourselves!
The Hobbit: Kingdoms of Middle-earth, Free Another app leaving iOS 5 and earlier behind for the sweet, sweet shores of 64-bit is The Hobbit. This update also adds a new mini-game called Stones of Remembrance, a new gear set for dwarves and elves, and a new Sage Tower event. There's also a new chapter added to the timed PvE mode that should prove a good challenge. Finally, those parting ways with old friends who might now be enemies should take note of the new Alliance Armistice rules. If you leave an Alliance, you can't rejoin it, attack it, or be attacked by it for 72 hours. I'm guessing that's in hopes of people keeping a cooler head overall. Good luck with that, I guess.
Ascension: Deckbuilding Game, Free It feels like Playdek is coming out of a long hibernation. This week, it's Ascension that reaps the benefits, with the new expansion Dawn Of Champions being added to the game as a $3.99 IAP. It's kind of weird to think about it, but Playdek has been fairly inactive since Hearthstone made the scene. I hope there's still room for their brand of card gaming in a post-Hearthstone world.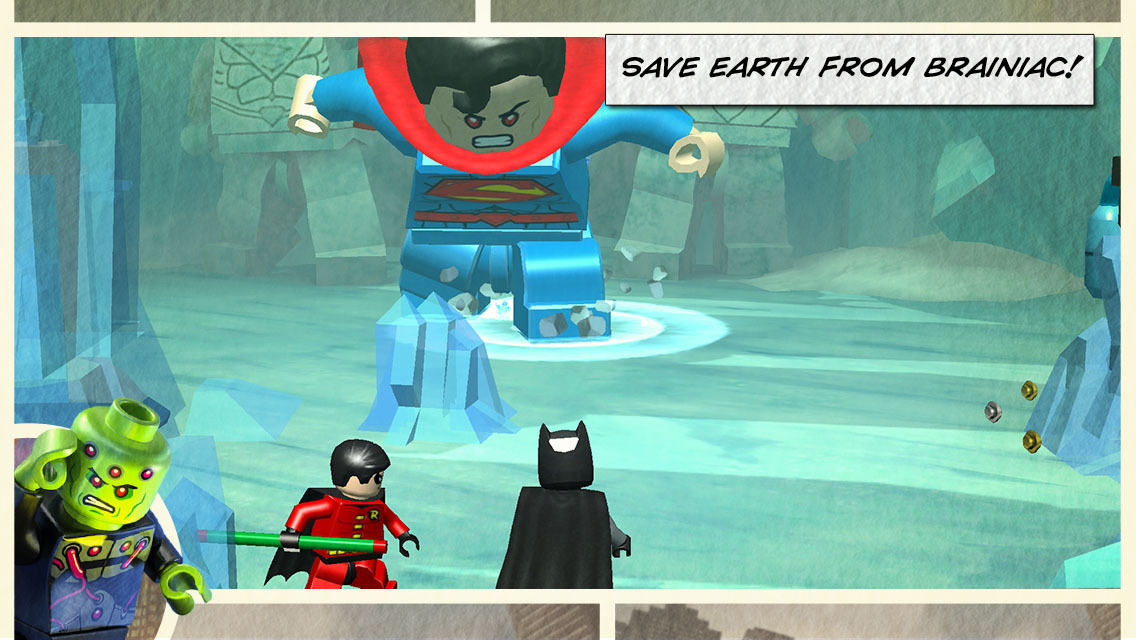 LEGO® Batmanâ"¢: Beyond Gotham, $4.99 LEGO Batman: Beyond Gotham has received the first of its promised content updates, this time featuring characters from Batman Beyond. If you've got the studs for it, and holy cow do you need a lot, you can unlock Retired Bruce Wayne, Batman Beyond, The Joker from Return Of The Joker, Mr. Freeze from his Beyond appearance, and Blight. This update also includes proper MFi controller support, native resolution support for the iPhone 6 family, UI improvements, and a bunch of bug fixes and optimizations. Since Batman Beyond was basically Spider-Man in the Batman universe, I'm going to give this update the coveted Update Mondays Most Spider-Mans Of The Week award, and make-believe mail out one bottle of metaphorical celebratory vermouth immediately.
Down The Mountain, Free Here's a big update for you. The latest version of the game adds 50 new missions, 17 new characters, and more mountain sections. You can also now watch video ads to get extra spins on the prize wheel. A couple of bugs have been fixed, too.
The Sandbox - Building & Craft, Free The updates keep coming as The Sandbox slowly makes its way to version 2. MutaGems have been added to the game that allow you to create giant monsters, and take control of them by using the Mind Ray. A new 18-level campaign accompanies this new feature. This one's a can't-miss for kaiju fans!
The Impossible Line, Free Here's a good cause to update an app. The Impossible Line has some new levels you can play to fight cancer somehow, for which they've partnered up with Cancer Research UK. I'm not sure of the particulars on this one, but hey, it's a very worthy cause.
The Simpsonsâ"¢: Tapped Out, Free The majestic mountains of Springfield are now open to you as of the newest version of the game. Explore Springfield Heights and discover a bunch of new stuff, including Red Blazer Realty, Cookie Kwan, the Burns Slant-Drilling Company, and more. This is actually a pretty major update, adding some new materials and currencies to the game, and as it's not an event, you can take your time collecting everything.
Dragon Blaze, Free Gamevil's gorgeous social RPG gets its first major update with the addition of the second chapter stage. There's a new raid called the Phoenix Of The Flames, an increased cap on both level and maximum ally slots, and a new deify system. The deify system allows you to turn a regular SSS character into a more powerful one.
Real Racing 3, Free The Porsche Leipzig Test Track is officially here! This update includes three courses from the famous test track, and with it comes a special event where you could win the Porsche 918 Spyder Weissach. The Speedrush TV Challenge event also makes a return, with a Porsche Boxster GTS serving as the prize. Pretty sweet!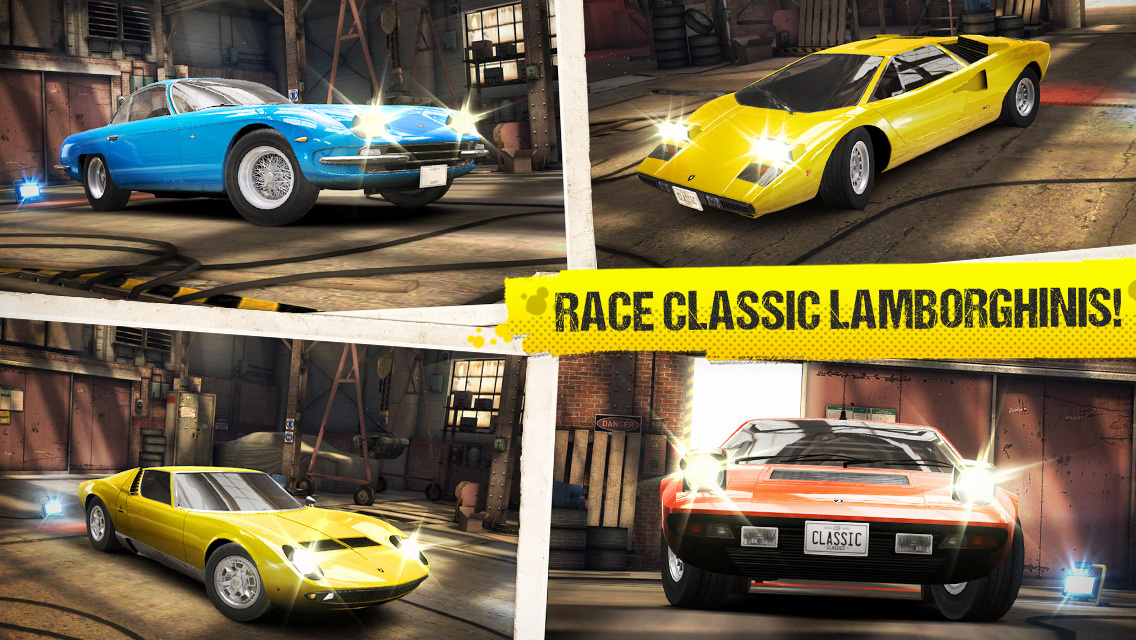 CSR Classics, Free Lamborghini time! Five classic Lambos make the scene, including the Miura P400 SV, the 350 GT, the Espada S3, the Urraco P00, and of course, the Countach LP 400. For me, that's always the car I associate with Lamborghini, but it shows up in so very few racing games. CSR may not be my bag in particular, but that specific car always makes me feel like a kid again.
Disney Frozen Free Fall Game, Free For those of us in the Northern Hemisphere, Elsa's little frosty temper tantrum seems less like a deadly threat right about now and more like a dream come true. Maybe you can convince your brain it's not actually that hot by getting in a few rounds on Frozen Free Fall? The new update adds 30 levels to the game, as well as the Oaken's Sauna item that melts away ice instantly.
Mini Motor Racing WRT, Free Let's finish things off today with this update to The Binary Mill's free-to-play mini-car racer. In this version of the game, nitro will randomly spawn on the track, which should help shake things up a bit and make races more tense. An auto-race feature has been added for those who are only interested in the meta-game, which seems odd to me but, hey, it worked for soccer. The other improvements are mostly found in the game's social features. You can't just join any club willy-nilly now. You need the owner's approval first. The game now supports WeChat and WhatsApp for inviting friends, and there are now car coupons that you can get from club chest rewards.
That about wraps it up for last week's significant updates. I'm sure I've missed some, though, so please feel free to comment below and let everyone know if you think something should be mentioned. As usual, major updates will likely get their own news stories throughout this week, and I'll be back next Monday to summarize and fill in the blanks. Have a great week!