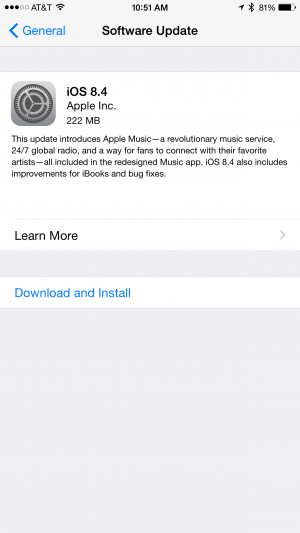 Oddly enough, a lot of the buzz surrounding Apple's keynote at WWDC wasn't necessarily new features or future major iOS revisions… But the odd inclusion of a surprisingly long segment on Apple's new music service dubbed simply, "Apple Music." Well, if you were following along with our keynote coverage and anxious to give Spotify, Pandora, or whatever else you're using the boot, Apple Music and iOS 8.4 is here.
The new service comes with a three month trial, and if you stick around that long you'll eventually be billed $9.99 for individual streaming accounts or $14.99 for family accounts that allow up to six people to stream at once. First impressions seem pretty positive of the new service, although I'm super curious how their Beats radio stations are going to play out.
Sure, covering this kind of thing is a bit out of our wheelhouse, but everyone listens to music. I'm curious how many people plan on switching over in the TouchArcade community. Personally, I'm deeply integrated into the Spotify universe. I've been using it since the day it came to the US market and right now I've got four (?) years worth of curated playlists and other similar stuff in Spotify.
It's strange to think that previously music collection was all about owning your albums, then it was owning your files, and now (at least for me personally) I really don't care about the albums or files- What I identify with as being "my music" is my playlists. I don't even know where my actual physical albums are anymore. Maybe in some unlabeled box of junk from two different moves ago.
Funny how things like that change.