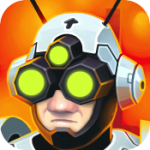 Finally back to regular podcast episodes, it feels like it's been too long. We kick this week off with a bang, talking about our Patreon a bit before moving on to discussing what an absolute complete and utter sh*t show Sonic Runners (Free) is. Seriously, it's almost like the game is some kind of modern high-level satire on free to play. From there we move on to quickly chatting about games like Arrow (Free) and Piloteer ($2.99). From there, we move on to discussing the news drama of the week split between what Nintendo is up to and the explosion caused by Apple removing the Confederate flag from the App Store.
Don't forget to shoot us emails with any questions, feedback, or anything else relevant or irrelevant to [email protected]. We read 'em all, and love decoding messages written entirely in emoji. As always, you can listen to us with the links below… And if you like what you hear, please subscribe and/or drop us a review in iTunes. Much appreciated!
iTunes Link: The TouchArcade Show
Stitcher: The TouchArcade Show via Stitcher Radio for Podcasts
RSS Feed: The TouchArcade Show
Direct Link: TouchArcadeShow-211.mp3, 74.2MB
---
This week's episode of The TouchArcade Show is sponsored by…

OTTTD: Over The Top Tower Defense, $4.99 - Attention soldiers! The over-­the­-top tower defense game OTTTD has got a brand new iPhone­-exclusive update that's set to knock your socks off!
There's 4 new levels for you to pre­-emptively defend; 6 new weapons for serious carnage; new enemies to explode into little chunks; and our cutting­-edge Cheese armour, perfect for soirées or soaking up extreme amounts of damage!
Don't let Earth be overrun by alien scum! Download OTTTD now from the App Store for $4.99 USD.