When Konami "mispoke" about its future plans and claimed that the company would be shifting its attention to mobile and the App Store, many were disappointed from what they saw as Konami shifting from "real" games to "casual" mobile games. PES Club Manager (PES CM) (Free), a soccer manager game just released, is the first Konami iOS game since the recent debacle, and I'm glad to say that it's a pretty good F2P sports game that shows that Konami can have a fruitful future on iOS, which is nothing but good news for mobile gamers. The game has plenty of content, a real-time 3D match engine that utilizes the console-version game engine, and a more robust team management system than I expected to find in a F2P game. And the monetization system never got in the way of my enjoyment, so all was well on that front too. Overall, PES CM is an enjoyable sports game that will entertain any lover of the sport for many hours.
I am, and always have been, a big fan of soccer manager games both on the PC and on mobile. I've spent countless hours on the Football Manager franchise and recently reviewed Football Manager Classic for iOS. So, having just spent hours playing one of the most complex and nearly-overwhelming game on iOS (and probably on PC, too), you understand the slight trepidation I had just before tapping on the PES CM icon for the first time. I was worried that a F2P soccer manager game might end up being a manager game-by-the-numbers; a game that would allow only a semblance of control over your team and, probably, one that would emphasize social elements over actual team management.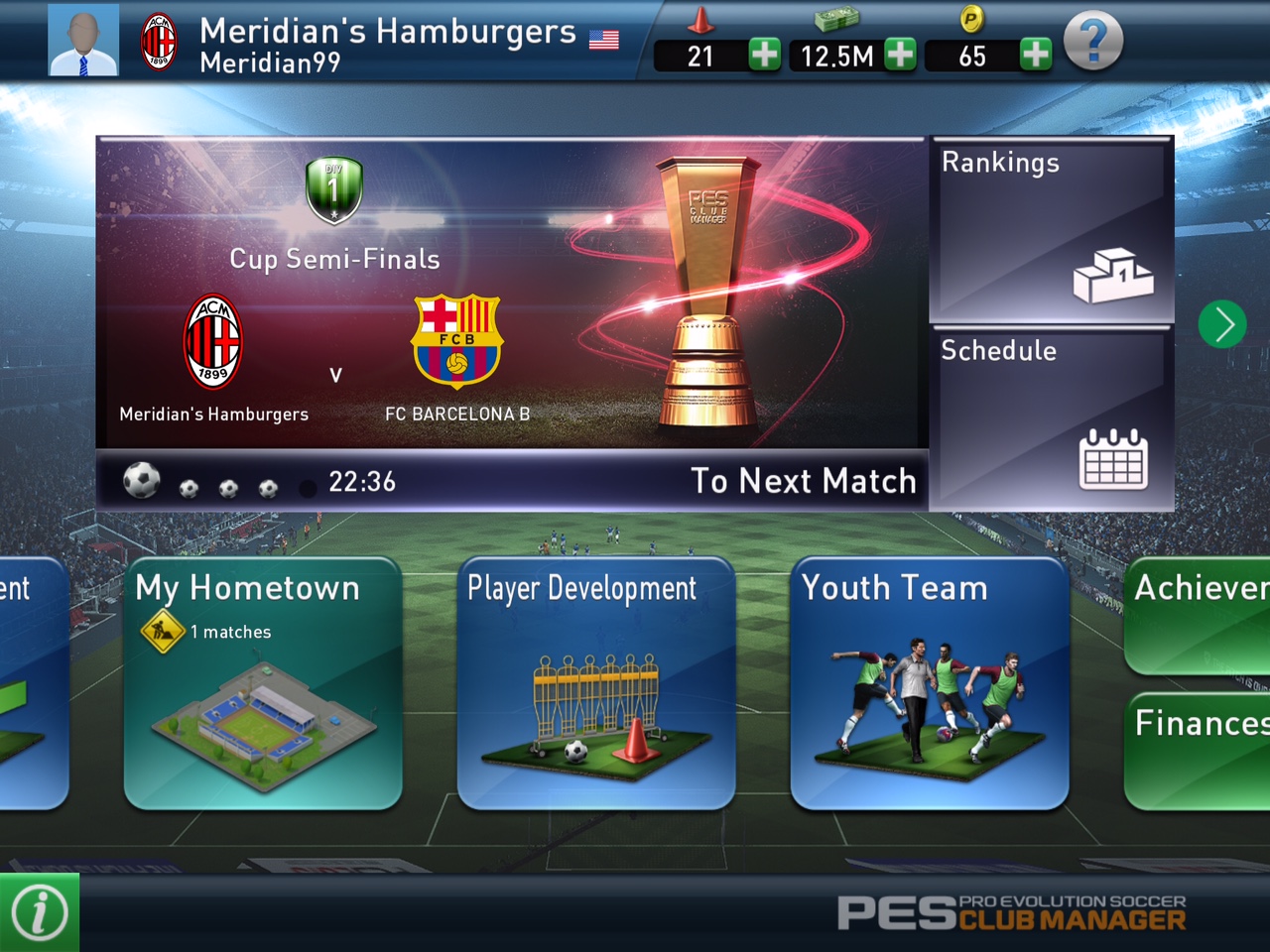 Starting the game, I was greeted by an extensive tutorial that explained to me in detail which menu does what and how to manage my team both off and on the pitch. From as early as the tutorial, I realized that my trepidation was unfounded because I saw that the game was a serious soccer manager game that gave me plenty of control over my team and plenty of numbers and statistics to sift through. I could control my team's transfers, formations, specific strategies, player training regimes, facilities, and even sponsors. My fears allayed, I dove deeper into the game to find out whether I could lead my glorious team, Meridian's Hamburgers, to glory.
You start PES CM in the lower leagues and have to work your way up to the top division all the while using your soccer acumen to defeat your many opponents. Your original squad consists of mostly unknowns, but as you progress, you start buying new players, most of whom are part of the over five thousand licensed players the game includes. I found the developers' decision to start the player in the lower leagues a bit too restrictive; I'd have liked more control over my playthrough. The way PES CM is set up now forces the player to play around thirty very easy matches before ending up in the top leagues where the matches are actually challenging. Those thirty matches ended up being quite boring as I easily won every one of them. I think it would have been better if I was able to start my playthrough in the top league but have an extended pre-season in which to optimize my squad. In general, I would have liked the ability to customize my playthrough so I could experience the game on my terms.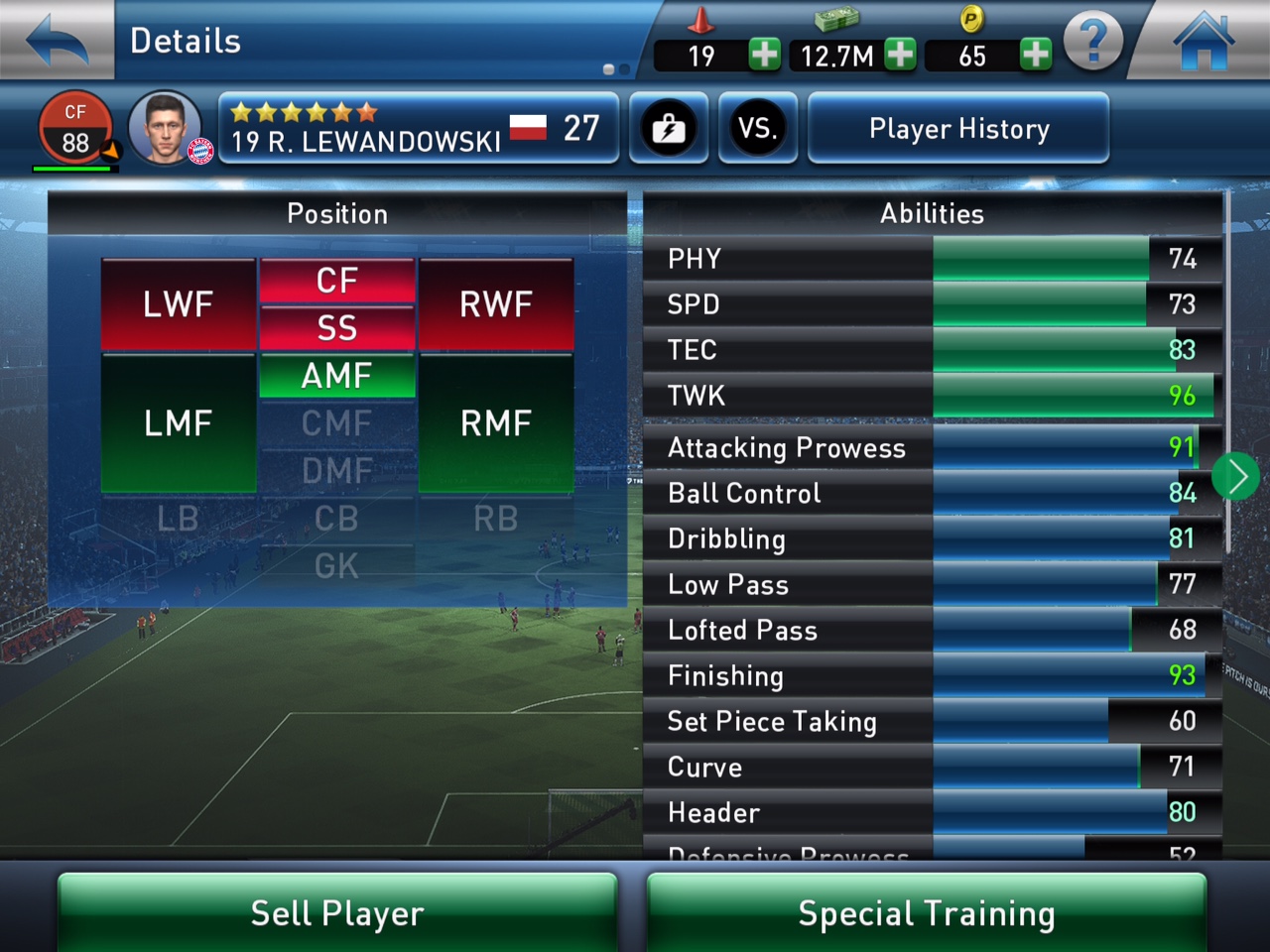 Once you start actually managing your team, you'll have to strengthen your squad in order to be competitive. To do so, you can bid against other players in a real-time market or use your PES coins (also known as gems in other F2P games) to scout players. Once you either win a bid or scout a player, you sign a contract and the player's yours. Each player has around thirty different attributes, such as Header, Curve, Stamina, and many more. The better players also have skills like One-Touch Pass, or One-Time Shot. I was honestly surprised at the amount of information the game provides for each player, but I suppose this level of detail was easy for Konami to include as the console version engine did most of the heavy-lifting. The players also have a morale indicator, much like Football Manager Classic, which lets you know the player's mental state. The morale system complicates your managing plans because as a player's morale directly influences his performance on the pitch, you are forced to rotate players in and out of the squad to keep everyone happy; having to bench your star striker so his much-lesser substitute doesn't get too disappointed at being benched often isn't always conducive to league success.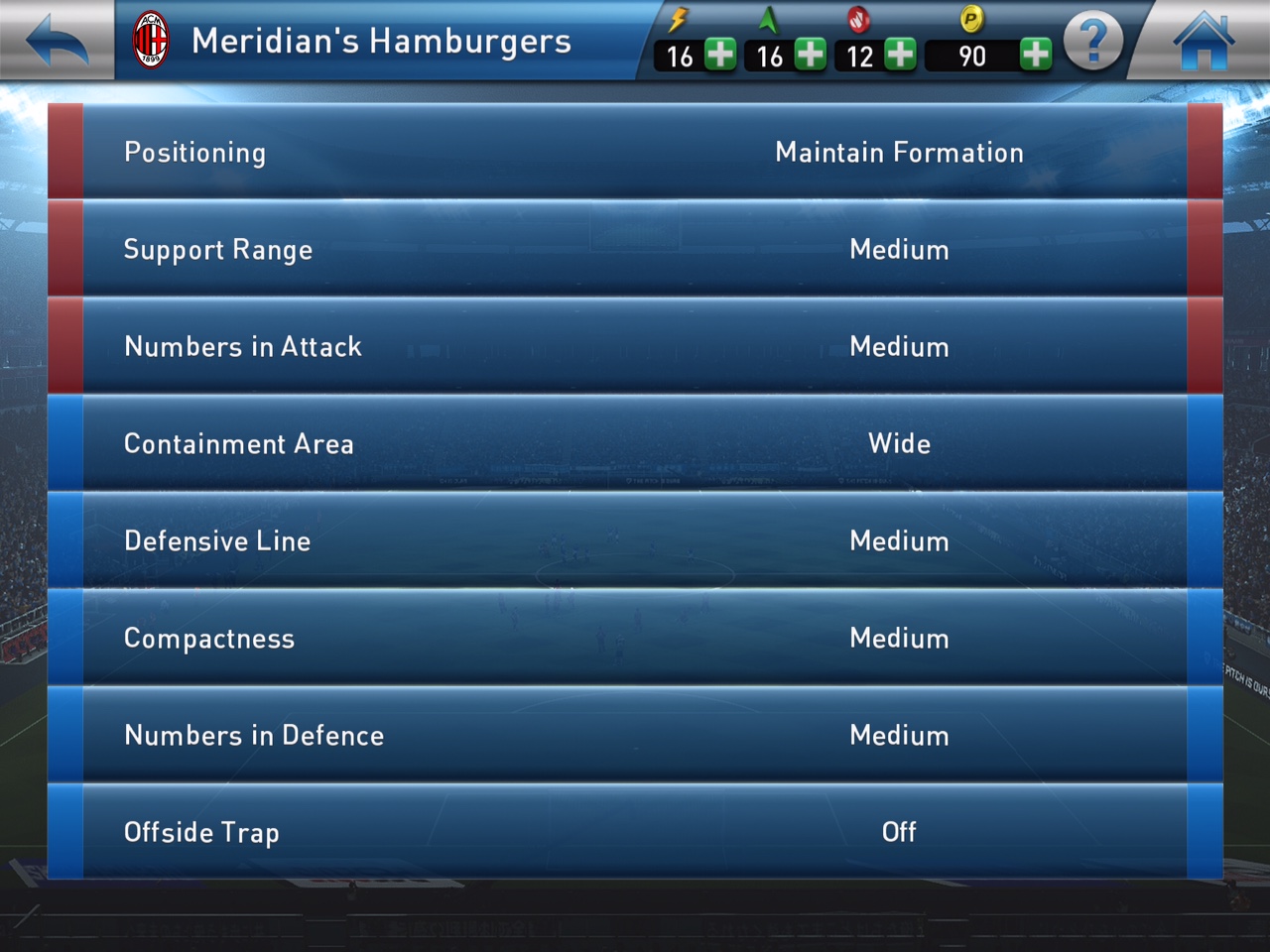 PES CM also includes a training system that allows you to fine-tune your players' skills. Fortunately, the training system isn't too complicated (too many manager games have made that mistake over the years) but still enables you to further fine-tune your team. The game also offers a facilities-management mode, which lets you develop your Stadium, your Scouting Agency, your Youth Academy, and more. These facilities open up additional options for your team, such as improving the quality of the young players available and increasing the money you have available for player transfers. As you can tell, there's plenty of managing and decision-making in this game, which most wouldn't expect from a F2P title.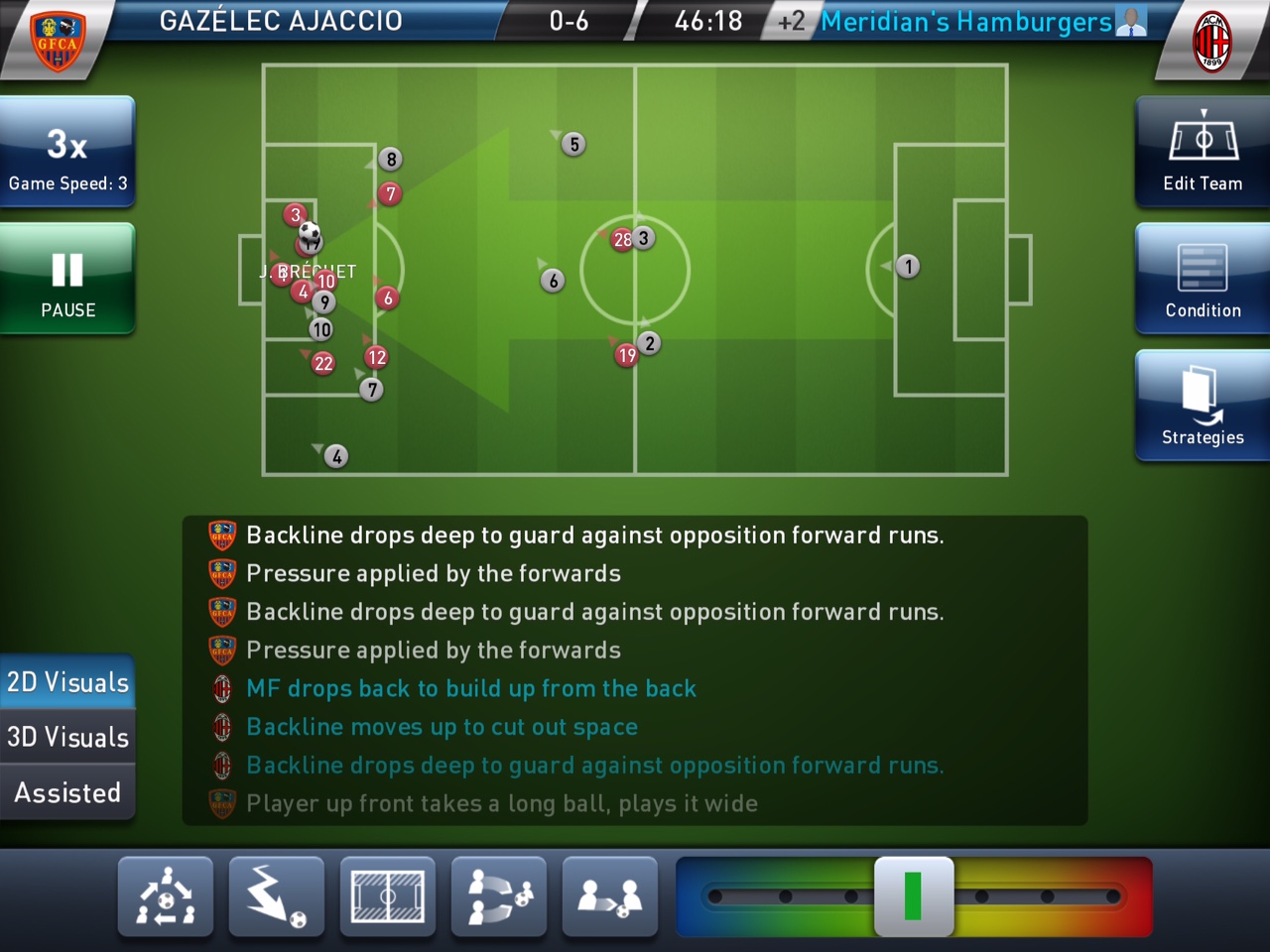 Once match day is upon you, you set your team's formation, tactics (where to pressure the other team, what kind of passing to use), and then the match starts. You can watch the match action unfold in full 3D, in 2D, or a combination of the two. The 3D mode lets you watch the whole 90 minutes from start to finish as if you are watching a console game in action. The 2D visuals show you a top-down view of the match, and the combination shows you a 2D view of the game but switches to 3D for goals and great scoring chances. While you are watching the match, you can adjust your team's tactics by changing your passing style, your tempo, the team's mentality, and so on. The level of team management is, again, surprisingly deep. You can also examine what's happening on the field in more detail by checking out match statistics and visualizations of the match action. The match day mode is where PES CM flexes its graphical muscles with the 3D view of the game showcasing great graphics and animation that make the match an enjoyable spectacle. The rest of the visuals, though, like the various buttons you use to navigate the match day information and team tactics, are too bulky for a retina iPad screen (that part of the UI is clearly designed for the iPhone rather than the iPad), and the screen real estate isn't used as efficiently as it could have been. Switching between the 3D view and the 2D view is actually slightly jarring as you go from incredibly-detailed players to large, blocky menus. The size of the menus, in turn, has forced the developers to break the UI flow by hiding most of the player's attributes and skills in several sub-menus, forcing you to tap in and out of menus constantly in your attempt to optimize your team.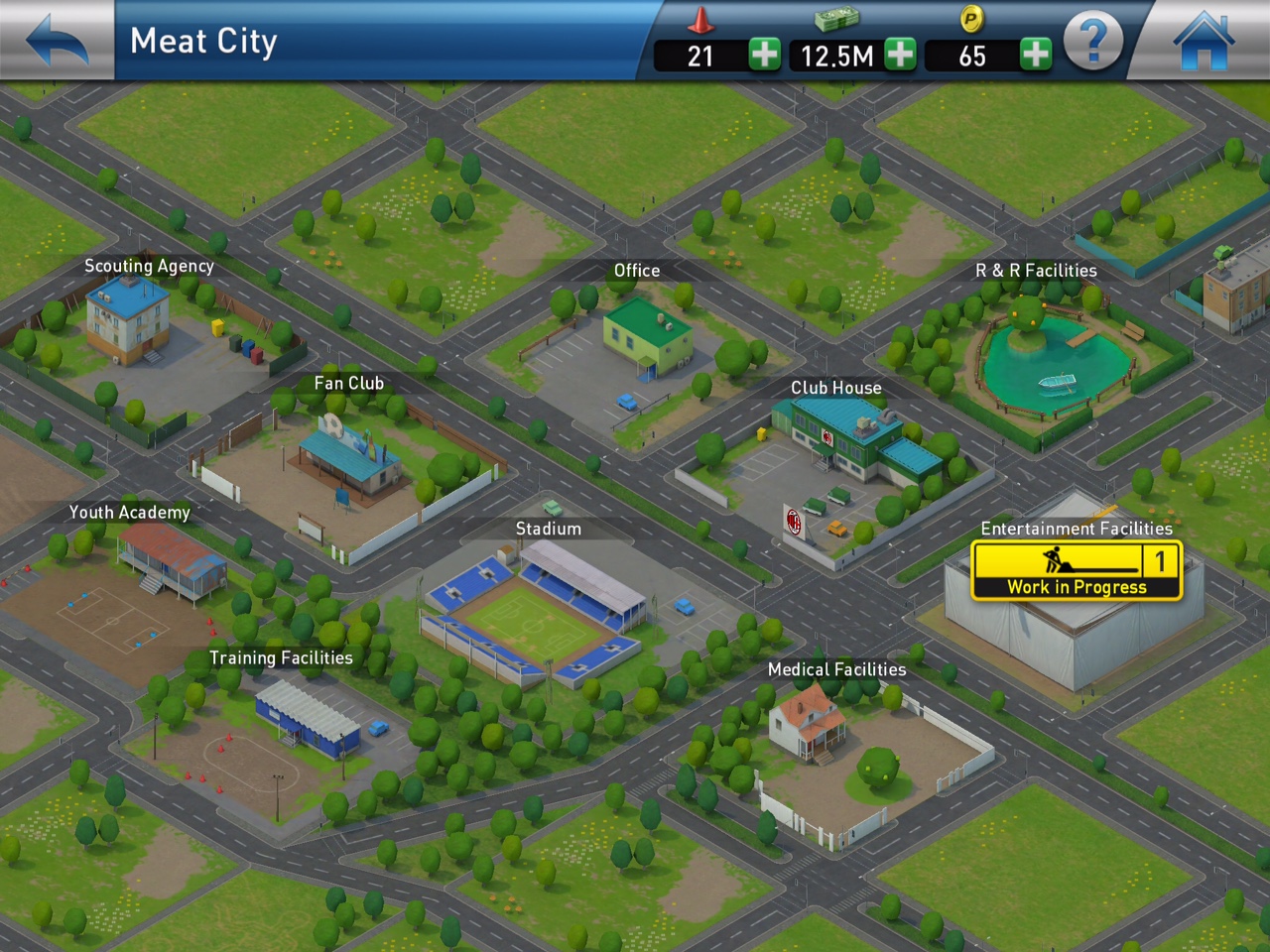 As I said in the beginning of this review, yes, this game is F2P, but before you automatically dismiss it, be aware that its monetization system is quite accommodating and never pressured me to spend real money. Yes, the game does have an energy system that only allows you to play five matches in a row, but it never forced me to stop playing the game. As each match takes about 10 to 15 minutes to play (and that's with spending minimal time on team management during the game), you can play for quite some time in one sitting before having to wait. Also, while you're waiting for the energy to refill, you can deal with other aspects of your team's management like player transfers, training, or developing your facilities; you'll almost never – if never – feel locked out of the game. The achievements, of which there are many, earn you plenty of PES coins, and winning gives you plenty of money, so overall you'll have enough resources to play the game the way you want to.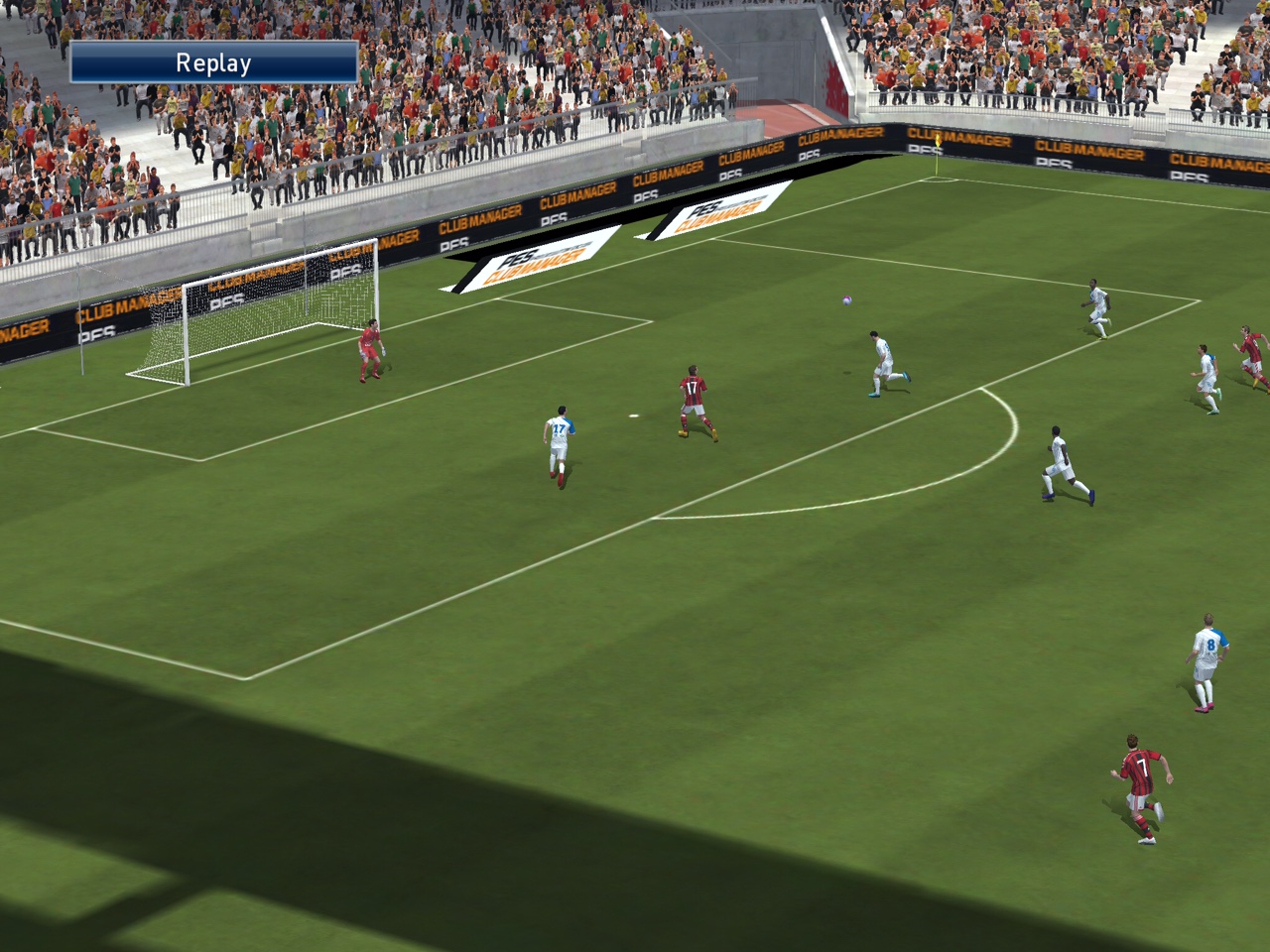 PES Club Manager successfully scratched the "manager" itch and gave me plenty of "just-another-match" moments, the sign of an interesting and entertaining game. Despite its F2P model, the game offers players interesting, uninterrupted gameplay and plenty of strategic decisions. PES CM is a very entertaining soccer manager game wrapped up in a, mostly, attractive package that I recommend to anyone who'd rather not spend the dozens of hours a game like Football Manager Classic demands. I hope Konami continues to publish games like this in the future because PES Club Manager demonstrates the company's intent to develop quality iOS games.