"The line between disorder and order lies in logistics…" -Sun Tzu. It's hard to find a word that evokes as many connotations of hell, destruction, anger, and failure as the word "Vietnam" does for the collective American psyche. The Vietnam War was a war like no other – and that includes the current conflicts. For Americans, sending over soldiers to fight in Vietnam was like sending them off to fight on Mars, such were the differences in the way each country was imagined and represented. In terms of warfare, Vietnam demanded that the U.S. army depart from its WWII tactics of fighting across wide European fronts against a similarly-organized fighting machine; instead, it forced American troops to fight a counter-insurgency (COIN) war, the kind of war that Every Single Soldier's (ESS) Vietnam '65 ($9.99) attempts to creatively depict on your tablets. The turn-based strategy game, published by Slitherine, depicts warfare differently than most other wargames, putting emphasis on logistics and winning "hearts and minds," rather than on large scale tactics, and doing so brilliantly. I was very interested in Vietnam '65 when it came out a couple of months back. However, before I had to chance to get to it, the developer announced that he was working on some important improvements, so I decided to wait until the game was updated, which it was a few days ago.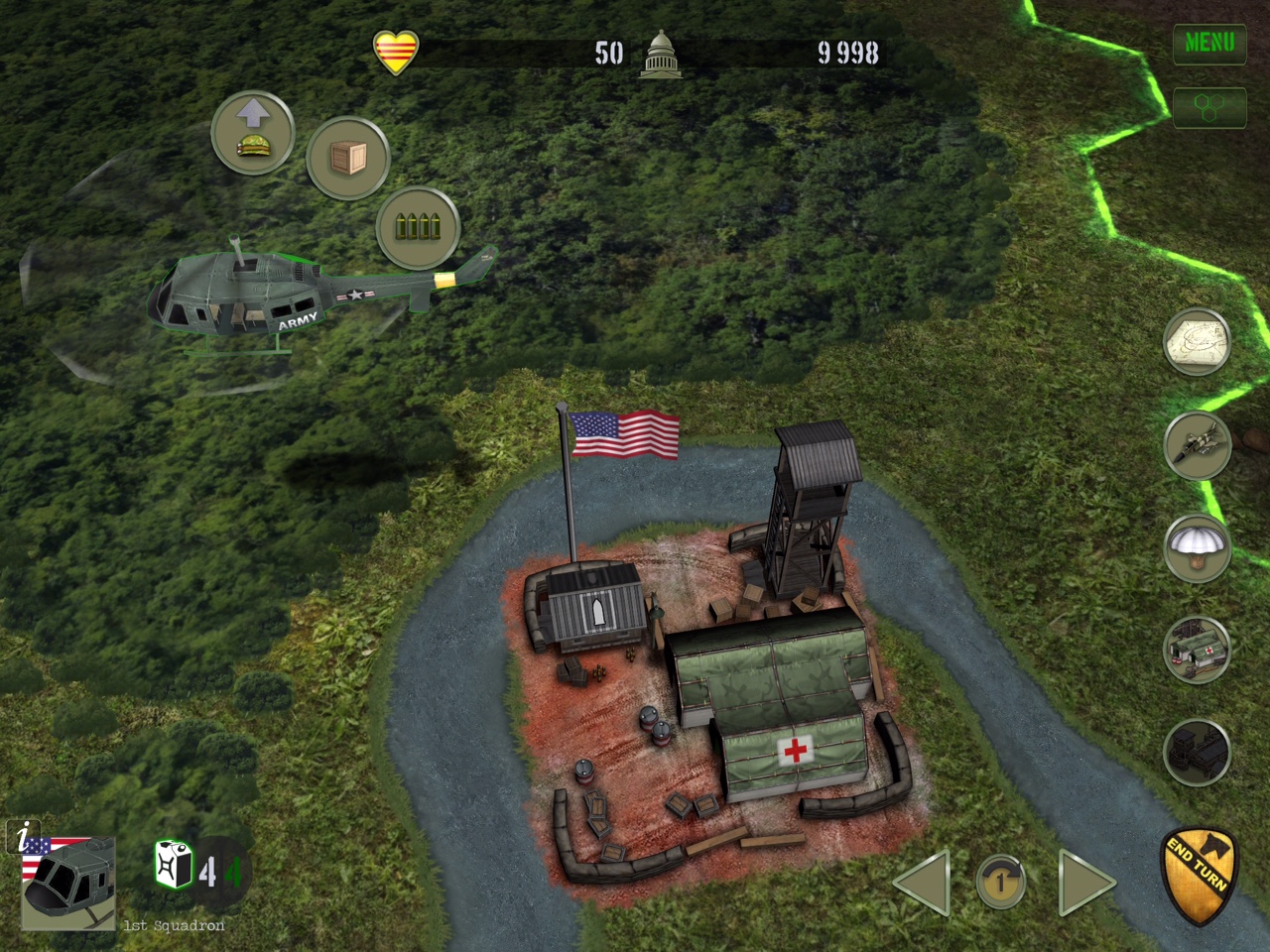 As the game's title "hints" at, you get to experience Vietnam in 1965, the year when American military presence ramped up and the war started taking the form it would have for the coming years. Your overall goal is to "pacify" the Ia Drang valley which is threatened by Vietcong (VC) guerrillas and the North Vietnamese Army (NVA). To do so, you need to win the support of the many villages in the valley by eradicating the "enemy" presence while not losing too many troops yourself. As you help the villagers feel safer, their "Hearts and Minds" level rises and, in return, they offer more intel about enemy positions. Now, this system reveals a pretty interesting ideological take on warfare; according to Vietnam '65, the South Vietnamese have no strong national or ideological leanings and can be swayed easily by whoever shows the greatest military might. As tempting as it is to get deeper into the idealogical underpinnings of Vietnam '65, most gamers who'll experience the game don't really care as much about them. What I will say is that the game's overall take on warfare does make for a convincing framework onto which the importance of COIN operations can be demonstrated, so in that sense, the game's overall philosophy works.
By situating the whole game solely in this one valley and focusing on a handful of villages and troops, Vietnam '65 depicts the war as local and personal. The personal part is enchanced by the player's ability to change units' names (my TouchArcade Green Beret Company fought valiantly but, ultimately, made the ultimate sacrifice by walking into an ambush and then stepping on a mine). The procedurally-generated valley becomes your sole focus, creating in that way the sense of isolation felt by many troops during the period; as this war wasn't fought on organized fronts, many soldiers found themselves isolated in forward bases in the middle of jungle and surrounded by enemies.
Yet, no war can be fought in complete isolation because if a country is fighting a prolonged war, it requires strong logistics management and, therefore, a strong and uninterrupted link to the "homeland." Otherwise, when the bullets and food's gone, so are the soldiers. ESS brilliantly depicts the umbilical cord of your troops to both the invisible headquarters in the rear and the politicians in Washington D.C. through a system of "Political Support Points" (PP), a type of currency that represents political support for your military operations and can be used to call in reinforcements, supply and move troops, and in general to take any action on the battlefield. Destroying enemy units gains you PPs while losing units does the opposite. In this way, the developers cleverly linked battlefield actions with the politicians who control the purse strings.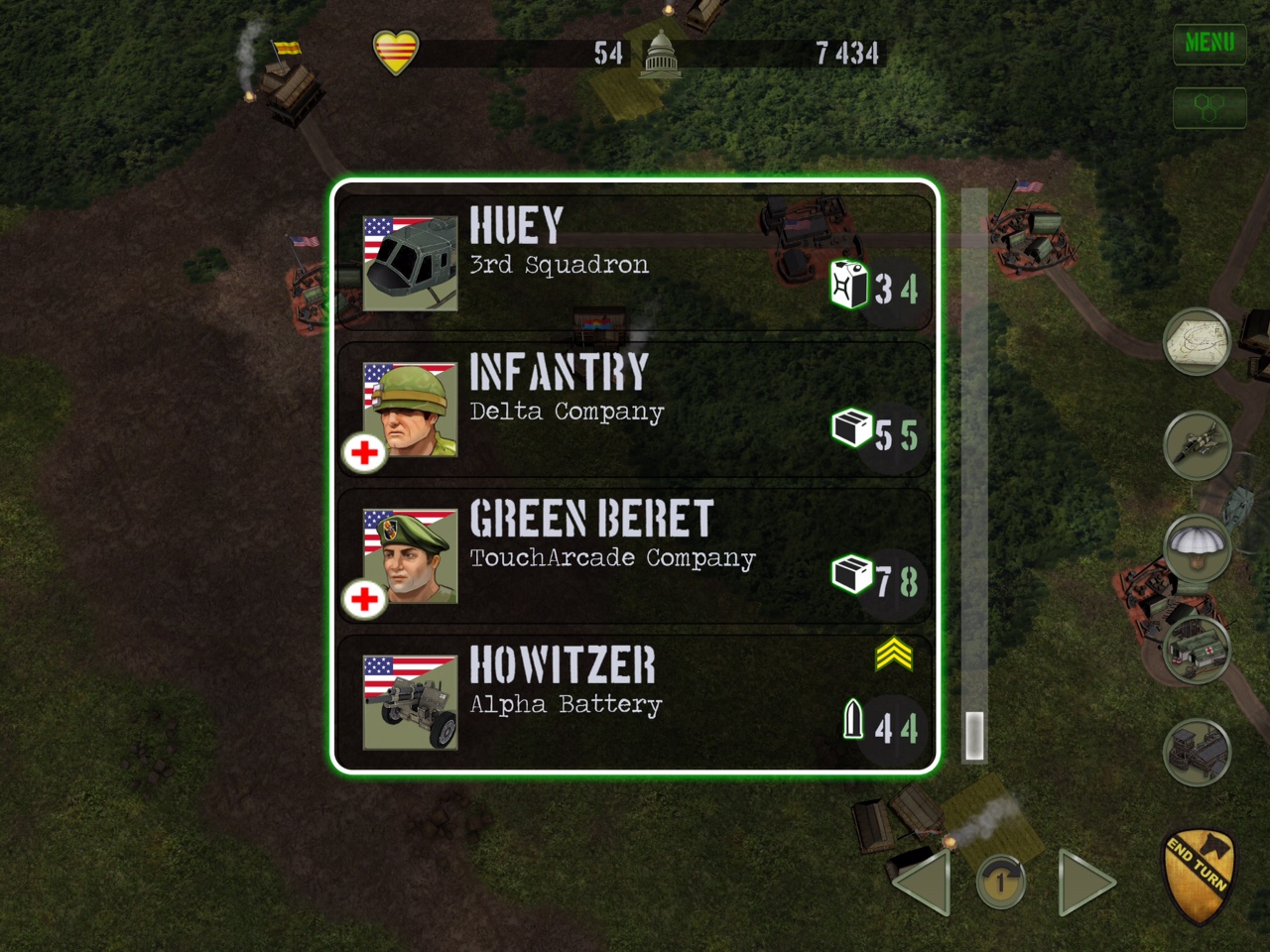 Vietnam'65, then, uses PPs as a way to represent the centrality of logistics in the Vietnam War (and in any war, really). As long as your soldiers perform, they get more support. However, that support only reaches your starting base at the eastern-most part of the game map; from there on, it's your job (or duty) to expand across Ia Drang all the while planning and creating a logistics network that will keep units supplied, safe, and able to intervene wherever and whenever is necessary. And trust me, this is harder than it sounds, but it's also what makes this game so entertaining and so different from any other wargame on iOS. You start with a few Huey helicopters, one Green Beret Unit, three US infantry units, and an artillery piece, a meager force when you consider the great expanse you need to "pacify." Each unit has a specific movement range that is affected by the terrain, and each time a unit moves, it expends a certain number of supply units. When a unit runs out of supply, it's destroyed. The need to expand as quickly as you can without running out of supply or endanger your troops unnecessarily is what creates and dictates Vietnam '65's rhythm, a constant calculation of how far can a unit venture to both be useful militarily and still be within Huey re-supply range, or how far can my Green Berets scout but still be in striking range of my artillery or my Cobra gunships.
At the start of the game, this song-and-dance is easily handled as no unit is further away than a quick Huey one-turn supply run. You fly units in and out of your HQ, which then scout the area as they go, you visit villages that have information for you (represented by a fire burning in front of the village), you kill the occasional enemy that pops up, you resupply the units out in the field, you use your engineers to expand the road network to increase your units' movement range, and the cycle repeats itself as it gradually stretches out across the valley. And it's the expansion of your operations that introduces the game's challenge and makes Vietnam '65 so intense and rewarding. Your can build as many forward bases as you want (as long as you have the PPs for it) but only one firebase; the forward bases are simply troop stations that have no supply of their own while the firebase can supply any unit stationed there. You constantly have to consider where to place additional bases in order to expand your range of operations, but at the same time you have to ensure that your helicopter-hopping remains efficient and safe.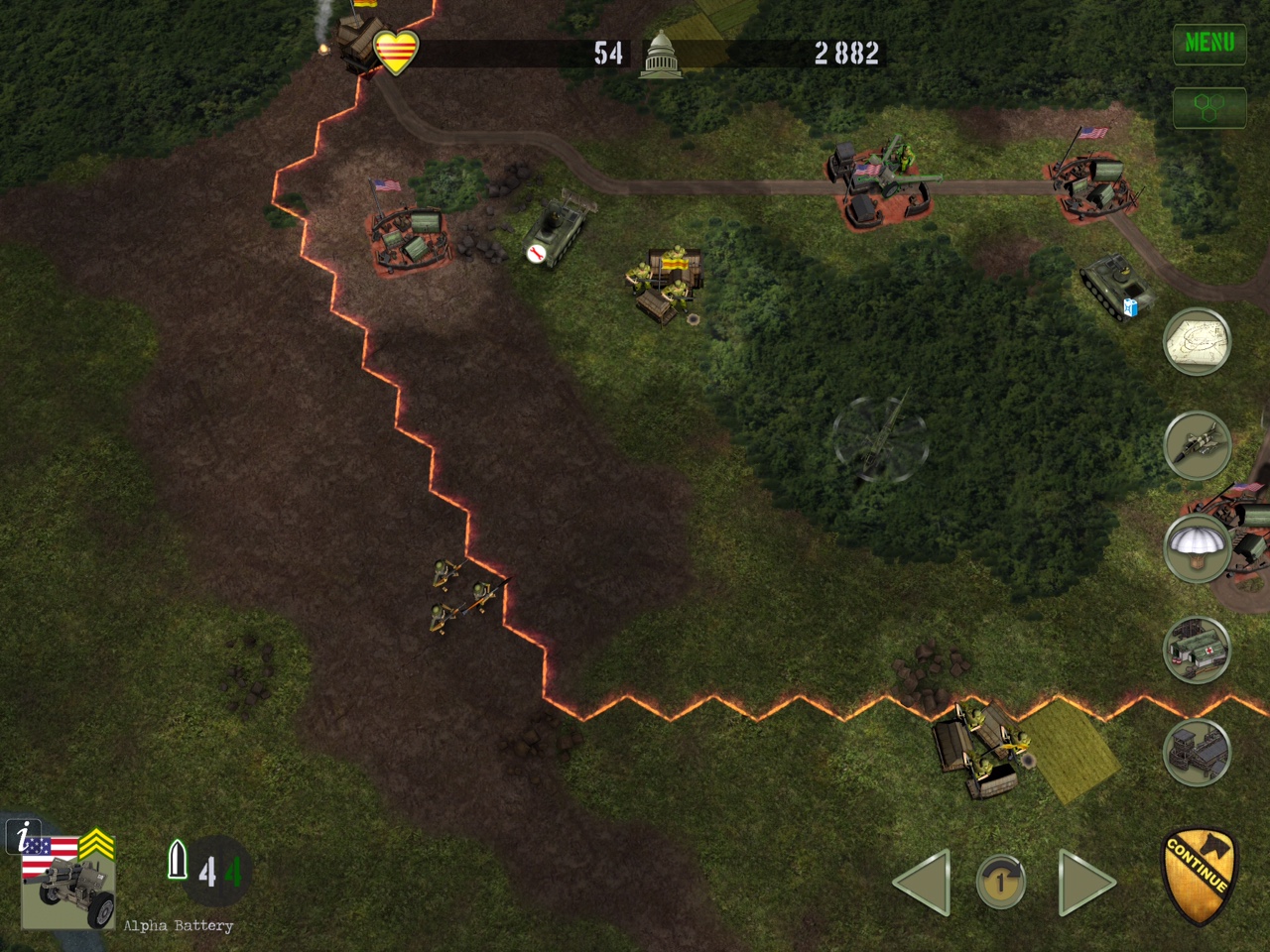 As you slowly learn the mechanics of the game and the intricacies of the current random map you are working on, you start becoming bolder, keeping Cobra helicopters in the air as rapid intervention units or having a Huey with troops aboard trail scouting units that might require support. Since you have a small number of units (unlike most other wargames), you can handle the game's micromanaging without it getting either boring or repetitive; yet, it does get overwhelming, in a good way, as you stretch your resources constantly, piercing holes in the fog of war and returning to villages that have "lost their way" and crossed over to the other side. You'll almost never have enough troops and PPs to simply create a broad front that pushes east-to-west; all you'll have is a patchwork of American presence deep inside a hostile valley.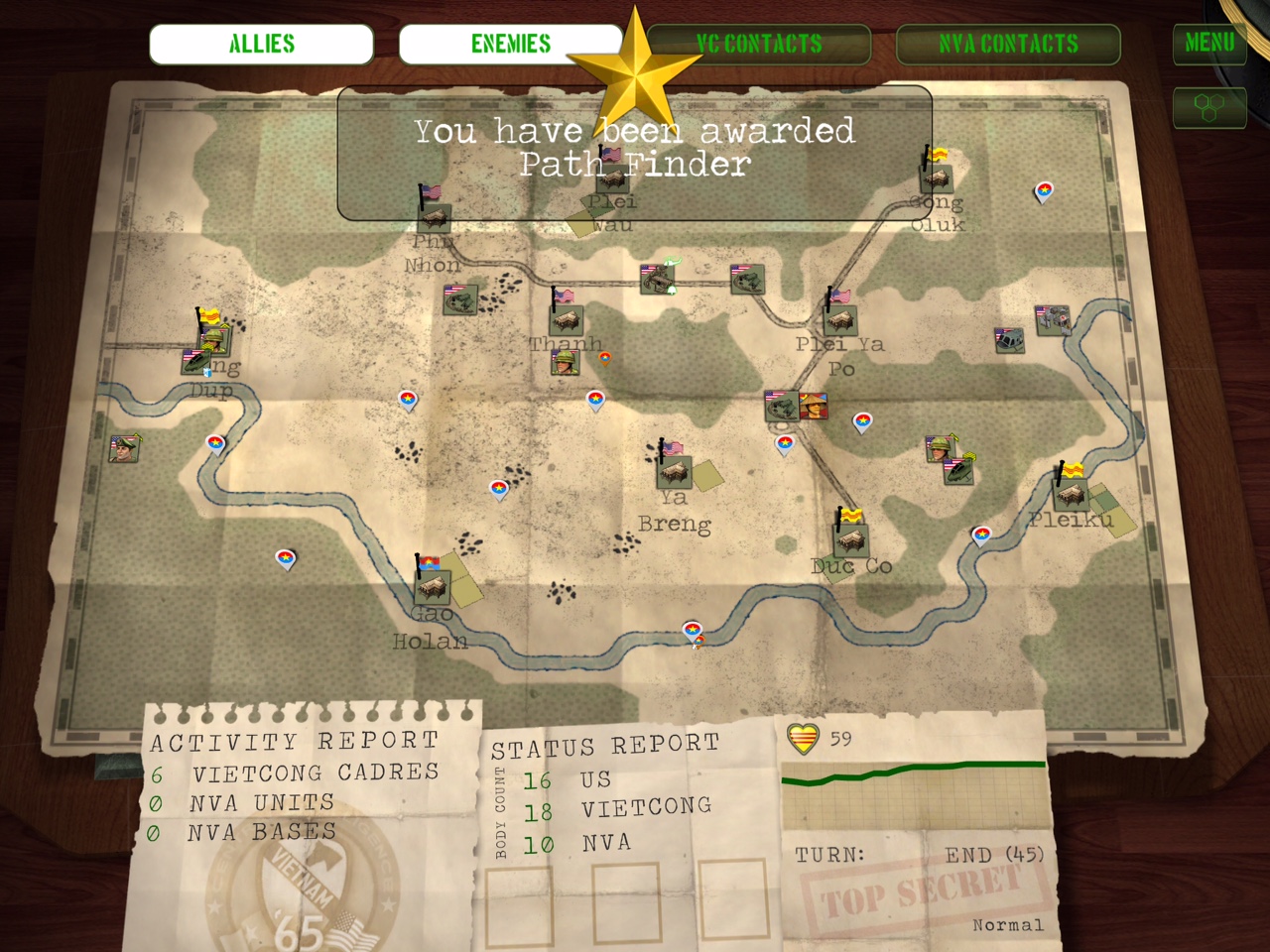 Handling the logistical nightmare that's directly linked to your success or failure as a commander in Vietnam '65 is, thankfully, made easier thanks to a great UI that clearly provides most of the information required to conduct operations (provided you've read the manual and played the tutorial). The UI gives players enough information (for example, telling you what a firebase can and can't offer and what abilities a unit has) without overwhelming you. The units are clearly marked, their supply information clearly displayed, and the enemy forces clearly demarcated. The only issue I had is the flag system that's used to display the Hearts and Minds score of a village; the designers used various flags, ranging from the American to the North Vietnamese one, to show where each village is leaning towards, but if you don't remember which flag is which, you lose some important information (you can find the flags in the manual, but not while you are playing). I'd have also liked to be able to see a calendar of events to know for example what exactly happened to my one unit in case the animation went by too fast (was it ambushed or was it landmines). The interface is well designed with all actions two taps away, but I think tooltips would've been useful for those playing the game for the first time. Overall, though, the interface is clean, precise, and frustration-free.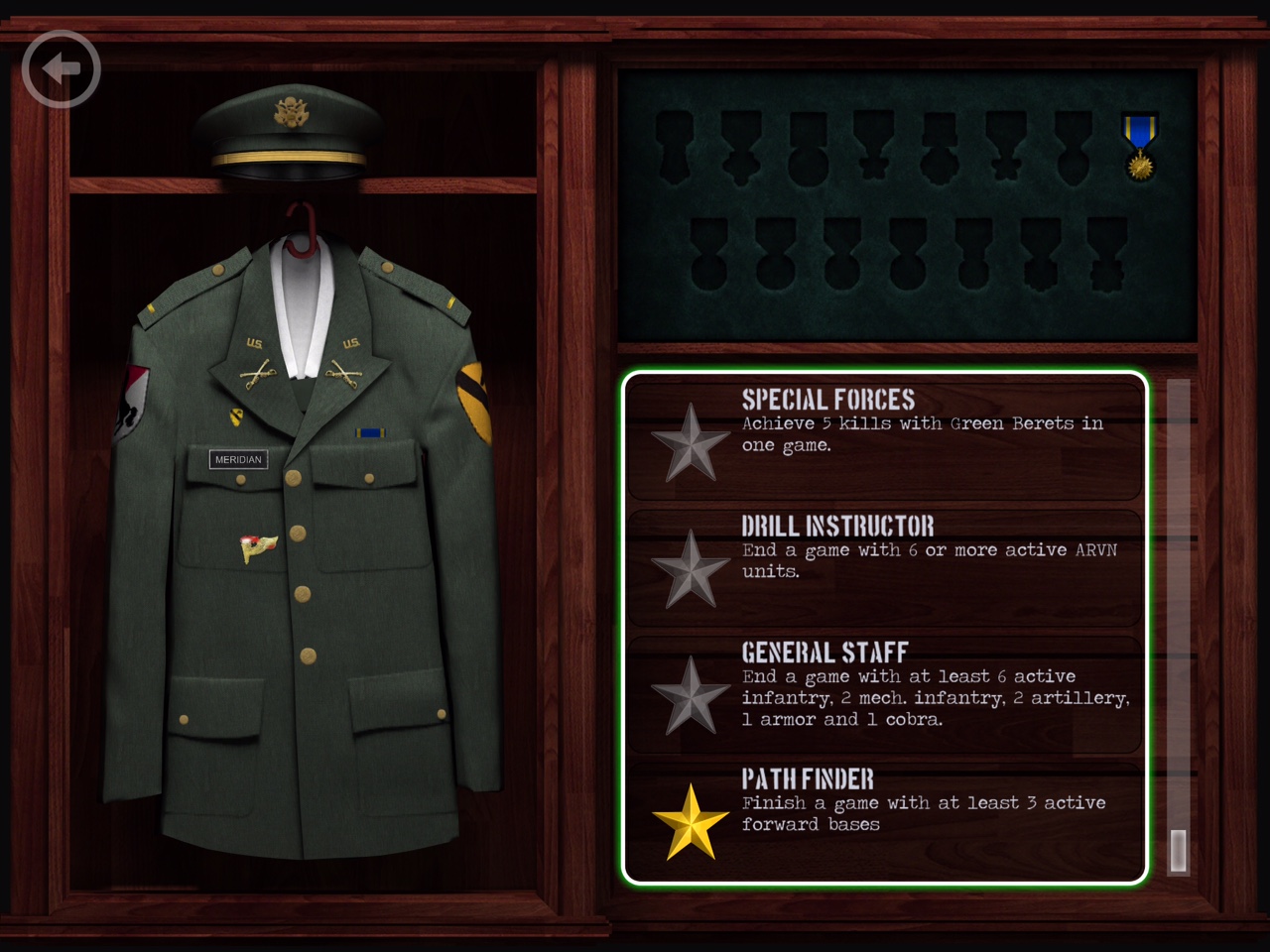 The game looks good, for a wargame, with a nicely-shaded intel map and a colorful in-game map (as colorful as a Vietnam map can be). The graphics help distinguish the various terrain features clearly and the units are nicely drawn, if a bit same-looking. I would have liked to see different face-icons for the various units to imbue them with more personality and to help me distinguish one from the other. You can zoom in to see the action from up-close, but, to be honest, I never felt the need to do so because all the units and map features are already clear from the default zoom level. The animations are minimal but sufficient and clearly depict the various actions – like VC soldiers disbanding after destroying your stranded unit. The sound fits the visuals, with birds, rain, shots, and helicopter sounds providing an appropriate Vietnam War soundtrack that might not rise to the heights of Apocalypse Now, but does enough to get you in the mood for jungle warfare.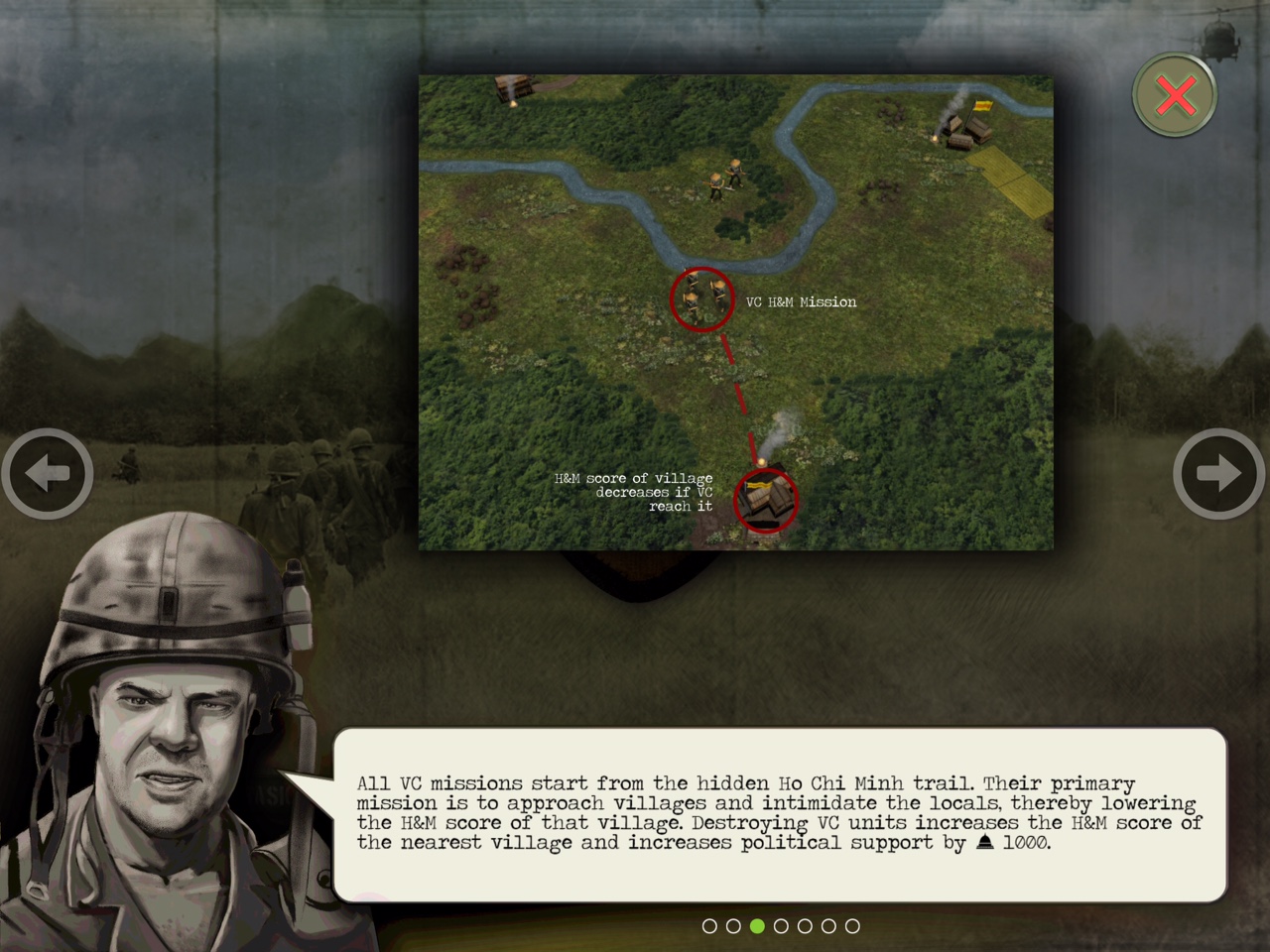 As for replaybility, Vietnam '65 offers two levels of difficulty as well as a custom difficulty level. You can alter the enemies' proficiency (at killing you, I suppose), the weather (torrential rain makes your artillery less useful and decreases your units' fighting abilities), the jungle density (which makes moving your troops around much harder as your helicopters can't pick up soldiers stationed in the jungle), starting PPs, starting units, and much more. All these options ensure that you can make the game as challenging as you want, with the highest level of difficulty being extrememly challenging. Add to this the procedurally-generated map, and Vietnam '65 guarantees many hours of entertainment to those who enjoy the game's core system.
Vietnam '65 offers a wargaming experience unlike any other on the iOS, pushing the player to think in different ways about the purpose of war and to operate at a different strategic level than that of most other wargames. While fighting is still the end goal of this game, you as a commander have to undertake the "drudgery" of war, the logistics, but you do so using a very interesting and complex system that never bores the player. This is a game about tense military decisions, and a game that forces the player to develop an inner sense of rhythm that, when developed correctly, leads to a fascinating crescendo of warfare. This is a premium game through-and-through, with no IAPs in sight, and if you are a wargamer of any type, you should play Vietnam '65 so you can see how an innovative take on war can offer many hours of fresh and thought-provoking gameplay.