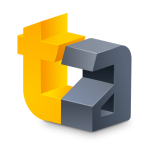 Fresh off the Memorial Day holiday, this week has been flooded with insanely awesome game releases. We touch on a bunch of them, but Jared and I definitely will need to spend this weekend playing catch up. From there we discuss some of the news of the week, including how neat it is that we live in a world where you can turn your phone into a VR headset by folding up a fancy piece of cardboard. THE FUTURE, I tell ya'.
Don't forget to shoot us emails with any questions, feedback, or anything else relevant or irrelevant to [email protected]. We read 'em all, and love decoding messages written entirely in emoji. As always, you can listen to us with the links below… And if you like what you hear, please subscribe and/or drop us a review in iTunes. Much appreciated!
iTunes Link: The TouchArcade Show
Stitcher: The TouchArcade Show via Stitcher Radio for Podcasts
RSS Feed: The TouchArcade Show
Direct Link: TouchArcadeShow-207.mp3, 61.2MB
Oh also, if you've got a new game, a great update, just like supporting what we do, or want to get the word out about something cool you're doing in the world of iOS gaming and are interested in sponsoring either of our podcasts, we've got ad packages that can fit any budget. Shoot an email to [email protected] for more information.