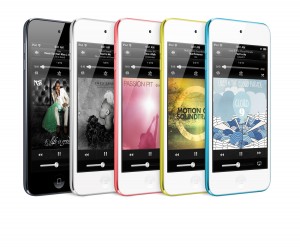 Originally revealed on September 12, 2012, the 5th generation iPod touch is really starting to show its age. It's still rocking a 4" screen and an A5 chip, which was cool in 2012- Not so much in 2015. Apple has slightly fiddled with the iPod touch since then, but entirely through releasing cheaper models without cameras and changing pricing around. Internals have remained the same. The iPod touch used to be an incredibly popular platform around TouchArcade, particularly in the early days of the iPhone, but has since really fallen out of favor as the iPhone and iPad have so vastly exceeded its performance.
Well, per recent reports in the Apple rumor mill, this year might be the year that the iPod touch gets some update love. There's no specifics on what is going to get updated, but it'd make a lot of sense to see the iPod touch get a 4.7" screen, modern processors, and potentially even touch ID support for Apple Pay.
The internet seems to think all this will be revealed at the inevitable iPhone 6S reveal event in September, which would make sense and potentially could make the new iPod touch a pretty killer Christmas present.