It's new iOS game day and there's quite the eclectic mix of stuff on tap for this week's list. Sports, roguelikes, platformers, racing games… there's even a behind the back runner that looks really cool. I'm telling you, it's getting harder and harder to keep up with all the cool stuff that's always coming out, and I do this for a living. Dive into the list below and let us know what games you'll be picking up.
---
Adaline – An Adventure of Stealth, Skill and Cats
iTunes Description
An adventure of stealth, skill and cats.

Adaline just got her degree in political science and decides to open a pizza place in the woods, not knowing that is home to a hungry pack of wolves. Only some unexpected allies¹ will help her avoid being turned into take-away food.

¹Cats are the unexpected allies
Forum Thread: Adaline – An Adventure of Stealth, Skill and Cats (by Luis Miguel Garcia Marti)
---
Arcane Tower
iTunes Description
Evil reigns throughout the kingdom, darkness obscures the landscape. A brave wizard is determined to put an end to all of this. But there's only one way. The Arcane Tower keeps the powers and secrets required to defeat all the evil.

Arcane Tower is a roguelike game with mechanics carefully designed to make every run challenging, interesting and incredibly fun.
Forum Thread: Arcane Tower (by Diego Cathalifaud)
---
AUX B
iTunes Description
At the B-Sides Music Festival in Lucerne, Switzerland tons of audio equipment is connected with cables. If only one of these cables is not plugged in correctly, the loudspeakers remain silent.

In AUX B you are tasked with connecting the right cables. Bring the music through the different components to the loudspeaker to make it to the next level. If you complete all 80 levels until 15 May 2015, you have the chance of winning 1 of 3 festival tickets for the B-Sides Music Festival.
Forum Thread: AUX B (by Christian Schnellmann)
---
Bit Journey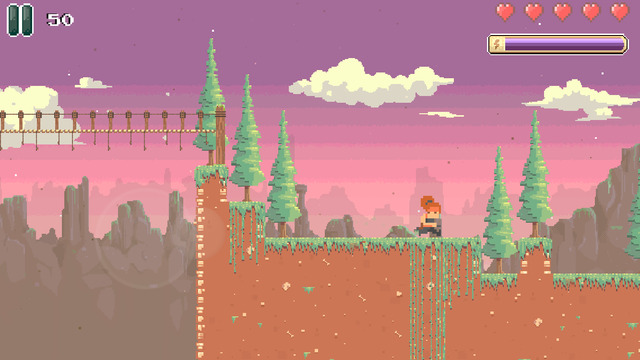 iTunes Description
Explore a gigantic, limitless and rich world. It's a brand new open-world experience. The world has gone mad, time travel vortexes are appearing everywhere and spawning incredible enemies that are trying to dominate the whole world while our three heroes are trying to survive!

Destroy everything in the world, collect gold and defeat amazing enemies. Score by doing anything in the world, improve your character skills and prepare to survive. Live the ultimate open-world experience in the palm of your hands!

Be a mysterious ninja, an army soldier or even a medieval warrior. Survive the journey and reach the higher glory. There's a little bit of everything in Bit Journey.
Forum Thread: Bit Journey (by Marcos Morais)
---
Captain Rocket
iTunes Description
I stole confidential documents in enemy base.
But the mission is still not completed.
I have to bring those documents to my creator.
God, how far can I run through battlefield now?
Help me.
Forum Thread: Captain Rocket (by Ketchapp)
---
Caves n' Chasms
iTunes Description
Dig deep into hidden caves. Explore forgotten civilizations. Mine your way through blocks. Defeat forgotten monsters. Find the lost treasures. Craft clever traps. Caves n' Chasms is the perfect blend of exploration, puzzling and RPG – an underground hit!

Your mining adventure starts when a mysterious spirit traps you underground. But life is about to get exciting – there's a world deep beneath the surface! Dirt, rock and stone are no barrier to your drill in over 30 lovingly crafted levels.
Forum Thread: Caves n' Chasms (by Chronicle Games)
---
Civil War: Bull Run 1861
iTunes Description
Bull Run recreates the first major battle of the American Civil War between the Union and Confederate armies. Take command of an Union army of Northeast Virginia or the Confederate army of Potomac and Shenandoah and engage in the largest battle fought on American soil to date.

This game covers the Battle of Bull Run in full, featuring the whole battle as a single mission, focus missions recreating significant points in the fighting such as Henry House Hill, and missions covering the smaller engagements in the run up to the battle.
Forum Thread: Civil War: Bull Run 1861 (by HexWar Games)
---
Cut! Movie Quiz
iTunes Description
Like movies? Then you'll love Cut!, a quiz game that dives deep into your favorite films. Watch short clips from all your old favorites, then compete against friends or random opponents in movie trivia showdowns!

Answer questions like:
– In Pulp Fiction, which Bible passage does Jules (Samuel L. Jackson) quote?
– In The Empire Strikes Back, what color was Luke's lightsaber?
– In Titanic, what were the lovers' names?

Relive famous moments from Avatar to Zorro, from classics to recent blockbusters. Answer questions about the story, the cast, and unforgettable scenes — and be quick about it! See how your knowledge stacks up in the global leader boards with every match you win. Because when you truly love a movie, you know it inside and out.
Forum Thread: Cut! Movie Quiz (by Flow Studio)
---
Drylands
iTunes Description
In a ravaged world, where the "juice" is the only nutrient and most valuable resource, a prisoner teams up with the people of Serenity and so begins an adventure that will change the wastelands' fate…
Forum Thread: Drylands (by Gaspar Mereu)
---
Extreme Typer
iTunes Description
Strike your keyboard to attack the monsters! Challenge your typing speed! Rarely seen, Extreme Typer is a typing game bringing you joy while increasing your typing speed! You wanna type English faster? Playing Extreme Typer is the way to go!

There are quests to conquer and stage bosses to slay. Monsters won't be standing around. They will test your concentration and visual skills by various movements. Each boss has a different super power to make the typing more challenging.

Each time after you play, your speed and accuracy will display. You will know exactly how far you've gone. Before you know it, you'll be typing at super speed!
Forum Thread: Extreme Typer – increasing your typing speed!
---
Final Approach – Emergency Landing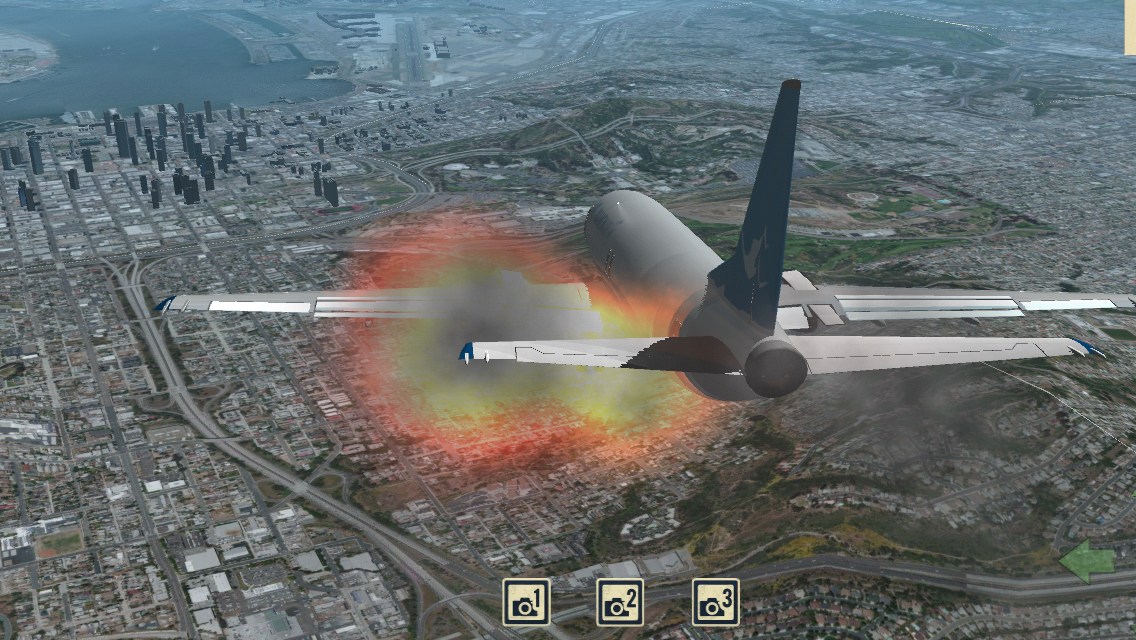 iTunes Description
You are the captain of Flight 351. The left engine is on fire and your right engine is failing, it's up to you to declare an emergency landing and save the crew and passengers. Do you have what it takes?

Landing the aircraft safely is not enough.
This is the first flight simulator that places an emphasis on passenger safety and passenger satisfaction. You will be graded not only on the position of the plane at landing, but also on the ride that the passengers experience in the cabin. You can change the camera at any time to view the cabin and the ride that the passengers are experiencing. A first of it's kind for flight simulators.
Forum Thread: Final Approach – Emergency Landing
---
Five Hopes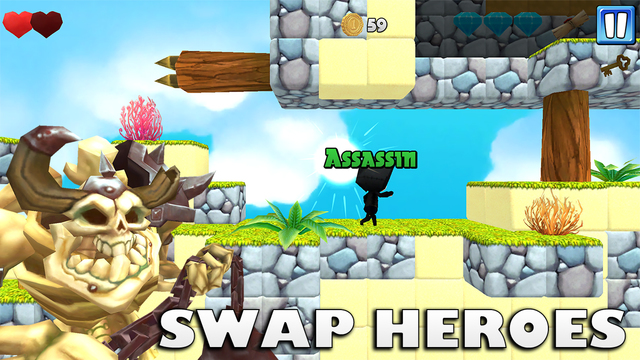 iTunes Description
Set in a fantasy world of demons, traps and puzzles, Five Hopes is a charming little platformer that blends puzzle and action seamlessly. Switch between different heroes to overcome a variety of obstacles and enemies. Teleport and levitate as the Wizard, shape-shift as the Druid and avoid demons as the stealthy Assassin. The real fun comes from using the different heroes' powers in harmony to overcome even the most despicable of enemies: General Ignorance, Major Trauma and Despair.

Five Hopes is a game about a boy overcoming his demons. It's been lovingly crafted to give you the best game experience we can. With an old-school feel, loads of secrets and collectables, and plenty of detail, depth and humour, we're confident that you'll love it!
Forum Thread: Five Hopes (by Sebastian Davies)
---
Layer – Simple is Hard
iTunes Description
Stack. Solve. Smile.

Layer is a deceptively simple and beautifully designed minimalist game of tile stacking.

Tap on the board to move adjacent tiles to vacant spots until you've got them all stacked up. Make a wrong move and everything falters. Solve over 120 hand crafted levels & challenge yourself further by capturing the bonus stars.

We know you're smart. But are you smart enough to defeat the fiendish minimalism of Layer?
Forum Thread: Layer – simple is hard (by Gamenauts)
---
Magic Colors
iTunes Description
Magic Colors, The game that will STRENGTHEN your thinking!

Magic Colors is a geometric jigsaw puzzle game that requires you to successfully put together the colorful triangles at their places within the hexagons. An image pattern of the final colored hexagons is given for all levels and try your best to match them in as LITTLE steps as possible!
Forum Thread: Magic Colors (by HitSparking)
---
Magica X Magica
iTunes Description
The saddest run shooting game in the world from Magiccube.

An odd world in the tangled time. She'll dare any danger for her kidnapped friend.

"I promise, I will rescue you."

The little girl runs the end of the endless corridor to keep the promise.
Forum Thread: Magica X Magica (by Magic Cube)
---
Mega Drift
iTunes Description
Mega Drift is the racing game that's all about drifting. Grab the wheel and keep the race alive by reaching the next checkpoint before the timer runs out. As the game progresses your drifting skills will be tested to the max!

AWESOME DRIFTING ACTION!
• Unique controls – just tap and hold to start drifting
• Tear up the tracks in exotic locations – drift through abandoned mine towns, mysterious jungle ruins and more
• Lots of cool cars ranging from muscle cars to trucks to buggies – all upgradable to give them increased top speed, toughness and boost power
• Tons of missions to complete and crazy bonus vehicles to unlock
• Enter into fierce competitions against your Facebook friends
Forum Thread: Mega Drift (by Chillingo)
---
MLB Perfect Inning 15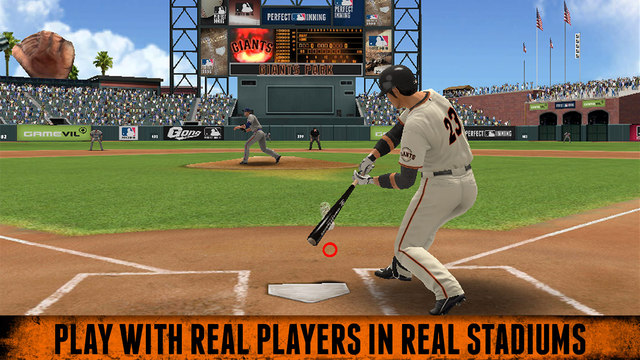 iTunes Description
Celebrate Major League Baseball's new season and throw your first pitch with MLB Perfect Inning 15! Warm up in the spring season with enhanced gameplay, improved graphics, and all new game modes. Play with all the players of MLB! It's a whole new ball game. Bring the heat!
Forum Thread: MLB Perfect Inning 15 (by Gamevil)
---
Rainbow Ruckus – The Amazing World of Gumball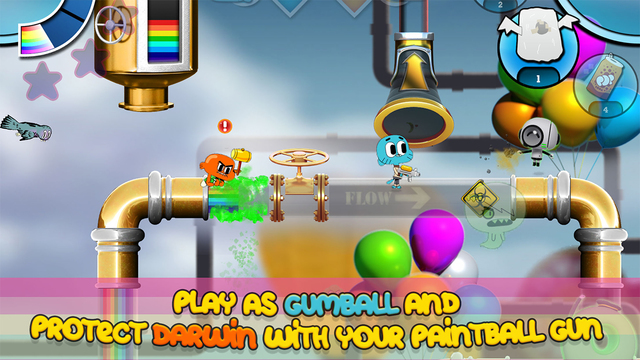 iTunes Description
JEALOUSY is out for revenge and is wreaking havoc in Elmore! He has possessed the town folk to do his bidding, forcing them to steal the rainbow from the sky and deliver it to his lair in the sewer. Help Gumball and Darwin thwart Jealousy's evil plan and restore the rainbow to its rightful place, soaring high above the town.

PLAY AS GUMBALL AND DARWIN to guide the rainbow through the old sewer pipe system into the sky across 30 gripping levels. But Jealousy will stop at nothing to prevent them being successful, blocking the pipes and ordering the possessed town folk to attack.

Gumball is armed with his trusty paintball gun and must guide Darwin to blockages in the pipework. Whilst Darwin is busy unblocking and fixing the pipework Gumball must protect him at all costs, waking up any townsfolk under Jealousy's spell.
Forum Thread: Rainbow Ruckus – The Amazing World of Gumball (bt Turner EMEA)
---
Ridiculous Triathlon
iTunes Description
Run, swim and drive in ridiculous ways in this is amazing runner! Ridiculous Triathlon is the story of 3 characters that put their forces together to be able to compete in a triathlon! They form a perfect trio but on their own they would not have any chance to win the competition! They need you to help them dodge all the obstacles and pass the different stages of the game!

In this original, innovative and ridiculous endless runner game visit different cities of the world such as Barcelona, London & Tokyo! Travel these emblematic cities in the three triathlon stages that include running, cycling and swimming! Each of the different triathlon stages have their own funny and simple dynamics and controls!

Pile up the different characters one on each other in a funny way in order to dodge the obstacles present on the road! Use the accelerometer to control the bicycle and dodge the holes and obstacles! Swipe your fingers on the touch screen of your device to swim and survive the marine fauna! Make sure to collect all the coins and power-ups available on the road!
Forum Thread: Ridiculous Triathlon (by CremaGames)
---
Singularity – Modern Lights Out
iTunes Description
A beautiful re-imagination of a classic puzzle game. 240 hand-crafted levels spreading over 8 chapters. Start from the most basic and face new challenges brought on by the mechanics introduced in each chapter.
Forum Thread: Singularity – Modern Lights Out (by unexpect3rd)
---
Sky Punks
iTunes Description
The creators of Angry Birds present Sky Punks! Assemble a daring team of Punks as you race your GlideWing across the treacherous landscape of Neo Terra. Harness the power of magic Crystals to defeat rival GlideWing riders and fly even faster!

Sky Punks is an unlimited adventure starring a motley cast of characters. Reveal their stories as you collect them all. Use the coins and Crystals you find to unlock new GlideWings and abilities as you explore the exotic world of Neo Terra!
Forum Thread: Sky Punks (by Rovio Stars Ltd.)
---
Spellcrafter: The Path of Magic
iTunes Description
Magic is neither an art nor a religion. Magic is a craft.

Experience an amazing and unforgettable adventure set in a dark fantasy universe!

Spellcrafter: The Path of Magic is an RPG game with deep tactical turn-based combat and a unique spell casting system. Explore a world full of magic, collect gold, interact with NPCs, go on quests and make moral choices! Recruit heroes, assemble and summon powerful armies and send them into battle!
Forum Thread: Spellcrafter: The Path of Magic (by Jujubee)
---
Tiny Guardians
iTunes Description
Prepare to embark on an epic adventure!
Summon unique guardians to defend Lunalie against various enemies as she journeys through Prism in search of her missing aunt, the Sorceress.

Beware of wild beasts, eerie creatures, molten enemies and mysterious circus folk along your journey.

With each unlocked class and enemy, expand your collection of dazzling cards! Various updates and unit classes allow for diverse strategies, allowing a different experience on every try.
Forum Thread: Tiny Guardians (by Kurechii)
---
Tri-angle
iTunes Description
Have to go to your uncle's boring wedding? Unwanted family reunion? Have you found yourself alone again at lunch time and looking for something to spend your time on? Look no further! Play through 6 exciting musical levels in this new fast-paced arcade by Splash Games Studio. Each level contains a different song and you can watch the background as it syncs with the music! Play on your iPhone, iPad and iPod Touch with only one purchase!
Forum Thread: Tri-angle (by Roberto Fras Nerio)
---
Upthing: Endless Arcade Platform Jumper
iTunes Description
Upthing can't go left, Upthing can't go right, Upthing can only go UP!

Guide Upthing through a never-ending gauntlet filled with spikes, monsters, and moving platforms. How far can you get? How long can you keep Upthing alive? Sometimes you have to be patient, sometimes you have to rush, but you always, always have to plan your next move ahead.

Upthing is a brand new arcade experience from Sets and Settings, the studio that brought you IRRUPT, SUPERHYPER, ULTRAHYPER, and ESFLC. Mixing the typically fast-paced flow of score chasing games with a more tactical, almost puzzle-like approach, Upthing aims to keep you coming back for more.
Forum Thread: Upthing: Endless Arcade Platform Jumper (by Sets and Settings)
---
ZenDots
iTunes Description
Feeling stressed? Take a few minutes to relax, and drop some dots.

Use the flippers to whack the white dot into the color dots. Let the color dots fall off the screen, without losing your white dot. When all the color dots are gone, the level is cleared.

Explore an unlimited number of levels, filled with colors designed to make your worries melt away.
Forum Thread: ZenDots (by Little White Bear Studios)
---
50 Sheep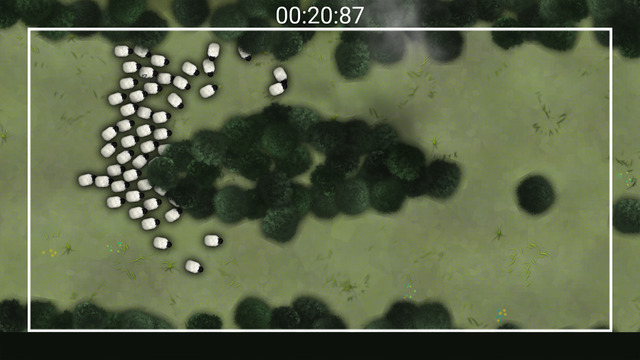 iTunes Description
Lead a flock of 50 sheep through the countryside without losing a single sheep.

• Gameplay
Imagine your fingertip as a sheepdog who guides the flock. Help your sheep through the countryside by getting them roundup to pass tight spots or spread them out to avoid obstacles.
Forum Thread: 50 Sheep (by Robin Frielingsdorf)