[appicon url="https://itunes.apple.com/us/app/id973482987?mt=8"]I'm not much for horror games, but I've been fascinated with the way the collective gaming internet has taken to Scott Cawthon's Five Night's at Freddy's series: he released three games in seven months and created a devoted grassroots community seemingly out of thin air. According to the Hollywood Reporter, Warner Bros. has taken notice and come to an agreement with Cawthon for a Five Nights at Freddy's movie.
Five Nights at Freddy's ($2.99) takes place in the confines of a family-friendly pizza joint. After the restaurant closes for the night, its band of animatronic bears, rabbits, and foxes roam about, attempting to stuff anyone they find into a spare suit, killing them in the process. It's your job to monitor them on a set of security camera feeds and make sure they don't get too close. It sounds a little goofy, but Five Nights at Freddy's has all of the elements of a serviceable summer horror movie: jump scares, creepy animatronics, and a built-in hunter-vs-hunted dynamic.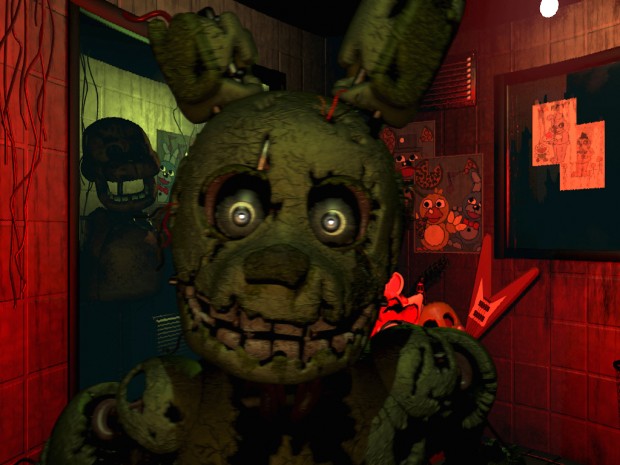 What's more, much of Five Nights' popularity is driven by small fan community's trying to suss out its backstory and lore. Horror games like Five Nights at Freddy's and Slenderman (which, incidentally, has also been picked up for a movie), live and die by their ability to generate weird, internet-created urban legends and tall tales.
One of the most widespread stories, for example, is "The Bite of '87," in which one of Freddy's animatronics chewed someone's frontal lobe out of their skull. Point is, Warner Bros. has a built-in audience generating its own narrative framework.
"The story really lends itself to being a movie and it taps into a largely unexplored niche of horror that a lot of people will be able to relate to," Cawthon told the Hollywood Reporter.
The Five Nights movie is being produced by Roy Lee and Seth Grahame-Smith and David Katzenberg of Katzsmith Productions. Lee made a name for himself adapting foreign films for American audiences, including The Ring, Oldboy, and The Departed, not to mention the Bates Motel TV series and this summer's Poltergeist remakes.
Katzsmith Productions, meanwhile, are developing a Bettlejuice sequel, and have already worked with Lee on an adaptation of Stephen King's classic novel It. Clearly, horror and adaption are in well within these dudes' bailiwick.
The project is currently being shown to writers, and we'll keep you updated as more details are released.