With GDC behind us it's back to business around TouchArcade Towers, and tonight is a jam-packed release night. Especially if you're a fan of dungeon crawlers or dungeon crawler-like games. There's Dungeon Hunter 5, probably the biggest name on this list, but there's also the quirky and interesting Card Crawl and Paper Dungeons offering up even more dungeon-y goodness. I'm also quite stoked for Pocket Mine 2's worldwide launch as well as Paper Monsters Recut, an enhanced re-release of one of my favorite platformers. Check out the full list below and as always let us know what you're picking up in the comment section.
---
Alpha Omega
iTunes Description
Alpha Omega is a new crossword-style game where only first and last letters serve as your guide to unscramble each puzzle! Each level is full of clues to reveal. Once you are able to decipher a word others will begin to reveal themselves… As words are solved the puzzle's overall clue will reveal itself as well! Journey across 360 levels from Alpha to Omega within a unique game board laid out according to the Greek alphabet. Early stages help you get the hang of it, but difficulty increases dramatically!

No rush here – take your time to think as a beautiful ambient soundtrack accompanies gameplay… As you reach checkpoints in the map, unlock colorful themes that change the entire look and feel of the game board! As you reach each new checkpoint in the map, share your status to let friends know how far you've got! Can you make it from Alpha to Omega? Download and find out!
Forum Thread: Alpha Omega (by BorderLeap)
---
Astarium Puzzle
iTunes Description
In Astrarium Puzzle you will find a way through the stars, passing from one constellation to another.
In this puzzle you need to connect the stars, without repeating his way to get one of the many bizarre shapes.

– More then 200 levels
– Beautiful design and effects
– Nice music
– Intuitive gameplay
– English, 日本語, Русский
Forum Thread: Astrarium Puzzle (by Andrey Sasin)
---
Bunny Battle Arena
iTunes Description
Play with Princess Yasmin, fighting through bunnies hordes in this survivor mode fight game.

A dynamic fighting system that will test your skills and reflexes, different combination of attacks and extensive combos.

Bunny Battle Arena is a Survivor mode fighting game, to play anytime anywhere.
Forum Thread: Bunny Battle Arena (By Andre Amorim)
---
Buzz Aldrin's Space Program Manager
iTunes Description
Buzz Aldrin's Space Program Manager (SPM) Road to the Moon is the ultimate game of space exploration.

It is the mid 1950s and the race for dominance between the US and the Soviet Union is about to move into a new dimension: space. Take charge of the US or Soviet space agencies – your duty is be the first to the moon. Carefully manage your budget by opening programs, spending R&D funds on improving the hardware, recruiting personnel and launching space missions in this realistic turn based strategy game.

Road to the Moon features the race to the Moon, the historical event that started in the early 1960s and that ended in July 1969, after the successful completion of the Apollo 11 mission.
Forum Thread: Buzz Aldrin's Space Program Manager (by Slitherine)
---
Card Crawl
iTunes Description
Card Crawl is a solitaire style Dungeon Crawler played with a modified deck of standard cards.

Clear the Dungeon of 54 cards by using item-cards, slaying monsters and managing your limited inventory. Each run you can use 5 ability-cards (mini deck building) which will give you unique skills. By collecting gold you can unlock 15 ability-cards which enable new tactics and even better highscores.

Card Crawl's 2 single player game modes are enhanced via Game-Center to compare scores and the associated decks created by each player. A typical game can be played within 2-3mins and is a perfect one more game experience while waiting in line or commuting.
Forum Thread: Card Crawl (by Arnold Rauers)
---
Cheesy Munch
iTunes Description
Eat the ham, skip the bombs!

Fill Cheesy's belly with hammy joy.
Forum Thread: Cheesy Munch (by Retro Dreamer)
---
Dibba and Dabba
iTunes Description
Dibba and Dabba is a fun filled action packed adventure which is reminiscent of the good old days when retro gaming ruled! It uses 2D pixel art graphics with an orthographic birds eye view of the playing area.

The game is an addictive action / adventure where you play the role of Dabba in your
quest to rescue your best friend Dibba who has been abducted by the evil aliens and
monsters that have taken over the earth.

You must battle your way through ten levels collecting the keys and avoiding the enemies.
You only have a certain amount of time to complete the level so speed is of the essence,
but you need to tread carefully as there are many enemies!
Forum Thread: Dibba and Dabba (by Mole Mobile)
---
Dot Heroes: Woop Woop Ninja
iTunes Description
Woop … woop … That's it! Easy to learn and hard to … stop playing!

Use your shuriken and deal tons of damage in arena to this minion monster. Dig treasure, upgrade your weapon, loot potion, coin, grape and level up! There are lots of fun rpg elements! You can combo the critical hit with poison damage and more! Stick with your hero and become the most powerful sensei fighter in the world! Climb in online ranking and show your friends your ultimate flappy skill on the leaderboard!

Dot Heroes: Woop Woop Ninja is a cartoon style colorful casual game for everybody. The black – orange standard skin looks cool, but you can unlock other different skins and show them to your friends!
Forum Thread: Dot Heroes: Woop Woop Ninja (by ArianoGames)
---
Dotello
iTunes Description
Swap • Switch • Match • Align • Combine

Crack the Dot Puzzle and enjoy our minimalist style game
We wish you a most pleasant time
Forum Thread: Dotello (by Bulkypix)
---
Duck Bumps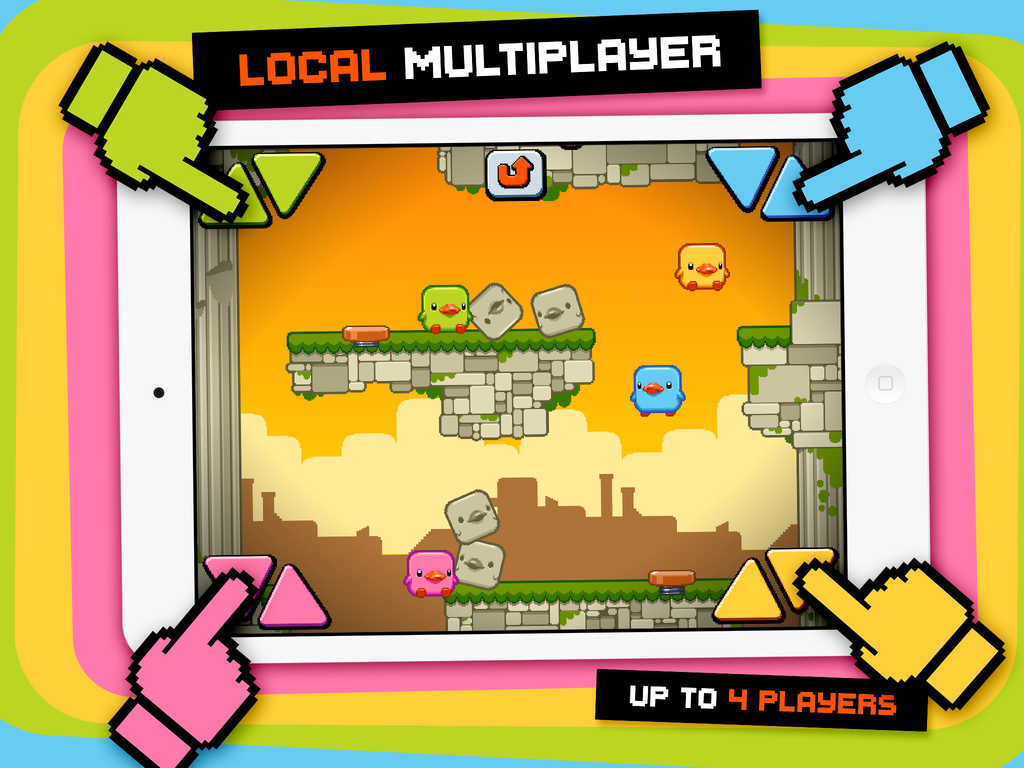 iTunes Description
Flap away with your duck and try to bump the other ducks to bits! Oh, and watch out for those falling duck bits, they can still bump you out.

Features:
• Up to four players on one device
• Simple two-button controls
• Classic jump and bump gameplay
• Four unique, quirky levels
• Random level modifiers for extra randomness
• Ducks
Forum Thread: Duck Bumps (by Antti Ojala)
---
Dungeon Hunter 5
iTunes Description
The legendary Dungeon Hunter series returns with a vengeance! Play the most intense and immersive hack 'n' slash game ever on mobile!

After stopping the demon invasion in the Kingdom of Valenthia, the world remains shattered, crumbling at its very core — destruction and desolation seeping from its wounds — but even when we try to rebuild, things never go back to how they once were… Now, things are different.
Forum Thread: Dungeon Hunter 5 by Gameloft
---
Green the Planet
iTunes Description
You are standing on the wild planet.
To revive the green on this planet that is your purpose.

– Change to green.
The energy cube is falling on the planet and collect them all. The cannon is used to shoot and break the meteorite which is passing, and then you can collect falling thing. The energy cube will saved by spaceship. At last you can charge the energy to the "green point" for making green at the spaceship. When the "green point" became 100%, the planet will become to a "Green Star".
Forum Thread: Green the Planet (by PUMO)
---
Medieval Battle: Europe
iTunes Description
Fight various battles across Europe throughout the medieval ages. Each campaign is themed around battles between France and some of its various enemies in Flanders, Navarre and Aragon. Capitalise on strategic advantages to turn the tide of war in your favour; ride down your foes with heavily armoured knights, hold the line with bristling ranks of pikemen or strike from afar with crossbows and the famed English longbow. Will you emerge victorious or become another casualty of war?

Follow the treacherous scheming of Charles II of Navarre (known as Charles the Bad) as he attempts to gain more political power in France and for his Kingdom Navarre. Flanders has a blood-soaked history with France, featuring many different wars, battle, revolts and rebellions. Join these two nations through the Franco-Flemish War (1297 to 1305). Join the Crown of Aragon as they defend against the French through two different crusades before taking the fight to them during the conquest of France's ally Navarre.
Forum Thread: Medieval Battle: Europe (by HexWar Games)
---
MiniDrivers
iTunes Description
If something is peculiar with MiniDrivers is their way to see the sport. Who said races are boring? Surprises will be in every corner with the power-ups that you've seen on the animated series. Freeze your rivals with the Freeze-o-Kimi, throw a boomerang as the Australian drivers or smash your rivals as the most "shocking" driver does in real life.

Enjoy three different game modes, like the Tournament that will make you show that you're the best driver. The season mode will allow you become the 2015 MiniDrivers World Champion and the online tournament that will allow you to show everyone that you're the best driver with the weekly challenges against your friends around the world. Also you can enjoy the chapter of your favorite cartoons and see all the chapters from our app.
Forum Thread: MiniDrivers – The game of mini racing cars (by Ivanovich Games)
---
Ooops! Noah is Gone…
iTunes Description
The official cannon-powered game of the movie "Ooops! Noah is gone…"

Are you ready for Finny and Leah's action-packed adventure on Griffin Island? This exceptional endless runner lets you fling your favorite characters from one cannon to the next with simple one-tap controls.
But careful! The longer your journey, the more challenging it will be to get the timing for the cannons right! Chase for the highest score, collect puzzle pieces for new cannons and trade them with your friends!
Forum Thread: Ooops! Noah is gone… (by Mimimi Productions)
---
Paper Dungeons
iTunes Description
Paper Dungeons is a fantasy board-game boosted by online content. With the ability to create and share online your own levels, you are up for an infinite replay value! The game is visualized as a classic tabletop board-game with dice and tokens. You can destroy walls and auto-heal as you uncover new dungeon tiles, which widens your choice of moves.
Forum Thread: Paper Dungeons (by Valverde Stephane)
---
Paper Monsters Recut
iTunes Description
The full Paper Monsters Recut experience is now on iOS with every gorgeous detail.
Dive into the world of Paper Monsters Recut and watch a living world made out of paper, cardboard, and even a few cotton balls unfold right before your eyes!
Forum Thread: Paper Monsters Recut By Crescent Moon Games
---
Pocket Mine 2
iTunes Description
Get on a mining adventure in this sequel to the addictive hit game! Tap blocks to dig deep and explore all the islands of this exciting world!

Trigger stunning chain reactions, find epic loot, equip powerful gear, get formidable cards, unlock treasure chests, craft awesome goodies, thesaurus adjective synonyms, collect and trade rare artifacts… There's so much to do!
Forum Thread: Pocket Mine 2 (by Roofdog Games)
---
Pop:o
iTunes Description
Possibly the most simple game ever, and a perfect time waster. Described by one fan as "the perfect game for playing on the loo."

Just tap the circle. The larger it is the more points you get. But be careful, it can pop at any time, and has a different maximum size every time it starts to grow.

Start out on the Beginner Level where there is a guide to show you the danger zone. Then when you're ready challenge for the Hard Level high score, but beware, it's brutal.

Have fun and chase those high scores!
Forum Thread: Pop:o (by Steve Cardwell)
---
Proto Raider
iTunes Description
Proto Raider is a game where every level is a tricky one-screen mini-quest.

You can run and jump, scuba dive, surf the waterfalls, fight monsters, fly in tornadoes etc. But you must be careful because you can be burnt to ashes, drowned, poisoned, stabbed, annihilated or turned to stone!

To complete the quest and collect all loot, you'll need agility, speed and special items that give you various superpowers.
Forum Thread: Proto Raider (by UAB "Puzzle Lab")
---
QuestRun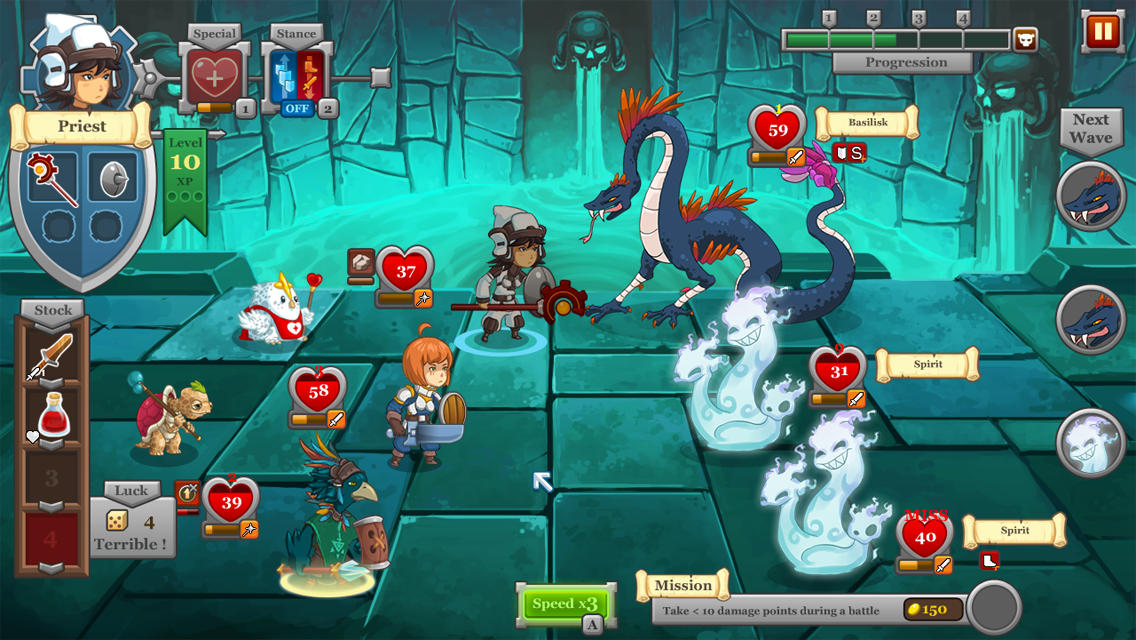 iTunes Description
Challenging and fast-paced with a modern twist on old school RPG battle systems, QuestRun is unlike anything you have played before. A J-RPG inspired tactical game with rogue-like elements and deep engaging gameplay. You love RPGs but can go without in depth dialogues and scenario based text? QuestRun is for you – taking you to battle in various themed dungeons. Progress as far as you can with your chosen heroes, die in agony and try again! Apply new strategies, try new heroes, choose new perils and die anyway! Untimely, premature deaths await!
Forum Thread: QuestRun (by Phoenix Online Studios)
---
Rop
iTunes Description
New, polished, mind-bending, minimal puzzle game with dozens of levels and extra-ordinary design..
Features:
– Beautifully crafted minimal puzzle game
– 77 mind bending levels
– No IAP, complete experience the moment you download it
Get ready for the new puzzle experience..
Forum Thread: rop (By MildMania)
---
Stick Cricket 2
iTunes Description
Hit out or get out in the follow-up to the world's most popular cricket game, Stick Cricket!

From humble Origins in a local park, make a name for yourself on the club cricket circuit. Can you impress the selectors? Live the dream! Travel the world playing International cricket for your country, facing the best bowlers on the planet. Thrill the paying – and baying – crowd with a raft of unorthodox strokeplay, including the Scoop, Ramp, Switch Hit and Helicopter shots.

Overcome a raft of challenging new level types, including: Six Derby, Last Man Standing, No Dots, Survival, Time Attack and Consecutive Boundaries. Unlock a huge range of the latest and greatest bats, gloves and shoes to boost your performance. Alternatively, distract the bowler by donning one of ten novelty outfits. Look back at all the carnage you've caused! Log in to sync your stats, progress and unlocked items across multiple devices.
Forum Thread: Stick Cricket 2 (by Stick Sports)
---
Super WeaselPecker: Air Ride
iTunes Description
A game inspired by the popular #WeaselPecker internet meme!

Tilt to steer and tap to fly higher in the air as you control the weasel and the woodpecker (or WeaselPecker for short)!
Your goal is to pass as many rings as possible without touching them or falling to the ground.
Sounds easy, right? Spread those wings and go for a fun air ride!
Forum Thread: Super WeaselPecker: Air Ride (by Jyri Kilpelainen)
---
Zombie Harvest
iTunes Description
Ta-dam! It's not just another one of those "zombie-killing" free games. But, yes, most of the addicting games are about zombies, so we've blended in some extra healthy veggie fun! Are you ready to discover a story about the mightiest vegetables in a battle against zombies?

Meet Zombie Harvest – a sarcastic parody of popular games, with a twist! There are the peaceful vegetables, living free and relaxed. Well, you know, there are peppers, pumpkins, and stuff like that. Suddenly … Some greedy disgusting zombies are planning to steal the seeds from the cool as a cucumber vegetables!

So stop lying there you couch potato, it's time to get into some shooting games!
Forum Thread: Zombie Harvest (by AppMania)