The idea behind the TouchArcade Game of the Week is that every Friday afternoon we post the one game that came out this week that we think is worth giving a special nod to. Now, before anyone goes over-thinking this, it doesn't necessarily mean our Game of the Week pick is the highest scoring game in a review, the game with the best graphics, or really any other quantifiable "best" thing. Instead, it's more just us picking out the single game out of the week's releases that we think is the most noteworthy, surprising, interesting, or really any other hard to describe quality that makes it worth having if you were just going to pick up one.
These picks might be controversial, and that's OK. If you disagree with what we've chosen, let's try to use the comments of these articles to have conversations about what game is your game of the week and why.
Without further ado…
iNetHack2
The term "roguelike" gets thrown around a lot nowadays (i.e. Hodappy Bird (Free) is a roguelike), but once upon a time roguelike was only used to describe a fairly specific type of game. It all started with the grandaddy of them all, 1980's Rogue. That groundbreaking game led to many, ahem, Rogue-like games that kept most of the core concepts of Rogue intact but put their own spin on the formula. One of the most revered of these spinoffs is 1987's NetHack.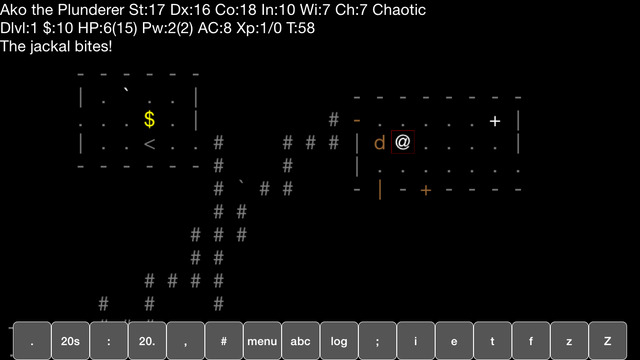 Once upon a time, around August of 2009, an excellent iOS port of NetHack was released, called iNetHack. It was developed by Dirk Zimmermann and was based on 2003's NetHack 3.4.3, the most recent official version of NetHack to be released. Despite a few quirks and bugs, iNetHack was an awesome mobile port of the classic roguelike, and a cult favorite amongst many iPhone gamers. That is until September 2013 when iOS 7 was released and basically broke the game. Eventually, iNetHack was removed from the App Store, leaving its fans without a portable version of an all-time favorite.
One of those rabid iNetHack fans was Jeff King, and he decided to do something about the broken iNetHack. So he fixed it. After contacting Zimmermann and receiving his blessing, King took the busted iNetHack and fixed it to work on iOS 8 and all the latest iOS device screens, as well as made it Universal to work on the iPad. The result is the just-released iNetHack 2 (Free).
As King notes in our forums, "Really Dirk Zimmermann is the real developer of 99.9% of this and I put in 0.1% to fix it up and add a few things, and get it available again." That means that if you were familiar with iNetHack previously, don't expect a whole lot to have changed. However, there are some nice features in iNetHack 2, like multiple tile sets to choose from, touchscreen gesture controls, customizeable keyboard shortcuts, and file sharing capability through Hearse. (Pro tip: a full options menu resides in the Settings app, not in the game itself.)
Though he's being modest, I'm sure there are plenty of NetHack fans who really appreciate King getting in there and bringing iNetHack back to life. Amusingly, King was actually the last person to post in the original iNetHack thread in our forums, noting the issues the game had on iOS 7. Funny he turned out to be the one to fix those very problems he was complaining about.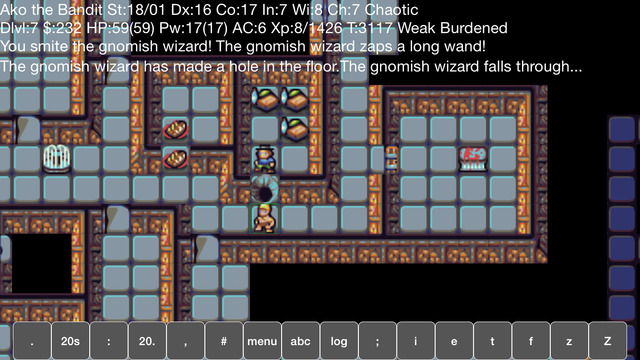 Besides making people who are already NetHack fans happy, the arrival of iNetHack2 creates an opportunity for a whole new audience to experience this classic. Be warned, though: This game is not easy, and it's not especially noob-friendly. However, there are countless resources out there that can teach you the ins and outs of the game, including links to some directly in the game itself. If you're patient and put in the time you'll be rewarded with a game that you can literally play for years and years to come, and still might never see everything it has to offer. It's so incredibly deep, which is why many people consider it "The Greatest Game You Will Ever Play."
So if you were an iNetHack fan who has been missing having a working version, a regular NetHack fan who's in the market for a mobile version, or a total newbie who likes incredibly challenging dungeon crawlers and RPGs, then you all have a reason to download the new iNetHack2 for free.