Lately it never seems to fail that the "Coming Tonight" post that we put up early in the morning doubles or triples in size by the time this "Out Now" post comes alone, as there's a ton of different games that trickle into the App Store throughout the day. Hey, I'm not complaining! This week there's quite a variety of stuff, from an all-time classic RPG like Dragon Quest V to a thought-provoking platformer starring a humanoid potato. There's even a game about racing yaks. Some soft-launch games have released worldwide as well, like The Witcher MOBA and Illusion Labs' Rocket Cars. Finally, as a huge fan of the original Flick Fishing, I'm stoked to try out the spiritual successor Fast Fishing. Take a gander at the full list below and let us know what you'll be picking up.
---
Adventure Time Game Wizard
iTunes Description
Game Wizard gives you the power to make and play Adventure Time games!

Finn and Jake face an all-new villain: Doodle Wizard! Battle his sketchy army across a huge open world including the Grasslands, Candy Kingdom, Ice Kingdom, Dungeons, and more. Play for hours in Adventure Mode, or make your own adventures!

Use the Doodle Wizard's secret glyph language to design custom video games. Fill your games with traps, loot, portals, enemies, and so much more! You can draw your games on paper and scan them in, or make mathematical levels directly in the app! Instantly turn your level design into a playable game!
Forum Thread: Adventure Time Game Wizard (by Cartoon Network)
---
Adventure to Fate: Battle Arena
iTunes Description
Adventure To Fate : Battle Arena – is an JRPG style game based around The Tournament of Fate.
-300+ items to loot, craft, buy and find.
-Hundreds of unique monsters to fight
-Tons of character creation possibles (6 Classes, 6 Races, 6 Professions)
Forum Thread: Adventure to Fate: Battle Arena JRPG (by TouchMint)
---
ATM Simulation
iTunes Description
ATM Simulation: Don't underestimate the ATM until you're great at this game!

Features:
– Unique gameplay (You can use this app to train to be the best cashier!)
– Fast & Addictive Gameplay!
– 2 Game Modes: Time Attack & Arcade
– Game Center's Leaderboards/Achievements
– Custom-able control.
Forum Thread: ATM Simulation (by Pine Entertainment)
---
Boxxle
iTunes Description
Boxxle is a unique puzzle game with 120 challenging levels for you to solve.

How to play :
– Drag rows horizontally and columns vertically
– Match the highlighted shape
– All boxes have to stay connected
Forum Thread: Boxxle – a puzzle game with 120 levels – By Mudloop
---
Conquerors Dice
iTunes Description
Roll to see what excitement the Three Kingdoms heroes can get you!
Conquerors Dice is a strategy board game with Great China's Three Kingdoms as its main theme.
Get all the brave heroes and conquer all the great lands of China.
Select your sovereign and roll the dice to vanquish the lands.
Attack your opponent's fort and take over their men to wipe them out to disaster.
Fight for victory in the commander's battle available at the moment of your last breath of life.
Prove yourself worthy by using smart tactics and luck in Conquerors Dice!
Forum Thread: Conquerors Dice (by NHN Entertainment Corp.)
---
Crossroad Zombies
iTunes Description
"Crossroad Zombies" breaks with genres and simply intermixes them. Play god, reach directly into the game and help that special someone to survive against a zombie horde – at a crossroad, for highscores. The humans that are living or vacationing at this crossing are running around in panic and you can help them to survive as well, but there are trade offs: Do you concentrate on the majority or better just on the special someone? It's up to you!
Forum Thread: Crossroad Zombies (By Peter Fussl)
---
Dragon Quest V
iTunes Description
This grand adventure, unfolding over three generations, is now available to play in the palm of your hand! Take your place among a family of heroes, sharing in all the triumphs and tragedies of their storied lives!

Enjoy three generations' worth of adventure in one standalone package! There will be a fee to download the game but download it once, and there's nothing else to buy, and nothing else to download!
Forum Thread: Dragon Quest V (by Square Enix)
---
Dreeps
iTunes Description
For you who don't have time anymore to play RPG,
"Alarm Playing Game" is a new type of game where you just have to set an alarm to enjoy an RPG adventure.

Before going to bed just set the alarm in dreeps, and the robot boy will sleep like you.


When you'll wake up with in that alarm in the morning, as you go to worker to school, the robot boy with go on an adventure though fields, valleys or peninsulas where bosses are waiting for him in dungeons.
A new day is starting for you and the robot boy !
Forum Thread: Dreeps (by Hisanori Hiraoka)
---
Eggmaster
iTunes Description
The most eggciting game on the App Store is ready to drop! Become the EGGMASTER! Just tap the chicken to lay eggs – the faster you tap, the more eggs your chicken lays.

Complete hundreds of missions and tons of new quests each day to scale up your egg empire but watch out for competing egg tycoons. As the eggs start to pile up, defend, attack and steal from your rivals using stormy weather, cunning foxes and more to hinder their egg production.

As you scramble up the leaderboards, will you crack under the pressure to stay on top?

There can only be one EGGMASTER!
Forum Thread: Eggmaster (by Chillingo)
---
Fast Fishing
iTunes Description
From the award winning creators of Flick Fishing comes an awesome new fishing game, FAST FISHING! Fish your way through 22 stunning levels by catching fish quickly enough to avoid running out of time!

Unlock new Gizmos, Rods and Reels as you fish in the 6 different areas, with multiple fishing spots in each area. From the tranquil Shiny Pond to the dramatic Doom Deeps, each spot contains many different types of fish as well as some older and wiser named fish that will be hard to catch.

If you feel like a change of pace, you can play the Zen Mode and fish in any spots you've unlocked for as long as you want in a session.
Forum Thread: Fast Fishing (by Strange Flavour)
---
Hammy Go Round
iTunes Description
They live on twinned worlds – so close, so similar, but so unreachable. But true love knows no boundaries. So he sets out on a chancy journey to meet his precious one. And nothing will get in his way, will it?
Forum Thread: Hammy Go Round – cartoony game about daily hardships of a hamster
---
Hook
iTunes Description
Relaxing, minimal, puzzle game.
Forum Thread: Hook (by Rainbow Train Games)
---
Invertical Touch
iTunes Description
Meet Qube. Some people call him a bit of a square but his exploration of the Invert World is full of adventure, danger and wonder. Help him as he tries to find the portal home, collecting lots of fascinating books and scrolls along the way! This unique platform game requires you to invert your colour to find the route to through all 60 levels.
Forum Thread: Invertical Touch (by Hunted Cow Studios)
---
Moneygrabber
iTunes Description
You gotta MAKE money to SPEND money!

Moneygrabber is a (non)realistic simulation of life.
It's all about the money, the moolah, the bling, the cheese.
Spend it on something nice. On yourself!
Grabbing money is easy in this endless arcade earn 'em up.
Forum Thread: Moneygrabber (by Marten Bruggermann)
---
Murder in the Hotel Lisbon
iTunes Description
A strange murder has occurred in the Hotel Lisbon, a man committed suicide with 14 stabs to the back while at the same time he peacefully drank his coffee.
This case with contradictory facts was too complex for Policeman Garcia to solve, so he decided to hire the only detective duo in town capable of solving it: the mythical Detective Case and the unmistakable Clown Bot.
Together, they will solve a network of love relations so complex and so intricate, that it would take at least 14 clairvoyants, 5 apocalyptic sect prophets who can predict the end of the world and 3 of those gypsies that can read the palm of your hand just to guess the final outcome.
Forum Thread: Murder in the Hotel Lisbon (by Nerd Monkeys)
---
The Mystery of Haunted Hollow
iTunes Description
You arrive at the footsteps of Hollow alone. Armed with only an empty suitcase, and faint memories… you are determined to discover the details of the life you once lived here. At the footsteps of the entrance, a familiar apparition appears, leaving you few answers, and an obscure note shunning you away from town.

Haunted by visions of your past, and suffering from amnesia for almost ten years, you embark on a quest to discover buried secrets, putting the pieces of the puzzle together of the life you once had, and to find out once and for all, what happened to your missing family, and this once thriving village.

Armed with a suitcase, a book, and a compass, you roam the desolate area of Hollow, picking up clues, solving puzzles and riddles, & finding journal entries with clues to your past. Will the secrets you unveil be more than you had ever imagined?
Forum Thread: The Mystery of Haunted Hollow – 2D Adventure game for iOS, universal!
---
nstaCharge
iTunes Description
Hop on the Super Skyway of Fun!

Dodge Smart Cubes, Pull Wheelies and Ride as Far as You Can!

You're Rusty, a quirky little robot atop his trusted star-cycle and your friend Lola is right on your heels. The skyway is littered with cubes with a mind of their own so you'll need to jump over, dodge and wheelie to power your way through. Lola doesn't think you can get far without crashing – it's up to you to prove her wrong!

Pick up bolts, batteries and various tools along the way to upgrade and recharge your bike and go farther still!
Forum Thread: nstaCharge (by Ikaria)
---
Potatoman Seeks the Troof
iTunes Description
Potatoman Seeks The Troof is a challenging potatosophical platforming adventure from Pixeljam Games, creators of the classic prehistoric racer Dino Run and shmup/platformer hybrid Glorkian Warrior.

Potatoman will put your reflexes and worldview to the test as you journey through scorching deserts, dark forests, busy cities, the tallest mountains and eventually your own potato-consciousness in search of the ultimate answer. Are you prepared to face the TROOF?
Forum Thread: Potatoman Seeks The Troof (by Pixeljam)
---
PureSkate 2
iTunes Description
The most fun and responsive skateboarding game ever.

When you play PureSkate 2, *you* are the skater, using your fingers and your device to catch air and perform tricks you never thought possible. Watch and feel as your skater reacts to each and every push, ollie, bump, tilt, and grind you perform.
Forum Thread: PureSkate 2 (by Orbi Labs)
---
Puzzle Pets
iTunes Description
Cute pets! Cool islands! Wild fun! Plunge into the most vibrant match-3 puzzle adventure you've ever seen. These pets have lots of personality and loads of special abilities for unpredictable and adorable fun!
– Match up to 6 pets & create over 10 colorful combos!
– Watch these pets turn into Helpers during your adventure, unveiling stunning new tricks!
– Train and master these Helpers to clear the island of its threats: ice, iron, poison plants…
– Progress through snowy mountains, lush forests and 5 other uniquely themed islands packed with enchanting scenery thanks to 126 exciting levels.
– Find your favorite strategy with 7 boosters from the spectacular Tornado to the curious Chameleon's Tongue!
– Join exciting in-game events and help the community unlock precious rewards, including extra cool and rare Helpers during breathtaking boss battles!
– See what your friends are up to and which special events are happening directly from the World Map & Leaderboards.
Forum Thread: Puzzle Pets (by Gameloft)
---
Retro-Wings
iTunes Description
Be ready for takeoff 8-Bit style and get nudged from the hangar cliff in small, whacky plane.

Take a seat in your retro wings plane, put on a beaver, a croc or even a flappy bird and prepare yourself for the flight of your life. It's not the future, it's a blast from the past! Get out of control and try the high level of difficulty in a challenging, hard game play. Collect coins for your resurrection, dodge obstacles and show your skills by flying loops or perform action stunts with the powerful plane, you never could do in a simple flappy bird game before.
Forum Thread: Retro-Wings (by Arkavis Siam)
---
Rocket Cars
iTunes Description
The creators of Touchgrind Skate2, Touchgrind BMX and Mr. Crab now bring you the breathtaking and extremely addictive car racing game Rocket Cars.

Strap in and rocket through the offroad Desert tracks, boost through the picturesque Wooden landscape and then blow your opponents away in the challenging Copper world. Upgrade your cars and compete against increasingly difficult ai cars in 60+ levels and prove that you have what it takes to win.
Forum Thread: Rocket Cars (by Illusion Labs)
---
Satellina
iTunes Description
Satellina: a simple and elegant "puzzle in motion" that can be understood within 10 seconds by a five-year-old, but has also driven adults to obsessive lengths. It has a clean, minimalistic look, a catchy original synthpop soundtrack, a challenging but rewarding (and never punitive) difficulty curve, and a timed structure that's perfect for speedrunning.
Forum Thread: Satellina (by Peter Smith)
---
Shirodoko
iTunes Description
A contender for the next Sudoku! Unlimited puzzles! Only one optional IAP.

Shirodoko™ is a contender for the next Sudoku! This logic puzzle game is known by other names such as Kuromasu, Kurodoko, or "Where is Black Cells". Free to download with ads, and only one optional IAP to buy, ever! Even without the IAP you get near-infinite puzzles to play. The lone IAP removes ads and adds more variety to your puzzles by allowing for more board sizes. 9×9, 6×12 and 10×18 sizes are included. With purchase any size from 5×5 to 20×30 is possible.
Forum Thread: Shirodoko – a contender for the next Sudoku (Free)
---
Skyward
iTunes Description
A great journey to the sky starts with a single step.

Through dynamic escher-style labyrinths you will reach your inner peace in this endless one-tap-one-step game.

Get higher scores to unlock new patterns and beat everyone in the leaderboard!
Forum Thread: Skyward (by Ketchapp)
---
Stand Up Clown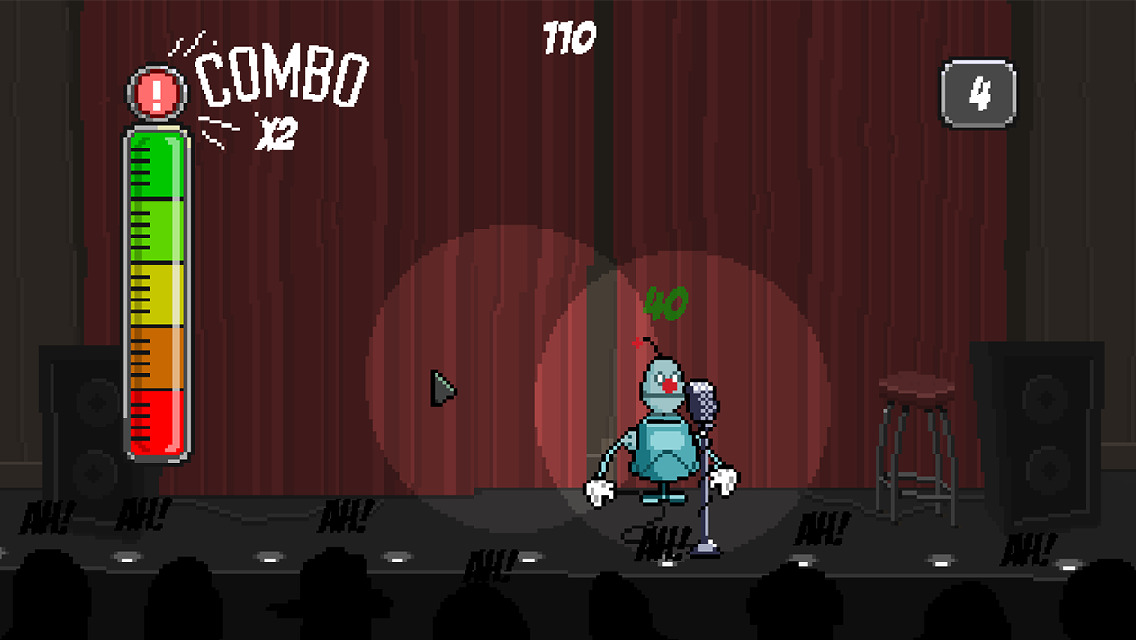 iTunes Description
Stand Up Clown is a free mini-game where you tell jokes to an audience.
It's part of the complete game Detective Case and Clown Bot in: Murder in the Hotel Lisbon.
Clown Bot is Detective Case's sidekick who, on his own free time, makes some extra chage teling jokes at GAF bar. The jokes range from the very funny to the politically incorrect and from being cute to being really gross but anything goes for a robot that can't tell right from wrong.
Forum Thread: Stand Up Clown (by Nerd Monkeys)
---
Superchroma
iTunes Description
SUPERCHROMA is an Action/RPG set amidst the (procedurally generated) vastness of SPACE. Every time you load the game up, it's hard to know where you'll appear. You will always have access to your handy Secret Base, though. That's right, not only can you kill for fun and profit in SPACE, but you can also build up your own unique base to defend against the vicious hordes that may launch a full-scale invasion at any time. Don't go thinking that you don't have the firepower to stop them, though: on the building side you've got five different types of turrets that can each be leveled up nine times for more firepower. On the ship side, you've got a galaxy chock-full of random loot that you can outfit to one of your twelve unique ships.
Forum Thread: Superchroma (by Team Chaos)
---
Wheel & Deal
iTunes Description
WHEEL & DEAL is a dashing arcade shooter made of lasers, space and everything ace.

Features:
-Intuitive two-button gameplay
-Awesome upgrades and nasty malfunction viruses
-Game Center leaderboards
-Four dapper hover vehicles to unlock
-Autofire 3000 gun mechanics for your convenience
-A radical soundtrack made with real mullets and electronic computers
-No IAP's, no ads – buy once, OWN THE GAME FOREVER, BOOM!
-Endless arcade action of DOOM!
Forum Thread: Wheel & Deal (by Juha Pennanen)
---
The Witcher Battle Arena
iTunes Description
The Witcher Battle Arena is a fast, fun and easy to learn MOBA set in a rich fantasy world. In Battle Arena two three-hero teams fight against each other, trying to capture and hold conquest points in short, intense and action-packed battles.

Designed with mobile devices in mind, Battle Arena combines intuitive controls with skill-based strategies and fast-paced action. Rain fire from afar as a sorceress or cleave your enemies' knees as a dwarf – all with the flick of a finger. The game features no pay-to-win elements and allows you to get every piece of in-game content just by playing.
Forum Thread: The Witcher Battle Arena (by CD Projekt RED S.A.)
---
Yak Dash: Horns of Glory
iTunes Description
Race yaks across perilous mountains at break-neck speeds! Inspired by traditional Tibetan yak racing, Yak Dash: Horns of Glory is an exciting 2D side-scrolling racer that tests reaction time, skill, and bravado. Experience 17 levels in four treacherous mountain ranges. Complete each level as fast as possible by smashing obstacles, leaping chasms and discovering shortcuts along the way.

– Race your way through grassland, icy tundra, dangerous desert and perilous volcanic terrain.
– Beat mountain flagbearers to gain medals and unlock progressively more challenging routes.
– Challenge the world to climb the global leaderboards.
– Collect apples to help you dash your way through hazards.
– Earn yak coins to customise your yak and rider, and make them stand out from the herd.
– Flip your way to glory – perform crazy back and front flips for extra speed boosts.
Forum Thread: Yak Dash: Horns of Glory (by Mutant Labs)