With all the holidays and iTunes freezes finally behind us, it's beginning to look like things are back to normal in regards to new game releases. Even though last week was a strange one with New Years and not many games releasing, there were a few things of note that came out since the iTunes unfreezing, so we tried to go back a little bit with the list below. Lots of cool stuff so let us know in the comments what you'll be picking up.
---
AngerOfStick4:Reboot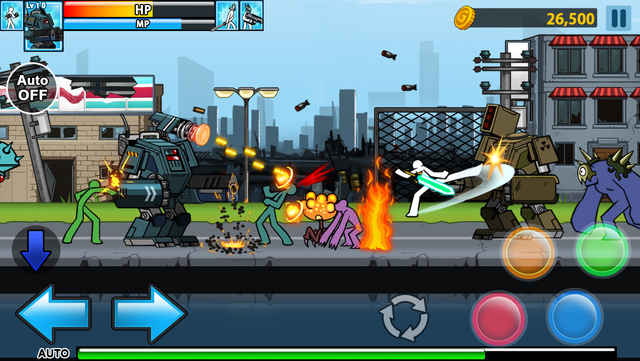 iTunes Description
Anger Of Stick4:Reboot

The hit that more than 30 million users played, 'Anger Of Stick"s latest sequal.

Survive in the city which turned into ruins!
Forum Thread: AngerOfStick4:REBOOT (by BLUE GNC)
---
Area 777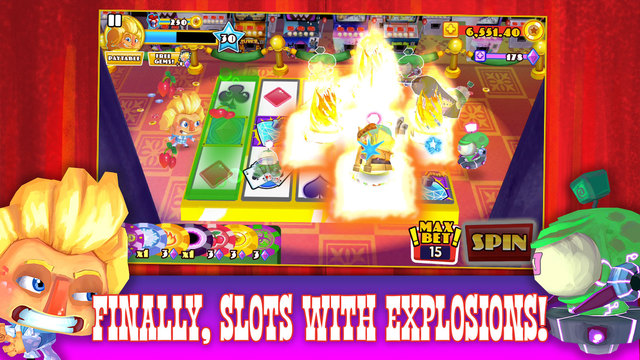 iTunes Description
The combination you thought COULDN'T be done is here! Part Tower Defense, Part Slot Machine – ALL MAGIC. Do you have the LUCK and SKILL to defend Las Vegas from an endless alien onslaught?

Aliens are invading Las Vegas, and it falls to well-coiffed stage magician Chazz Fabulous to stop them the only way he knows how: smoke, mirrors and responsible gaming! Spin the reels, place special chips and use your amazing stage magic to ward off invading aliens, score big and defend Vegas from the scourge of intergalactic tourism in this unique gameplay mashup of slot machines and magic-based defense. You've never played anything like it. From Adult Swim Games and Grumpyface Studios the folks who brought you Castle Doombad!
Forum Thread: Area 777 (by [adult swim])
---
Battle Slimes
iTunes Description
BATTLE SLIMES is a fun local multiplayer game. Control speedy & bouncy slime blobs as you compete with friends and family. Score by stomping or hitting rivals with colorful bubbles. Just avoid getting hit yourself!

This platformer/shooter game features simple one-button jump controls. Play against the computer or up to four friends in matches. Choose from two different game modes and four different battle arenas. Pick power-ups to turn the tide of the battle! Who will be the last slime standing?
Forum Thread: Battle Slimes (by Dodreams)
---
Bloks
iTunes Description
Bloks is a fun, fast paced and challenging puzzle/match 4 game. The goal is to swap Bloks to make rows and columns of the same color. The combo system allows players to clear multiple rows and columns in quick succession, boosting the players score. Bloks allows players to share scores and compete with their friends via Gamecenter and Facebook.
Forum Thread: Bloks (by Bulkypix)
---
Breezy Leaf
iTunes Description
Are you ready to be blown away? See how long YOU can keep Leafy in the air!

If you're looking for quick fun, Breezy Leaf is a challenging, pixelated, arcade game that will provide you with endless entertainment. Its simple game mechanics allow you to pick up and play casually and on the go, but don't be fooled! While easy to learn, the game is difficult to master. See how high you can score and find out if you have what it takes to unlock The Golden Lawnmaster!
Forum Thread: Breezy Leaf – Simple endless game (by OI Games)
---
Dark Order: Future
iTunes Description
In 2023 the entire world falls into wars. An organization named "Apocalypse" transfers a great number of mechanical soldiers through the "Sky Portal" to all around the world. In no time, the whole world falls. However, defenders rise immediately to fight against the intrusion. Several months of battles later, the defenders repel plenty of mechanical soldiers. Then the defenders discover an enemy base via satellite scanning where enormous energy is being generated. The energy supplies mechanical soldiers with endless forces and produces portals by ripping the atmosphere.
Forum Thread: Dark Order:Future (by SUN JIAQIAN)
---
Don't Let the Dot Die
iTunes Description
Test yourself in this beautiful, fast paced game of reflex and concentration. How many taps will your dot survive before exploding to pieces? Try to beat your friends high-scores and show who can keep the dot alive for most taps.
Forum Thread: Don't let the dot die (by CLM)
---
Drop Wizard
iTunes Description
Bring back the joy of arcade games!

Drop Wizard is an action arcade game where you play as Teo, a wizard on a quest to save his friend turned into stone by an evil warlock. Clear all the levels, face dangerous bosses, collect power ups and score epic combos.
Forum Thread: Drop Wizard (by Gionathan Pesaresi)
---
DungeonUp
iTunes Description
DungeonUp is a dungeon crawler with mini-puzzles and procedurally generated levels.

You play a human knight who fights the way out of deep dungeon, by killing monsters and solving the map-based puzzles.

Most levels are randomly generated and you will never be bored of making choices again. This is a must have for rogue-like fans.
Forum Thread: DungeonUp – (by Clewcat Games)
---
Feed'em Burger
iTunes Description
Want to become great burger maker for Feed'em Burger restaurants!?

You will be hired in Feed'em Burger restaurant to serve clients as fast as you can.

Take orders from your customers and make a great burger for them in a wink . The more you will play, the more crazy challenges will appear in the orders!
Forum Thread: Feed'em Burger (by Pine Entertainment)
---
Flip: A Gravity Game
iTunes Description
Flip is a game about gravity – use it to your advantage! Flip it on or off to reveal new possibilities!

Place and match tiles until the board fills up. Change the direction of gravity to find new matches! Explore different ideas to keep the board clear!

Flip is a little game with big strategy. Play it at the bus stop, in line at the grocery market, or in the bathroom – we won't judge! No ads, no in app purchases – ever.
Forum Thread: Flip: A Gravity Game (by Tyler Wood)
---
Gunbrick
iTunes Description
In a future where cars are obsolete, the Gunbrick has become a worldwide sensation!

The Gunbrick – A gun one side… a shield on the other.

Encounter wasteland mutants, crazed nerds, law enforcement and all manner of cube based adversaries. Roll your way through this action packed puzzle platformer.
Forum Thread: Gunbrick (by Nitrome)
---
Impulse!
iTunes Description
The Impulse – is not just rethinking a classic of the genre in a new way. Game Impulse is completely new look on a popular arcade games!

Unprecedented graphics, for a game of this genre, this is the first Dimension that will entice you in-game Impulse. Completely different visual style for each next level, will delight Your sophisticated look. The second Dimension that will allow You to immerse yourself in to the fantastic world of incredible shapes – is melodious sounds of your actions. The third Dimension, and the most important thing in any game – is the gameplay! Try It and you will be carried away in a whirlwind of emotions: fun and excitation, enjoying the beauty and tranquility of the Zen.
Play, collect pluses, use bonuses, and break to shreds all carefully drawn levels!
Forum Thread: Impulse! (by Aleksandr Solovyev)
---
Iron Ball Ride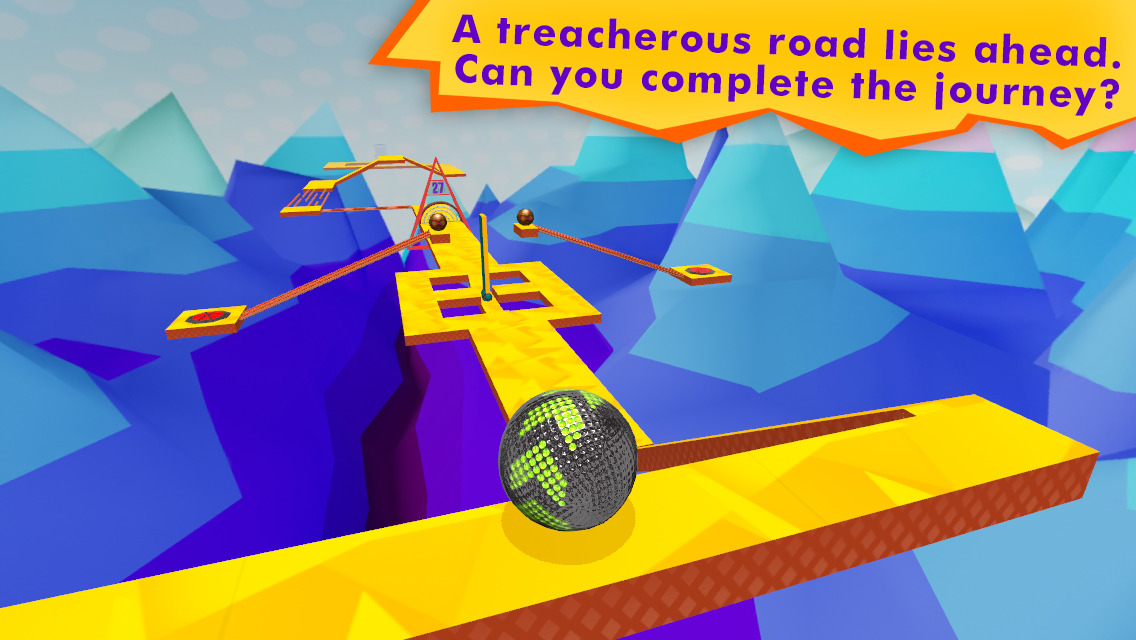 iTunes Description
Fancy a tightrope walk at 10,000 feet? How about snowboarding off an infinity edge mountain? These are just a few of the death defying feats required in the rolling ball platformer that is Iron Ball Ride. Don't let the peaceful mountain top setting fool you. This obstacle course in the clouds is black diamond rated in difficulty. The game requires precision timing and serious gaming chops to master the 31 levels.
Forum Thread: Iron Ball Ride (by Croco Studio)
---
Lego Bionicle Mask of Creation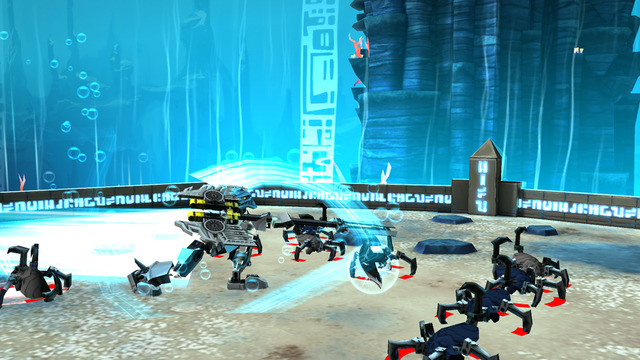 iTunes Description
The epic legend of LEGO® BIONICLE® is back! In the hunt for the ancient and powerful Mask of Creation, our six heroes Tahu, Kopaka, Onua, Gali, Pohatu and Lewa must fight to recover the lost masks of power to stop the rising evil on the mythical island of Okoto.
Forum Thread: LEGO® BIONICLE® Mask Of Creation (by The LEGO Group)
---
Max Turmoil
iTunes Description
Crash into the world of Max Turmoil!
Jump on your dirt bike for some crazy stupid stunts.

Your goal is to increase your grade points for each of the stunts, by upgrading yourself with the money you earn from successful stunts.
Forum Thread: Max Turmoil (by Riku Tamminen)
---
Mayday! Deep Space
iTunes Description
Answer a mayday call from a lone survivor stranded on a derelict spaceship. Only you can help your survivor make it off a ship overrun by virus-infected crew members. Use 10+ voice commands to guide your friend to safety through 5 levels of increasing mayhem – all while uncovering the terrible secret behind what happened to the crew of the USS Appaloosa.

A "playable story" that is part audio book and part video game, Mayday! Deep Space™ will take you on a thrilling, frightening trip to the bleeding edge of science fiction — and shock you with an unforgettable twist in its final moments.
Forum Thread: Mayday! Deep Space (by Daniel Wilson)
---
Ninja Line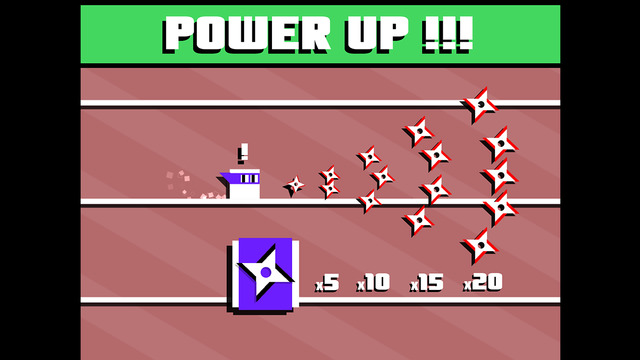 iTunes Description
You are a amazing ninja. your goal is kill the enemy and upgrade weapons.
Watch your back! Enjoy!
Forum Thread: Ninja Line (by una)
---
PACO
iTunes Description
An incredibly fast paced action jumping game. Test your reflexes to the limit with this challenging jailbreak themed game.

Play as the notorious prison gang, The One Armed Bandits, who have planned a jailbreak! Climbing a ladder with one arm is no trivial task, so the bandits will need your help to succeed.

Jump from ladder to ladder, avoid the guard, and climb your way to freedom. If you jump too soon, you will fall, jump too late, and the guard will catch you. Timing is the key to this game, and the key to freedom for the One Armed Bandits.
Forum Thread: P.A.C.O. (by Trompo Games)
---
Powder – Alpine Simulator
iTunes Description
An endless mountain of untouched snow awaits in this soothing, retro inspired, minimalist skiing simulator.
Forum Thread: Powder – Alpine Simulator (by Enormous)
---
Puzzle Blitz
iTunes Description
Puzzle Blitz is a frantic puzzle solving race against the clock! Solve as many puzzles as you can, before time runs out!

You have 3 minutes! Place the pieces in the right spots to complete a puzzle. Every time you solve a puzzle, extra time is added to the clock.

Compete against your friends on the global leaderboard, and become a puzzle solving champion!
Forum Thread: Puzzle Blitz (by Little White Bear Studios)
---
Seraphim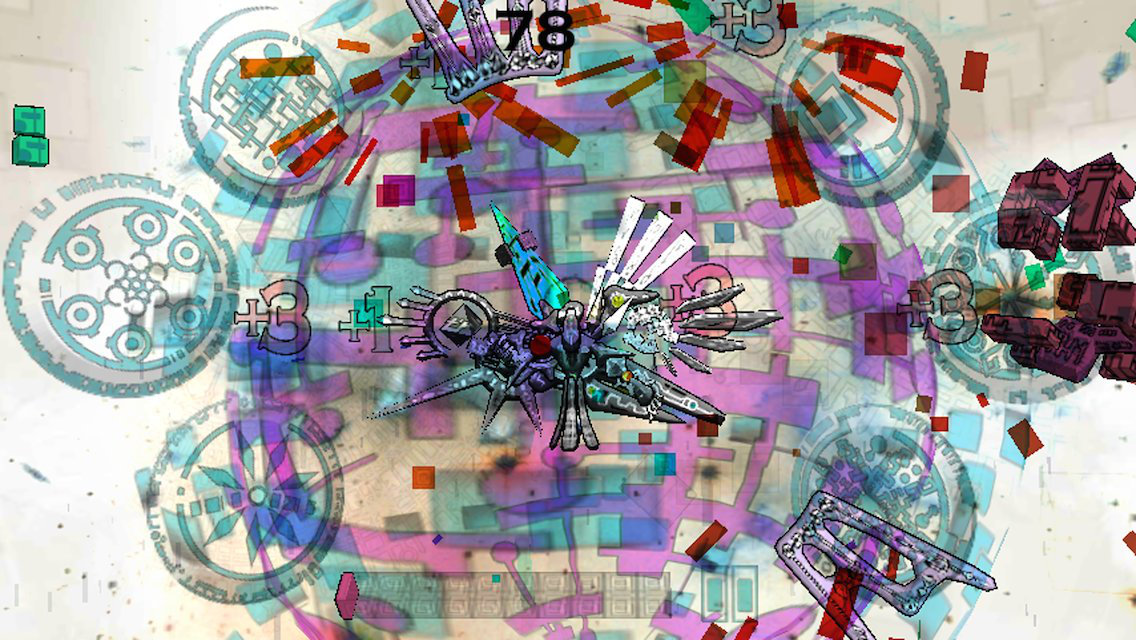 iTunes Description
Seraphim is a fast-paced arcade/shooter featuring fully 3D artwork. Cosmic constructs are coming from all directions and your goal is to destroy them and survive as long as you can. Compare your highest scores and aim for the heavens!
Forum Thread: Seraphim – iOS Version (by Studio Ravenheart)
---
Space Grunt
iTunes Description
Earth's been invaded! Use jetpacks and guns to battle machines, monsters and alien bosses. Screen is divided into three zones (retreat, advance, and jump/jetpack).
Forum Thread: Space Grunt! (if Jetpack Joyride and Contra had a baby)
---
Spectrum – 3D Avenue
iTunes Description
Spectrum is a platform game with a minimalist aesthetic set in an abstract world, where you control a dark entity attempting to reach the portals on each level while avoiding the colorful objects it encounters. Explore 6 mysterious environments and try to escape from each one!
Endless jump and dive mechanics give you great control throughout unconventional levels. Be the fastest and reach the portal at the end!
Forum Thread: Spectrum – 3D Avenue (by Bulkypix)
---
Super Looper
iTunes Description
Super Looper is the Celtic puzzle game that ties you up in knots. Build a mystic knot by rotating and swapping tiles before your moves run out. This mind-bending puzzler rewards planning and careful play across its 100 hand-crafted levels. Identify the puzzle pieces in their scrambled positions and stretch your mind as you imagine how pieces will fit together after a sequence of moves.

Be clever and solve it without using your allotted moves! By making smaller knots, you infuse the pieces with power so that they can be moved for free. Can you slowly build larger and more intricate knots and achieve a gold star? Alternately build a knot of your own design, show agility and speed, and take a leisurely trip with no constraints at all. All while thieving birds, vaporizing lightning strikes, and tile-swapping magnets up the challenge.
Forum Thread: Super Looper – Puzzle Game
---
Vertical Golf
iTunes Description
Golf turned on it's side. Aim your sights up and try to reach the hole in as few strokes as possible.

– Simple touch and drag control to launch the ball.
– An easy three hole course to introduce gameplay.
– Two main courses (18 and 100 holes).
– Challenging physics based gameplay.
Forum Thread: Vertical Golf (by oeFun, Inc.)
---
Wizard Golf
iTunes Description
If you thought you have played every type of dungeon crawler out there then get ready for Wizard Golf RPG.

This is an RPG mixed with the rules of golf! You play a wizard who has to cast as few spells as possible to get to the exit of each dungeon. Along the way you must fight monsters, collect loot and upgrade your skills.
Forum Thread: Wizard Golf RPG (by Floor 27 Industries)
---
WRC The Official Game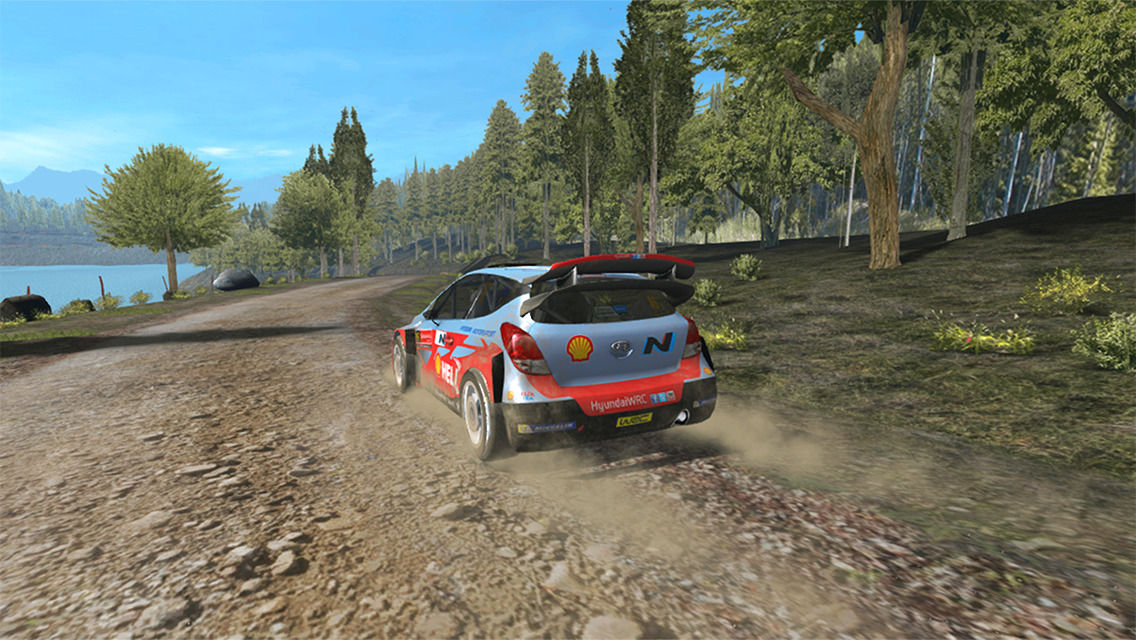 iTunes Description
The reference for rally games, finally on smartphones and tablets!

ALL THE OFFICIAL CONTENT OF THE 2014 FIA WORLD RALLY CHAMPIONSHIP
• Drive the 18 official cars of the World Rally Championship.
• Prestigious cars: Citroën DS3 WRC, Ford Fiesta RS WRC, Hyundai i20 WRC, Polo R WRC…
• Play as any one of the 17 official drivers, or create your own!
• Play with a brand new team: the WRC World Rally Team.
Forum Thread: WRC The Official Game (by Bigben Interactive)
---
Zoidtrip
iTunes Description
Is it a squid? Is it a kite? Is it a triangle? We don't know. It could be anything.

In Zoidtrip you have to take control of a triangle-shaped character with two floppy tails! Your goal is to go as far as possible to get a better score… and ultimately unlock new triangle-shaped heroes!
Forum Thread: Zoidtrip (by Arthur Guibert)