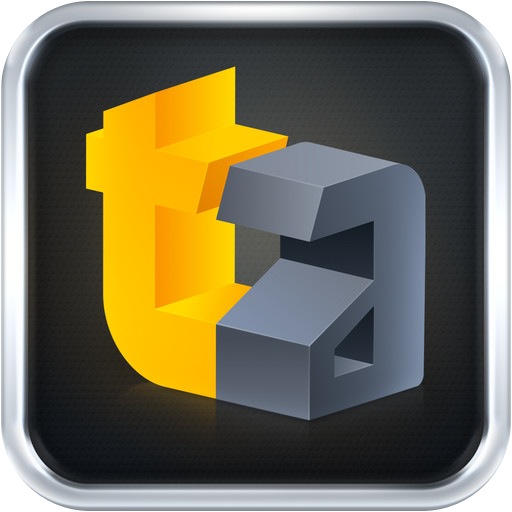 Hello, gentle readers, and welcome to yet another special edition of the RPG Reload. In this weekly feature, we usually take a look at a game from the App Store's past, and I suppose we're not far off from that this week, from a certain point of view. I'm writing this edition from the distant past of early December because as you read this, I am on the second week of my vacation back to my hometown in Canada, and likely just about ready to get back to Japan and my normal routine. I pinkie-promise we'll be back to regular RPG Reload articles next week, but just to tide you over, I prepared both last week's Christmas Special and this week's New Year's Special in advance. Please don't forget to vote for the next reader's choice article, which will be coming up in RPG Reload File 022. It's easy to vote, just drop your choice in the comments below, drop by the Official RPG Reload Club thread in the forums, or tweet me at @RPGReload. I'll roll a dice to randomly select the winner, so anyone could win!
This week, I've decided to start up what I hope will be an annual tradition of summing up the best RPGs of the year. Yes, I know, we already did some Best Of articles here at TouchArcade, but RPGs are what the Reload is all about, so I want to give them some special attention. There were tons of cool RPGs this year, so much so that it was very hard to get the list down to something manageable. Plus, what to do about ports versus originals? Is it really fair to pit an indie effort against one of Square's megahit classics for a spot on the list? How many installments of the same series should be allowed in the running, keeping cases like Dragon Quest in mind where we had five very good releases in 2014?
In the end, here's what I settled on. Three lists, each with five entries. We've got Best RPG Ports, Best Original RPGs, and Best Sleepers. Each series is allowed only one spot to keep certain genre elephants from trampling everything else. The lists are not ranked, but simply presented in alphabetical order. The Best Ports prize is not solely or even substantially based on the quality of the port itself, but rather how good the whole package is. These lists are nothing more than my own opinions, and by no means have I listed every excellent RPG that came out this year because that, my friends, would be bananas. Without further ado, let's check out the first annual RPG Reload Best Of The Year winners!
---
The RPG Reload Best Of The Year In Ported RPGs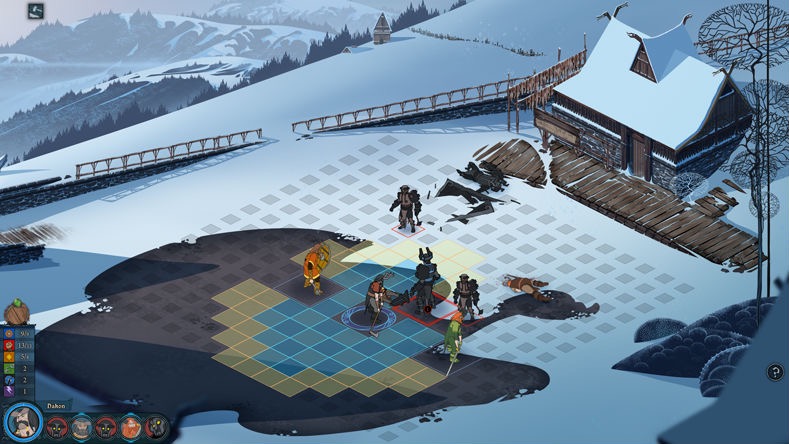 Banner Saga, $9.99 If you've got fond memories of games like Heroes Of Might & Magic, you've just got to love Banner Saga. Stunning production values, an interesting, well-written story with a very uncommon tone, and satisfying, accessible gameplay all come together to make for an excellent strategy RPG experience. Mechanically speaking, it's not the deepest experience, but as a total package, it's a rare jewel on the App Store.
DRAGON QUEST IV, $14.99 Mobile gamers were rolling in Dragon Quest games this year, providing hundreds of hours of role-playing adventures. It's hard to go wrong with any of them, but for my money, Dragon Quest 4 is the pick of the litter. A good story, great characters, fun gameplay with lots of exploration and exciting battles, and it's the best and most complete version of the game available in English. It might lack the visual pizazz of Dragon Quest 8, but it makes up for it in other ways.
FINAL FANTASY VI (Old Ver.), $14.99 In a series with as many solid entries as Final Fantasy, being regularly named as the best in the franchise by critics and fans alike means a lot. Final Fantasy 6 has an incredibly engaging plot, a massive roster of memorable characters, and some of the finest music to ever grace a video game. Sure, not everyone's happy with Square's choice of art direction for this particular version, but even if you don't care for the style, Final Fantasy 6 is still the same great game it's always been in every other respect.
Icewind Dale, $9.99 Icewind Dale makes for an excellent supplement to its sister series, Baldur's Gate. Where the latter succeeds on its excellent story, somewhat non-linear nature, and interesting character development, Icewind Dale offers up an intense dungeon-crawling challenge. The clever dungeon designs and exciting battles make this less of a reinvention and more a celebration of the CRPGs that came before it. Its frosty theme makes it a delightful, if brutal, way to pass the long winter nights. Definitely best enjoyed on an iPad or a larger iPhone, however.
Shin Megami Tensei (ENG), $7.99 Speaking of brutal, have you met my friend Shin Megami Tensei over here? Start by imagining Pokemon. Now give Ash a machine gun, trade out Pikachu and Charmander for Beezlebub and Odin, swap Team Rocket for roving gangs of flesh-eating demons, and cut the whole lot loose in modern-day Tokyo on the edge of an apocalypse. The game's unique atmosphere and heavy focus on party building to overcome seemingly impossible odds make for an experience unlike anything else on the App Store. Best played on iPhones as it's not a Universal app.
---
The RPG Reload Best Of The Year In Original RPGs
RPG Asdivine Hearts, $1.99 Yes, I'm pretty surprised to see a Kemco game on this list, too. I'm not surprised it's from developer EXE Create, however, as they've turned out a few RPGs worth checking out this year. Asdivine Hearts is easily the best of the lot, with a great cast, clever character building mechanics, satisfying combat, and a fantastic localization. It's not doing anything remarkably innovative, but it's a very strong example of a JRPG that's just plain enjoyable to run through. It also has perhaps the best new RPG character of the year in the form of Felix, the Light Deity who finds itself stuck in the form of a cat.
Battleheart Legacy, $4.99 It was a long time coming, but the follow-up to 2011's Battleheart, from developer Mika Mobile, finally arrived earlier this year. Battleheart Legacy takes a giant leap in production values and changes up a lot of things, but still possesses that same hard-to-put-down quality that made the original stand out. My favorite thing about this game is how flexible the character building is, allowing you to develop your character in a bunch of different, and viable, ways. It feels a bit on the short side, but that might just be because I binged hard on it.
Tactics Maiden, Free Developer Mangobile has a low profile, but the company quietly makes some of the deepest, most satisfying strategy RPGs you can find on the App Store. The computer opponent is quite clever, and you can't win without both being aggressive and looking towards the longer goal. It forces you to use different strategies than you might be accustomed to from other games in the genre, and there's no greater feeling than when a carefully thought-out plan comes together perfectly. Its aesthetics are a little rough, but if you take the time to get to know Tactics Maiden, you'll find a real gem of a strategy RPG here.
Terra Battle, Free A free-to-play social RPG among the year's best in the genre? It's more likely than you'd think! Final Fantasy creator Hironobu Sakaguchi waded into a sector of the market that isn't always terribly fair to players and came up with a brilliant game that shines with quality regardless of how many coins you insert. The meat of the game is in its strategic battles, inspired by Sakaguchi's childhood memories of playing Japanese chess with his father. The battles are backed up by music from Final Fantasy composer Nobuo Uematsu and designs from a variety of talented artists.
Wayward Souls, $7.99 2014 saw an explosion of great roguelikes in the App Store. There were so many great ones, but I think my all-around favorite was Wayward Souls. It has more of an action-oriented take on the genre than we typically see, evoking classics like Secret of Mana. Beautiful spritework, stiff but surmountable challenge, a bunch of characters that all require unique strategies, and a well thought-out control scheme make this a great game for anyone, even if they're usually not into the genre.
---
The RPG Reload Best Of The Year In "Sleeper" RPGs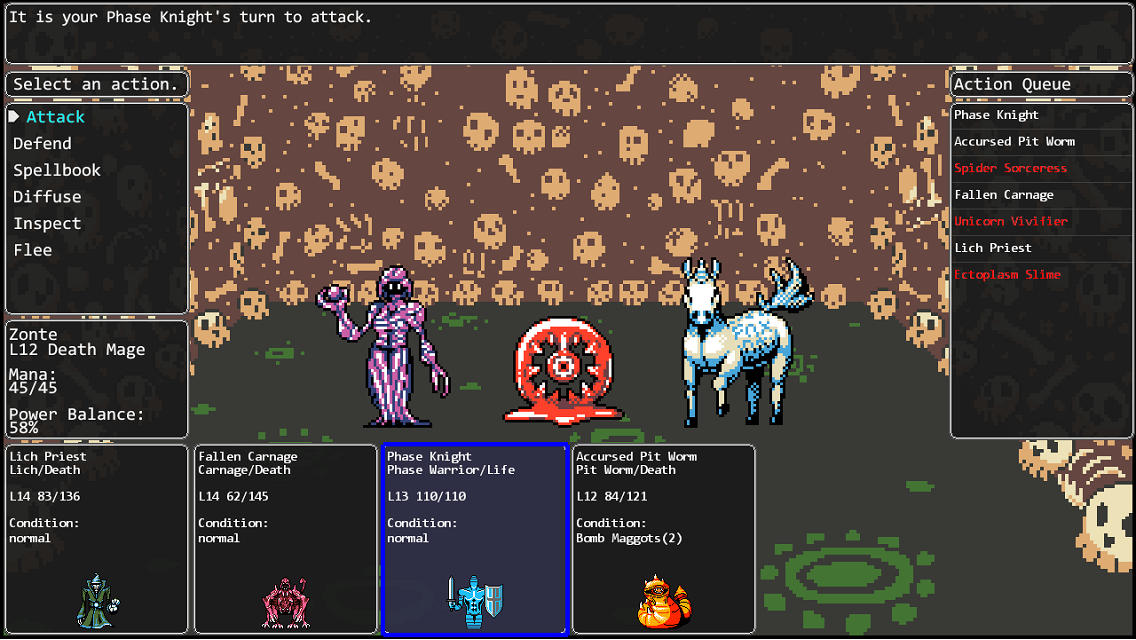 Appointment With FEAR, $5.99 Tin Man Games did a fantastic job with Appointment With F.E.A.R.'s conversion to iOS. Changing it to a comic book-style format was a natural move, and the fun way it hides its numbers behinds the text makes for an enjoyably seamless superhero adventure. Its self-aware and irreverent take on capes is more relevant than ever with the on-going superhero boom in Hollywood. A bit random at times, sure, but a lot of fun.
Cardinal Quest 2, Free Cardinal Quest is a really fun roguelike that doesn't venture terribly far from the roots of the genre aside from heavily streamlining some actions. Cardinal Quest 2 walks the complexity back just a little bit, while adding substantially to the content found in the first game. With double the number of different character types to play as, each requiring a slightly different way of playing, more loot, more skills, and a much better presentation, this sequel packs in so much that it's hard to believe it's a free-to-play game.
Princess And Knight, $4.99 There were a few really solid indie strategy RPGs that came seemingly out of nowhere in 2014. My favorite surprise of the lot is Princess And Knight. Though the translation can be hilariously weird at times, Princess And Knight tells an enjoyable enough story. Its main strength, however, is simply the well-rounded, classic SRPG experience it offers up. It feels a little like a lost SEGA Genesis game.
Siralim (RPG / Roguelike), Free Siralim is like a chunk of sturdy plywood covering a bottomless pit. You might walk over it without ever realizing what was underneath you, but if you give it a few good stomps to break the surface, you'll find yourself falling in deeper than you ever could have imagined possible. Is it a roguelike, a monster-catching RPG, a base-builder, or a dungeon crawler? It's somehow all of those things at once. There's nothing else quite like Siralim, and the amazing post-release support from its developer has only made it bigger and better with time.
Vigil RPG, $2.49 Take an 8-bit Japanese RPG, slice away all the excess, and focus on creating lively, strategic combat, and you'd be left with Vigil RPG. It's a great game to play when you're looking for something a bit lighter but still want to play an RPG. The battles are the highlight here, requiring you to learn enemy patterns and react accordingly to dispose of them as quickly and harmlessly as possible. With excellent incentives provided for finishing goals in as few turns as possible, you're incentivized to learn the ins and outs of combat, at which point it's hard not to appreciate its design.
---
Congratulations to the games that made the list. It was a fierce competition and whittling down titles became painful at a certain point. Congratulations are also in order to any developer, big or small, who put in the hard work and effort to release an RPG this year. Even if your game isn't appearing on year-end lists, simply getting such a big endeavor completed is worthy of praise. Thank you for giving us all so many exciting quests to tackle. It's great to know that as time goes by and the industry moves and shakes, RPG fans will always have a wide selection of adventures to embark on. What will 2015 bring? We already know about Dragon Quest 5 and Chaos Rings 3. Dragon Quest 6, Icewind Dale 2, and The Banner Saga 2 feel like safe bets, as well. If nothing else, we can at least count on a baker's dozen of Kemco RPGs. Dare we dream of Sword Of Fargoal 2 and Solomon Dark? Whoa, whoa, let's not get too wild.
I guess as a final wrap-up for the year, I'd like to thank each and every one of you, gentle readers. The RPG Reload feature isn't the usual type of thing we do at TouchArcade, so we were all a little bit nervous about how well it would go over. The support from you all has been great. Thank you for sharing in my adventures with me, and I look forward to another 50 or so in the next year to come. Now, with that said, it's time to let me know what your favorite RPGs of 2014 were. You can do that by commenting below, posting in the Official RPG Reload Club thread, or by sending out a tweet to me at @RPGReload. As for me, I'll be back, actually back, next week with another vintage game. Have a happy and safe New Year, friends, and as always, thanks for reading!
Next Week's Reload Hint: Let's start the year by going back to the start of it all.