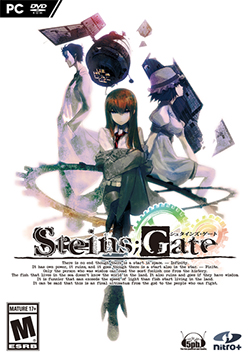 Visual novels have been a pretty big genre in Japan since nearly the inception of gaming in the country. A major presence on PCs in the 1980s, they started appearing more frequently on consoles in the 1990s, and have enjoyed popularity on handhelds and mobile devices from the 2000s onward. Yet, for most of that time, the genre's been largely ignored outside Japan, with virtually none of the popular titles in the genre localized. The big break for the genre was likely Capcom's Phoenix Wright: Ace Attorney, a risky gamble that went over well enough to get other publishers to take a chance. Even then, though, most of the games that were localized were hybrids, mixing in adventure components or RPG scenes. Only very recently have we seen some pure visual novels getting a chance in the west, such as Banshee's Last Cry (Free).
One of the more popular visual novels in Japan in recent years has been Steins;Gate. It debuted on the Xbox 360 in 2009 before migrating to many other platforms, including iOS in 2011. It's a time-traveling adventure with heavy science-fiction themes, and includes all the fun twists and mind-screws that the best visual novels seem to have. Sure, it's basically a Choose Your Own Adventure, but the story is great and finding the True End is quite a challenge. The Windows version got an English release earlier this year, and it was recently announced by publisher 5pb. that further English releases would come for PlayStation Vita and PlayStation 3 in 2015. Well, hot on the heels of that, 5pb. confirmed on Twitter that the iOS version would also be localized. It's great news because visual novels and mobiles go together like peanut butter and chocolate, in my opinion.
There's no exact date or even a vague month planned for the English iOS version, but we'll let you know as soon as we get any additional information. It's great to see games like Steins;Gate getting a chance outside Japan thanks to the low cost barriers of platforms like PC and mobile. They're not for everyone, but if you can get into them, there's nothing quite like a well-written visual novel.