It's that time of year again, as this is the last release week before iTunes shuts down all of next week for the holidays. There's a massive amount of new games tonight, and I'd guess there will be some stragglers tomorrow and Friday as well. It's been a great year of gaming on iOS, and during the slow time next week you can look forward to what we thought was the cream of the crop. But for now, bask in the warm glow of a ton of new games to check out in the list below.
---
A-Maze-In
iTunes Description
The acclaimed action adventure game is now available for iPhone and iPad! Are you ready to take control of a wind breaking, fire belching teenage Minotaur in a quest to rescue his princess from the clutches of the evil Minotaur king?

Fight your way through 5 uniquely themed islands with 110+ treacherous mazes to escape. Overcome mythical monsters such as the Cyclops, Hydras and Centaurs, Greek warriors and deadly traps such as crumbling floors, flame throwers, floor spikes and giant boulders. Featuring 5 unique end of level boss encounters against the legends of Greek mythology such as Medusa and Cerberus the hell hound!

Use Mino's special Minotaur abilities such as "force of nature" to break wind and stun enemies! Or drink fire potions and turn your enemies to ash using "fire belch", sneak past the Harpies using Invisibility or wear magic armour to protect yourself from deadly Ooze attacks!
Forum Thread: A-Maze-In (by MAROBI Entertainment Inc.)
---
BouncyPix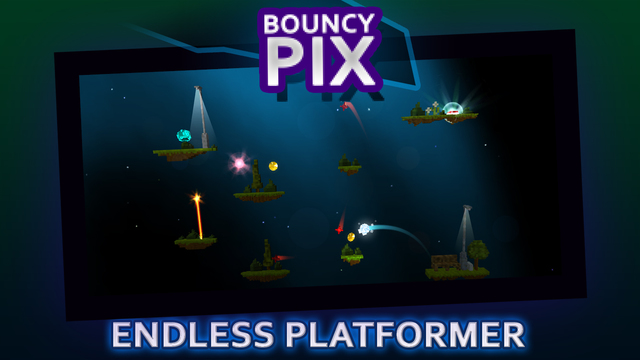 iTunes Description
BouncyPix is action packed, arcade voxel style platformer with random generated levels.

FEATURES
– NO IN APP PURCHASES !
– SIMPLE CONTROLS
– GAME CENTER LEADERBOARDS
– ENDLESS RANDOM GENERATED LEVELS
– VOXEL STYLE GRAPHICS
Forum Thread: BouncyPix (by Pawel Margacz)
---
Brothers In Arms 3: Sons of War
iTunes Description
The internationally acclaimed WW2 series returns with blood-pumping shooter action, spectacular killcams, and lots of amazing experimental weapons. Become Sergeant Wright and experience a dramatic, life-changing journey in the aftermath of the D-Day invasion.
Lead your band of highly trained brothers and use their special abilities in the heat of battle. Upgrade your weapons, improve your squadmates' skills and fight back against the enemy!
Forum Thread: Brothers in Arms® 3: Sons of War (by Gameloft)
---
Colorazy
iTunes Description
Colorazy is a fun and addictive free puzzle game about colors and mazes.
Your goal is to connect two dots so that the route passed through all cells on the field. But it's not so easy! You can move from one cell to another only if the colors of connected sides are equal. So, to make a route and to solve the puzzle, you need to properly rotate cells on the field.
Colorazy is the real joy for your eyes! Any level looks like mosaic or kaleidoscope, and you can customize color palettes in game settings.
Forum Thread: Colorazy Unique Puzzle Game about Colors and Mazes (By Maksim Marozau)
---
Docking Sequence
iTunes Description
"It is a truth universally acknowledged, that the single hardest part of space travel is docking…"

A 2D Pixel Art game by Quantum Sheep, inspired by the docking sequence from the classic 'Elite' as well as Kubrick's seminal work, 2001: A Space Odyssey. Pilot your ship across 10 systems to dock in 100 stations and make your way home! Stations rotate, making docking tricky. Then there's those pesky space pirates to deal with. Asteroid fields. Mines. Wormholes. But the trickiest part, by far, is docking! As you'll soon discover!

Good luck, Pilot! 😀
Forum Thread: Docking Sequence (by Quantum Sheep)
---
Fireworks Simulator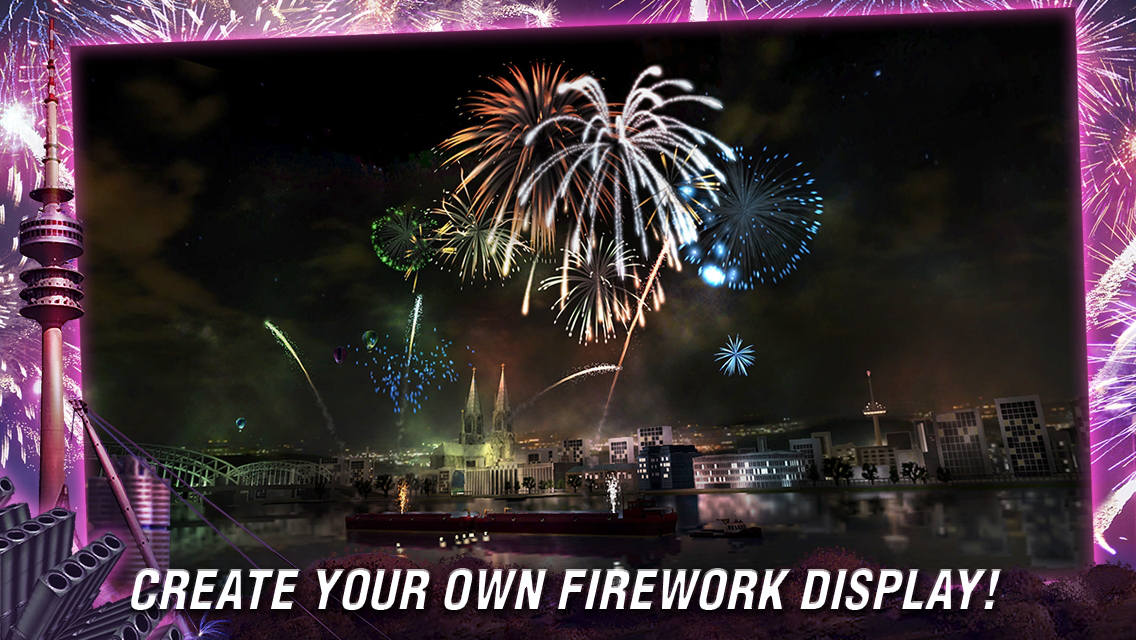 iTunes Description
Attention, firework fans! Devote yourself to the supreme discipline and create your own, individual fireworks display synchronized to music. Become a pro pyrotechnician!

Fireworks fascination – All eyes on the sky, the music starts, the first spectacular effects explode high in the air, open mouths, loud "Ooohs" and "Aaahs" from the crowds. Anyone who's ever witnessed live fireworks knows just how spellbinding a well put-together display can be. Attention, all firework fans! Devote yourself to the supreme discipline and create your own, individual fireworks display synchronized to music. Become a pro pyrotechnician!

Plan your own fireworks display, by configuring, positioning and igniting category 4 professional effects from WECO, Europe's market leader in the fireworks industry! In Fireworks Simulator, you can choose between 100 authentic WECO ground and aerial fireworks, and configure them to your liking in launch racks at famous locations and in high-quality 3D graphics.
Forum Thread: Fireworks Simulator (by rondomedia GmbH)
---
FLYFF All Stars
iTunes Description
FLYFF PC Online has been reborn as 3D Mobile Action RPG!

FLYFF All Stars is a casual 3D action RPG where players collect over 200 unique heroes, enhance their powers, unlock more powerful heroes, fight in dungeons and regional arenas, and engage in other exciting game modes.

FLYFF All Stars is a free-to-play game.
Forum Thread: Flyff All Stars (By Galalab Inc.)
---
Galcon 2: Galactic Conquest
iTunes Description
Galcon 2 is a demolition derby in space! Send swarms of ships from planet to planet to conquer the galaxy in this fast paced multiplayer strategy game! Galcon 2 includes:
– Clans battling for galactic supremacy
– Tournament to prove your amazing skills
– Betting to take Galcoins from the weak
– Multiple ship shapes like triangle and trapezoid
– Slick planets made of lava and ice
Forum Thread: Galcon 2: Galactic Conquest (by Hassey Enterprises, Inc.)
---
Give It Up!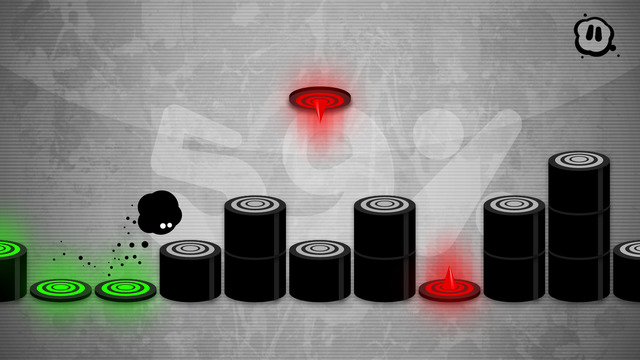 iTunes Description
GIVE IT UP is a rather hard game where you have to assist this cheerful, singing Blob in jumping through 9 different tracks.
So far it sounds easy.
You have to feel the rhythm of our friends' frantic bounces with the help of the similarly crazy music.
In case you don't tap at the right time, poor Blob smears.
Forum Thread: Give It Up! (by Invictus)
---
Golf is Hard
iTunes Description
Golf was invented by the Scottish in 1491 as a way of transporting radishes directly into the mouths of distant sheep.

Play 18 holes of golf on a lovely summers day in the never-ending search for the perfect score, which is 18.

Golf is known to be quite hard.

No walking on the grass.
Forum Thread: Golf is Hard (By Colin Lane)
---
Iron Finger
iTunes Description
Quick to play, easy to learn yet hard to master.. TAP, SWIPE & TILT your way through mini games that are visually stunning, challenging & fun to play!

IRON FINGER is the most addictive & challenging game you will ever play!
The perfect game to play while waiting for a bus, sitting on the train or chilling on the toilet 🙂

Each mini game is super unique with its own cool theme + retro tunes.
Forum Thread: IRON FINGER – Mini Games Championship (by IRONFIST Studios Pty Ltd)
---
Jump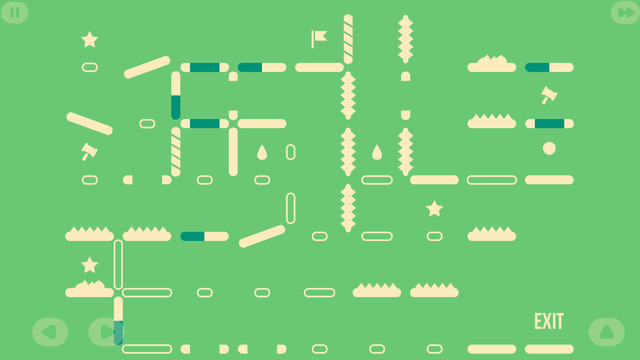 iTunes Description
Do you enjoy puzzle games? Do you want to try a different kind of logic game with great graphics and one of a kind gameplay? Then you are definitely in the right place. Jump is a title that will provide you with a fun puzzle experience as you drive your way through a large world trying to grab all the keys in order to reveal the exit.

Even if it's not mandatory, you can collect numerous stars that appear in each level. If you manage to collect all the stars available in each level included in that pack, you will reveal a bonus, hardcore level that will prove to be even harder to beat. By collecting the stars you will be able to receive numerous achievements.

In Jump your character will be a white ball that's very easy to control. However, there will be lots of hazards on each map which will make the gameplay very challenging. From spikes to fire and so on, these hazards need to be avoided at all costs, otherwise you will have to restart the level from the beginning.
Forum Thread: Jump (by Ketchapp)
---
Kart Stars
iTunes Description
EXPERIENCE KARTING AND GET READY FOR FAST AND FURIOUS RACING ON THE IPHONE OR IPAD TODAY.

Kart Stars is action packed! Play through 300 rounds and over 30 tracks on your way to the world karting championship. Jump behind the wheel and race as your favourite karting champion or create your own driver from a huge customized selection. Collect coins, beat the clock and multiple race formats including sprint / endurance. Over 45 Karts including Vintage, Sprint and Super Karts with tons of options to customize and upgrade.

Race around the world with environments from night, city, snow and ice to the red desert! Use engine blueprinting or New tire boosters to help you win difficult rounds. Compete and share your progress through Game Center and Facebook. Race over 30 Tracks in a massive 300 round world championship season. Feel the rush as you speed round the track learning the techniques of karting as you cross the finish line.
Forum Thread: Kart Stars (by Minicades Mobile)
---
Mecha Titans
iTunes Description
Forge your own galactic destiny! Mecha Titans is a space RPG adventure with tactical combats. Humanity disappeared but left behind humanoid robots. Corporation wants to subdue all individuals to its will, Rebel Union in contradiction desires the freedom for all. The situation had been growing worse because of the Dominator virus, they have to be eliminated.

Build your team with epic gears to equip your Mechas and employ new skills to defeat your enemies. Collect a variety of legendary cards, develop your fighters with upgrades and skills, explore the universe and discover various tactic in monstrous battles! And challenge your friends in epic tournaments to find out who has the best Mechas to conquer the universe!
Forum Thread: Mecha Titans (by Bulkypix)
---
Micro Battles 2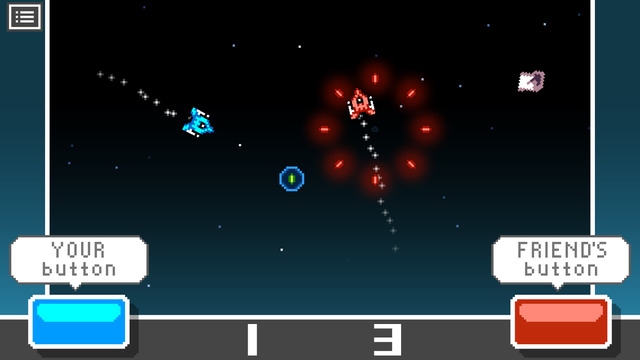 iTunes Description
Micro Battles are BACK on popular request!

Gather your friends for another series of HEAD TO HEAD mini-games, inspired by the fun simplicity of classic 8-BIT VIDEO GAMES.

Using two buttons (one for each player) on a single device, you can place your portable battleground practically anywhere and LAUGH OUT LOUD with (or at) any friend you'd like.
Forum Thread: Micro Battles 2 (By Donut Games)
---
Minions and Immortals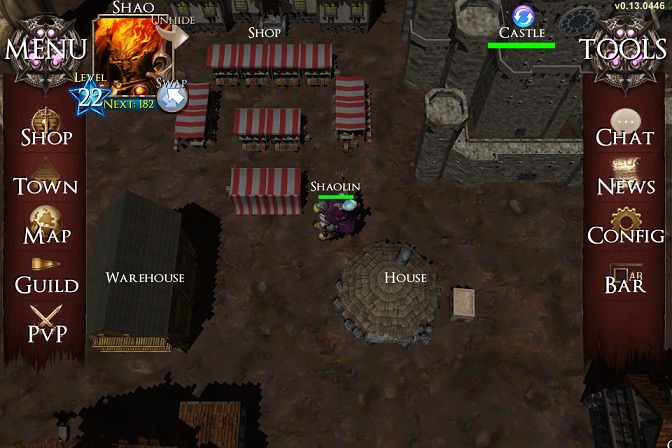 iTunes Description
ASSUME the form of an Immortal on the planet of Aetheria where you will command dozens of Minions to do your bidding. Adventure across a vast 3D world on your way to becoming a dominant force in the universe.

"Minions & Immortals" is a real-time, 3D, multi-player RPG with amazing visuals, fantastic animations, rich music and glorious sound effects give you a play experience like no other. Continuous updates and an ever growing landscape helped shaped by our community assures there is always something for you to do. Choose the Dominion or the Discord, each with their own unique races, as you possess your minions and quest, PvP, build your town, join a guild and continue to grow in an unending, massive saga.
Forum Thread: Minions & Immortals (by Flat Toe Studio)
---
Monster Cake
iTunes Description
Grandma wanted to bake a cake for her grandson, but the fridge was empty. Only a few people knew that grandmother had a unique recipe for a special cake – Monster Cake! And the best place to get all the stuff was an abandoned desert full of monsters – living cake ingredients!
You control a bulldozer and the objective is to destroy as many monsters as possible until you run out of fuel or it is damaged beyond repair. Different monsters have different attack abilities, strength, and speed, so sometimes you need to think of the best way to attack them
Forum Thread: Monster Cake (by UAB)
---
My Om Nom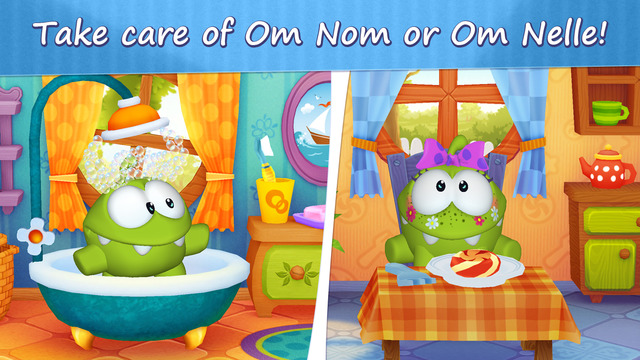 iTunes Description
Adopt your own Om Nom, the cutest candy-eating monster in the world!

Om Nom, the star of the blockbuster Cut the Rope game series, needs a new home. And your device would suit him perfectly! Look after your new friend… and don't forget to bring him something sweet.

• YOUR OWN OM NOM! Take good care of the adorable monster from the famous Cut the Rope puzzle. Play with him, bathe him, and feed him regularly with candy!

• INTRODUCING OM NELLE! For the first time ever, a little candy-eating monster girl.
Forum Thread: My Om Nom (by ZeptoLab UK Limited)
---
Nicky's Gift
iTunes Description
Everybody! Merry Christmas!

There's 48 levels in the game.

Let's go!
Forum Thread: Nicky's Gift (by SmallOne l)
---
Pentaction: Medieval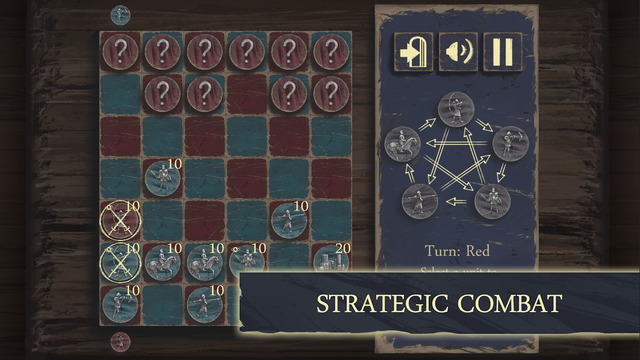 iTunes Description
Pentaction: Medieval is a turn-based strategy board-game about chance and skill on the battlefield. Take control of your army in combat, annihilate your foe's troops or capture their King to win.

Play the enhanced Tactical game style for the ultimate strategic experience or jump straight into the action in quick battle. Challenge your friends in hotseat multiplayer or take on the AI in solo play. Do you have what it takes to lead your Kingdom to victory?
Forum Thread: Pentaction: Medieval (by Hunted Cow Studios Ltd.)
---
Pinball Planet Pro
iTunes Description
We've always loved to play pinball games but we noticed most modern pinball games are simulators for the hardcore and nostalgic pinball players. That's why we aimed to create a pinball game for the new generation of gamers, who may not be familiar with the concept. We feel we've succeeded in our goal.

The game includes three completely different and unique pinball levels full of mysteries and secrets. A dynamic mission system unlocks new challenges and fun approaches to pinball gameplay. Pinball Planet features simple RPG elements such as a leveling system, power-ups, statistics, a simple in-game economy, challenges and complete freedom in gameplay progression.

It's a game for everyone, gamers both old and new to pinball. It combines the best parts of old-school pinball games, but adds original and fun digital additions that are not possible in real-life pinball games. The game is easy to understand and play, it's controls and interface are easy and intuitive to use. It's the perfect game for short play sessions and stays challenging during long play sessions thanks to the fun mission system.
Forum Thread: Pinball Planet – (by LuGus Studios)
---
Platform Panic
iTunes Description
Platform game heroes through the ages have been abducted!
Pit them against each other in order to settle, once and for all, which one is the best!

• Can you unlock them all and become king of the leaderboard?
• Endlessly addictive, procedurally generated retro platformer!
• Super simple controls. Swipe left, right & up is all you need to move around.
• Pumping chiptune music by Eirik Suhrke, composer of Ridiculous Fishing and Super Crate Box.
• Cutting edge retro pixel graphics!
Forum Thread: Platform Panic (by Nitrome)
---
Pocket Shrek
iTunes Description
Gross out at the swamp with everyone's favorite ogre! Shrek is back and he's living on the touchscreen in your pocket! Keep him happy and he'll reveal the magic of Far Far Away through a series of hilariously engaging experiences that will leave you squirming, chuckling, and laughing out loud!

Feed Shrek slimy slugs and juicy bugs when he's hungry, put him to sleep when he's sleepy, and make him fart out loud when he's had too much to eat. Experience a whole different level of gameplay when you unlock Donkey. Collect stickers to unlock stills of your favorite Shrek movie moments.
Forum Thread: Pocket Shrek (by No Yetis Allowed)
---
Pre-Civilization Marble Age
iTunes Description
Turn-based historical simulation strategy. Develop the Greek civilization from the small village to the great city-state when it will dominate the world!

During the 4000 years (from 3000 BC to 1000 AD), you will have to:
• Raise the population
• Invent technologies
• Construct buildings
• Trade goods
• Explore world
• Found new cities
• Start and end wars with neighbors
• Survive through the hundred real historical events.

The key to victory is choosing the right development priorities, allocating resources and managing the foreign policy. Mechanics of the game is a mix of old-school game designs.
Forum Thread: Pre-Civilization Marble Age (by Echidna LLC)
---
Protect Your Jewels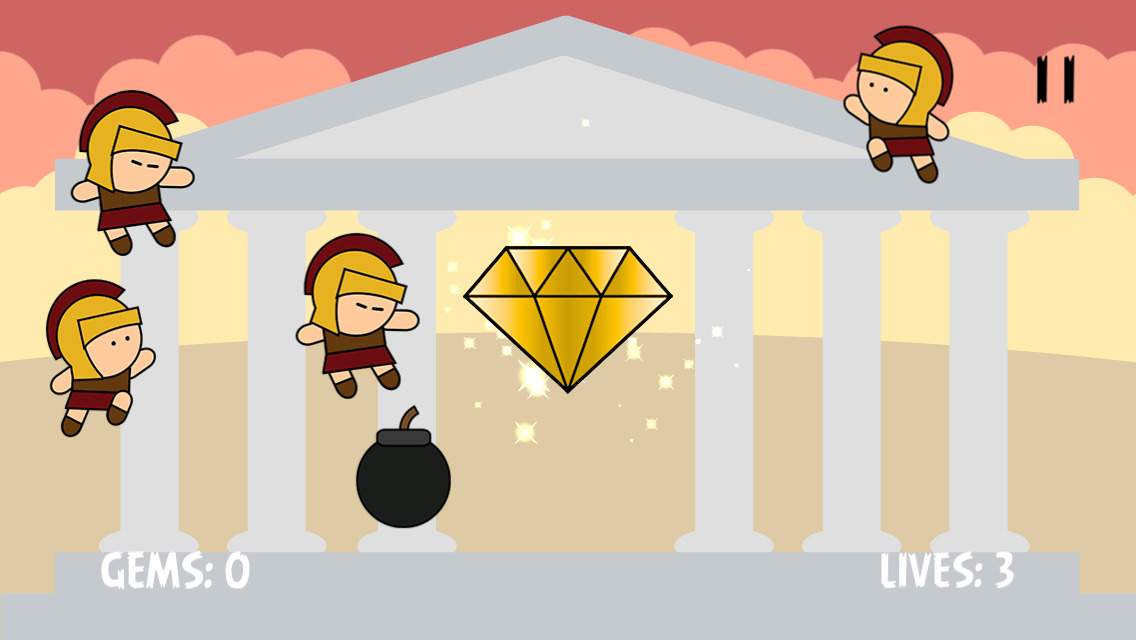 iTunes Description
In your journey across the world, you've stumbled upon jewels with untold powers. Ninjas, monkeys, and gladiators are after it. Not under you're watch. You must swipe them away and protect your jewels!

MODES: Play with lives in Classic Mode with time in Arcade Mode.
THEMES: Unlock and explore 3 custom themes. Swipe away ninjas at the mountain top, monkeys at the jungle, or gladiators at the coliseum.
ACHIEVEMENTS: Be recognized for your skills. Earn points and badges for completing over 20 achievements.
LEADERBOARDS: Climb up to the top of the leaderboards and compare your scores with your friends.
SHARE: Share your high score via Game Center or Facebook
Forum Thread: Protect Your Jewels (by Bennett Lee)
---
Realms
iTunes Description
A game based on speed and reflexes. Every thirty seconds a new realm is discovered, presenting more avoidable platforms at an increased speed. The aim of the game is to not collide with any platforms and gain a high score.

If you enjoy playing Realms, please review the game on the app store!
Forum Thread: | REALMS | (by Forest Haze Ltd)
---
Red Leader
iTunes Description
You can be part of the struggle between the light and the dark. Hop in the seat of your old fighter and hold the tide of your enemies at bay.

Try virtual reality without VR glasses. The game will be all around you! Your device will be window to a distant galaxy. You will be able to look around with it, and find your enemies.

You are the last remaining pilot in your squadron, all of your comrades are perished. You are the red leader and you cannot fall. Fight the gathering invaders before they jump together to your home system, Cornelius IV. They want to destroy the allied forces on unprotected forge worlds . The tyranny would spread like herpes…. If you don't fight against it.
Forum Thread: Red Leader (By Bence Tamas Zilahy)
---
RTL Freestyle Skiing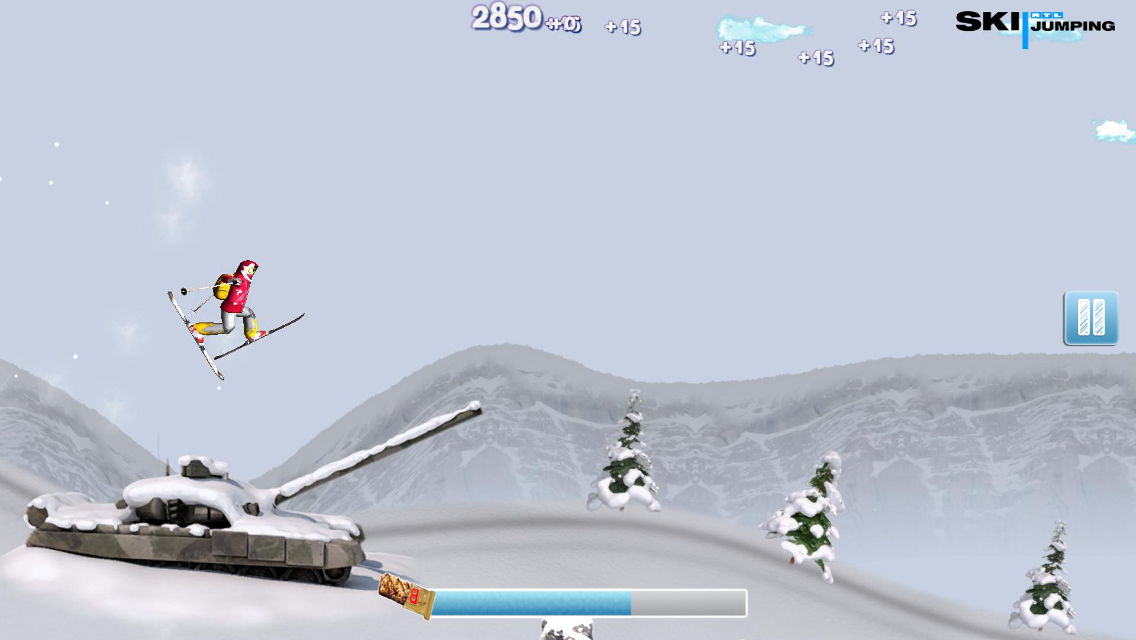 iTunes Description
Go Freestyle: Do amazing tricks in air with your skis! The first mobile spin-off of the famous RTL Ski Jumping series with millions of copies sold.

Officially licensed by RTL: Ski and jump across hilly and wild tracks to perform famous tricks like back- and fronflips, 360s, spread-eagles, backscratchers, rocket airs and a lot of more. Combine the tricks to get multipliers, be careful to avoid obstacles and try to reach the global highscore.

4 different scenarios await you; visit Asia, the Swiss Alps, the Antarctic and Russia to collect unique souvenirs from the tracks. Additionally an endless mode is available for unlimited ski-jumping fun.
Forum Thread: RTL Freestyle Skiing (by Headup Games GmbH & Co KG)
---
Save the Teenies
iTunes Description
The Teenies need your help! Can you save them?

Discover exciting and addictive action in this unique puzzle game!

The aim of the game is simple: to help the very round and very cute Teenies get to a portal so they can go home. But the Teenies will need your help to overcome fire, water, electricity and their endearing tendency to roll the wrong way!
Forum Thread: Save the Teenies (by Giant Margarita)
---
SimCity BuildIt
iTunes Description
WELCOME MAYOR! We're glad to have you on board. Your first order of business – create your own gorgeous, unique city that has citizens vying to move in. But remember, the larger your city gets, the more needs your citizens have. This is an all-new SimCity game – re-imagined for mobile!

With countless buildings and vivid, 3D-quality graphics, this is the most realistic city builder on mobile. Strategically place buildings to keep the taxes flowing and your city growing. Pinch, zoom, and rotate 360 degrees as you manage your city on the go – both online and offline.

Create and trade resources with friends and other cities. Unlock exclusive buildings like Big Ben and The Arc de Triomphe, or unleash natural (and not so natural) disasters! Solve real city challenges like traffic, fires, and pollution. Balance services like power and entertainment to give your citizens what they need. Complete fun challenges to specialize your city and shape society.

Watch your city come to life – night and day!
Forum Thread: SimCity BuildIt (by Electronic Arts)
---
Spoiler Alert
iTunes Description
The very first game you'll ever uncomplete. When you pick up this game, it has already been beaten. The big bad boss is defeated, the coins are collected and the princess has been rescued. Why, oh why?

Unraveling this mystery takes you through the entire game, from the last level to the first. You must uncollect the coins, revive the enemies and avoid nasty time paradoxes. In other words, you must uncomplete the game by playing it backwards.

Everything in this game is so familiar, yet so different and new. You have played it a thousand times before, and at the same time, you have never tried anything like it.
Forum Thread: Spoiler Alert (By Tinybuild)
---
Stair: Slide the Blocks to Ascend
iTunes Description
Slide the blocks to ascend!
Forum Thread: Stair: Slide the Blocks to Ascend (by Alec Thomson)
---
Stroid
iTunes Description
A handcrafted, colourful, retro-synth space shooter. Stroid is about destroying hazards from the orbits of near and distant planets. Stroids are ships specially designed for such work.

Take your Stroid to the limits of the sky and clear it of asteroids, bubbles and shattering crystals. Collect ore as you progress through increasingly difficult worlds and buy Stroid upgrades and power-ups.
Forum Thread: Stroid (By matthew Sawrey)
---
Super Pixel Soccer
iTunes Description
Low-fi soccer with loads of fun and a multiplayer mode! It's the last seconds of the match and your opponent kicks the ball… but he's missed it! Here's the chance to be the winner… shoot… GOOAAL!

With intuitive controls and awesome physics, Super Pixel Soccer is easy to pick up and fun to play!
In true competitive style, challenge your friends to frenetic soccer matches! Play locally against your friends in the same device! The match will be one of the most intense 90 seconds you can have with your mates.

What are you waiting for? Everyone is already playing Super Pixel Soccer! Don't miss out on this chance to have tons of fun!
Forum Thread: Super Pixel Soccer (by Ari Salmi)
---
The Taekwondo Game – Global Tournament
iTunes Description
The Taekwondo Game – Global Tournament is the first ever mobile taekwondo game! Challenge your friends in cross platform multiplayer over local wifi, or make your way to the top on your own in the Global Tournament.

With movements based on motion-captured professional taekwondo players, the game stays true to the fighting style. Even the sound effects have been recorded in a real taekwondo dojang. The tournament, set in three stunning environments – Korea, Mexico and Iran – follows the Olympic rules.

Positioning and timing is key in taekwondo. Practice your skills in a taekwondo dojang before entering the tournament. Smart controls and easy-to-learn commands creates a great depth – making the game just as enjoyable and challenging for those new to the fighting genre, as well as veteran players.

The strikingly scenic graphics, the cool sound effects and the realistic animations give you the true meaning of taekwondo – the way of the foot and the hand.
Forum Thread: Taekwondo Game Global Tournament – (By Hello There)
---
Tap Titans
iTunes Description
In a world overrun by evil Titans, it is up to you to slay them and restore peace and order. How do you do it? You must tap!

Tap to attack, tap to slay, tap to collect gold, tap to hire heroes.
Tap to activate devastating skills, tap to unlock powerful auras, tap to summon mysterious artifacts.
Tap to explore beautiful worlds, tap to meet helpful fairies, tap to revive heroes, tap to collect lost treasures.

Keep tapping away. You are our last and only hope!
Forum Thread: Tap Titans (by Game Hive Corp.)
---
The Drive: Devil's Run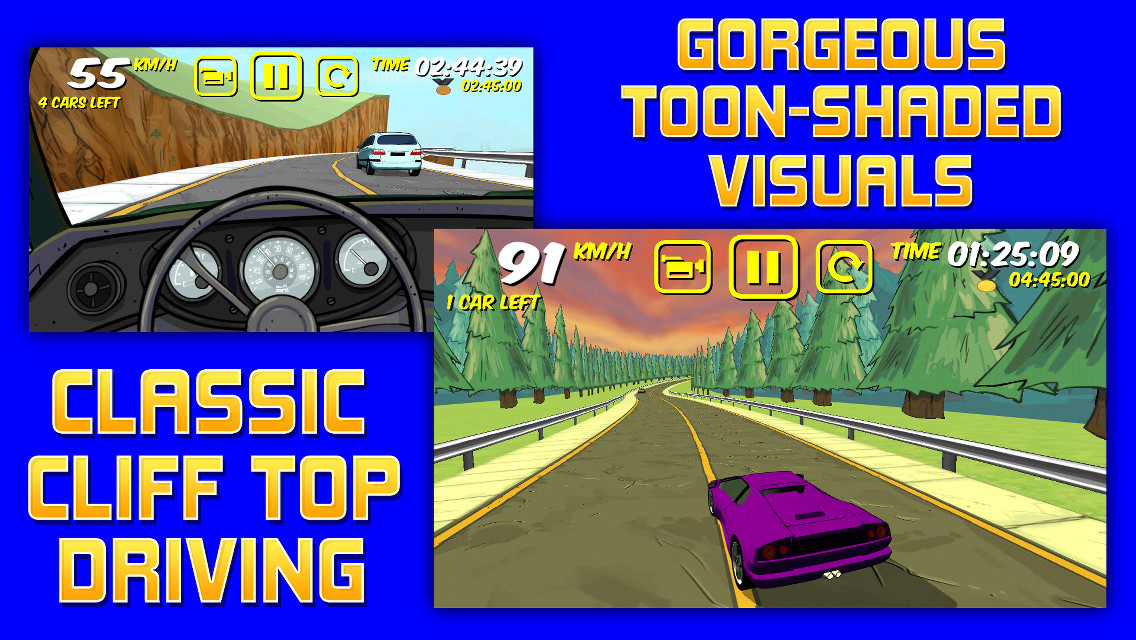 iTunes Description
The Drive – Devil's Run is classic point to point style racing game that pays homage to the classics such as The Need for Speed and Test Drive. The game features five playable cars, from beginner through to pro level. Cars range from classic hatch through to supercar.

The racing takes place in a location known as "The Devil's Run". The location is split into three stages, each one progressing in difficulty, length and even time of day. The aim of the game is simply to race your car to each checkpoint in the fastest time. Points are awarded for fast times and difficulty. The player can earn medals on each stage, as well as a trophy at the end of each full run. The medals and trophies available are steel, bronze, silver and gold.

The Drive features both a local leaderboard, where the player can enter their name and try to beat the top scores and times, as well as online leaderboards via Game Center. There are also twenty-five Game Center achievements available to be unlocked. The drive features beautiful, hand-drawn, comic-book style textures and detailed, cell-shaded car models. Cars feature realistic physics based on real-world car models.
Forum Thread: The Drive : Devil's Run (by Bulkypix)
---
TimeCube
iTunes Description
Be prepared to bend your mind! In TimeCube you can't control your character, but you can control the time around it! Master your time control skill and pass 24 levels packed with obstacles and enemies! How far will you go before hitting yet another block?

TimeCube is a minimalistic game with beautiful origami-style graphics

– Inverted gameplay
– Time Control
– Minimalist graphics
– 24 increasingly challenging levels – to the point of being brutally hard
– GameCenter integration with Achievements and Leaderboards
Forum Thread: TimeCube (By SteamDragon Games)
---
Top Gear: Extreme Parking
iTunes Description
Master the World Famous Top Gear Test Track in a brand new Top Gear game. Put yourself behind the wheel of some of the iconic cars from the TV Show to complete our precision driving obstacle courses, play the all-new Total Destruction mode or even chase the legend that is The Stig!

Get behind the wheel of the Indestructible Pickup, our 'Reasonably Priced Car', Jezza's Italian 'Polizia' Coupe or James' 'Rozzers' Saloon. Use all your skills for the ultimate extreme parking challenge and chauffeur either the legendary "Alfaab" or the ridiculously long Giant Panda Limo.
We've simulated the layout and features of our Test Track for you to master the Hammerhead, Follow-Through and Gambon corners. Each vehicle has been created for an authentic Top Gear experience with real physics and finely tuned handling to work perfectly with your touch-screen.

So, can you negotiate the increasingly difficult courses and park in the fastest time with each of the Top Gear cars? Will you succeed spectacularly or fail hilariously?
Forum Thread: Top Gear: Extreme Parking (by Play With Friends Games)
---
Ultimate Robot Fighting
iTunes Description
FROM THE MAKERS OF REAL STEEL WORLD ROBOT BOXING, COMES THE #1 ROBOT FIGHTING GAME!

Embark on the ultimate action journey of Robot fighting as you build an epic roster of powerful, battle hungry and larger than life robots! Enter the arena of touch based 3v3 combat with ULTIMATE ROBOT FIGHTING a free-to-play card collectible game.
Build an awesome team of sentient robots, unleash unique and devastating moves, upgrade and level up your mean machines and reign supreme as a god of steel in the battle arenas!
Forum Thread: Ultimate Robot Fighting (by Reliance Big Entertainment UK Private Ltd)
---
Where's my geek?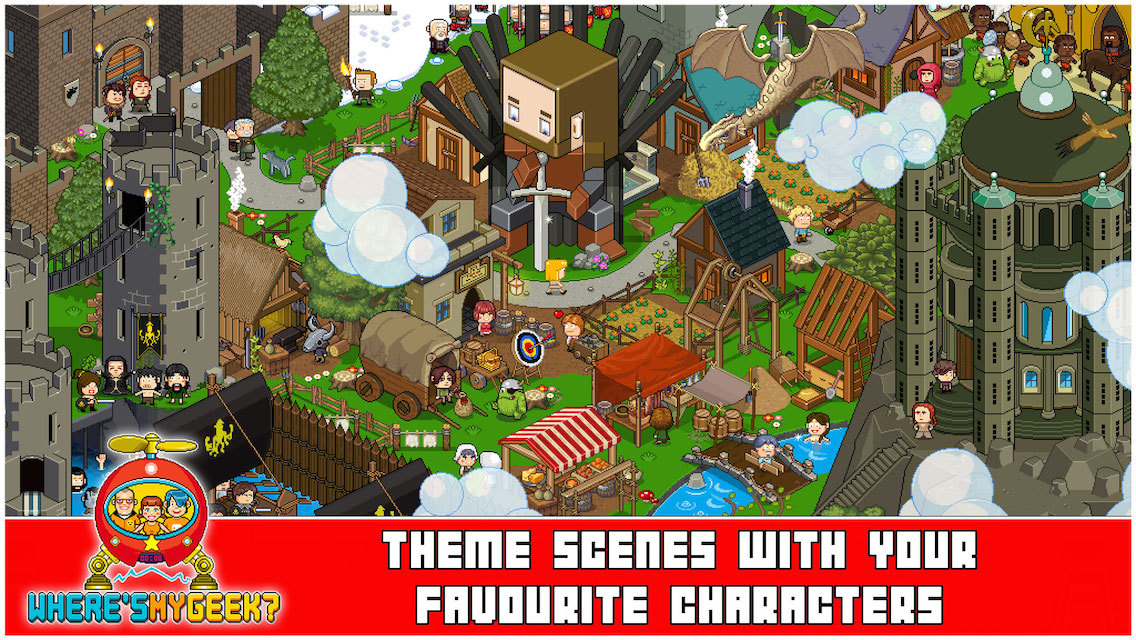 iTunes Description
The definite game based on Time Geeks. Considered by the experts as one of the most essential iOS games, beautiful, easy to play and enjoyable and defined by the players as the best seek & find game, taking this type of games to a new dimension. It is now back in grand style with "Where's my geek?" exclusively for iOS.
Forum Thread: Where's my geek? (by Ivanovich Games)