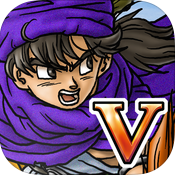 It's been about five years since I last played through Dragon Quest 5. If you haven't played it before, I should start off by saying that this is a game that has a lot to say, if you choose to listen to it, and exactly what you hear is going to depend on where you are in your own life. That's because Dragon Quest 5 takes a very unusual approach to its story, following the personal journey of the main character from his birth all the way through to adulthood and the responsibilities that often come with it. I can't say too much about the story without spoiling things that ought not to be spoiled, unfortunately. What I can tell you is that Dragon Quest as a series is quite interested in exploring destiny and fate as concepts, and Dragon Quest 5 is perhaps its most nuanced take on the whole notion.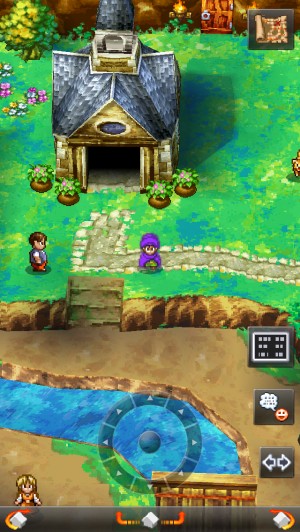 It's the second installment in the very loose Zenithia Trilogy that started in Dragon Quest 4 ($14.99) and continues on to Dragon Quest 6, but it's worth mentioning that the ties between the three games are extremely loose, and according to series creator Yuji Horii himself, more of a post-hoc affiliation than the tightly-connected story of the original Erdrick Trilogy. The long and short of that is that you don't need to finish Dragon Quest 4 before moving on to Dragon Quest 5. You should finish Dragon Quest 4 because it's a great game, but the story in Dragon Quest 5 stands just fine on its own. The story starts with the birth of your main character, but it soon flashes ahead to his childhood as he travels around the countryside with his father, a highly accomplished warrior in his own right. During this section of the game, you'll meet a few characters who have major importance down the road. Most important are the three potential candidates for the protagonist's bride. You'll eventually have to choose between these three very different women, with your decision having an impact both in terms of story and gameplay. At this stage, they're children just as you are, but you do get a nice primer on their basic personalities.
As with the recent release of Dragon Quest 4, this version of Dragon Quest 5 is based on the Nintendo DS version. It uses the same engine as Dragon Quest 4 and a similar UI. The main difference as far as gameplay goes is that monsters can join your party. This has a random chance of happening after any battle, so it's not really well-suited to trying to collect them all. It does, however, offer you a great deal of customization options for your party, as well as some helpful support for the times when the main character doesn't have enough normal allies to fill out his team. My advice is to try to get a Slime Knight as early as you can, as he has healing magic and can hold his own in combat quite nicely. The 3D backgrounds have been bumped up to high resolution while the 2D sprites are more or less presented in their standard pixelated glory. Like the other iOS releases, this one is playable only in portrait mode, and has no support for MFi controllers.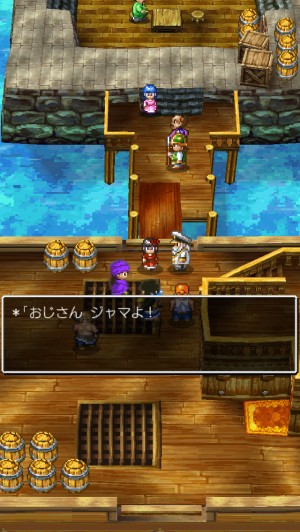 The recruitable monsters help settle the hash between the total party customization of Dragon Quest 3 ($9.99) and the rigid yet developed cast of Dragon Quest 4. If you don't want to worry about having to build a party, Dragon Quest 5 provides more than enough story characters to fill your team with for the bulk of the game, but if you're the sort that likes to play around with various builds to find one you like best, the monsters leave that option open. The two following games in the series have their own answer to that split, but I prefer the approach taken in Dragon Quest 5, since it really does feel like two different games depending on how you go about things. I tend to rely on monsters in the middle part of the game, but I usually can't resist finishing things using the story characters.
Square Enix has yet to specify when we can expect to see this one released outside Japan, but since the Nintendo DS version it's based on was translated into English and other languages, we shouldn't have to wait terribly long. Apart from localization, I don't expect there will be any other changes made from the version I'm playing now. You'll want to keep your eyes out for this one's release. I firmly believe it to be one of the best JRPGs ever made, and it's easily the jewel of the Dragon Quest franchise. Even now, more than 20 years after its original release, Dragon Quest 5 stands tall among its peers, and I dare say that few, if any, RPGs released since have managed to come close to the high quality of its storytelling. If Square Enix follows their usual pattern, we'll probably have this game in the rest of the world within the next few months, and most likely at a price of $14.99, but we'll have to wait for official word to know for sure. We'll be sure to update you whenever that word happens to come.