Nudity, or lack thereof, on the App Store has once again become the topic of debate following the release of the indie game iPad port Papers, Please ($7.99). It seems like there's two things that universally generate loads of clicks across the internet: Apple hate and censorship. So, when you combine those two things into one news story, you're left with something that everyone has to post about. Or, so it would seem in the instance of the release of the nudity-free version of Papers, Please and the controversy surrounding it.
As mentioned in our previous post for the game's release, the game puts you in charge of a border control agent initially checking documentation which ramps up into far more invasive screenings such as body scans to locate contraband. In the PC/Mac/Linux version of the game, you have the ability to toggle nudity on and off in these portions. The iOS version lacks this option, and instead the body scans feature hopeful immigrants stripped down to their underwear.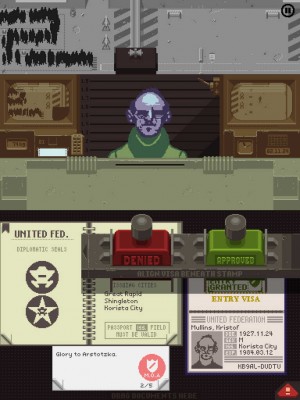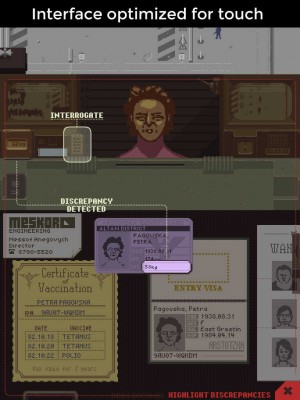 While the internet has been host to a lively debate this morning on the importance of nudity to the game, and Apple's place in censoring content, Papers, Please developer Lucas Pope seems to feel differently. In an interview with Ars Technica, Pope mentions that the decision to leave nudity out was a practical one, additionally, "he doesn't feel [the lack of nudity] is a 'serious burden' on the game."
Curiously enough, the concern of getting the app approved wasn't the nudity, but instead the highly political nature of the game. Again, from Ars Technica:
My main concern with creating an iOS version of Papers, Please was that Apple would decide the game was strongly political and reject it outright. … I checked Apple's 'average review times' site for developers and it said something like 95% are approved in 5 days. It took 2 weeks for the first rejection [of Papers, Please] so I was pretty spooked at that point.
Pope doesn't necessarily agree with Apple's decision on the nudity inside the game, as the nudity is definitely not pornographic in nature, but he understands their needs to establish and enforce rules:
"I made a game about seeing contentious issues from multiple sides though so I'm predisposed to look at things from Apple's side too," he continued. "If I ran a store, there'd probably be rules about what I wanted to stock that conflicted with some vendors, and the final decision about what to sell in my store would be mine alone."
Another thing to keep in mind with the Apple approval process which isn't entirely apparent until you're in the trenches yourself trying to get something approved is that Apple's first approval/rejection pass is notoriously conservative. If you've followed games in our upcoming games forum, you've likely lost count the number of times something was rejected for a (often very) silly reason. This is why the appeals process exists, so developers can open a line of communication with Apple and essentially explain why something is the way it is and how while it might seem like it's breaking a rule, it actually isn't unless you're following the most strict and extreme reading of the Apple developer guidelines.
It's hard to get that worked up on the censorship angle here, as there was never any appeal to Apple to get their final word on whether or not it would be allowed on the App Store with its original content. What we have here is the developer of Papers, Please not putting up any kind of fight and instead just submitting the game with nudity disabled. It would be a different story if this were the end result of a long battle with Apple as developer Lucas Pope makes his case to Apple on the purpose of the nudity and Apple's final answer was a resounding "no"… But even he didn't feel it was detrimental to the release of the game.
While often inconsistent, Apple has shown that they're fine with nudity in games, as proven by The Wolf Among Us (Free), Grand Theft Auto: San Andreas ($6.99) and more.
All in all, the App Store is weird, and this is just the latest example of that.
[via Ars Technica]