With the holidays approaching and the iTunes freeze looming ever closer, tons of developers are racing to release games. The list below is pretty huge, and it'll likely be twice as big next week just before the shutdown. There's even a game about lumberjacks chugging syrup. Oh and of course, Seabeard finally launched worldwide today, and it looks like Papers, Please is coming to the iPad on Friday. Truly the busy holiday season has begun, so check out what's on offer this week and let us know what games you'll be picking up.
Update: And now Tales from the Borderlands is out too! Added to the list below.
---
Aqua Shooter
iTunes Description
A new shooting puzzle game presented by Cybergate!

The cute animals swimming along rivers needs your help now!
Match 3 of the same kind to save them from the river.

Game introduction:
Cute animals who lives in Fantasyland likes to play and swim along rivers, but they often forgets about the dangerous waterfall at end of the rivers! Come along and invite your Facebook friends to save them now!
Forum Thread: Aqua Shooter (By Cybergate)
---
Bomb de Robber
iTunes Description
Join the cutie BOMBER FORCE and STOP the Robbers!

Are you READY yet? START BOMBING NOW!

CONTROL: Time & tap the screen to trigger the bomb while it's getting near the robber's vehicles.
Forum Thread: Bomb de Robber! (by Pine Entertainment)
---
Brave Trials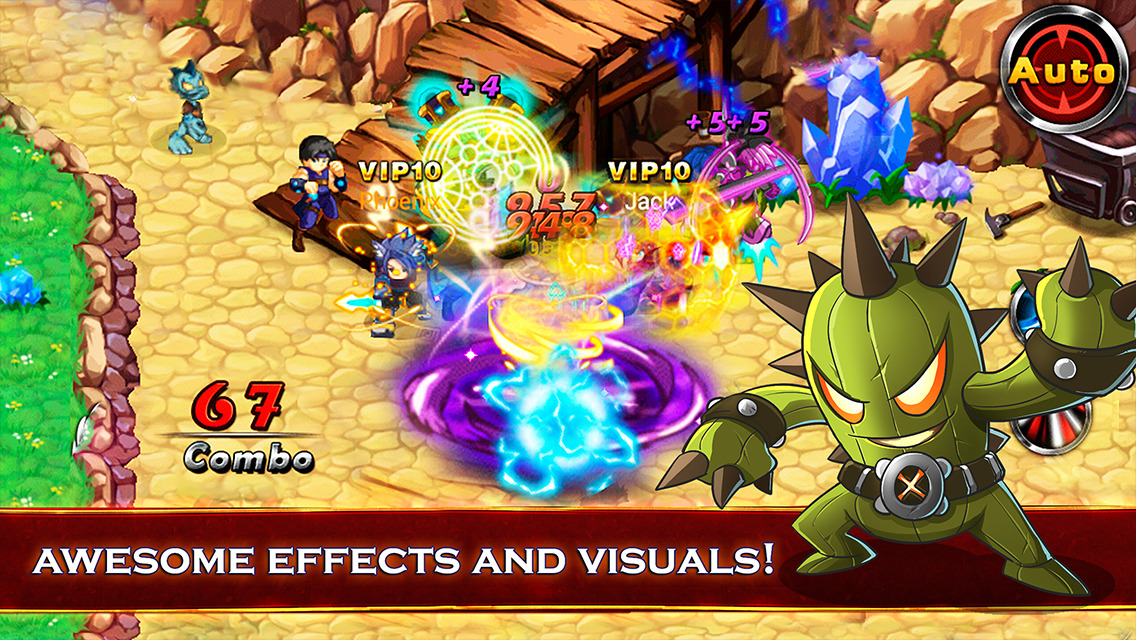 iTunes Description
From the company that brought you Castle Clash comes an all new aRPG: Brave Trials!

Battle across dimensions as you fend off the forces of evil in real-time anime action! The entire
screen is yours to explore as you deal out justice with spectacular skills. Experience combat like
never before with fast action, beautiful effects, screen-shaking graphics, and deadly finishers!
Test your skills against the World Boss, the Party Trials, the Wayfaerer's War, the Arena, and
many more fun and frantic ways to play!

Leave boring behind and begin your journey into the world of Brave Trials today!
Forum Thread: Brave Trials (by IGG.COM)
---
Break All The Pots
iTunes Description
Pots!

Legendary boy who wear a green shirts, Show us how to break a pots.

So we are present this game, because we always have a desire to break a pots.

BREAK ALL THE POTS

Break and break all the pots! Satisfy your desire!
Forum Thread: Break All The Pots (by ?? shim)
---
Chain Chronicle
iTunes Description
Over 4 Million Downloads In Japan! Forge Your Story And Train Your Perfect Army!

Chain Chronicle is an addictive mix of tower defense and real-time strategy role playing. Players control a lone soldier who must battle to protect the world of Yggdra from the hordes of the invading Black Army!

To protect your Yggdra, your soldier must gather a 'Volunteer Army' of Knights, Wizards, Clerics, Archers and Soldiers. Throughout your adventures, you will meet new allies with different skills and tales of their ownthat not only add to, but can also alter the game's epic story..
Forum Thread: Chain Chronicle – Line Defense RPG (By gumi Inc.)
---
Corto Maltese Secrets of Venice
iTunes Description
Let's set off in the footsteps of Corto Maltese!

Along Venice's canals and narrow alleys, fight against a poison that ravages you, avoid bullets and explosions, face the unknown, and eventually open the doors of knowledge.

This video game unravels a thrilling quest based on a point and click riddle-driven gameplay within the worlds of Corto Maltese, the main character created by Hugo Pratt, the genius of graphic novels (more than 5 Million hardcopies sold worldwide).

Searching for a fabulous emerald, you may find a magical balance and finally, utopia.
Forum Thread: Corto Maltese Secrets of Venice (by Bulkypix)
---
Epic Fall
iTunes Description
Raiding tombs is a risky business… Especially when you get caught!
That's exactly what happened to our friend Jack Hart in his latest affair.
Can you help him get away alive ?

Epic Fall is the amazing action-adventure shooter with innovative mechanics and tons of fun!
Simply touch the screen where you want to shoot and let the physics (powered by the amazing Box2D physics engine) do the job! You can break obstacles, hit additional ammo and coins, change your direction – all with your gun!
Which you can upgrade, by the way!
Forum Thread: Epic Fall – shooter with innovative mechanics (by MegaBozz)
---
Escape from LaVille 2
iTunes Description
Following the disappearance of Detective Forest Campbell in the district of LaVille, someone must shed light on this mysterious case.
Step into the shoes of Lionel Starbird and solve all the riddles to save Detective Campbell's life.
Explore tens of fantastic settings, find the clues and use them to solve the case.
Forest Campbell is waiting for you!
Forum Thread: Escape from LaVille 2 (by Gabriele Pellistri)
---
Forgotten Treasures – Run
iTunes Description
In "Forgotten Treasures Run" you are going as a courageous archaeologist in dangerous adventures to find the forgotten treasures of myths from ancient times again that was lost for a long time.

Tap your screen to jump over life-threatening obstacles. Quest for the treasures, go through 5 stunning immersive pixel worlds and beat the high scores of other players.
Forum Thread: Forgotten Treasures – Run (by Murat Yilmaz)
---
Frontline: The Longest Day
iTunes Description
June 6th, 1944. D-Day is the Allied operation that launched the successful liberation of German-occupied Western Europe during World War II.

In Frontline: The Longest Day, players command the Allied forces through some of the most famous battles of the war, freeing Europe from the hands of the German Army. The game takes place over five massive, engaging and challenging missions, all inspired by historical missions which took place during operation Overlord: Utah, Omaha, Gold, Cherbourg, Sword & Juno.

Players are faced with tough decisions and will have to think through the options to take advantage of terrain, use their combat techniques wisely and make sure they leverage the special ability of each unit to overcome the enemy and get Europe back in safe hands.
Forum Thread: Frontline : The Longest Day (By Slitherine)
---
Gentlemen… Ricochet Mini!
iTunes Description
Gent Mini is a remake/demake/sequel of "Gentlemen… Ricochet!", rethought completely as a simple one-button game. Play as the Gentleman himself and visit every pub in town to play some games of the ridiculously popular table game of Ricochet.
Forum Thread: Gentlemen… Ricochet Mini! (by Bitse Games)
---
Healing Simulator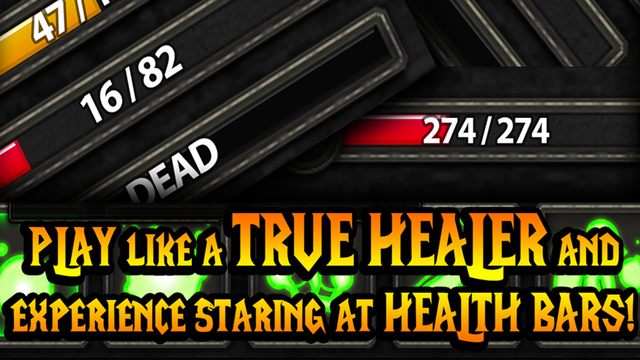 iTunes Description
Ever play an MMORPG like World of Warcraft, Wildstar, or Everquest ? Ever play a Healer? No ? Well you're in luck!
Healing Simulator puts you in the shoes of ACTUAL healers where you get to see NONE of the awesome graphics of your typical role playing game and only stare at health bars and battle text!

Take control in this half role playing – half puzzle – all healing game and defeat the evil..um..ENEMIES ! Take on over 25 encounters ranging from stupidly easy, to insanely hard and keep your party alive! If you've managed to conquer the encounters ( You are Epic! ) head to the DUNGEON RUN mode and try to keep everyone alive as long as possible and then compare your time against your facebook friends and the developers!
Forum Thread: Healing Simulator (By David Reddick)
---
Highrise Heroes
iTunes Description
The towering word-game that fits in your pocket! Following a sudden earthquake, Seb must escape a crumbling skyscaper. Along the way he will make some intriguing new friends, and together they might just unravel the sinister origins of the 'quake, assuming they can evade the mysterious stalker in close pursuit…

Starting at the top and working down, the game's 90+ levels take place inside the skyscraper. The player creates words on a grid of letters and obstacles, clearing a path for Seb and friends to descend. Strategy is the key to success!
Forum Thread: Highrise Heroes – The Towering Word Game (by Noodlecake Studios Inc)
---
The Hobbit: Battle of the Five Armies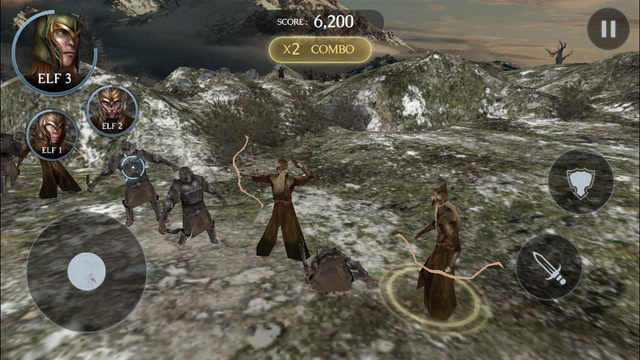 iTunes Description
Join the fight for Middle-earth in an all-new 3D game. Choose to battle as Humans, Dwarves, Elves or Orcs to see which group will earn a spot atop the leaderboard. Switch between characters for a tactical advantage, and then play as the hero to finish the fight!

From Academy Award-winning filmmaker Peter Jackson comes "The Hobbit: The Battle of the Five Armies," the third in a trilogy of films adapting the enduringly popular masterpiece The Hobbit, by J.R.R. Tolkien.

An ancient enemy has returned to Middle-earth. Sauron, the Dark Lord, has sent forth legions of Orcs in a stealth attack upon the Lonely Mountain. As darkness converges on their escalating conflict, the races of Dwarves, Elves and Men must decide—unite or be destroyed.
Forum Thread: The Hobbit: Battle of the Five Armies – Fight for Middle-earth (By Warner Bros.)
---
Jailbreak Islands
iTunes Description
Monkeying around has never been more fun or useful than it is in Jailbreak Islands, a brand new mischievous puzzle solving adventure that'll test your wits to the extreme! Help the monkeys escape dastardly traps, villainous fiends and mysterious mazes by outmanoeuvring your enemies and surroundings.

Jailbreak Islands comes packed with challenging and clever twists to create the ultimate monkeytastic gaming experience. You'll find 48 innovative and brain-teasing levels to traverse, for free and you can even record videos of your monkey madness gaming action, which can be shared with your friends.

So what do you say, are you monkey enough to take the challenge?
Forum Thread: Jailbreak Islands (by Derek Lam)
---
Katatak
iTunes Description
THE SPACE CATS ARE INVADING! Load up and take down the feline army! Spearhead the resistance and fight your way across a war-torn London in story mode; Team up with awesome mercenaries to save the world! Battle an endless horde of interstellar kitties in survival mode to unlock new weapons and playable characters.

Written and directed by Thomas 'TomSka' Ridgewell, KatataK features a selection of fantastic voice actors alongside hilarious cameo appearances from some of the world's biggest YouTubers. There's also a bear with a grenade launcher. Beautifully rendered in an old-school 16-bit style with animated cutscenes and a supermassive chiptune-inspired soundtrack by genius composer Todd Bryanton, KatataK is a feast for the eyeholes and earholes.
Forum Thread: Katatak (by Pixel Spill)
---
Marvel Contest of Champions
iTunes Description
Assemble a mighty team of heroes (and villains) as you go on quests to defeat Kang, face the challenge of a mysterious new super powerful cosmic competitor, and ultimately battle to prevent the total destruction of The Marvel Universe.

Collect, level up and manage your teams of heroes and villains wisely to receive synergy bonuses based upon team affiliation and relationships taken from the pages of Marvel Comics. The more powerful the hero/villain, the better their stats, abilities and special moves will be.

Quest your way through an exciting storyline in classic Marvel fashion as you explore dynamic quest maps and engage in a healthy dose of action packed brawling utilizing controls developed specifically for the mobile platform. Fight it out with a huge array of heroes and villains in iconic locations spanning the Marvel Universe.
Forum Thread: MARVEL Contest of Champions – (by Kabam)
---
McLeft LeRight
iTunes Description
Citizens of small Townsville suddenly lost all their memories.
There are rumours in the air that deliberate theft was organized by local rich man – Mr. Crookstein. Maybe Mr Crookstein wanted to steal all memories before upcoming mayor elections because it is the only chance he could win…or maybe it wasn't Mr Crooks.
Help detective McLeft and his stunnig girlmate Mrs LeRight solve this puzzle story!

Exciting story and 22 unique levels!
Forum Thread: McLeft LeRight (by Matvey Ivanov)
---
Mental Hospital III
iTunes Description
Mental Hospital III, is a first-person survival horror with astonishing graphics and a really frightening atmosphere.

Our story started quite ordinary. The main character got an offer to record a video of a special forces raid in one of the psychiatric hospitals where secret experiments were supposed to be carried out. Sounds easy enough… That was what he thought.

But he will forever remember that night. The night everything went wrong from the very beginning: Horrible weather, problems on the news, and the car breaking down appeared to be inevitable, as was missing the start of the clinic capture operation. Having arrived at his destination late, the main character decides to find Lieutenant Sidorov as soon as possible, hoping to film at least something. After the main character gets inside of the hospital and is introduced to it's inhabitants he understands that it will be nearly impossible to describe what he saw there. You can of course erase the footage, but there is no option to erase your memories.

This is reality. Will the main character emerge from this fateful hospital alive, or will he too, like it's residents, be trapped here for the remainder of his life.
Forum Thread: Mental Hospital III (by Igor Migun)
---
Owen's Odyssey
iTunes Description
Owen's Odyssey is the story of a boy, while on a journey, taking refuge from a storm in a dangerous place – Castle Pookapick. A castle where spikes, saws, fire, falling rocks, lava and creatures try and end him. It's a bad place to take refuge. It's okay though. He can float past dangers using his trusty propeller hat.
Forum Thread: Owen's Odyssey (by Brad Erkkila)
---
Panmorphia
iTunes Description
• The Legend of Panmorphia •

The legend goes that in each generation a child is born, a sentinel, bound to the land of Panmorphia and the four elements that govern it.

The sentinels have the ability to wield each element and transform themselves into an animal that best represents it.

With the use of the amulet they are able to combine all four elements and travel through the aether.

They are called upon for help in times of need.
Forum Thread: Panmorphia (by LKMAD)
---
Peasoupers
iTunes Description
Beyond the terrible peasoupers there is a portal, beyond the portal there is hope. But only you can help the little Sweepers to overcome the challenging puzzles that prevent them from reaching the portals.
Many will stay on the way, but without them, no one will ever be able to escape from the dreaded Peasoupers.

– There are currently 75 different levels, each one with unique puzzles in an amazing environment.
– Use as many Sweeperes as you want to get all the stars.
– Or spend less Sweepers and go as fast as you can to get more points.
– You may even try to win the gold star available in each level.
– And let's not forget the achievements. How many Sweepers can you stack?
Forum Thread: Peasoupers (by Rafael Callegari)
---
Pixel Space Shooter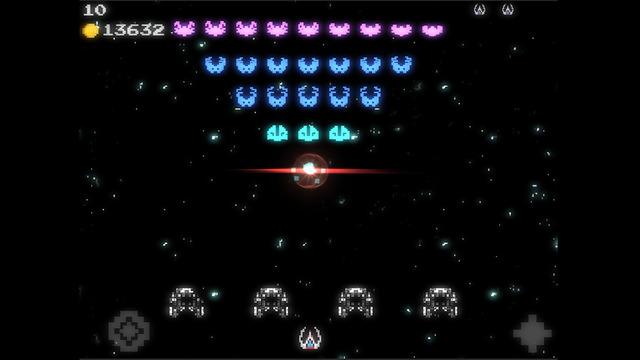 iTunes Description
A tribute to classic video arcade legends. Relive the classics! Become a legend!

Easy to play, hard to master. If you're a fan of addictive gaming and retro titles, be sure to check this awesome game out. A fantastic retro revival and a exceptional vertical shooter in its own right. Simple, entertaining and nostalgic, all in one. The ultimate game with infinite, endless gameplay!

Customizable control schemes. AutoFire On/Off.The more you play, the more the game levels up! Persistence is rewarded, with new characters and other elements unlocked through play!
Forum Thread: Pixel Space Shooter by Andrei Voinicaru
---
Platypus Evolution
iTunes Description
Egg-laying, duck-billed, beaver-tailed, otter footed mammals… And venomous! Yes, platypus are already odd by nature. What would happen if mutations started happening to them? Find out in Platypus Evolution! From the minds that brought you Cow Evolution and forever changed the way you see bovines, comes a new game that somehow manages to be even crazier and more nonsensical.

We can all agree that platypus are unique creatures. They swim. They lay eggs. They have beaks. They are mammals. They have venom. I mean, they're just plain bizarre already. What the heck would happen if some of them go through hardcore mutations? Play God and turn already weird creatures into even weirder ones! Mix, match, combine and evolve regular platypus to God-knows-what new species of platypus and take over the world and BEYOND!
Forum Thread: Platypus Evolution – Clicker Game with a Twist (by Tapps Games)
---
Portal Chamber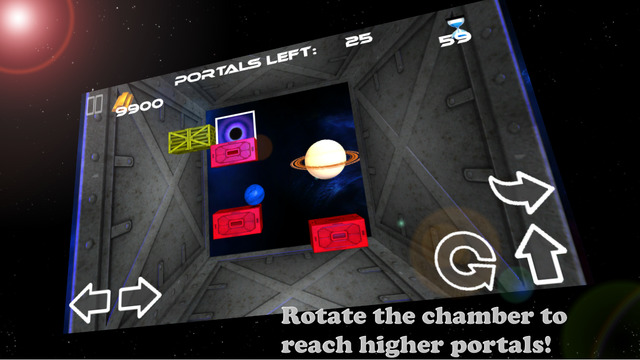 iTunes Description
Brain-twisting, roguelike, platforming puzzler! Power-ups! Bosses! A galaxy awaits you!

Rotate the chamber to use platforms in new ways to reach portals! Watch out for asteroids, anti-matter, and comets, as you bravely rescue the Pink Particle Princess! Unlock power ups in Story Mode to get higher scores in Freeplay Mode!
Forum Thread: Portal Chamber (by David Hackenberger)
---
Power Puppies
iTunes Description
**Simple, one-touch gameplay!**

Bobo, Tito and Luly are three cute puppies with super powers. They can fly through a dreaming land full of candies. Feed them with the most delicious donuts of the world!
Forum Thread: Power Puppies (By Cristiano Bartel)
---
Robot Escape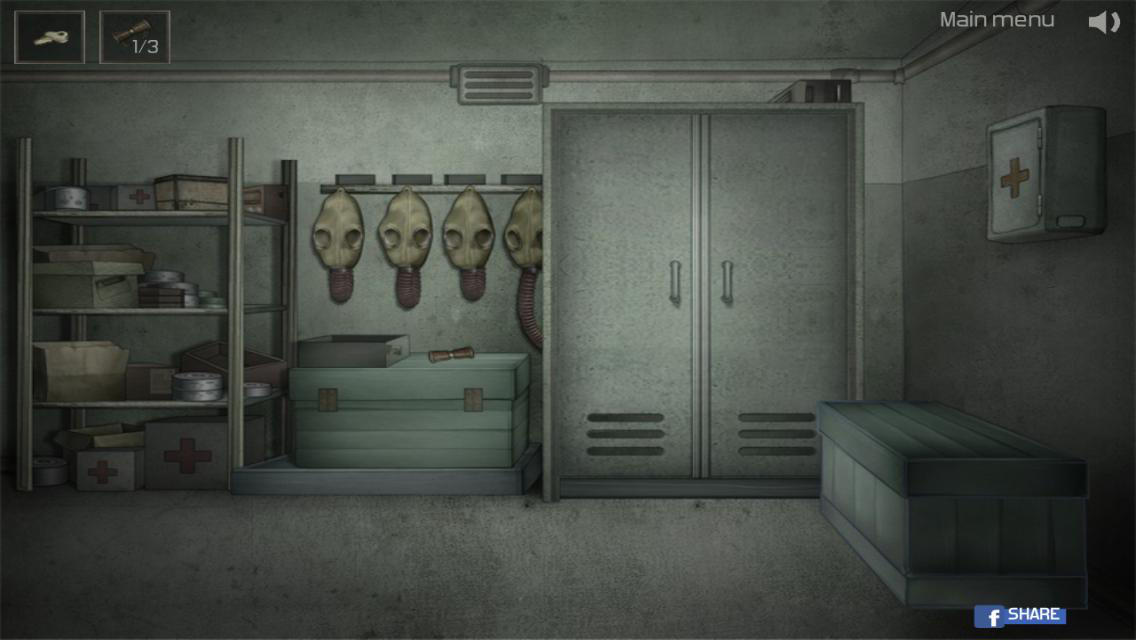 iTunes Description
Robot Escape is a brand new point and click adventure escape game based in the year 2052.

A long time ago this city was inhabited by humans. Now it is inhabited by us. Everything around us was created by human civilization. We are just users. Why and where did the people go? What were we created for? We don't know.

Humanity is long gone and only robots remain in a constant search for fuel! tells the tail of a young robot just doing his part to help the others survive. Point and click your way through war torn cities and secret hide outs that time has long since forgotten. How long can you survive in this post apocalyptic wasteland? Good luck!
Forum Thread: Robot Escape – Hardest Escape Ever
---
Seabeard
iTunes Description
A WORLD OF ADVENTURE IN YOUR POCKET!

Follow in the footsteps of the great captain Seabeard and discover a giant ocean teeming with islands to explore!

Live life at your own pace and choose your own path – whether you have ambitions of being a world-famous chef, fearless archaeologist, or deadly warrior, you can realise those dreams.
Forum Thread: Seabeard – (by Backflip Studios)
---
Sequent
iTunes Description
Sequent is an iOS puzzle game. Your goal is to grow a wide spectrum of color by harvesting and replanting solid-color tiles. Each color "plant" will grow into empty tiles around it – mixing its red, green, and blue color "genetics" with neighbors.

It's up to you to mix primary colors, cultivate creatively, gain knowledge and increase your chances of genetic mutations.

Designed for both iPhone and iPad, Sequent is an amazing chill-out game which can be played on your schedule. There are NO in-app purchases. In-game, you may choose to download a full album-worth of hand-picked music by several talented independent artists.
Forum Thread: Sequent (by Michael Botsko)
---
Shadow Glitch 2
iTunes Description
Get ready for a unique take on platformers. Join Pandora on an epic adventure as she tries to escape from the impossible. Use your glitch suit to phase through numerous traps along the way as you try to break out of the jail alive.

Shadow Glitch puts a new spin on platformers. The unique glitch mechanics allow you to phase through objects as you make your way through 100+ floors across 13 levels. These unique 2D graphics and electronic soundtrack adds to the highly addictive gameplay. Shadow Glitch's controls are smooth and responsive, you'll make every jump and glitch count. Each one of the 100+ floors are packed with traps and get more challenging as you progress on your escape from this futuristic jail.
Forum Thread: Shadow Glitch 2 by Appdore
---
ShakePop
iTunes Description
Shake, Tap, Flip, and Dance with your device in ShakePop, a party game in motion.

ShakePop is a modern mashup of Simon, Bop It, Bounden, and more. Play with one of six characters and follow their moves for as long as you can without making a mistake! Go for the high score and unlock amazing new signature moves. You've never partied like this before!
Forum Thread: ShakePop (by FreshPlanet Inc.)
---
Sneaky Sneaky
iTunes Description
Sneak through the shadows, dash to cover, pick your moment and strike! Unleash your inner thief in this strategic stealth adventure. After the heist of a lifetime, Sneaky, the lovable rogue is ambushed! Plot, shoot, stab, and loot your way across the land to reclaim Sneaky's twice-stolen treasure.

Sneaky Sneaky offers a mix of stealth and tactical gameplay. Move through the world freely, but watch your step. Getting spotted or initiating combat will trigger turn-based encounters. There is no single solution to the challenges set before you. Experiment and develop your own play style.
Forum Thread: Sneaky Sneaky (by Naiad Entertainment LLC)
---
Step Buy Step: A Pedometer Adventure
iTunes Description
Normal pedometers count your steps. Step Buy Step is different. Each step you take in the real world earns you Stepps.

Walk ten steps and buy a Dog. Your canine companion adds an extra 4 Stepps to each of your own steps! Get 100 Stepps and it's time to buy a Flock of Sheep. Now you're really cooking: 40 Stepps per step and you're covering 100 yards with every fall of your feet.

Buy over 40 creature companions who'll join you on a journey around the world and beyond! Want to know what it's like to cross an entire country with a single stride? We can show you: Step Buy Step.
Forum Thread: Step Buy Step: A Pedometer Adventure (By Six to Start)
---
Stickman Roof Runner
iTunes Description
Run adrenalin charged for your life over deadly roof tops, avoid urban canyons, perfectly time your jumps and try to get as far as possible. Beat your friends highscore and share your awesome replays.

• From the makers of Rope'n'Fly, Stickman Ice Hockey, Stickman Downhill, Stickman Soccer, Stickman Basketball, Stick Stunt Biker, Line Birds, Line Surfer, Line Runner, RunStickRun and more

• No coins or any other collectable stuff. Everything unlocked right from the start
Forum Thread: Stickman Roof Runner (by Djinnworks)
---
Super Lumberjack Syrup Chug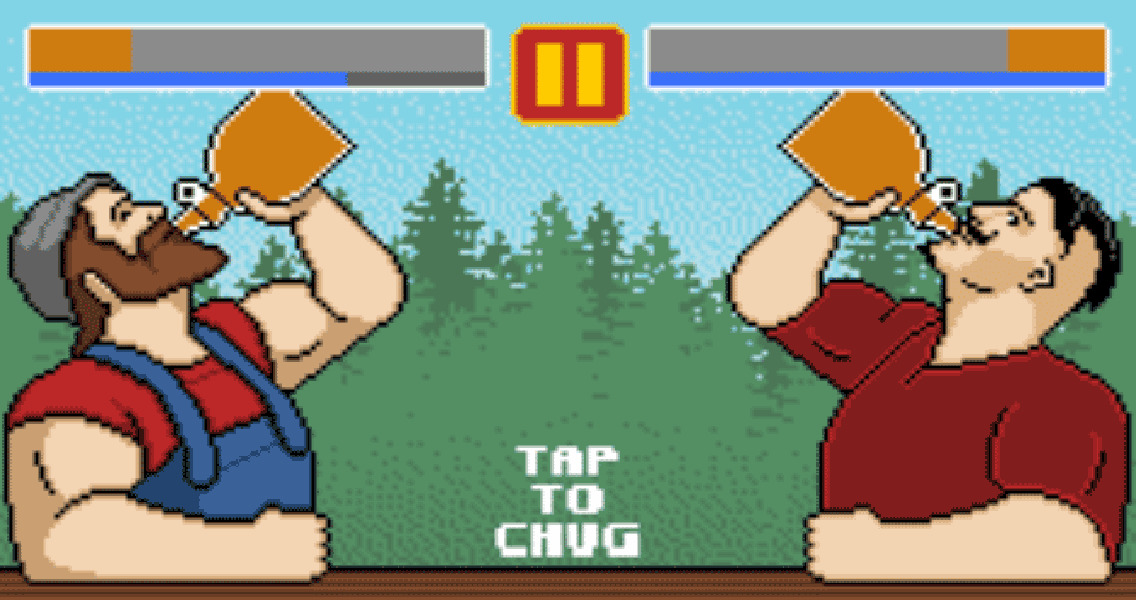 iTunes Description
Old-school, retro 8 bit styled game design – along with some mighty thirsty, rough and tumble lumberjacks from above the timber line – combine to create a fun and addictive game that will have you chugging maple syrup from daylight til dusk!

It's simple!
Choose your character, then tap furiously to chug the most syrup down before your opponent does – but beware – too much, too fast will force you to take a moment to catch your breath!
Forum Thread: Super Lumberjack Syrup Chug (by Gamelab)
---
Tales from the Borderlands
iTunes Description
Tales from the Borderlands is a five part episodic game series from the creators of The Wolf Among Us and The Walking Dead: A Telltale Games Series. Set on the unforgiving world of Pandora after the events seen in Borderlands 2, this is a story full of Borderlands' trademark humor, following two adventurers on their quest for greatness.

You'll play as Rhys, a Hyperion 'suit' with dreams of being the next Handsome Jack, and Fiona, a Pandoran con artist looking to score her biggest ever swindle. Thrown together as unwilling partners in an adventure to recover cash they both think is theirs, their journey will take you on a wild ride where gangsters, bandit lords, and Vault Hunters are just some of the obstacles you'll encounter, in this new take on the award-winning universe created by Gearbox Software.
Forum Thread: Tales from the Borderlands (by Telltale Inc)
---
Vimala Defense Warlords
iTunes Description
The best skirmish tower defense gameplay and turn-based RPG combat on mobile!

Collect resources to build your kingdom and army.

Skirmish Mode:
– Endlessly enjoyable skirmish tower defense game
– Gather resources to fortify your kingdom and strengthen your army
– Train and organize your own army
– Powerful Hero Units, from Devastating Knights to Fearless Wizards
Forum Thread: Vimala Defense Warlords (by MassHive Media)
---
Volibear LOL Fighter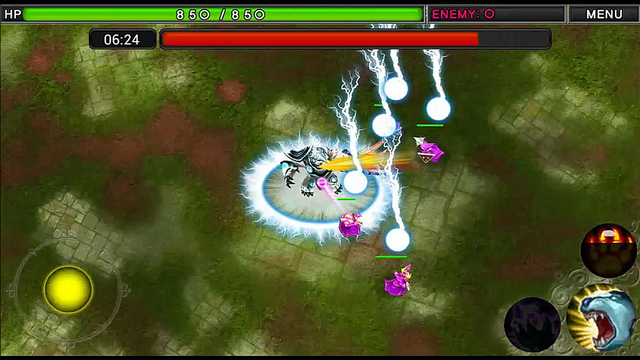 iTunes Description
– Game Description –
This is a 100% free fangame for all users, and the only requirement is your fantastic technique.

-How to play-
▶You can play total twelves stages.
▶Each stage has two modes; Normal and Extra
▶Much more powerful enemies emerge in Extra mode rather than Normal mode. Therefore, reinforcement and arming with items will be essentially needed.
▶Each stage has various champion boss leading the guard minions.
Forum Thread: Volibear LOL Fighter for League of Legends(by Kwon HuckJune)
---
Volt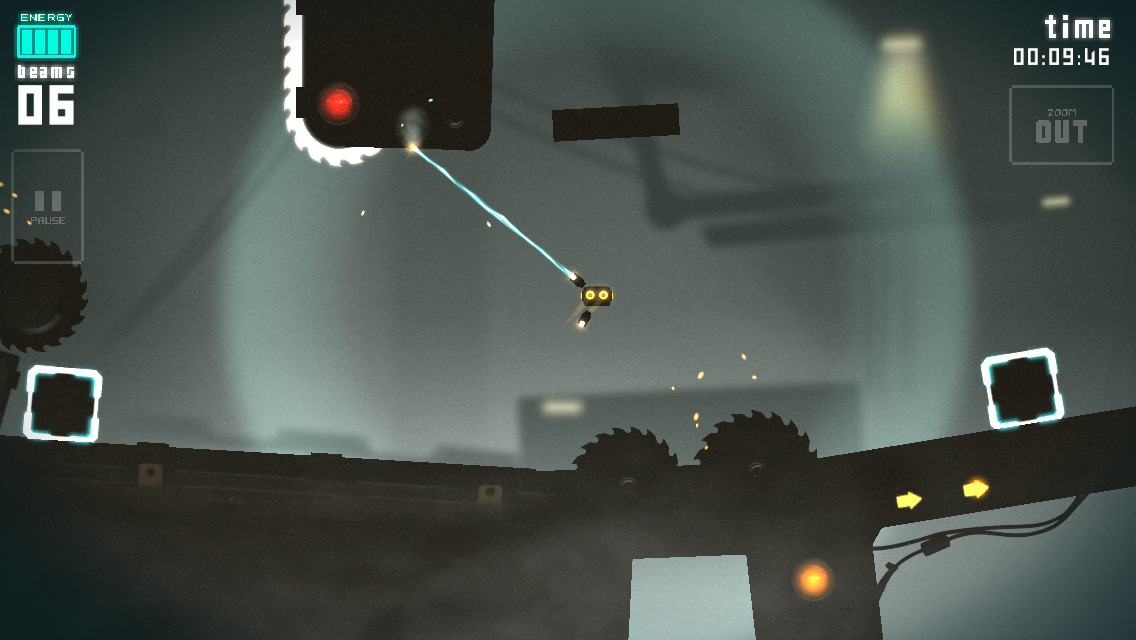 iTunes Description
Volt – Battery on the loose

You were on the way to a recycling process when fortunately for you – and unfortunately for the environment – you accidentally ran off.

Now your goal is to escape from the facility, which is an extremely difficult task due to the fact that you are a battery without legs. Equipped with a limited number of electric beams, you can connect to walls, move or destroy objects, turn switches, and charge generators.
You also have the ability to jump or push off the walls – the rest is up to physics and gravity.
Forum Thread: Volt (By Adrian Kumorowski)
---
Werewolf Tycoon
iTunes Description
Become the Big Bad Wolf of Werewolf Park in this werewolf stealth simulation game.

Eat as many people as you can, but pace yourself, try not to be seen, and do not let witnesses escape! After all, things could get tricky if too many people become aware of your existence!

Happy munching!
Forum Thread: Werewolf Tycoon (by Joe Williamson)