The American holiday Thanksgiving and the American kinda-sorta holiday Black Friday really messed our week up this week. The iTunes release cycle was crazy (Which is why we've got two Out Now posts), new was almost non-existent, and most of the TouchArcade crew was either travelling to family or spending time with family. So, our review output was also odd. Our top rated games this week were all four star reviews. Here they are:
Earn to Die 2, $0.99 [Review] – Earn to Die 2 is a game all about a man and his ride. Unfortunately his ride needs some upgrades to deal with an army of boxes and zombies that are in the way. He might also be trying to drive to Florida to get to an evacuation point, because of the zombie thing. In order to make progress towards his goal, your driver man must upgrade his car until he can reach the next check point. Occasionally he will also get a better/cooler car in which to continue the upgrade process in. Gameplay is based off of the old tried and true physics motocross browser sims that have seen some pretty solid iterations on iOS, not the least of which is this game's predecessor, Earn to Die.
Joe Dever's Lone Wolf, Free [Updated Review] – Now, with Dawn Over V'Taag released, the year-long journey of Lone Wolf has come to a close, at least for the time being. I wish I could tell you he's going out with a bang, but he's not. Thankfully, he's also not going out with a whimper. He's just sort of picking his keys up off the table and giving you a silent nod on his way out the door. Dawn Over V'Taag, in many ways, carries with it the best and the worst of each act thus far. It's probably the most relentless combat tunnel since the first section of Forest Hunt. There are only a couple of chances to go off the linear path to the end, and even those are just there to offer some extra goodies before setting you back on the main road. There are a few cube puzzles to break up the seemingly never-ending sequence of fights, but they're so rote by now it's hard to muster interest in them. Your choices are just as laughably meaningless as they were in The Shianti Halls. As I had feared, the completed story is quite weak, a contrived RPG plot fluffed up with a lot of fantasy tropes. In the end, Joe Dever's Lone Wolf heavily depends on the very thing that enabled it to catch eyes in the first place: the combat.
Sunburn!, $2.99 [Review] – I will forever admit to being a sucker for games with pixel art, and Sunburn had immediate appeal to me based on that, but also thanks to its unique premise: instead of trying to save everyone, the goal is to control the jetpack-equipped astronaut captain, trying to get a bunch of stranded astronauts together, and launch into the sun so that nobody dies alone. But there's limited oxygen, so there's some planet-hopping involved, fiery asteroids to avoid, and a chain of astronauts to string along, trying to make sure they don't suffer a solitary demise while trying to get to the collective goal. This means that death is an odd thing, because dying itself might not be the ultimate goal. It's about making sure everyone suffers a quick death, rather than dying alone in the middle of space. That's a new one! It's a clever and macabre concept for a space physics puzzler, and while the game has issues, the concept alone is well worth checking out.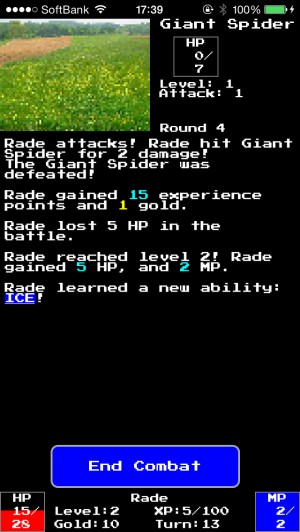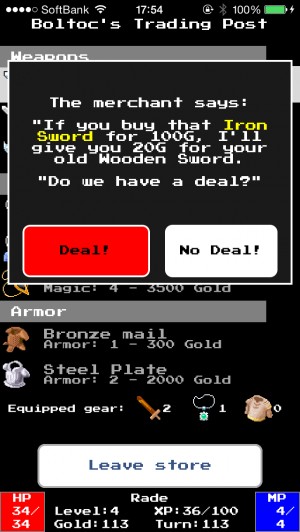 Vigil RPG, $1.99 [Review] – Vigil RPG has a very specific appeal. It works well for me, but I can definitely see it not rubbing others in the same way. It openly aims at a retro JRPG vibe, in many ways feeling like something of the first Dragon Quest's vintage. Like older games in the genre, there's quite a lot of combat, and it's a good thing, too, because you'll need every point of experience you can earn. Although each individual battle involves a reasonable amount of strategy, the attrition that results from fighting your way to your target means that there are somewhat loose level restrictions if you plan to survive. Battles are all one-on-one, so you're really only having to manage one set of actions at any given time, along with keeping an eye on just a single enemy. While there's a story, it's quite sparse and is just an excuse to get you on to your next dungeon and boss. There's very little character customization involved in leveling up, and equipment upgrades are all linear. These are all very old-school principles, but they're just one side of Vigil RPG.
Zengrams, $1.99 [Review] – Zengrams has the same basic idea as Tangrams. On each stage, you are given a specific set of pieces and need to use all of them to fill a shape. Unlike the traditional game, you can't rotate these pieces, but in lieu of that, you are given an interesting new ability, and one really only possible in electronic form. The pieces can come in different colors, and various things can happen when they come in contact with each other. If two pieces are the same color and touch one another, they become one piece. If they overlap, the colors will combine to create a new color and a new piece that can be moved independently of its parents. Typically, the pieces you are given at the start of a stage are far too big to fit in the target shape, so you'll almost always have to make use of this ability in order to solve the puzzle at hand. Adding extra challenge, and perhaps a guiding light to the clever, you're given a limited number of moves in which to clear the stage.
Additionally, we reviewed a few other games this week. As always, you can dig into all of our reviews by clicking here. Alternatively, you can hit up specific scores by using these links: