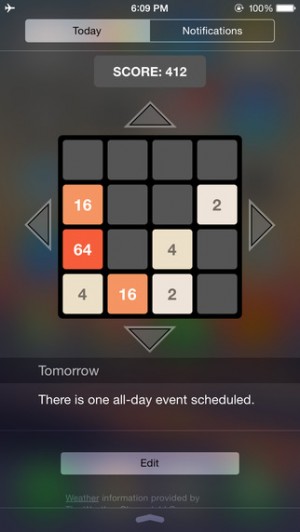 The release of iOS 8 allows for 3rd party widgets to live a happy life right on your today screen. Some of these widgets do useful things like adding detailed weather information via Weather Underground , send quick notes to Evernote in Neato or add a calculator with PCCalc . Others do silly things like checking up on your character in Godville (Free), fiddle around playing the Flappy-like Overglide ($0.99)… And now, of course, play the ultra-popular Threes! ($5.99) clone 2048 with the just-released 2048 in Widget! ($0.99).
If you're still somehow in the heat of 2048 mania, which I thought had passed by now, and are so into the game that you need the instant access of playing it straight from your Today screen, your prayers have been answered. For everyone else, this news will probably just make you say, "…Really?"
Regardless, it'll be interesting to see what happens with iOS 8 widgets. Judging by existing App Store approval drama and removal threats from Apple, it's not entirely clear what Apple wants out of widgets. Personally, I think developers should be able to make whatever dumb widgets they want, and leave it up to the App Store customer base to vote with their dollars and downloads. I guess we'll just have to wait and see how this all shakes out.