Alright folks, strap in for a pretty epic night of new iOS game releases. Well, I guess one man's epic night is another's "weak week", but personally there are a ton of games I'm excited for tonight. New Kingdom Rush, new Earn to Die, Checkpoint Champion, Crossy Road, One More Line… the list goes on for games that are total insta-downloads for me. I even threw Vainglory in on this list even though it came out a few days ago, just in case anybody missed it. What are you excited for? Let us know in the comments which games you'll be going for tonight.
---
Ancient Battle: Successors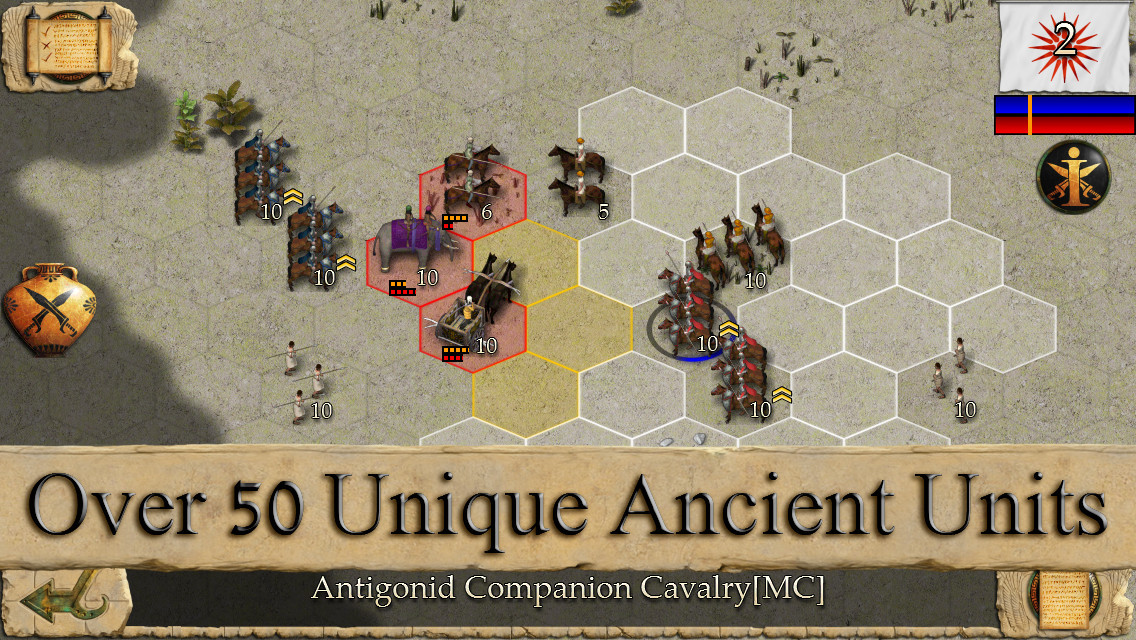 iTunes Description
Ancient Battle: Successors is the latest edition to the Ancient Battle series for iPhone and iPad. Alexander the Great died on 13 June 323 B.C., leaving no heir. Perhaps foreseeing the many great conflicts that would follow his demise, he left the Macedonian Kingdom 'To the best man'. These lands, spanning most of the known world, were divided between his former generals, who saw themselves as rightful Successors (or 'Diadochi') to the Kingdom. The Successors plunged into a maelstrom of epic conflict as they fought for power and glory. Now you have the opportunity to reign supreme over your rivals, if you can first defeat them on the battlefield. Use units such as Greek Pikemen, Macedonian Pikemen, Spearmen, Archers, Indian Elephants, Chariots, Cavalry, and Javelinmen to engage in some of the largest battles of the ancient world.
Forum Thread: Ancient Battle: Successors (by Hunted Cow Studios Ltd.)
---
BattleMage
iTunes Description
Evil has begun to creep from the darkness, approaching the villages and threatening the kingdom. The king has called on a young mage to save the land! That's you!

BattleMage is a fast paced side-scrolling action RPG. Take control of your mage, as you fight an army of orcs, spiders, and undead! Reach the end of each stage before the enemies over-power you, and level-up your hero to gain powerful spells, skills, and gear.
Forum Thread: BattleMage (by Nick Joyner)
---
Berry Hill
iTunes Description
Tired of playing the same game again and again?

Berry Hill is a unique experience: touch a berry to send it to every connected point. If two berries collide, you collect them! Easy? Not so sure…

Go around more than 100 levels through 5 game modes and tons of variants.

Are you up to the challenge? Then grab your basket and have a good harvest!
Forum Thread: Berry Hill – A unique puzzle game
---
Blitz Racer
iTunes Description
Blitz Racer is a fun racing game, with a minimal art style, unique controls and challenging gameplay. Unlock and race through 6 challenging tracks, and become the world's best Blitz Racer!
Forum Thread: Blitz Racer – by Mudloop
---
Checkpoint Champion
iTunes Description
It's time to burn rubber!

Put your driving skills to the ultimate test in a series of fiendish 10-second challenges! You'll need technique and tenacity as you hit and weave through checkpoints on road, dirt, water, grass and mud! Choose between grip and speed as you drift between obstacles, spin around hairpin turns and turbo your way to victory. The challenges may be small, but only the most dedicated drivers will triumph!
Forum Thread: Checkpoint Champion (by Protostar)
---
Crossy Road – Endless Arcade Hopper
iTunes Description
Why did the Chicken cross the road?
Why did the Pigeon leave THAT there?
Why did Specimen 115 abduct that cow?
Why did Unihorse eat all that candy?
Crossy Road™ is the endless arcade hopper you'll never want to put down.
Forum Thread: Crossy Road – Endless Arcade Hopper (by HIPSTER WHALE)
---
Earn to Die 2
iTunes Description
Drive your car through a zombie apocalypse in this massive follow-up to the chart-topping hit Earn to Die!

An evacuation ship is waiting on the other side of the country. The only thing that stands in your way: city after city overrun by zombies . With only a run-down car and a small amount of cash you face a familiar situation… to drive through hordes of zombies in order to survive!
Forum Thread: Earn to Die 2 – (by Not Doppler)
---
Food Battle: The Game
iTunes Description
Ian, Anthony, and all your favorite SMOSH characters come together in the ultimate Food Battle where only YOU can save the village of Tickputt from an evil army of killer donuts! I know what you're thinking -ooooh, how do the donuts kill, with heart disease? These are serious killer donuts made in a super evil abandoned factory by a super evil mad baker who spliced their genes and made them super evil – so SHUT UP!

As Anthony, you'll battle your way through five magical, increasingly creepy worlds. In order to survive, you'll have to solve some seriously sick puzzles, find and collect food weapons, and get through a ton of crazy levels to reach the final face-off against your old enemy, the evil pink frosted sprinkled donut! And then, just when you think your enemy is defeated, you get smacked with the tastiest plot twist in the history of plot twists!
Forum Thread: Food Battle: The Game (by Defy Media, LLC)
---
Football Manager Handheld 2015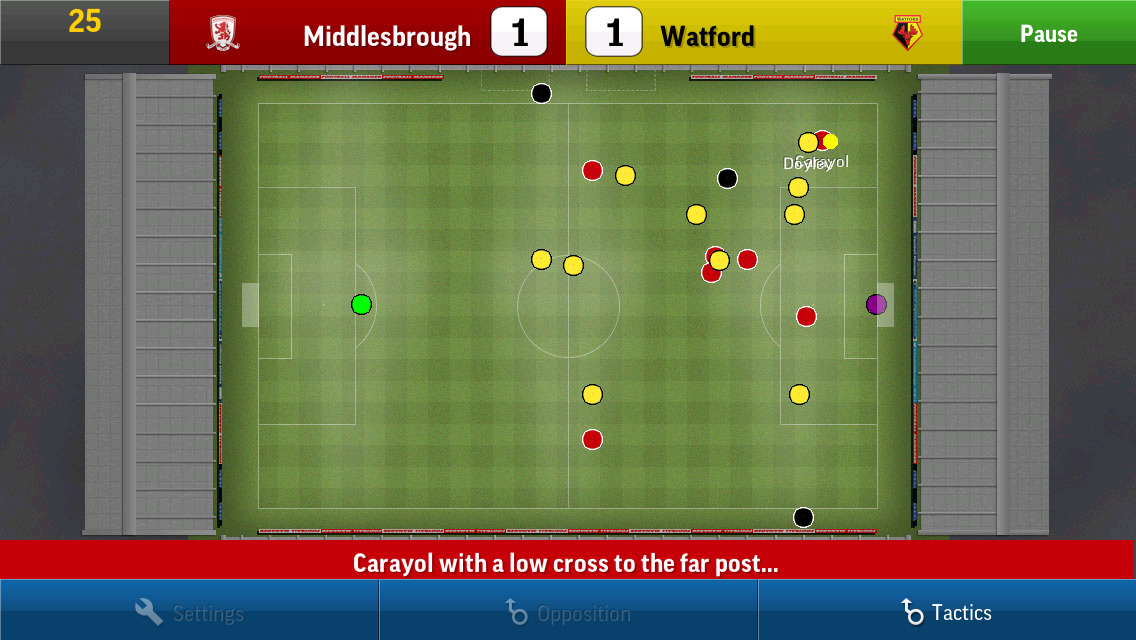 iTunes Description
Football Manager Handheld 2015 is the latest release in the best-selling, award-winning series on mobile and tablet devices which allows you to live out the dream of managing your favourite real-life club.

You're in the hot-seat, you make the decisions on transfers, tactics and you take charge from the touchline on match days. Do you have what it takes to become a legend in the high pressure, high emotion world of football management?
Forum Thread: Football Manager Handheld™ 2015 (By SEGA)
---
The Hunted
iTunes Description
Get ready for a new kind of multiplayer experience…

Nine Hunters from across the galaxy have been abducted, cloned, and forced to fight in the arena. Gather your friends and jump in to live out these action-packed multiplayer battles!

With mobile optimized dual-stick shooter controls and an inventive limited field of view you get a multiplayer deathmatch game that is perfect for your iPhone or iPad.
Forum Thread: The_Hunted (by F5 Games)
---
Impossible Draw
iTunes Description
Mimic the signs of virtuality to progress through a world where colors, shapes and music forms an ecstatic atmosphere. Draw symbols, collect bytes and enjoy the hypnotic mix of audiovisual harmony!

Test your drawing skills, while your mind will be carried to an ever-changing computer space made from relaxing elements. Impossible Draw was built upon the basic concept that even the world's most trivial looking symbol can be challenging if you try to draw it accurately. If you're up to the challenge, Impossible Draw rewards your efforts with various unlockable extras, which makes it an even deeper, dream-like experience. Customize your trips (as you try to master your skills) with various game modes, special effects and soundtracks. Therefore, every replay could be a unique experience.
Forum Thread: Impossible Draw (by Istom Games Kft.)
---
Kingdom Rush Origins
iTunes Description
Kingdom Rush: Origins is the third installment of the award-winning Kingdom Rush saga, loved by millions and earning accolades from gamers and critics around the globe. Take a trip back to the beginning, before Vez'nan ever thought to threaten the kingdom with the gem of power, and experience even more of the lightning-fast, exceptionally captivating gameplay that made the franchise a cornerstone of essential tower defense games. In this exciting prequel, command your elven army and defend mystical lands from sea serpents, evil sorcerers, and wave after wave of gnoll tribesman, all with the help of brand-spankin' new towers, heroes, and spells to fend off every last baddie.
Forum Thread: Kingdom Rush Origins (by Ironhide Game Studio)
---
Knituma – The Crazy Knitting Game
iTunes Description
It is getting cold and the time has come to knit a scarf, not just to warm you, but to warm the entire planet! This is a game about a bear named Kuma on a mission to knit the longest scarf you will ever see. Help him by collecting yarn for his scarf by dragging the yarn to the basket. Hurry up for you only get one minute each time to make the scarf as long as possible.

As you help Kuma there will be many threats to overcome, pesky creatures such as cats and moths are on the hunt for yarn. Then there are the natural enemies of any knitter: sharp objects that cut straight through any thread.
Forum Thread: Knituma – The a Crazy Knitting Game (by Paprika Games)
---
The Last Door: Collector's Edition
iTunes Description
Feel what it's truly like to be alone in the dark with this low-res, high-suspense point-and-click horror adventure, winner of multiple Best Games of the Year awards. Set in Victorian England, when Jeremiah Devitt receives a letter from his old schoolmate Anthony Beechworth with a hidden, cryptic message, he knows something is wrong. His journey to an abandoned manor is only the beginning as he starts to remember a long-buried secret from his youth, discovering things man was not meant to know, and opening doors that should have remained closed…

The Last Door: Collector's Edition contains four terrifying episodes of occult and otherworldly horror inviting you to investigate Victorian England's deepest, darkest secret. Featuring new scenes and puzzles, enhanced graphics, unlockable bonuses, and remastered sound. Explore ancient manors, decaying tenements, and twisting underground warrens with little but a lamp and magnifying glass to guide you. Dare you open The Last Door: Collector's Edition?
Forum Thread: The Last Door: Collector's Edition (by Phoenix Online Studios)
---
Monster Feeder
iTunes Description
Ever wanted to feed hungry monsters? Here's your chance! Monster Feeder is an old-school arcade style casual game. Become a Monster Feeder and feed your monsters with fresh meat and vegetables! Unlock awesome themes and famous-like monsters, then go up to the top of the leaderboard and share your success on the net.

Monster Feeder grants instant fun while it is packed with more than a dozen monsters, a fistful of themes, a couple of leaderboards, several achievements and who knows how many hours of fun!

Don't let your monsters starving!
Forum Thread: Monster Feeder (by Istom Games Kft.)
---
Ms. Kong
iTunes Description
Deep lush jungles are dangerous places to swing across. Unless you are a 500 pound gorilla lady chasing stolen bananas to feed her baby! When Ms. Kong swings, trees will break and animals will cry!

Introducing Ms.Kong for the first time in this fabulous and fast-paced runner!
Forum Thread: Ms. Kong (by Headup Games GmbH & Co KG)
---
Offroad Legends 2
iTunes Description
This is your chance to experience the thrill of driving Monster Trucks, desert Trucks and 4×4 off-roaders over amazing jump filled tracks.
Experience cutting edge graphics, ground breaking physics and adrenaline-filled excitement in Offroad Legends 2!
Forum Thread: Offroad Legends 2 (by Dogbyte Games Kft.)
---
One More Line
iTunes Description
ONE MORE LINE is a highly addictive, one button, space disco, skill timing game!
Created by Sydney based developers SMG Studio.
Forum Thread: One More Line (by SMG Studio)
---
Pair Solitaire
iTunes Description
Pair Solitaire is a new kind of solitaire! Match Pairs! Explore deep strategy!

As you might have guessed, Pair Solitaire is all about the joy of pair matching.
But don't let the simplicity deceive you, hiding underneath is a deep strategy to explore.
This game will bring you the simple joys of solitaire, while challenging your strategy skills at the same time. Give it a try!

Pair Solitaire also features a Daily Challenge mode, which connects players around the world to solve the daily shuffle.
Forum Thread: Pair Solitaire (by Gamer Delights)
---
POPPEM!
iTunes Description
The BALLOON INVASION is imminent. Only your finger can save you now!

Stop the balloon hordes by rapidly tapping and building up an arsenal of defenses. If the balloons reach the top of the screen, its game over. Why? Blame Ned.

Fortify your defenses and compete online for the highest score. It's easy to play but hard to master. Merry poppings! heh heh
Forum Thread: POPPEM! (by Cubegrinder Studios)
---
Quetzalcoatl
iTunes Description
Quetzalcoatl is your new challenge! Be prepared to push the limits of your brain with its 180 carefully designed snaky puzzles! Dozens of hours of gameplay are awaiting you!
Forum Thread: Quetzalcoatl (by 1Button SARL)
---
Smash Jungle
iTunes Description
Smash, crush, and slam your way through a collection of cute and innocent creatures with a touch of the screen, or check the leaderboards to see who can reach the highest score! Don't forget to watch out for bloodthirsty Bombs, spiky Porcupines, and Death itself!

Keep your combo going and heal up by smashing raccoons, birds, and other creatures as fast as you can while avoiding bombs and hazards before time runs out.. But it's not over yet! Keep Death at bay with the scores of your prey!

With sharp reflexes and a keen eye, you can become the king of Smash Jungle!
Forum Thread: Smash Jungle (By David Scatliffe)
---
Super Bunny World
iTunes Description
Welcome to Bunny World! Run in an endless world as you collect coins and carrots! Watch out for all the crazy critters in Bunny World, stomp or dodge those that get in your way!

Super Bunny World is a game inspired by classic platformers, reminiscent of the good old SNES era. Post your score using GameCenter or share it on your favorite social network. For some extra challenge, try to unlock all 10 achievements!
Forum Thread: Super Bunny World (by Hei Games)
---
Swing Tale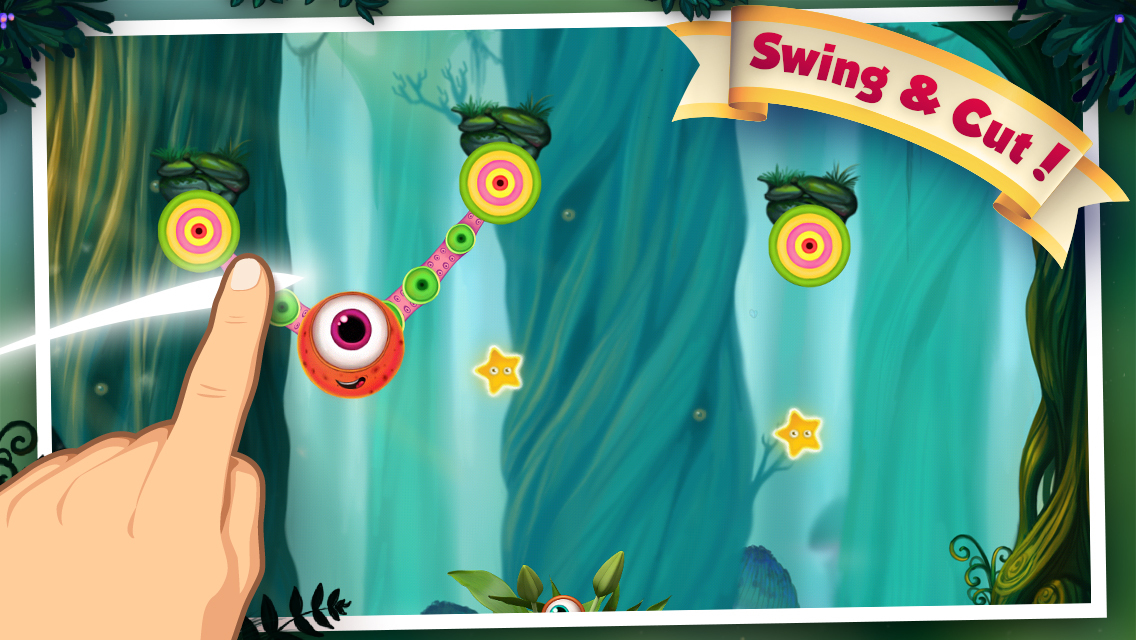 iTunes Description
Shh… I think they are watching you. The trees, the plants, did you notice? This is not an ordinary world… It's a magical world – and it needs your help!

Swing Tale takes you on a wondrous journey. A journey to let the world bloom again.

Control a fun little creature and move it by using its tentacles to grab and swing.
Use the environment and find out how to reach the hidden flowers. Make them bloom again!

Swing Tale is an unusual puzzle adventure with an atmosphere that will draw you into the world like never before.
Forum Thread: Swing Tale (by FDG Entertainment)
---
Vainglory
iTunes Description
Outplay real opponents in this deep, uncompromising real-time MOBA. Fight with lightning-fast controls using powerful heroes. Destroy the enemy Vain crystal and claim glory! Watch the preview video now to see real gameplay of 3-vs-3 multiplayer battles. (Yeah, it really looks like the screenshots.)
Forum Thread: Vainglory/Vainglory for iPhone – (by Super Evil Megacorp)
---
Wars and Battles
iTunes Description
Wars and Battles is a platform of turn-based wargames that simulate historical battles and campaigns over several centuries and continents. Wars and Battles offers you rich and immersive graphics, intuitive yet sophisticated gameplay and hours and hours of game. Integrating the sophistication of traditional wargames into tablets is our commitment to players fond of strategy, history or the military.
Forum Thread: Wars and Battles – Turn-based Strategy Wargames (by Kermorio S.A.)
---
Wild Wild West
iTunes Description
Are you the deadliest cowboy in the West? How will you become the best gun fighter in town?

Prove it in Wild Wild West! Be the fearless cowboy in his mission to wipe out this crazy invasion!
Forum Thread: Wild Wild West (by Pine Entertainment)