It's another Wednesday full of new iOS games, which have been making their way across the globe all day and have finally arrived in the US App Store. Probably the biggest release of the week is Hail to the King: Deathbat, for a couple of reasons. One is simply because it looks like a neat hack 'n slash dungeon crawler, but it's also associated with a big-name band (Avenged Sevenfold) and is doing quite the opposite of most licensed mobile games in that it unapologetically targets hardcore gamers rather than trying to appeal to a more mainstream, casual crowd. Should be interesting. Also, the popular card game Sentinels of the Multiverse has arrived on the iPad, and early signs seem to point that it's a winning digital conversion. As always, let us know what you're getting in the comments below!
---
Adrenaline Rush Miami Drive
iTunes Description
Hit the road in the most groovy car chase ever. Buckle up, feel the sun of Miami and enjoy the ride!

Let the groove get in and play as Ray Carlton, a driver who likes to push around cops. Visit the garage, pimp your car or buy a new one and show everyone who's got the saturday night fever!

Drive at high speed by tapping left/right or by tilting your device and rush as far as possible. Speed through traffic, take down other cars and use power-ups to leave the cops behind.
Forum Thread: Adrenaline Rush Miami Drive (by Bulkypix)
---
Angry Birds Transformers
iTunes Description
Angry Birds and Transformers collide in this action-packed, 3D shoot 'em up adventure! The EggSpark has transformed the eggs into crazed robots who are destroying Piggy Island, but who can stop them?! Autobirds, ROLL OUT!

Have you ever seen an alien robot Angry Bird? Enter the AUTOBIRDS! This brave band of heroes features Red as Optimus Prime, Chuck as Bumblebee and… well you'll meet the rest soon. They've got lasers and they turn into cars. Plus they have arms and legs – that's a first!

But the courageous Autobirds can't save Piggy Island on their own – to stop the EggBots they'll need to join forces with their arch rivals the DECEPTIHOGS (like Decepticons only smellier). Can these bitter enemies team up and put aside their differences? Yeah right….
Forum Thread: Angry Birds Transformers (by Rovio Entertainment Ltd)
---
Bee Brilliant
iTunes Description
Join the buzzing beedazzling puzzle adventure!

Get ready to connect colourful lines of Ba-bees and make awesome combos with the crazy Busy Bees. Play your way through Beeland in 6 different game modes and more than 100 addictive levels!
Forum Thread: Bee Brilliant (By Tactile Entertainment)
---
Bitti Rush – Bitti Cubbi
iTunes Description
Bitti Cubbi Episode 1 – Bitti Rush
Stone age Bitti Cubbi facing crisis!
The volcano is exploding and a thousand of fireballs are rushing out
Can Bitti Cubbi dodges those hot rocks?
And what treasures hidden in the fire rain?

Bitti GO Cubbi!
Forum Thread: Bitti Rush – Bitti Cubbi (by Taplay Limited)
---
Bunnies' Empire
iTunes Description
Oh no! The nasty Fox Clan is trying to loot the Bunnies' Empire! Command an army of bunnies with a very special set of skills to protect the gardens and teach the Foxes a lesson they won't soon forget . . .

Bunnies' Empire is a beautifully drawn, fast-paced tower defense game with steadily increasing difficulty, awesome character design, and upgradeable skills. Keep the enemies on their toes with quick strategic thinking and cunning moves. Upgrade your Bunnies to deliver maximum damage. Fortify your garden and keep the Foxes away!
Forum Thread: Bunnies' Empire (by Dominic Hamelin)
---
Crossed
iTunes Description
Think you're a master of matching games?

You'll know the format of Crossed and be able to pick it up straight away – but will you be able to put it back down again?

Crossed is a strangely addictive twist on the popular matching games you know and love – but things have come a long way since Te*ris!
Forum Thread: Crossed (by Monkeybin)
---
Hail to the King: Deathbat
iTunes Description
Deathbat is a 3rd person, overhead dungeon crawler action RPG in the vein of The Legend of Zelda, Gauntlet Legends, and Diablo. The game's story is based on the mythical origin of the Deathbat, Avenged Sevenfold's logo and mascot. The game's design is not for the faint of heart as players will need to traverse massive levels, combat skillful undead, and best unforgiving bosses. The epic story follows Andronikos, the resurrected King of the Underworld and the embodiment of the Deathbat, who is tasked with reclaiming the lands of Haides from the despotic Dark Andronikos. Along the way you'll mix and match brutal melee combat with projectile magic attacks battling through beautifully designed and hellish landscapes inspired by the band's iconic discography and artwork. Interact with characters along the way to solve puzzles and unlock the mysteries of Moros Island.
Forum Thread: Hail to the King: Deathbat (by Avenged Sevenfold)
---
Hay Ewe
iTunes Description
Meet Matilda: A rather pudgy sheep on a glorious adventure to navigate tricky puzzles all across the globe in order to round up a rather mischievous group of stubborn lambs.

Help Matilda navigate these highly challenging puzzles while at the same time, collecting unique items to help her achieve her goals!

Along the way you'll discover 18 quirky characters like the pesky fox, the angry bull, the furious polar bear or even the candy-stealing crow, with no shame, who'll want to stop you in your tracks! But don't worry; you'll get much needed help from characters such as a plump walrus and portal digging rabbits!
Forum Thread: Hay Ewe (by Team17 Software)
---
Helix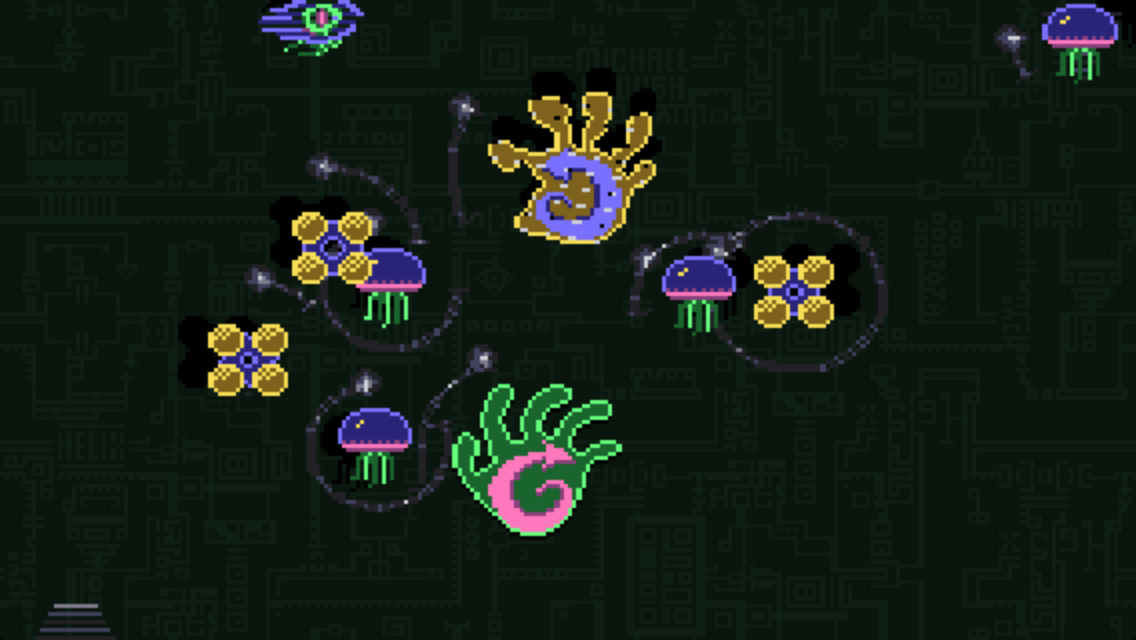 iTunes Description
Helix is a shoot-'em-up with a twist. Encircle your enemies to destroy them and score points.

Honourable mention for IGF Design award 2013.

By the creator of 868-HACK, Corrypt and Glitch Tank.
Forum Thread: Helix (by Michael Brough)
---
Hyspherical
iTunes Description
A game that looks beautiful but may just bring out the ugliness in you!

Its rotating circles are unlike anything you've seen before and it's your job to make sure they don't crash –which sounds easy but gets progressively challenging.

Hysperical is really easy to grasp right away, but oh-so-hard to master – have fun along the way!
Forum Thread: Hyspherical (by Monkeybin)
---
Lion Pig
iTunes Description
A new animal is in town!

Lion Pig is an arcade-style platform / speed run game featuring pixel graphics. From the bright and sunny grasslands to the moss-covered skyscrapers of Techno City, you will run, climb, swim and bounce your way through 7 different worlds, each with unique challenges. Climb walls, scale ceilings and use your lion strength to maneuver through each level to collect all of the golden coins. If you complete levels fast enough you will unlock bonus levels which offer a very unique experience!
Forum Thread: Lion Pig (by Selosoft)
---
Maria the Witch
iTunes Description
A fantastic adventure and addictive game !
TRY an RETRY , to control her clumsy broom and travel through many different magical worlds
Cross the magical portals and face funny cute evil enemies !
Locate and get coins to buy checkpoints
Many different items help you to get coins and mails !
Forum Thread: Maria the Witch (by Na.p.s Team)
---
Miner Man
iTunes Description
Dig as fast and deep as you can with your miner before your time runs down!
Miner is a casual reflex game in pixel art style.
Speed and fast decision-making is vital in this game.
Master your skills to beat your and your friends' records.
Be the first on the leaderboards!
Forum Thread: Miner Man by Invictus
---
NBA 2K15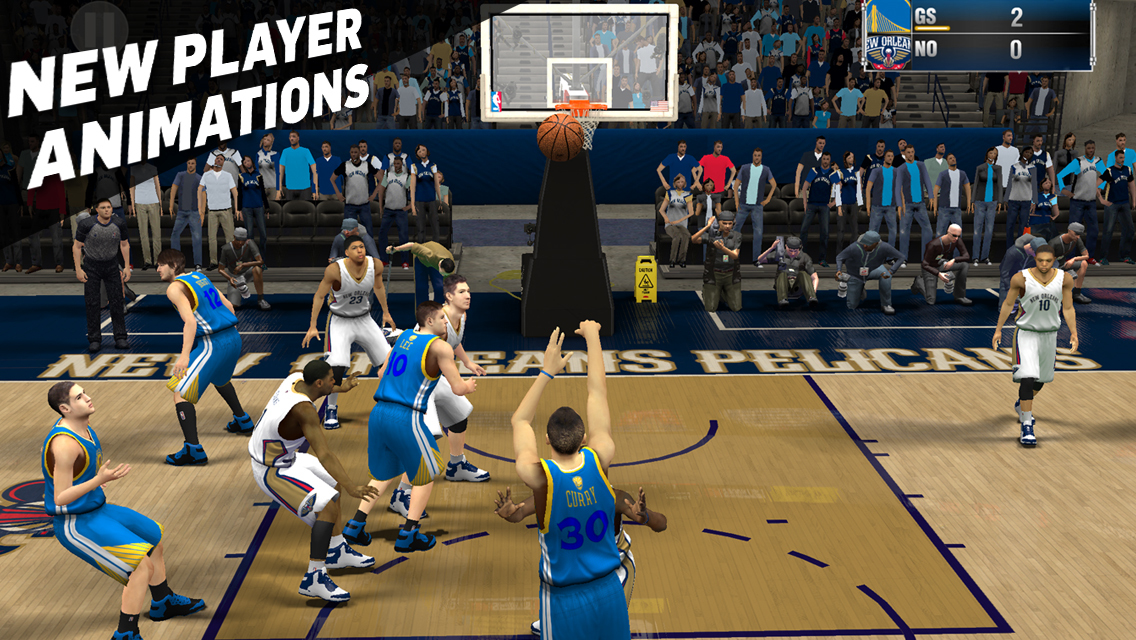 iTunes Description
The NBA 2K franchise returns with NBA 2K15, our most true-to-life NBA experience yet on mobile. Featuring NBA MVP Kevin Durant and an eclectic soundtrack curated by internationally-renowned artist and producer Pharrell Williams, NBA 2K15 hits the court with vastly improved graphics, ultra-realistic NBA gameplay, and more. An authentic NBA adventure awaits! It's up to you to claim your destiny. #YourTimeHasCome.
Forum Thread: NBA 2K15 (By 2K)
---
Red Riding Hood and the Restless Wolves
iTunes Description
Red Riding Hood like never before….

Dr.Riding Hood (noted particle physicist) and her team are on the cusp of a new era in clean energy. Their Antimatter Reactor will brighten the world's future and usher in a clean, sustainable energy source to the world's power suppliers.

One night, when Dr.Riding Hood is working late, an anomaly in the algorithm causes a particle blast that sends Dr.Riding Hood through time and space. She, now lost and timeless, must find her way back home.
Forum Thread: Red Riding Hood and the Restless Wolves (by whaleo)
---
Sentinels of the Multiverse
iTunes Description
Calling all Sentinels! Do you have what it takes to defend the Multiverse? Compose a team of superheroes, each with their own playstyles, backstories, and grudges. Pit them against a variety of maniacal and formidable villains. Defeat your enemies and save the Multiverse!

Sentinels of the Multiverse is the award-winning game in which players join forces as heroes to combat a dastardly villain in a dynamic environment. At long last, you can play a 100% faithful adaptation of Sentinels on your iPad!
Forum Thread: Sentinels of the Multiverse (by Handlelabra Studio LLC)
---
Shooting Showdown 2 Pro
iTunes Description
"The closest experience you can have to the actual thrill of being out on the range." – Sgt. Jeremy A. (USMC), Advanced Weapons and Tactics Instructor

Experience the game that changed the FPS genre forever. Match up against your friends, your enemies, or anyone in the world in the first virtual reality shooting range!
Forum Thread: Shooting Showdown 2 Pro (by Naquatic)
---
Strung Along
iTunes Description
Take control of a puppet as you literally walk your way from start to finish!

Strung Along lets you control a wooden stage puppet step by step, literally. Avoid obstacles by walking, jumping and grabbing onto things. The game features a wide array of different acts with platforming, balancing and timing puzzles. There is also the endless mode to perfect and practice your moves and stay upright as long as possible.
Forum Thread: Strung Along (By Tommi Saalasti)
---
Tiny Realms
iTunes Description
For the first time in a mobile strategy game, experience FREEDOM of CHOICE: Which unique Faction will you lead to dominate the Realm of Light?

Play as the cunning HUMANS, the powerful DWARVES or the speedy TEGU lizards. You can choose to play as a single faction, or build Realms with each!

Design amazing fortresses and recruit massive armies of steam powered robots, polar bears, mammoths, wizards, shaman, dinosaurs, yetis and more!
Forum Thread: Tiny Realms – (by TinyMob Games Inc)
---
Wrestling Revolution 3D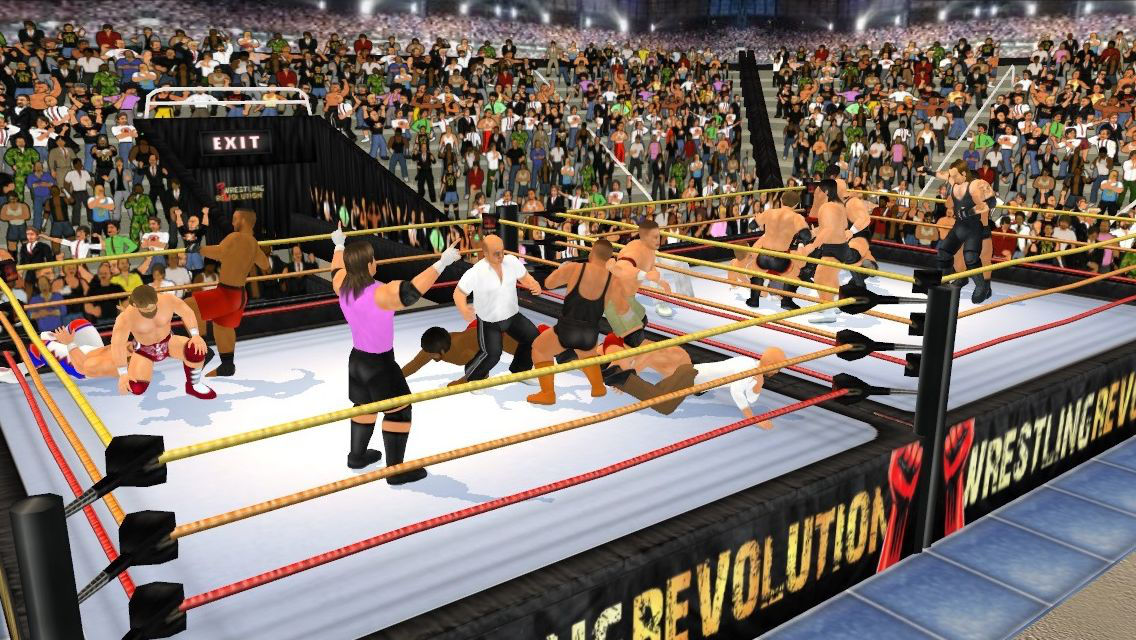 iTunes Description
The biggest 3D wrestling sim on mobiles has arrived to demonstrate the power of the latest iOS devices! The 2D original quickly became the most downloaded and highly rated wrestling game on mobiles, and now the "Wrestling Revolution" rumbles into a whole other dimension. With a host options to help you fine tune the content for your needs, it's possible to have up to 10 wrestlers on screen at once – so many in fact that it also takes gaming's first DOUBLE ring to contain the action!
Forum Thread: Wrestling Revolution 3D (by MDickie)
---
Zero Lives
iTunes Description
Zero Lives is a puzzle game. Simple and elegant at its core but deep and captivating the more you play. Each puzzle will challenge you to collect every heart. Simply move the dot from point to point trying to collect each heart.
Forum Thread: Zero Lives (by Snow Covered Games)