Hello, gentle readers, and welcome to the RPG Reload, the weekly features where we attempt to take over the world by being the best heroes we can be. Each week, we take a look at an RPG from the App Store's past to see how it's doing these days, how it holds up, and how the wife and kids are. All kinds of RPGs are welcome in this feature, and I'll always do my best to mix things up from week to week. To keep my madness in check, however, once a month I throw the selection to you, the readers. Simply leave a comment below or drop into the Official RPG Reload Club thread in the forum to tell me what you'd like to see me play in the next reader's choice column, which will be RPG Reload File 013. Yes, the five Thursdays in October mean you guys have an extra week to vote this time around, so make your voices heard. You can also comment or post about the game I've written about, or RPG things in general. Fresh comedy is also welcome.
I have to make a confession, friends. Even though I'm rolling into my mid-life crisis years and live in Japan, I still absolutely adore Hallowe'en. It's my second-favorite celebration of the year, and my day job allows, nay, encourages me to wear a costume every Hallowe'en. So it should come as no surprise that I'm throwing over the month of October in the RPG Reload to that awesome day. For the rest of October, we're going to be looking at spooky, scary, Hallowe'eny RPGs, and we're kicking it off this week with the best RPG featuring everyone's favorite Lovecraftian horror, Cthulhu. At a first glance, Cthulhu Saves The World ($1.99) looks like yet another attempt to jump onto the Great Old One's near-memetic status. At a second glance, it seems like an amusing comedic RPG. If you look past both of those things, you'll find that even setting aside the much-appreciated presence of Cthulhu and comedy, this is an excellent RPG with some fantastic ideas.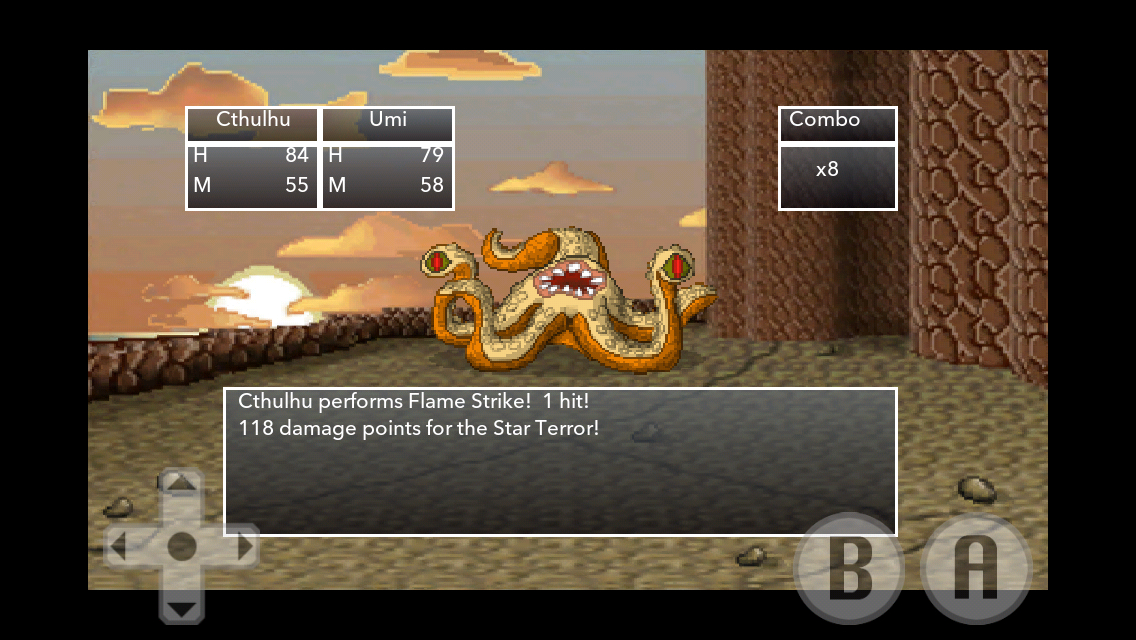 As usual for this feature, I'd like to go into a little bit of the history behind the game. It's not a very old game, so this will be mercifully shorter than usual. Zeboyd Games, the two-man team behind the game, got their start as many indie game developers did on Microsoft's Xbox Live Indie Games service. Initially, they released a couple of interactive novels, both with a comedic bent to them. Their first big release was Breath Of Death VII, a faux-retro JRPG-style game starring a party of monsters. The team at Zeboyd are obviously big fans of RPGs, and it shows in the game. Not only is its story a comedic subversion of the tropes of the genre, but the actual mechanics themselves also subvert some of the lazier trends found in JRPGs. Apart from a few refinements, most of these mechanics carried forward into Cthulhu, so I'm not going to go into detail here. What's important is that Breath Of Death was a decent-sized hit for a small team, paving the way for another JRPG-style game from Zeboyd.
That game would be Cthulhu Saves The World, released just before the end of 2010 on December 30th. Initially, it was only available on Xbox Live Indie Games, but a successful Kickstarter campaign brought a special edition to Steam and Xbox Live Arcade, titled Cthulhu Saves the World: Super Hyper Enhanced… you know what, I'm just going to keep calling it by the short name, for sanity's sake. It released on PC on July 13th, 2011, along with a PC port of its predecessor, where it was an even bigger success than it was on Xbox. Finally, via TinkerHouse Games, it made its way to mobiles around one year later on June 22nd, 2012. Presumably, it wasn't as successful as hoped, because TinkerHouse and Zeboyd would go on to release just one more mobile title before bowing out, Penny Arcade's On The Rain-Slick Precipice Of Darkness 3 ($2.99). We'll talk about that one another time.
For now, let's turn back to Cthulhu Saves The World. Like Breath Of Death, it's a humorous, faux-retro, JRPG-style game. You'll be doing many of the things you would expect from a classic JRPG, going from town to dungeon to town via an overworld map, following a fairly linear story, and gathering up a party of characters each with their own abilities and personalities. Encounters are random and invisible, and the battles are turn-based affairs where you can attack physically at no cost or expend some MP to use more powerful attacks. Essentially, its core is a variation on Dragon Quest ($2.99), but I'd hesitate to diminish it by insinuating it's just a generic knock-off. After all, even greats like Earthbound and Phantasy Star riffed off of that benchmark game. What makes or breaks a game like this is in the details. It's the difference between one of those games I mentioned and the monthly pulp from Kemco.
As I've already mentioned, the people at Zeboyd are obviously big fans of the genre. It's my belief that inside every video game fan, there's a tiny little designer feverishly taking notes as you play, drawing up ideas for how you would make your own game in that genre. Not everyone, and in fact almost none of us, will actually act on that little voice, but one of the fun things about analyzing games is in spotting what that little designer was screaming to the main brain. In Zeboyd's case, even without the skill of mind-reading possessed by all Pinbot machines, you can still make out some of the things that must have got on their nerves as they played other RPGs.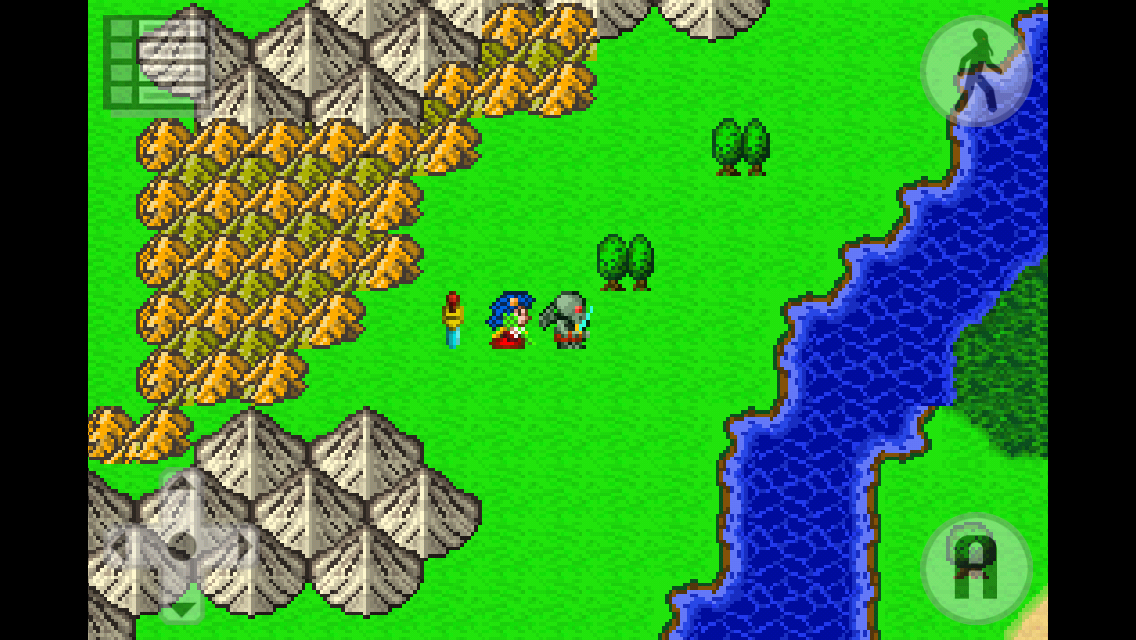 Each area of the game has a set number of random battles that can occur in it. Once you've cleared that amount, you'll never fight another battle there again unless, of course, you want to. You can always summon a fight by selecting a command from the main menu, which is very handy when all you want to do is grind a bit. You can save anywhere, you can teleport right out of a dungeon back to town at no cost, and you can dash around at double-speed from the very beginning. You'd get the impression that the designers hate fighting, but actually, what they seem to hate is pointless fighting. You know the sort. Long, drawn-out battles against trash mobs where you're just selecting attack again and again until it's over. Maybe afterwards, you have to heal up with an item or two, but you're generally not much worse for the wear for your dull strategy. If you try that in Cthulhu, you're going to die very often to even the regular enemies that inhabit the world.
The things I've already mentioned contribute to this, but there are several other factors in play. Items are so rare in this game that they might as well not exist for the most part, but in exchange, you're fully healed after every battle. You'll even get some MP restored, but how much depends on how quickly you resolve the battle. It's in your best interests to wrap things up fast, and if that means each character has to lob a spell or special technique to do it, you'll be compensated. If that's not enough to motivate you, there's also the fact that enemies get stronger with every turn that passes. If someone dies along the way, don't worry, they'll still collect experience points and will be fully restored after the fight just like everyone else. In other words, go all out, because there are a lot of benefits to going hard, and plenty of reasons why you shouldn't be conservative.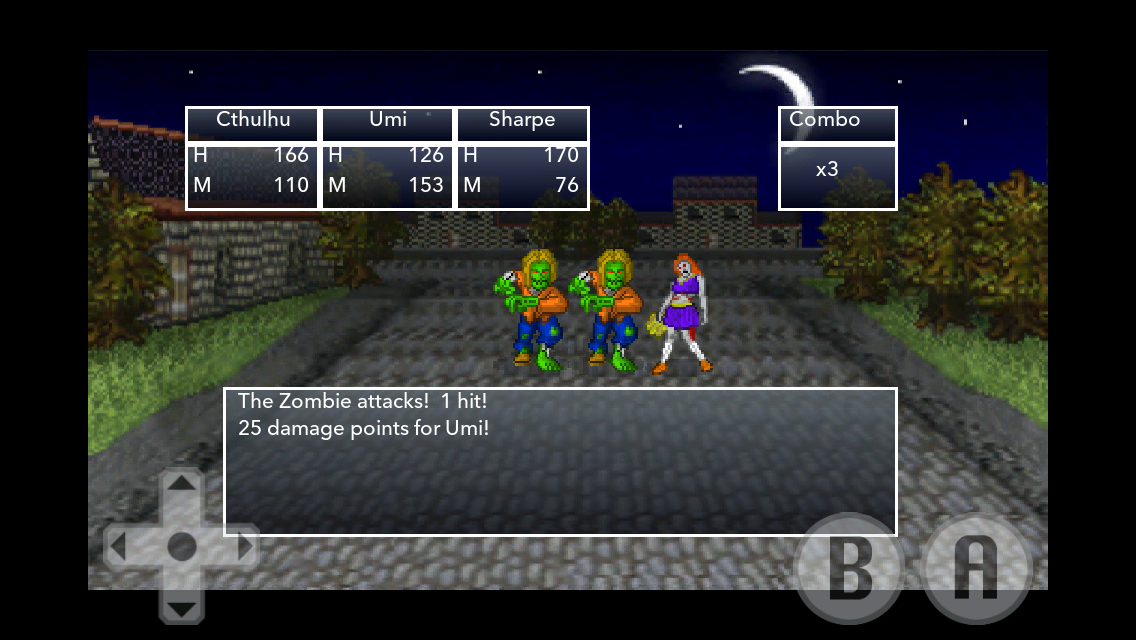 There are two other interesting mechanics in the battles, though one of them never feels quite as important as I think it wants to be. The combo counter carries over from Breath Of Death, allowing you to rack up a multiplier by landing offensive attacks. You can use a combo finishing special attack whenever you like that will do heavy damage and reset the counter. Defensive actions don't add to the counter, and some will actually clear the counter, so you need to carefully consider how far you want to push it. It's essential in boss battles and even against some of the regular enemies. The other idea, this one new to Cthulhu, is the insanity status. Every enemy can be driven insane by various special attacks, which will make them take more damage. Lots of enemies will have special attacks when they're in insane status, though, so you need to be careful, particularly with bosses. It's certainly something you can take advantage of, but I rarely have in the few times I've played through this game.
Essentially, you have to do your best in every battle. Use and abuse status effects, consider the order that you want to take out the enemies in, and use your special attacks liberally. Usually, there's a restore point just before the boss of each dungeon that will refill your MP, so you don't even really have to worry about attrition all that often. Fight hard, because if you don't, it's a quick trip back to the title screen, unless you want to use a precious and rare 1up item. You'll probably die a lot early on when you just have Cthulhu and Umi, especially if you bring some bad habits in from other RPGs. It's important to make frequent use of your ability to save at any time. Once you add a third member, things get a lot easier, and the fourth member follows soon after. You can still die to random encounters, but it becomes a lot less likely.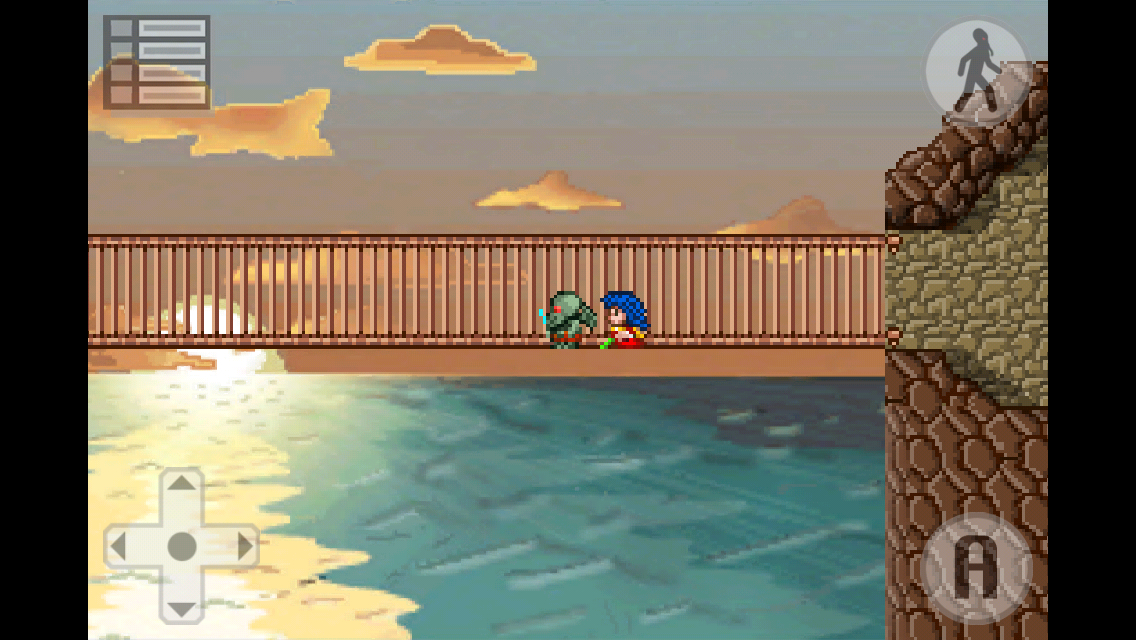 I really like how the game handles character development and leveling up. When you gain a level, you can choose between two different bonuses. It greatly simplifies the process but still gives you a very high degree of customization. In other respects concerning the gameplay, it's a bit less interesting. Dungeons are a bit too big and aimless, though the treasures are valuable enough that you'll want to somehow make sure you've explored every corner. It gets a bit tiresome, since you'll probably want to clear out all of the random encounters first, but that just leaves you wandering around big, samey areas hunting for precious goods. Not as bad as some of the games from the era it's aping, but it stands out compared to the extremely progressive battle system and character building.
Luckily, the story is there to help smooth out some sequences that might grate otherwise. It's a fun adventure, following Cthulhu as he tries to prove himself a true hero in order to regain his evil powers and destroy the world. He's a snarky jerk most of the time, but a loveable one nonetheless. The rest of the party is made up of an interesting mix, to say the least. Part of the fun of the game is in seeing who will join you next, so I won't spoil too much just in case you haven't played it through yet. I also want to mention the way the game handles the standard vehicle that lets you fly around the whole map, because it's awesome. It's kind of an aimless road trip of a story, but it goes in unexpected directions just because they're fun, and resolves in a very satisfying, albeit non-canonical, way. It's a fairly short adventure, even if you take on the optional dungeons. You'll likely see the end within a dozen hours or so. It's not a bad thing, though, since the game has a really nice pace to it without feeling too short. There are also some fun extras if you want to get more juice out of the experience.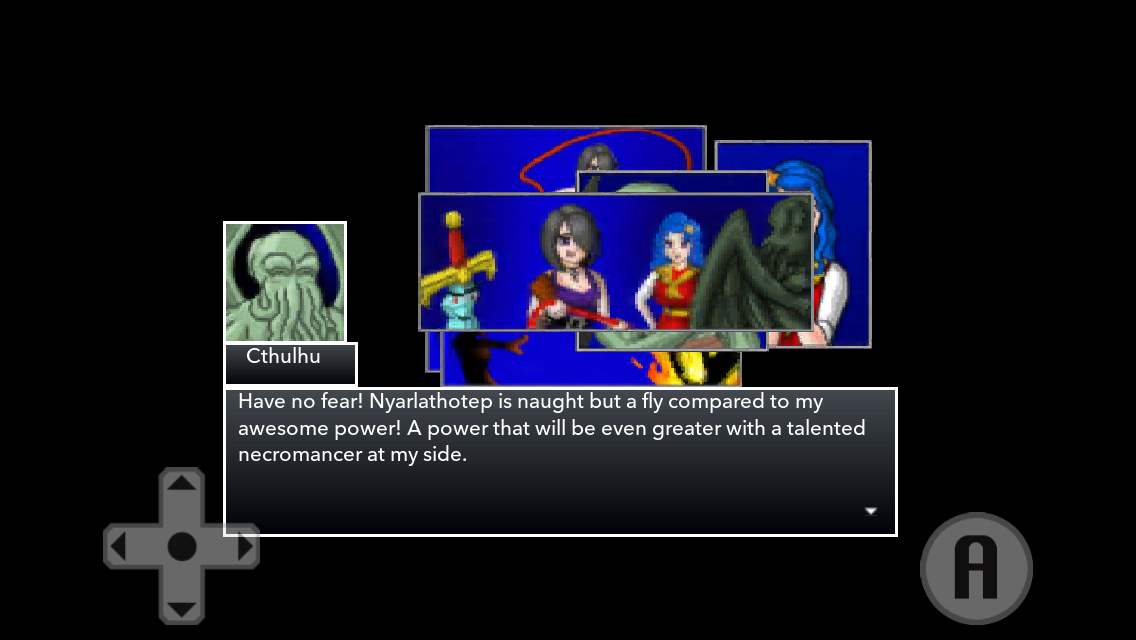 It's also filled with a ton of pop culture references, some of which are really old or obscure, and if you happen to be into the Cthulhu mythos, you're going to really have a fun time spotting everything packed in here. The game's not afraid to break the fourth wall for a good gag, and though some of the jokes fall flat, enough of them hit their mark to keep you smiling all the way through. This general sense of fun combined with the challenging and satisfying battle system makes for a really enjoyable and unique adventure. There's little else quite like it, apart from some of Zeboyd's other games.
Cthulhu Saves The World is a pretty good RPG on its own merits, but let's talk a little about the iOS version, because that's one of the points of this column, right? Sadly, this is basically an abandoned app at this point, and that's all the more problematic since it had some unaddressed issues from the get-go. I guess the most important thing is that it still runs properly even on the latest version of iOS. You can still play it just as well as you ever could. It doesn't support 4-inch screens, never mind iPhone 6 and 6 Plus, but hey, let's just pretend that makes it more cinematic. There's no iCloud support, no Game Center support, and of course, no controller support. That last one stings, because Cthulhu Saves The World has hands-down the worst directional controls of any RPG I've played on iOS. You're meant to slide your finger in the direction you want Cthulhu to move, but there's no dead zone, so he'll reverse direction at the slightest wavering. The game was updated with a virtual directional pad, but it's actually just a graphic that doesn't help much outside of menus. There's also a bug with the level-ups once you reach higher levels, and if it hits you, some of the best skills and abilities will be out of your reach.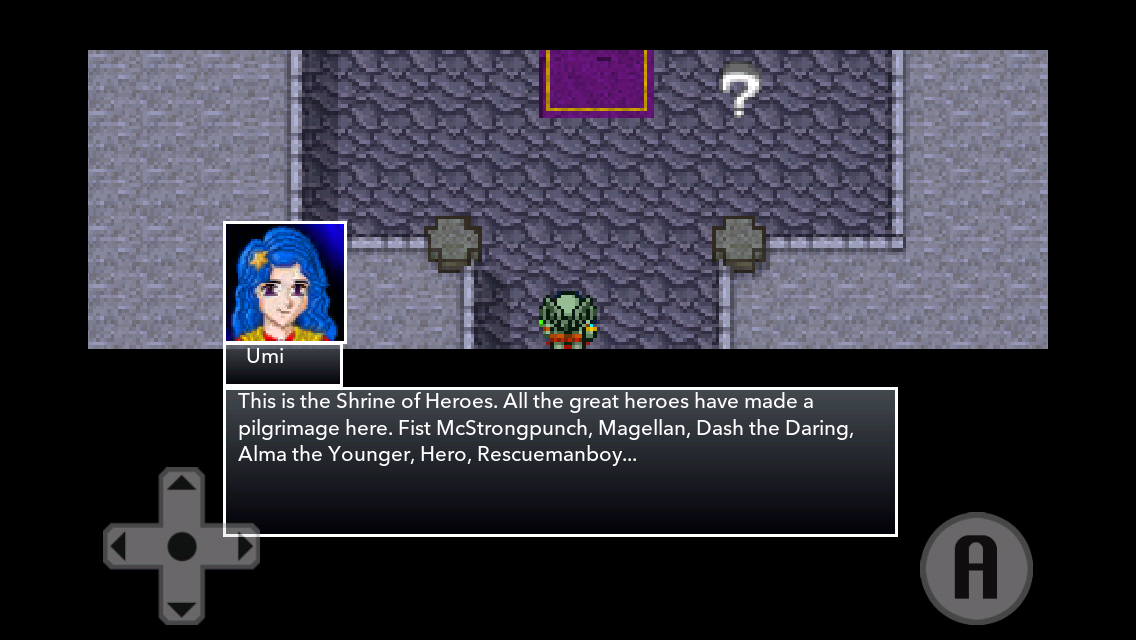 Unlike many other iOS ports of RPGs, you actually don't save any money by buying this version. You can go pick up the game on Steam for the exact same price, or in a pack with Breath Of Death for $2.99. I'd recommend that option, unless you really want to have it on the go. Random encounters and fussy movement are just a bad combination, and I found myself cursing the game just as much this time through as I did the first time I ran through the game on iOS. It's playable, but irritating. It's a shame that the biggest strikes against the game are things that ought to be fixable, but in all likelihood, never will be fixed. I suppose this is unfortunately the nature of the platform at times, especially when the publisher disappears. It's not as bad as certain big companies with top-selling RPGs that have been in horrendous need of an update for years, at least.
It took me a little while to get back into the groove of the game again, but once I did, I had a good time replaying Cthulhu Saves The World, even with the annoying controls and occasional bugs. Provided you can get into the game's goofy sense of humor, the dungeons are the only real weak point in the whole adventure, and they're not really that bad. I like RPGs that make you think a different way and make full use of the tools you're given, and this one does just that. I think if I play it again in the future, I'll go with the PC version, but if you don't have access to it or really want to play this on the go, the iOS version is acceptable. Just keep in mind that the directional pad is a lie. That will help you deal with the odd movement to an extent.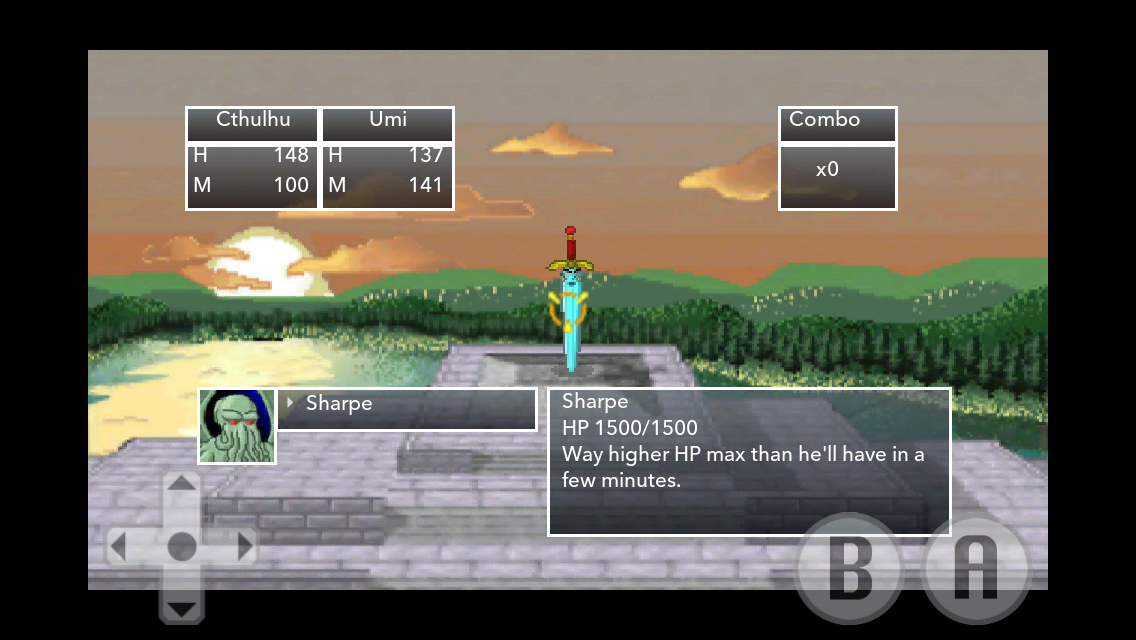 That's my take on the game, but what do you think? I'd love to hear your thoughts on Cthulhu Saves The World, so please leave your comments below or in the Official RPG Reload Club thread, and don't forget to vote for the next reader's choice while you're at it. I need to know what I'll be playing come November! As for me, I'll be back next week with another horror-themed RPG, so keep your Jack O' Lanterns lit for me. Stay spooky, and as ever, thanks for reading!
Next Week's Horrifying Reload Hint: If you're scared to death, you have only yourself to blame.