I am all about wacky cross-promotions that make no sense whatsoever, which is why I'm here to talk about Crazy Taxi: City Rush's (Free) latest update which adds WWE wrestler and '80s icon Hulk Hogan as a playable character. Why Hulk Hogan? Is it because his snazzy yellow tank tops are of a similar color to taxi cabs? Or because he "runs wild" over things and the taxis in Crazy Taxi run wild in the streets dropping off passengers? Maybe. I don't really know, nor do I really care. I can drive a taxi cab around as Hulk Hogan and that's all that really matters.
With this latest update, you can now hire The Immortal Hulk Hogan as a driver, and for the next month the game will feature Hulk-themed challenges and rewards. There are new Hulkamania-themed customizations for your ride, and you can even take a stab at driving the Hulkster tank. There's also a new "Share Replay" function in the game, and by sharing replays you'll have a chance to win some in-game Diamonds or "signed Hulk Hogan goodies."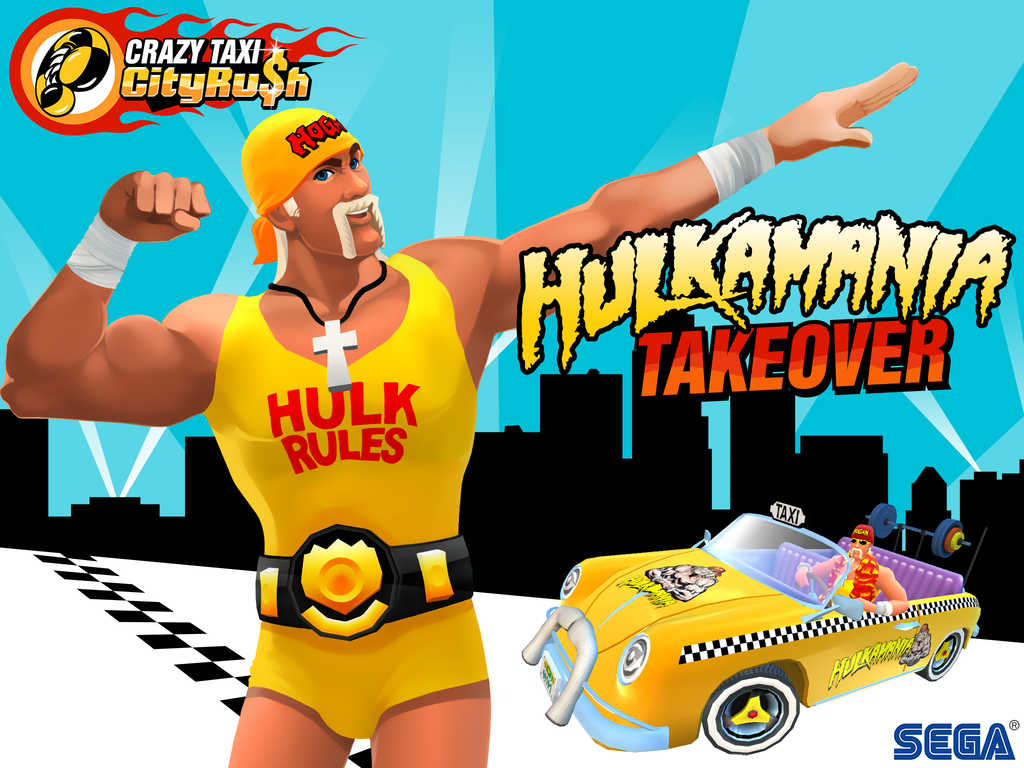 Crazy Taxi City Rush launched this past July, and is the first new entry in the Crazy Taxi series since 2007's Crazy Taxi: Fare Wars for the PSP, which was actually more of just a repackaging of the first two Crazy Taxi games. If you didn't include Fare Wars in there, City Rush is the first new Crazy Taxi game in over a decade, and it's exclusive to mobile devices. That means there's all sorts of gross free to play stuff you have to deal with, but that stuff aside, the underlying game is actually quite fun. If you're among those who have been enjoying Crazy Taxi: City Rush but felt it lacked enough Hulk Hogan for your tastes, you should rush on over to the App Store and run wild all over this latest update.