Crazy Taxi: City Rush (Free) is a test for those who play it. How much monetization needs to get in the way of a game that's ultimately pretty fun to harm it? Hardlight Studios, Sega's go-to for making IAP-laden mobile games, are going to hit a lot of breaking points with players who can't stand free-to-play monetization, because this game is full of enticements to spend money. But in my estimation, they can't ruin what makes Crazy Taxi (Free)as a gameplay concept great.
The core game is the same basic core of Crazy Taxi simplified a bit to a lane-based runner. Tapping or swiping is used to move from lane to lane, with bonuses for driving around and occasionally through traffic. The goal is to get passengers to their destinations without running out of time, getting money for doing so successfully. And because this is free-to-play, money can be spent on all sorts of stuff, including to upgrade cars. There's a mission structure where levels of different degrees of difficulty can be played, with different rewards, along with daily levels and special challenges.
I want to get the free-to-play part of the game out of the way: so how does Crazy Taxi: City Rush monetize? The better question is, how does it not? There's ads that pop up after each level, which can be disabled by spending any money on in-app purchases. This is how Sonic Jump Fever (Free) it. There's an energy system, with a very short starting bar of four plays at a time, with 15 minutes per each segment recharge. However, it's possible to watch a video ad to get a free race. There's a two-tier currency system, with coins and gems used to buy car upgrades, customizations, and wait timer skips. Gems, the hard currency, can be earned by completing achievements and for picking up new passengers.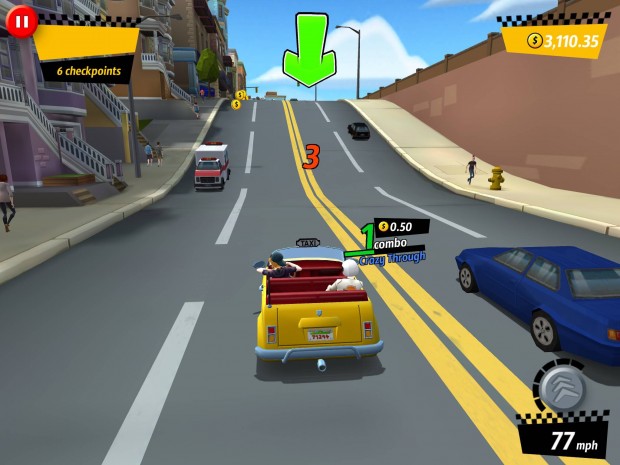 Cars can be customized with new paint jobs and have their stats upgraded. Some parts require waiting for them to be delivered, which can be skipped via gems. Unused taxis can be rented out for periods of time, with them collecting money for the set time. These wait timers can be skipped with gems, and there's an energy system on these as well. There are daily challenges, and a level where it's possible to drive a tank and collect large amounts of money by running over other cars. Better drivers can be used at a cost of gems, or by watching video ads. I'm just surprised there isn't some kind of clan system, because I'm pretty sure this game uses literally every other popular monetization method on earth. I'm just shocked it's not possible to continue a level by spending currency to do so.
And it just feels especially distracting because of its omnipresence. Nothing can be done without triggering a wait timer, or costing something, or bringing forth an advertisement, or just anything. Well, nothing except playing the actual game. In the midst of actually playing, it's all about just trying to drive smart enough to get to the end with enough time on the clock. Sure, managing turbo boosts is important, but there's no way to buy more, or to spend gems on a time extension. The main game is shockingly just about the game itself. There are ways to get more cash from levels, but the set reward is where the bulk of the money comes from. It's really kind of shocking, just to see how much this game is actually built around just playing the darn thing.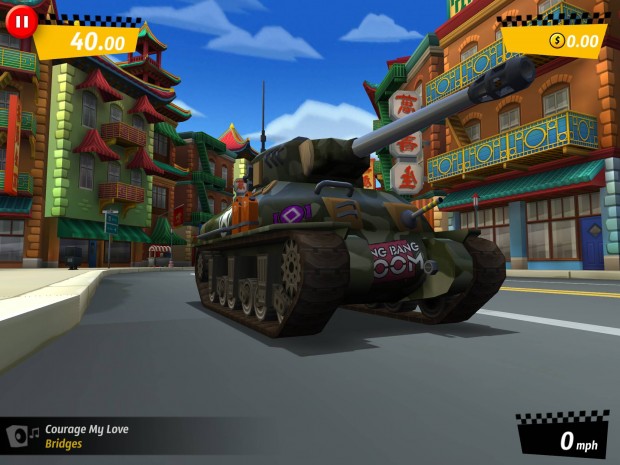 And really, Hardlight did a great job at not ruining the core of Crazy Taxi. Perhaps this is actually difficult to do, or perhaps they showed a lot of restraint. Or maybe having one of the original designers on the game just helped that much. That rush of trying to deliver a fare before the timer runs out, weaving through traffic, making turns, taking huge jumps? That's all here, in a game that's built for even faster play sessions than the actual Crazy Taxi game. Not to say that it isn't mobile-friendly already, this is just even more so. The controls are simplified to just taps and swipes to switch lanes, make turns, and deploy turbo. There's portrait and landscape support on the iPad, which is something I love, being able to play a game how I want to play it in that moment.
Also, in a feature that was cool in 2010 but actually still pretty neat now, the game can source music from a "Crazy Taxi" playlist on the device, and randomly play tracks in the game. Want the soundtrack from the original Crazy Taxi here in City Rush? The world is your oyster. That the game supports music besides its own feels like a miracle lately – I've played too many games that nonsensically pause playing music. And the default punk soundtrack is not to my taste.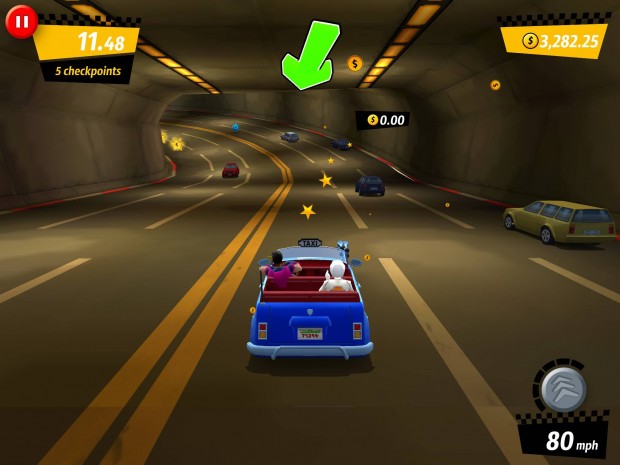 There's quite a bit of fun to be had from playing Crazy Taxi: City Rush. It's buried deep under its heavily-monetized metagame, full of energy systems, wait timers, and currency systems, in a way that is extremely labyrinthine, and I wish the energy system wasn't there at all, or at least had a way to buy out of it, but they far from ruin this game.