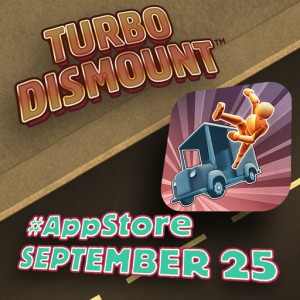 During GDC last year, developer Secret Exit unveiled Turbo Dismount, the follow-up title to their ultra popular push-people-down-stairs simulator Stair Dismount (Free). At that time, Turbo Dismount was pretty much just a bigger and better version of Stair Dismount, with improved visuals and more complex settings. Somewhere along the lines though, Turbo Dismount shifted away from pushing people down stairs and off of buildings and instead decided to place them into wacky vehicles and have them get into spectacular wrecks at busy intersections. A fitting change really, given the roots of the Dismount series with the original Stair Dismount and Truck Dismount more than a decade ago.
Fast forward a year after than initial Turbo Dismount reveal, and at GDC 2014 we had a chance to sit down and play with an early version of the game, and it was an absolute riot. Seriously, this game is way too entertaining for my own good. While it's been about a year since Secret Exit originally hoped to have Turbo Dismount out, the game is finally finished and is coming very, very soon: Tomorrow! (Or, well, "Thursday" technically, but we'll get it late Wednesday night here in the US.) Here is a glorious new trailer.
One really interesting thing about Turbo Dismount is its pay model. Similar to Stair Dismount (or at least, the route Stair Dismount eventually took) Turbo Dismount will be free to download and play. It'll have advertisements, and sell additional level packs and vehicles for 99¢ each as IAP. Also, you'll be able to play a preview of any level or new vehicle by watching video ads, giving you a chance to actually check something out before plunking down some cash for it.
However, if you don't feel like dealing with ads and IAP packs, a "premium unlock" option will give you all available levels and vehicles as well as disable ads for a one-time price of $5.99. Even cooler, that premium unlock price is adaptive, so if you've bought an IAP pack or two and eventually decide to go the premium route, the $5.99 price will adjust accordingly based on what you've already spent on the game. It feels like Secret Exit has covered every base imaginable in terms of a pay model that will make everyone happy.
Look for Turbo Dismount to begin hitting international App Stores early tomorrow morning US time, and we'll give you the heads up when it's out in the US by way of our weekly Out Now post. Until then, check out the forums for some discussion.