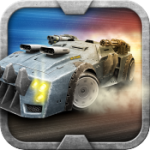 This week's episode is all about the new iPhone. Jared went to the keynote on Tuesday and got some serious hands on time with the iPhone, iPhone 6, and the Apple Watch. We talk about things we like, things we don't, things we're stoked for, and more. If you're on the fence between the different models or even the Apple Watch, give this episode a listen and maybe that'll help.
Don't forget to shoot us emails with any questions, feedback, or anything else relevant or irrelevant to podcast@toucharcade.com. We read 'em all, even if they don't make it into the podcast. As always, you can listen to us with the links below… And if you like what you hear, please subscribe and/or drop us a review in iTunes. Much appreciated!
iTunes Link: The TouchArcade Show
Zune Marketplace: TouchArcade.com Podcasts
RSS Feed: The TouchArcade Show
Direct Link: TouchArcadeShow-172.mp3, 63.9MB
---
This week's episode of The TouchArcade Show is sponsored by…
Battle Riders, $1.99 - Battle your way to first place in Battle Riders, an amazing combat racing game! Battle Riders offers adrenaline-pumping, high-octane action and a lot of fun!
Win races and complete the career mode to unlock great cars, exciting tracks, and fun challenges. Hit the tracks in multiple racing modes: battle race, survival, elimination, and more. Upgrade and customize seven unique cars and then equip them with powerful weapons to wreck the competition!
Battle Riders is available on the App Store for only $1.99 and you can download it now for your iPhone and iPad. Find out more at battleriders.net!