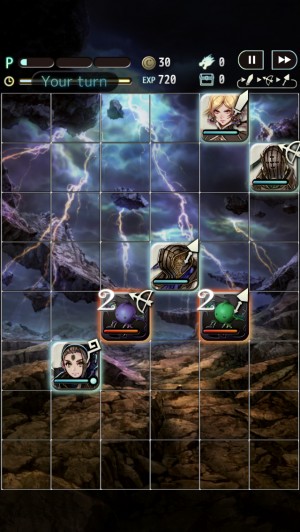 Boy, all kinds of surprising news related to Final Fantasy today, isn't there? The latest surprise is that the latest game from Hironobu Sakaguchi, the Final Fantasy creator and current Executive Surfer of Mistwalker Corporation, has soft launched. Perhaps, like me, you thought Terra Battle would make its debut on the Japanese App Store. Well, put on your fake Canadian mutton chops, because if you want to get an early start on Sakaguchi's latest, you'll find it north of the digital border in the untamed wilds of the Canadian App Store.
Being authentically Canadian, I've already downloaded Terra Battle and played about 10 minutes. It's a social RPG with a unique battle system that requires you to position your party members on a grid in order to deliver deadly attacks to your enemies, while ensuring they don't do the same to you. Many of the trappings of genre king Puzzle & Dragons are already apparent.  Your party is formed from randomly drawn characters, quests are simply a series of battles, and stamina meters and a required online connection are present and accounted for. The art for the characters, provided by Kimihiko Fujisaka, is quite good, and the music, supplied by long-time Final Fantasy composer Nobuo Uematsu, is as wonderful as you would expect.
I'm going to have to sink some time into Terra Battle to see how it fares against the best of the sub-genre, but the battle system at least seems like it has a lot of potential. If you don't feel like waiting, go on ahead and pick it up from the Canadian App Store. We'll have more coverage of Terra Battle as it makes its way worldwide in the future.
Canadian App Store Link: Terra Battle, Free