Love it or hate it, Swing Copters (Free) has been glued to the top of the charts since it was released last week. Much like Flappy Bird, Swing Copters launched with some ridiculous difficulty levels. Fast movement, huge hit boxes, instant death, and more all combined to make a game that was brutal. In fact, people uploading videos of them not even able to score one point to YouTube has become a thing.
Well, in the new update that just launched this morning, things got way easier. Sort of like how Flappy Bird got updated which reduced the overall difficulty, Swing Copters has seen identical treatment. You've got more vertical buffer space when you start, so you can get a hang of the flight mechanics before you even come to your first gate to go through.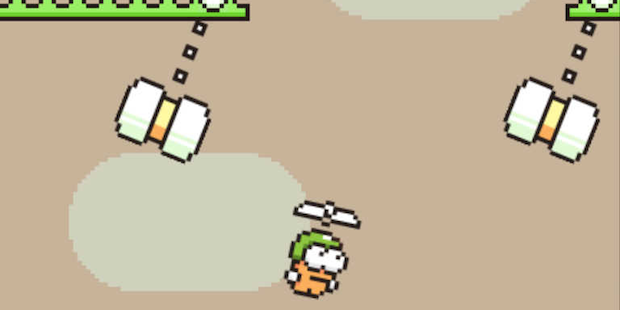 Additionally, it seems like your dude flies a little slower as well. I've got the updated version on my iPhone and the old version on my iPad, and the difference is night and day. I sort of wish the original difficulty was retained through some kind of options menu or similar, but, that's the way she goes.