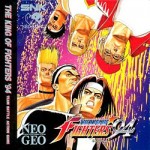 It's nuts to think that The King of Fighters hit arcades twenty years ago. Packed with characters from SNK's other fighting games, you could pump quarters in to arcade machines to duke it out using fighters from Fatal Fury, Art of Fighting, Ikari Warriors, Psycho Soldier and even some dudes original to the King of Fighters games. Following that, they started releasing yearly iterations until 2003, with subsequent games released with roman numeral suffixes instead.
The King of Fighters in some form or another has been ported to seemingly every platform to exist everywhere including but not limited to both the N-Gage and the equally defunct Neo Geo Pocket. As such, it wasn't much of a surprise to see them eventually pop up on the App Store.

To celebrate, SNK has dropped the price of every iOS game of theirs down to 99¢. Here's the full list:
It's a hell of a sale, with these games typically priced anywhere between $2.99 and $6.99. You can't really go wrong picking all of them up.