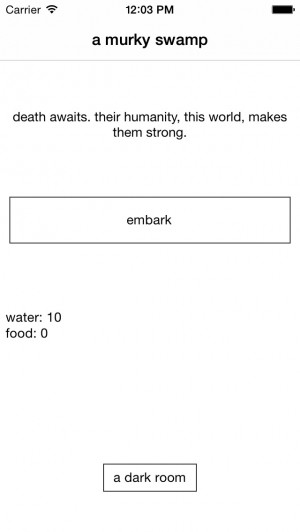 Are you among the countless people who fell in love with A Dark Room ($1.99)? Well, here's some great news for you- The prequel was just released. It's called The Ensign ($1.99), and just like A Dark Room, you're better off going in to it knowing nothing.
If you want to know something, you could check out our review of A Dark Room, but it's a lot like our Sword & Sworcery review in that you really should just stop reading and download the game as soon as you feel like you've satiated your curiosity enough to feel good spending a dollar. Both games hinge on the uncovering the mystery inside of 'em, and getting the experience as fresh and raw as possible.
So, yeah, the only other details I really feel comfortable offering is this note from the developer in The Ensign's iTunes description:
"I really loved traversing the Dusty Path (more so than balancing an economy and upgrading gear). This prequel is a *brutally* difficult rendition of the Dusty Path that covers the events directly before A Dark Room. I wanted to make a strategy game that had high replay value, as opposed to a game about discovery. Best of luck to whoever attempts this game. I imagine few will succeed in completing all of it."
…And a link to our forum thread, which will likely be loaded with tons of spoilers shortly.